Benzinga Money is a reader-supported publication. We may earn a commission when you click on links in this article.
Learn more.
All investors really want is a fair shake. It is easy to think that the stock market is rigged — we've all been the one buying a sure thing only to watch it tank 1 nanosecond after we hit the execute button.
Binary trading options seem like the answer to all of the hidden manipulation that may or may not be lurking in every other public market. A pure 50-50, yes or no choice rewards those with a competitive advantage on information, which is ideally what investment markets are supposed to do. As with most investments, however, there is more to options than meets the eye.
So, without further ado: Are binary options safe?
Short Answer:
Not as safe as you think.
What are Binary Options?
Binary options depend on the outcome of a yes/no proposition. A simple binary option may offer a payout if the price of stock ABC is above $33.74 at 4:30 p.m. in 2 days. The option will lose money for the investor if stock ABC is below $33.74 at that time.
The assumption is that binary options — because the outcome is either yes or no — is a 50-50 proposition. If this were truly the case, there would really be no purpose for binary options strategies.
Consider the binary option above offering a payout of $150 if the price of stock ABC is above $33.74 at expiration. If the option is below $33.74, the option buyer owes $200. The asymmetry it returns creates a disadvantage to the option buyer over time, with the advantage to the option writer. Writers may also sell options with asymmetrical payout structures (50% of your investment to you for a win, but 100% of your investment to the seller for a loss) to skew probability in their favor.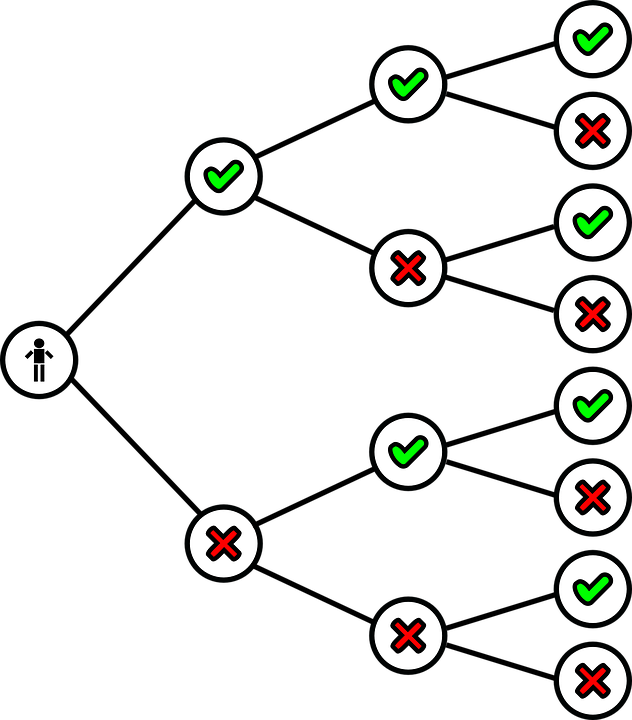 Attribution: Pixabay
Multiple options can be used to manipulate probability theory in favor of an option buyer or seller.
Buyers must also be aware of market conditions that may favor the seller. Binary options must be held until expiration, unlike traditional options that may be sold before expiration. If the options writer is aware of a coming change in the market, that change may be priced into the option and sold without warning to the buyer.
Changing market conditions are actually more prevalent for options with a shorter expiry because sudden (sometimes unnatural) market manipulations have no time to correct themselves.
Unscrupulous brokers may also commit fraud. Unregulated brokers with no oversight may simply refuse to pay traders with successful bids. Other platforms may commit identity theft to take back payouts from traders using stolen financial and personal information.
Binary options also have unique characteristics that traders consider advantages over traditional options. One of the major advantages of binary options is that risk is always defined. With traditional options, you can make trades that have an infinite downside.
These options also have a wide range of expiry times — you can invest in options with a turnover time of seconds. Sophisticated traders can use fast turnover to increase returns and hedge positions with longer expiration dates. Binary options also feature high returns when compared to traditional options, especially when short time frames are considered.
Depending on the broker you choose, you can trade binary options on just about anything. There are binary options on stock prices, weather conditions, sports games and everything in between. This is an advantage because you can focus on trading options where you have an informational advantage.
Binary options are never traded on margin. If you want to make a trade, you must have 100% of the capital in your account for the trade and any applicable fees.
Domestic vs Foreign Binary Options
There are 2 major exchanges for binary options in the U.S. They are the North American Derivatives Exchange, often shortened to Nadex, and the Chicago Board Options Exchange (CBOE). The Commodity Futures Trading Commission (CTFC) is the regulating body licensing Nadex and the CBOE for binary options.
Outside of the U.S., most binary options exchanges are traded over the counter with no regulation from any country. Offshore exchanges cannot legally offer services to the U.S. Many of them still do offer binary options trades through cryptocurrency, using the unregulated nature of crypto to facilitate anonymous transactions between buyers and sellers.
This is not to say that all offshore or crypto-based binary options trades are scams. Brokers like IQ Option, BDSwiss and 24option.com are regulated through the Cyprus Securities and Exchange Commission (CySEC). The best binary options are usually curated from a regulated exchange, most importantly because you can be assured to be paid if you come out on top.
Best Online Options Brokers
When it comes to binary options, picking the right broker is essential. The SEC's Office of Investor Education and Advocacy and the Commodity Futures Trading Commission's Office of Consumer Outreach have issued guidance for investors to avoid binary options fraud. The FBI and the U.S. Department of Justice have also issued reports warning investors of the dangers of binary options fraud, especially from unregulated offshore entities in Israel and Brazil.
Choose your binary options trading software wisely and look through the list of online binary options brokers to ensure the best chance of success.
1 Minute Review
This publicly listed discount broker, which is in existence for over four decades, is service-intensive, offering intuitive and powerful investment tools. Especially, with equity investing, a flat fee is charged, with the firm claiming that it charges no trade minimum, no data fees, and no platform fees. Though it is pricier than many other discount brokers, what tilts the scales in its favor is its well-rounded service offerings and the quality and value it offers its clients.
Best For
Novice investors
Retirement savers
Day traders
Pros
World-class trading platforms
Detailed research reports and Education Center
Assets ranging from stocks and ETFs to derivatives like futures and options
Cons
Thinkorswim can be overwhelming to inexperienced traders
Derivatives trading more costly than some competitors
Expensive margin rates
Commissions
$0
flat rate, includes closing costs
Commissions
$0
flat rate, includes closing costs
1 Minute Review
Tastyworks is a sophisticated options and futures broker aimed toward experienced traders. The platform was designed by the founders of thinkorswim with functionality and precision for complicated options trades and strategies. Tastyworks offers stocks and ETFs to trade too, but the main focus is options. 
Options on tastyworks are only charged a 1-way, $1 commission —  far cheaper than almost all competitors. Commissions on futures and micro futures are also affordable, and there's no minimum required to open a cash account. It's $2,000 if you want to use margin.
Best For
Options traders
Futures traders
Advanced traders
Pros
Powerful platform inspired by thinkorswim
Multiple order types and strategies
Cheap options commissions
Cons
Advanced platform could intimidate new traders
No demo or paper trading
1 Minute Review
Webull, founded in 2017, is a mobile app-based brokerage that features commission-free stock and exchange-traded fund (ETF) trading. It's regulated by the Securities and Exchange Commission (SEC) and the Financial Industry Regulatory Authority (FINRA).
Webull offers active traders technical indicators, economic calendars, ratings from research agencies, margin trading and short-selling. Webull's trading platform is designed for intermediate and experienced traders, although beginning traders can also benefit.
Webull is widely considered one of the best Robinhood alternatives.
Best For
Active traders
Intermediate traders
Advanced traders
Pros
Commission-free trading in over 5,000 different stocks and ETFs
No account maintenance fees or software platform fees
No charges to open and maintain an account
Leverage of 4:1 on margin trades made the same day and leverage of 2:1 on trades held overnight
Intuitive trading platform with technical and fundamental analysis tools
Cons
Does not support trading in options, mutual funds, bonds or OTC stocks
Is Any Investment Really Safe?
You can make the argument that the simplicity of binary options makes them safer. On the surface, a binary choice means that the option buyer has a 50-50 chance of winning. You may also argue that the so-called simplicity is a farce — probability is playing a trick on unsuspecting retail investors to take their money. Like most investments, the answer that's more difficult to take is the right one.
There is no shortcut to making money. No market maker is going to set up a market that is unprofitable for him. There is an advantage to binary options, however. If you're really doing due diligence, binary options have fewer variables to unexpectedly trip up a solid analysis. You're less likely to lose your shirt if you actually do your homework.
This doesn't mean you can blindly pick your side of a binary choice and expect to win. Without going into the details, your odds on a 50-50 binary choice are not really 50-50. If you don't know why, well, that's where your real research into binary options should begin.
Benzinga's #1 Breakout Stock Every Month
Looking for stocks that are about to breakout for gains of 10%, 15%, even 20% potentially or more? The only problem is finding these stocks takes hours per day. Fortunately, Benzinga's Breakout Opportunity Newsletter that could potentially break out each and every month. You can today with this special offer:
Hire a Pro: Compare Financial Advisors In Your Area
Finding the right financial advisor that fits your needs doesn't have to be hard. SmartAsset's free tool matches you with fiduciary financial advisors in your area in 5 minutes. Each advisor has been vetted by SmartAsset and is legally bound to act in your best interests. If you're ready to be matched with local advisors that will help you achieve your financial goals, get started now.