Most of our users get purchase loans and refinance from New American Funding.
Ready to buy or refinance a home? Choosing a lender is a big decision, and 1 of the most important factors is the interest rate. You'll see both an APR and interest rate while rate shopping, but which should you pay attention to? Let's look at the differences between the 2. 
Main Differences Between APR and Interest Rate:
Your annual percentage rate (APR) includes the fees and other costs associated with your loan.
Your interest rate is the cost of borrowing from your lender and doesn't include any fees.
Both rates are informative when you're loan shopping, but make sure to compare APR to APR and interest rate to interest rate.
What is an APR?
APR stands for annual percentage rate. APR is essential to look at when you're loan shopping because it includes your interest rate and your loan fees. It includes:
Your interest rate
Points
Fees
Most closing costs
Private mortgage insurance (PMI)
Points allow you to pay more upfront in exchange for a lower interest rate. Each point is 1% of your loan amount.
PMI is insurance that you may be required to pay if you make a down payment of less than 20% on a conventional mortgage. It protects the lender if you stop paying on your loan.

You can get rid of PMI once you've brought your mortgage balance down to 80% or less of your home's value. FHA loans also have insurance, but it's for the life of the loan for most borrowers.
The APR gives a sense of the actual cost of the loan. Because it includes more costs, it's typically higher than the interest rate. If you're comparing refinance or purchase loans, make sure you're comparing APR to APR and interest rate to interest rate so you're making an accurate comparison.
What is an Interest Rate?
Your interest rate is what you pay to borrow money. Most fees are 1-time costs, but you'll pay interest for as long as you have your mortgage.
When you take out a loan, you're responsible for paying the loan balance and the interest. Let's say you borrow $150,000 to buy a home at 4% interest. That means you'll pay 4% interest every year, which is $6,000. The monthly cost is about $500.
Your actual interest costs will change each month, though. Home loans are amortizing loans. That means that you pay a little less in interest each month and a little more of your loan balance. Your loan balance gets lower each month, so you pay a bit less in interest, but your monthly payment stays the same. This way, your balance is paid off at the end of your loan and you own the home outright.
Your loan documents will include an amortization table, which shows you how much of each payment goes toward your loan balance (also called loan principal) and how much is going toward interest.
Your interest rate is the ongoing cost of your loan, so it's an important factor to keep in mind as you're loan shopping. If there's a big difference between the interest rate and the APR, that's an indication that the loan has a fair amount of fees. Make sure you know exactly what those fees are so there aren't any surprises.
Current Interest Rates
It's helpful to know mortgage rates before you start loan shopping so you have a basis for comparison. Here are the current interest rates:
Rates based on an average home price of $225,000 and a down payment of 20%.
APR vs. Interest Rate Examples
Let's look at APR vs. interest rates for a $250,000 home loan with $7,500 in closing costs.
15-Year Mortgage
APR
3.44%
3.97%
4.45%
Interest rate
3%
3.5%
4%
Monthly payment
$1,726.45
$1,787.21
$1,849.22
Total interest paid
$60,761.74
$71,697.14
$82,859.57
Total payments
$310,761.74
$321,697.14
$332,859.57
30-Year Mortgage
APR
3.24%
3.75%
4.25%
Interest rate
3%
3.5%
4%
Monthly payment
$1,054.01
$1,122.61
$1,193.54
Total interest paid
$129,443.63
$154,140.22
$179,673.77
Total payments
$379,443.63
$404,140.22
$429,673.77
The Best Low Rate Mortgage Lenders for Purchasing
Which lenders are the best? Here are Benzinga's picks:
The Best Low Rate Mortgage Lenders for Refinancing

Avg. Days to Close Loan
15
1 Minute Review
If you already own a home, Figure may be able to help you access your equity or improve your loan terms. You can get a HELOC or mortgage refinancing if you live in any of the states it serves. (It offers service to more than 30 states.) Its simple application and speedy platform make it a great option if it's available in your state.
Best For
Current homeowners with equity
Borrowers looking for a HELOC or mortgage refinancing
Borrowers with a credit score of 620 or higher (720 in Oklahoma)
Pros
Funding in as few as 5 days on its HELOC product*
Digital application
Competitive rates
Cons
Not available in all states

Avg. Days to Close Loan
21
1 Minute Review
Morty is a mortgage broker that uses technology to speed up the loan process. While it has limited mortgage options and a relatively high minimum credit score requirement, its competitive rates and transparent process make it worth considering if you meet the criteria.
Best For
Those with good credit
Conventional loan borrowers
Primary residence borrowers
Pros
Competitive rates
Fast, verified preapproval
Expedited closing with clear instructions
Cons
Only offers conventional loans
Not available in 15 states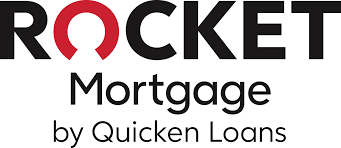 Avg. Days to Close Loan
30
1 Minute Review
Rocket Mortgage is one of the best mortgage lenders on the market, making it easy to apply for a home loan entirely online. Its streamlined preapproval process and quick access to customer service set it apart from other online lenders. Rocket Mortgage offers a large variety of mortgages and is backed by the largest mortgage lender, Quicken Loans. Whether you need help or know exactly what you're looking for, Rocket Mortgage matches you with the right mortgage type and helps you quickly complete your online application.
Best For
Homebuyers who are looking to complete the mortgage application process on their own
Homebuyers who have found their dream home and are looking to move through the approval process quickly
Homebuyers with good credit scores looking to review their mortgage options
Current homeowners looking to refinance within the next few months
Pros
Rocket Mortgage allows you to move at your own pace, guiding you through each step of the process. After you answer all the application questions, Rocket Mortgage lets you know if you're approved and show your personalized mortgage recommendations
You can submit checking and savings account information, tax returns and other financial documents online — a feature that sets Rocket Mortgage apart from online competitors
RateShield allows you to lock in your Rocket Mortgage approved rate for up to 90 days
The home loan application process can be completed in minutes, allowing you to find out if you qualify for a mortgage right away
The online software allows you to navigate through the entire home buying process, from approval to home closing. Once you're approved and you make an offer on your home, Rocket Mortgage offers online tools that will help you move through the rest of the closing process
Cons
While Rocket Mortgage has customer specialists ready to answer your questions and provide guidance, if you prefer sitting across from a person when filling out financial forms, this lender might not be right for you
You can't easily view all of Rocket Mortgage's home loan options prior to applying. It offers conventional, FHA, USDA and VA loans, but you'll need to apply to find out more about the mortgage types within these offerings and which ones you're eligible for
What is the Break-Even Point?
The break-even point comes into play when you refinance. Refinancing is a big decision based on several factors, including the interest rate, APR and closing costs. Since you have to pay closing costs, the refinance needs to save you enough money in the long run to deal with those costs.
Closing costs average about 3% to 6% of your loan amount. If you're refinancing for $150,000, your closing costs could be $4,500 to $9,000. This varies by lender, so this is another point you want to consider when you're loan shopping.
The point where you recover your refinancing costs is your break-even point. If you're refinancing for a lower rate, you can calculate your break-even point by:
Subtracting your new monthly mortgage payment from your current payment. This tells you your monthly savings.
Taking your loan costs and dividing it by how much you save each month. This tells you the number of months until your break-even point.
Let's say your current loan payment is $1,000 per month. Your new loan payment is $850 per month, so you're saving $150 per month. It costs $5,000 for you to refinance, so your break-even point is about 33 months after you refinance ($5,000 / $150 = 33.3).
If you're planning to sell your home before the break-even point, you may want to rethink refinancing.
You can also find break-even calculators online if you'd like to explore different refinance scenarios.
Mortgage Calculator
Curious about what your payments will look like? Try our mortgage calculator.
Choose a Mortgage
Deciding on a mortgage is a tough decision. The APR, interest rate and break-even point are all critical factors, but there are also others to consider.
If you're buying a home, consider:
Your down payment. If you're a first-time home buyer, you might not have much saved for a down payment, and that's okay. There are many options for first-time buyers that have low down payment requirements. FHA loans have a down payment requirement of 3.5% as long as your credit score is 580 or higher (lenders may require a higher minimum credit score). You may also be able to make a 3% down payment with a conventional mortgage. Even if you're not a first-time home buyer, USDA and VA loans have no minimum down payment requirement if you qualify.
If you're buying or refinancing, consider:
Lender service. How is the lender's customer service? Does it offer an online mortgage option? If you want to talk to someone in person, is that option available? Consider the quality of a lender's service and its service options.
Lender reputation. How long has the lender been in business? What kind of reviews does it have? Do you know anyone who's worked with them? Look for a lender with a good reputation for 1 of the biggest transactions you'll make in your lifetime.
Contact at least a few lenders before you settle on the 1 you want to move forward with. Review the details carefully and choose a lender with a competitive interest rate, a reasonable APR and excellent service.
Once you decide on a lender, make sure you have your financial documents if you haven't submitted them already. Next, you'll submit your application. The lender will likely order an appraisal whether you're refinancing or buying. Schedule your appraisal as soon as possible to keep things moving. If you're buying, you'll also want a home inspection.
Once your lender has reviewed everything, you'll find out whether you're approved for your loan. If so, you'll set up a time to sign your loan documents. You'll get them a few days before your closing meeting, and you should review them to make sure no terms have changed. If you have any questions, ask your lender.
At your closing meeting, bring funds to pay your down payment and closing costs. You'll sign your documents and get copies of everything. Make sure to keep them for your records. After that, your loan process is finished. If you did a cash-out refinance, you'll receive your check about a week or so after closing.
Start with Benzinga's recommended lenders to find the best mortgage option today.
Get Ready for Take Off
Rocket Mortgage® is an online mortgage experience developed by Quicken Loans®, America's largest mortgage lender. Rocket Mortgage® makes it easy to get a mortgage — you just tell the company about yourself, your home, your finances and Rocket Mortgage® gives you real interest rates and numbers. You can use Rocket Mortgage® to get approved, ask questions about your mortgage, manage your payments and more.
You can work at your own pace and someone is always there to answer your questions — 24 hours a day, 7 days a week. Want a fast, convenient way to get a mortgage? Give Rocket Mortgage® a try.