No Legwork Wednesday – J.C. Penney And The 'No Sale' Debacle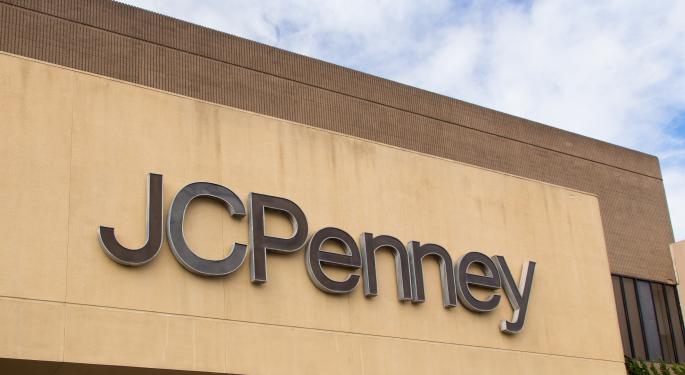 When it comes to retailing, a company's success depends as much on properly positioning its products as it does on the actual products being offered.
That's why many companies sell products at prices which end in $0.99 and $0.95. Someone figured out that selling a product for $3.99 caused customers to purchase more enthusiastically than if it cost $4.00.
Similarly, for years companies have used the "sale" to motivate shoppers, even though many suspected that retailers marked up their prices before putting an item on sale.
In 2012, J.C. Penney (NYSE: JCP) decided to do away with sales altogether, and paid a heavy price as a result.
Drastic Measure Needed
One of the problems J.C. Penney has faced in recent years is that its sales model is now being eclipsed by online and boutique sales. In 2012 while facing declining revenues, declining foot traffic in their stores, and a dire outlook, J.C. Penney CEO Ron Johnson decided to do something drastic: do away with sales.
See also: No Legwork Mondays-Merck And Vioxx
His reasoning was that retailers routinely mark up their prices in order to be able to offer customers attractive sales, a practice which Johnson labeled as making "fake prices." Instead, Johnson announced that J.C. Penney would offer prices which were consistently attractive, and do away with the concept of the sale altogether. Bad idea.
As a result of Johnson's "no sale" experiment, J.C. Penney's revenue got clobbered in 2012. Same store sales were down about 33% from their 2011 numbers, and revenue for the year was down about 25%. J.C. Penney was forced to layoff upwards of 19,000 employees, and was left reeling from the experiment.
Not surprisingly, the move eventually cost Ron Johnson his job. It probably cost J.C. Penney thousands, if not tens of thousands, of customers too – causing them to switch to shopping at other retailers such as Wal-Mart and Target.
Didn't Understand Human Nature
While there have been many write-ups on what went wrong with the J.C. Penney "no sale" experiment, that outcome should have been relatively easy to predict as it violated basic principles of human nature.
People love getting a bargain.
With the rise of online auction site eBay - which built his reputation squarely around people who were willing to bet that they would be able to get a great deal through the means of participating in an auction, and sites such as Groupon.com - which allow people to take advantage of amazing coupon deals, J.C. Penney should have seen early on that its experiment of eliminating sales was doomed.
In fact, the company did exactly the opposite of what it should've done. Instead of eliminating sales, J.C. Penney should have invested more heavily in them by increasing online and traditional promotions.
Posted-In: jc penneyMarkets Best of Benzinga
View Comments and Join the Discussion!