Devexperts Is Moving Your Trading Desk To Virtual Reality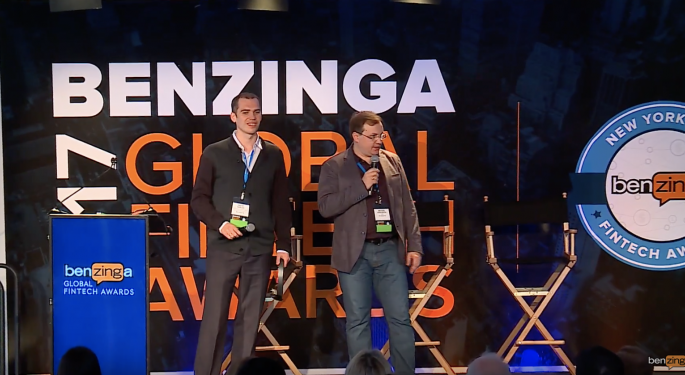 The 2017 Benzinga Global Fintech Awards saw some of the most innovative companies in fintech show off their products to high-profile financial executives and fintech leaders.
Here, we're sharing the fintech insights and new products on display at this year's BZ Awards.
The Company:
Devexperts specializes in the development of complex software solutions and services for the capital markets industry. The company's clients include retail and institutional brokerages, such as TD Ameritrade, CFH Group, and Tradable-exchanges, and buy-side firms. Devexperts is headquartered in Munich, Germany.
The Pitch:
Devexperts' expertise lies in building technology for equities, commodities and FX traders in financial hubs in America and across Europe and Asia. Over 2 million people in the U.S. alone trade every day using Devexperts technology structures. One of the Devexperts' goals is to create an easy-to-use medium for traders to analyze all the data they need to generate the best returns
The Future:
One of the Devexpert's ambitious initiatives are augmented reality glasses that allow traders and investors to trade, track data, follow news, and do anything else they need to do in their visual space rather than on multiple monitors or devices. At the 2017 Benzinga Global Fintech Awards, Dmitry Parilov, Devexperts managing director of data solutions and products, said the glasses enable traders to "watch TV channels, work with graphs…you don't need a computer, it's all inside the glasses."
Watch the full demo on Devexperts here.
Posted-In: Benzinga Fintech Awards Benzinga Global Fintech Awards Devexperts Dmitry ParilovFintech News Events Best of Benzinga
View Comments and Join the Discussion!