EUR/JPY Analysis: Build Trading Scenarios And Get Ready For Them?
EUR / JPY rejected the daily trend and now is not taking a clear direction. The price is moving in a wide range of about 225 points. Usually, bulls and bears keep the price in control. When investors think something big has to happen in the following days in order for the market to decide where to move the price.
From the safe-haven currency, the campus of the Japanese yen, the BoJ will hold its Monetary Policy Statement on Thursday, September 17th. This event can be a great catalyst to move the market and give EUR / JPY a clear direction. During this event, we should pay attention to the interest rate decision and future actions to be taken by the BoJ.
From European markets, we should focus on the Consumer Price Index and the Construction Product but still, these are not considered high impact data. On Friday there is only Producer Price Index. Overall it is not expected a new catalyst from European markets. Keep the focus on BoJ Monetary Policy Statement.
What are the possible scenarios and the best trade opportunities for us?
Multi-Time Framework of Technical Analysis
In the daily chart, the price levels rejected the daily trend line and spent almost 1 month stuck in consolidation.
In the 4-hour chart, the EUR / JPY price broke out from an ascending channel and is moving to a sideways channel. This is showing a pause moment in the current trend. After a breakdown or a break above the ascending channel, we can see the possible development of a new trend.
Currently, the price is close to the support area offering us two trading scenarios.
Scenario 1 in red: If the price will find support near the area 124.40-124.60, then we can see it coming back again to 126.64 and we can look again for selling opportunities. We have to be careful here as if the price will make a higher height above 127.10, then it will continue with the prevailing trend.
Scenario 2 in blue: If the price will break the support area 124.40-124.60, then we can see it drop to 123.10 and 121.74.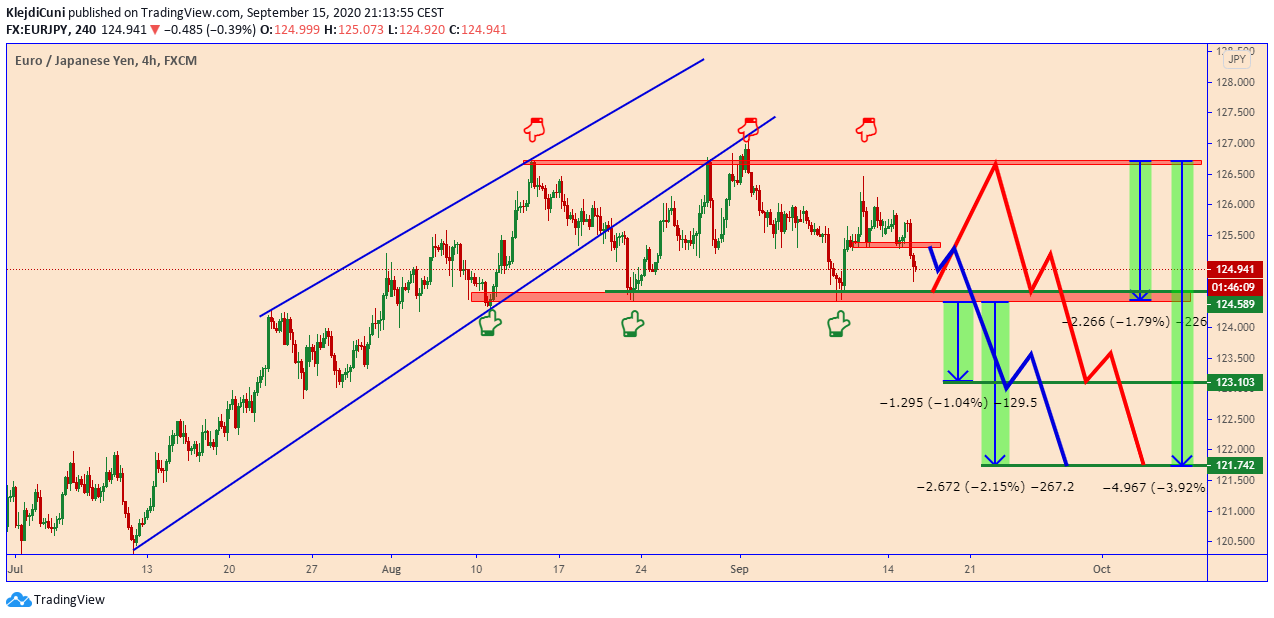 View Comments and Join the Discussion!