What Is Apple Pay?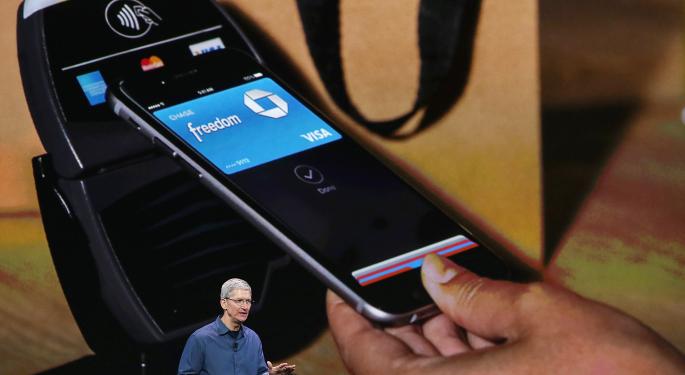 Contactless payments, even though they have been around for a long time, have not gained a lot of traction with the public. Apple Inc. (NASDAQ: AAPL) hopes to change that with its Apple Pay, NFC-based wireless payment system.
In-Store Transactions
Using the Near Field Communication (NFC) antenna in the iPhone 6, consumers simply hold the device near a contactless reader with their finger on Touch ID. Nothing to open and it isn't even necessary to wake up the display on the phone.
Related Link: Everything We Learned From Apple Inc.'s September 9 Event
Apple notes that a beep and subtle vibration lets users know the transaction took place, so it isn't even necessary to look at the screen.
Using an Apple Watch involves double-clicking the button below the Digital Crown while holding the watch near the reader. As with the iPhone a vibration and beep signals that the payment was made.
According to Apple, more than 220,000 stores have already agreed to accept Apple Pay.
Online Payments
Online and in-app purchases with the iPhone involve selecting "Apple Pay" and placing a finger on Touch ID.
Participating apps, so far, include Groupon, Instacart, MLB.com, Open Table, Panera, Sephora, Starbucks and Target.
Setup
Using Passbook, users can also now add credit and debit cards. This can be done from the users iTunes account or via the iPhone iSight camera by capturing card information. Additionally, card information can be typed in manually.
Visa, MasterCard and American Express credit cards will work with Apple Pay, as will debit and credit cards from a number of banks including Bank of America, Chase and Wells Fargo.
Hardware
The Apply Pay system will initially work with the new iPhone 6 and larger iPhone 6 Plus. The system will go online in October, according to Apple.
The Apple Watch paired with both newer and older iPhones, including the iPhone 5, iPhone 5c and iPhone 5s, will come on board in the early part of 2015.
Security
One of the unique features of Apple Pay is the fact that financial information is stored locally (on the device). Apple does not see it and neither does the vendor. Instead of transmitting the card number, Apple Pay transmits a unique Device Account Number and a "transaction specific dynamic security code."
In addition to NFC, Apple utilizes biometric identification via Touch ID. A purchase cannot be accepted unless the user places his or her finger on the Touch ID sensor.
In the event a user's phone is lost, Apple's Find My iPhone service can locate the phone and disable Apple Pay.
Related Link: Can Wocket, The World's First True Smart Wallet, Take On Google Wallet?
The Downside
Despite the many pluses, Apple Pay is not perfect. Popular Mechanics pointed out in its "Haters Guide to Apple's New Gear" that the 220,000 stores Apple boasted about signing up represent only about 6 percent of all U.S. retail stores.
Over time, Apple will almost certainly add more stores, banks and apps. For now, Popular Mechanics advised, "Keep that platinum card handy."
At the time of this writing, Jim Probasco had no position in any mentioned securities.
Posted-In: American Express Apple Apple Pay Apple Watch Bank of America chaseTop Stories Tech Best of Benzinga
View Comments and Join the Discussion!