Apple Event Live Coverage: iPhone 6 Plus And More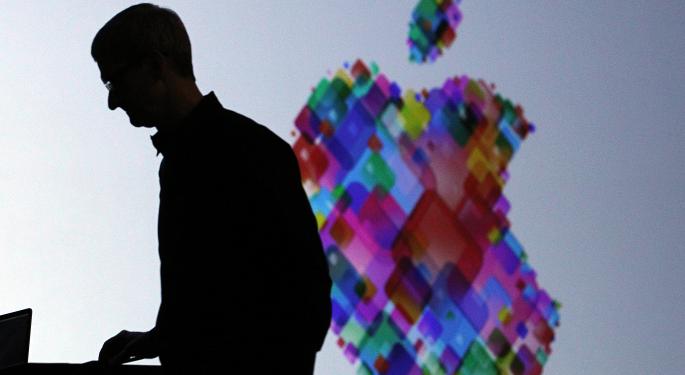 UPDATE 2:57 p.m. EDT: Every iTunes user will receive U2's new album for free.
UPDATE 2:43 p.m. EDT: The Apple Watch will start at $349 and be available in early 2015.
UPDATE 2:42 p.m. EDT: Apple Watch will come in three formats: Apple Watch, Apple Watch Sport and Apple Watch Edition. Apple also said that the device can also be used as a viewfinder for the camera. It can also double as a walkie-talkie.
UPDATE 2:30 p.m. EDT: Apple announced WatchKit to help developers get into the device. Siri is built into the watch as well.
UPDATE 2:21 p.m. EDT: An iPhone will be required to use the Apple Watch.
UPDATE 2:16 p.m. EDT: Apple will also offer three different finishes for the watch in two different sizes.
UPDATE 2:14 p.m. EDT: Six different straps will be available for the Apple Watch. The device will also include a charger that fits into the entire back of the unit.
UPDATE 2:12 p.m. EDT: The Apple watch also includes a new "Taptic Engine" that offers both "touch" and "feel" mechanics.
UPDATE 2:10 p.m. EDT: The Apple Watch features a sapphire screen, finally answering the question, "What is Apple going to do with all that sapphire?"
UPDATE 2:05 p.m. EDT: Apple CEO Tim Cook described the watch as the "most personal device we've ever created." He said that the watch (which is just being referred to as the Apple Watch) will also be a comprehensive health and fitness device.
UPDATE 2:00 p.m. EDT: Apple unveiled its first smart watch with a square display, curved edges, and gold or silver bodies.
UPDATE 1:56 p.m. EDT: Panera, Macy's, Toys 'R' Us, Target and Groupon are among the companies that will take advantage of Apple Pay. Whole Foods, McDonald's, Walgreens, Subway, Disney and Staples are also on the docket.
UPDATE 1:54 p.m. EDT: Apple Pay will launch in the U.s. on AmEx, MasterCard and Visa. The company insists that Apple won't know the user's personal info and is "not in the business of collecting your data."
UPDATE 1:50 p.m. EDT: Apple Pay will work with its fingerprint reading technology. Roughly one year ago, ABG Sundal Collier analyst Per Lindberg predicted that Apple acquired AuthenTec to become the champion of mobile commerce.
UPDATE 1:48 p.m. EDT: Apple unveils its first payment system, Apple Pay.
UPDATE 1:47 p.m. EDT: iOS 8 will be released on Wednesday, September 17.
UPDATE 1:45 p.m. EDT: Cost-conscious consumers are not being left in the dark. Apple will sell the iPhone 5S for $99 and offer the iPhone 5C for free to those who sign a two-year contract.
UPDATE 1:43 p.m. EDT: Apple will begin taking pre-orders on Friday, September 12 for both new iPhones. The iPhone 6 will start at $199 (with a contract), while the iPhone 6 Plus will start at $299 (also with a contract). Both devices will be released on Friday, September 19.
UPDATE 1:38 p.m. EDT: The iPhone 6 will allow users to view slow-motion video at 120 or 240 frames per second. Video can be recorded at 30 or 60 FPS with a resolution of 1080p.
UPDATE 1:36 p.m. EDT: Apple said that the iPhone 6 offers a digital image stabilization feature. The iPhone 6 Plus will feature an "optical" image stabilizer.
UPDATE 1:32 p.m. EDT: The iPhone 6 will feature an 8MP iSight camera with True Tone Flash, 1.5 micron Pixels and a f/2.2 aperture.
UPDATE 1:30 p.m. EDT: The iPhone 6 will support up to 20 different LTE brands. In the U.S., T-Mobile (NYSE: TMUS) will offer Wi-Fi calling. EE will offer Wi-Fi calling in the UK.
UPDATE 1:27 p.m. EDT: The iPhone 6 Plus will offer 24 hours of 3G talk time. The 4.7-inch model will offer 14 hours.
Highlights:
The new phone will come in two sizes (4.7-inch and 5.5-inch), both of which include an "ion-strengthened" glass display. The larger model will be known as the iPhone 6 Plus, finally putting an end to the iPhone XL rumors. Both devices will feature an aluminum back and a stainless steel Apple logo.
Apple is going all-in for the larger iPhone. When the user turns it sideways, the home screen will adjust accordingly. This may not be the case for the 4.7-inch model.
As expected, both of the new iPhones feature curved edges and a fairly narrow bezel. They also include Apple's new A8 64-bit processor, which includes a CPU that's 20 percent faster and a GPU that's 50 percent faster than the previous iteration.
Stay tuned to Benzinga and refresh this page often for more updates!
Disclosure: At the time of this writing, Louis Bedigian had no position in the equities mentioned in this report.
Posted-In: Apple Apple Watch iPhone 6 iPhone 6 Plus iWatchNews Events Tech Best of Benzinga
View Comments and Join the Discussion!