Disclosure: *To earn interest, a cash balance is needed. If you have a margin balance, there is no cash balance to earn interest. Interest rates for cash sweep and margin investing can change at any time. Margin investing is an optional feature. Not all investors will be eligible to invest on margin. Bigger Instant Deposits are only available if your Instant Deposits status is in good standing.
Ally Invest and Robinhood are two of the most cost-competitive brokers on the market, but which is best for building a portfolio? If you're new to investing, Benzinga is here to assist your decision making with a comprehensive, side-by-side comparison of both of choices.
Ally Invest vs. Robinhood: Overview
Who's Ally Invest For?
Ally Invest appeals to both new and experienced traders with a variety of different investment strategies and services, including banking, auto loans, mortgages, credit cards and more. Ally Invest has platforms for both active traders and set-it-and-forget-it retirement savers.
Read Benzinga's full Ally Invest Review
Who's Robinhood For?
Robinhood is aiming to become the official millennial bank with its recent "savings" accounts (please read up on what that actually entails before signing up). Despite this foray into banking, the company still wants to get young people invested in the stock market and push its trading app.
Of course, the biggest selling point is the commission-free trading on any stock or option purchase. Combined with its barebones platform and no physical branches, Robinhood keeps overhead low so costs can remain minimal.
Read Benzinga's full Robinhood Review
Ally Invest vs. Robinhood: Platform and Tools
What Ally Invest Offers
Ally Invest's goal is a platform accessible to both novice and experienced traders. Ally Invest LIVE account holders gain access to all the latest news and stock quotes, plus a few tools to analyze trades. The profit/loss graph and probability calculator allows you to see predictions on your potential trades and charts, which feature 90 different drawing tools and studies.

You'll be able to create your own watchlists, keep track of your holdings and monitor market news all from the same screen. If you're trading on-the-go, Ally Invest also offers a mobile app and web browser platform with many of the same tools as Ally Invest LIVE.
What Robinhood Offers
Robinhood lacks the bells and whistles of Ally Invest's trading platforms (let alone TD Ameritrade's notable thinkorswim). You'll be able to create watchlists, look at stock charts and catch up on current events, but you won't have the tools to perform complex analysis. Charts have no drawing tools for technical analysis and your market news is compiled only from free sources like Reuters and Yahoo Finance.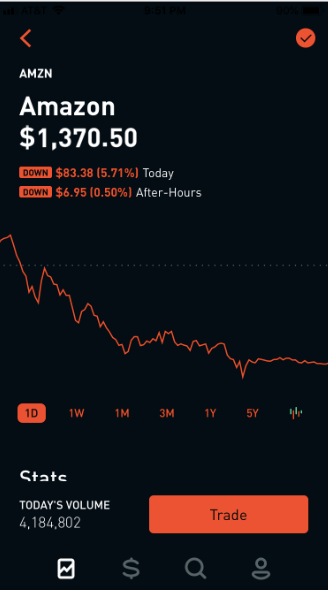 You'll be able to keep track of your favorite stocks, but there's nothing to analyze trades or chart patterns. Basic stats like P/E ratio, volume, market cap, 52-week highs, and lows are all you have, although Robinhood does give you easy access to quarterly earnings conference calls. The platform is sleek and visually appealing, but it's very rudimentary and experienced traders will find the tools lacking.
Bottom Line
You get what you pay for with Robinhood. There's hardly any tools for research and the platform is intentionally simplified. Ally Invest has more options for research and trade analysis, especially the probability calculator. Inexperienced traders might appreciate the peeled-back simplicity of Robinhood, but veteran investors will prefer Ally's collection of tools.
Ally Invest vs. Robinhood: Research Offerings
What Ally Invest Offers
Ally Invest offers a library of research articles about stocks, bonds, options and all other types of securities and investment strategies. You can switch charts between lines and candlesticks and map out 90 different patterns and signals. News updates are sent via a live feed, plus, you'll have access to individual company balance sheets and income statements. Investors of any experience level will find Ally Invest LIVE's research useful.
What Robinhood Offers
Robinhood does have charts, articles from free sites and access to conference calls, but one of the ways Robinhood keeps its overhead costs low is by forgoing analysis from industry research firms. You won't find any chart tools, Morningstar lists or predictions from top analysts. You'll have to do the research yourself through other services.
Bottom Line
Robinhood only offers barebones research from free sources like Yahoo! Finance. You won't be able to manipulate charts or test strategies. On the other hand, Ally Invest offers a livestream of market news and plenty of tools and research articles to help investors make better trades. Ally Invest has the better options here, hands down.
Ally Invest vs. Robinhood: Commission and Fees
Ally Invest's Fees
Ally Invest has some of the lowest commissions in the discount brokerage space. Self-directed accounts have no minimums and commissions and trades are only $4.95. Active traders can get that commission reduced to $3.95 if you make at least 30 trades per month (or have a $100,000 account balance). Options contracts are $0.65 each plus commission and bonds cost $1. Ally Invest also has a margin rate of 8.75%, which is lower than rates from TD Ameritrade and E-Trade.

Robinhood's Fees
Robinhood has no commission on any trade of any kind. Want to buy 100 shares of Amazon? You won't pay a penny in fees. Want to buy one share of eBay? Again, you won't be charged anything. Robinhood lets users trade any stock, ETF, option or cryptocurrency free of commission. If you want to transfer stocks out of Robinhood and into a different brokerage, you would be charged $75.
Robinhood also offers a premium service called Robinhood Gold with a monthly fee that varies depending on your account size. With Robinhood Gold, users get access to margin trading and extended market hours.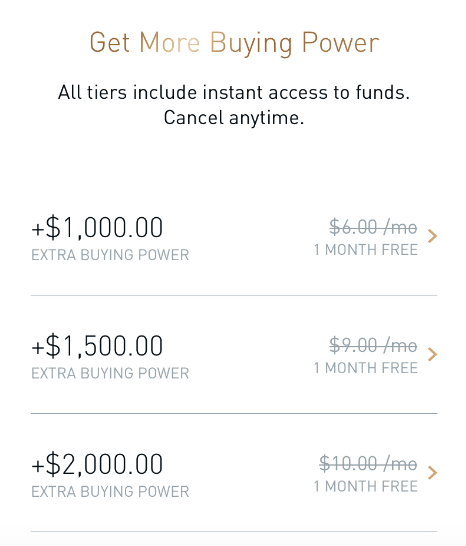 Bottom Line
Zero commission trading is tough to beat, although your purchase options are far more limited with Robinhood. Ally Invest has the cheapest commission among traditional brokers, but Robinhood is anything but traditional. There's no additional cost for trading options on Robinhood, either.
Ally Invest vs. Robinhood: Security
What Ally Invest Offers
Ally Invest is an SIPC member that insures customer accounts up to $500,000 and also has an additional insurance policy with Lloyd's of London. The trading platform uses SSL technology to encrypt user data and Ally shuts off account access after too many failed logins.
What Robinhood Offers
Robinhood is a member of both FINRA and SIPC, which insures accounts up to $500,000. Data is encrypted using a BCrypt hashing algorithm and communication with servers is done with Transport Layer Security protocol to ensure the most up-to-date security measures.
Bottom Line
Both Ally Invest and Robinhood are SIPC members to insure customer accounts. Additionally, both companies do a good job securing account data through multi-layer encryptions. There's little to worry about, security-wise, with either firm.
Ally Invest vs. Robinhood: Customer Support
What Ally Invest Offers
Ally Invest customers can reach support through chat, email, and telephone. All are available 24/7 for account holders, so you'll never be locked out of your account with no recourse. Even international account holders have access to 24/7 customer support. As an Ally Invest customer, you'll always feel like your business is important.
What Robinhood Offers
It's important to emphasize that Robinhood keeps trading free because of minimal operating costs. You can email customer service at support@robinhood.com, but don't expect a quick response, especially during market hours. There's no phone support number to call or live chat feature, which is odd given that it's such a tech-savvy firm.
Bottom Line
Ally Invest wins this one with its 24/7 support through three different avenues. Robinhood has no phone or chat support and the email responses to problems can be delayed. You're pretty much on your own with Robinhood, but again, you get what you pay for.
Ally Invest vs. Robinhood: Tradable Asset Classes
What Ally Invest Offers
Ally Invest has a longer list of investment options than Robinhood. You'll get access to stocks, mutual funds, and ETFs, but also bonds, options, forex trading, derivatives, and futures. Like other discount brokers, Ally Invest has a list of commission-free ETFs from iShare and WisdomTree for account holders.
What Robinhood Offers
The one thing Robinhood has that Ally Invest doesn't is cryptocurrencies. Robinhood account holders can trade six different digital currencies, including Bitcoin, Bitcoin Cash, Ethereum, Litecoin and Dogecoin.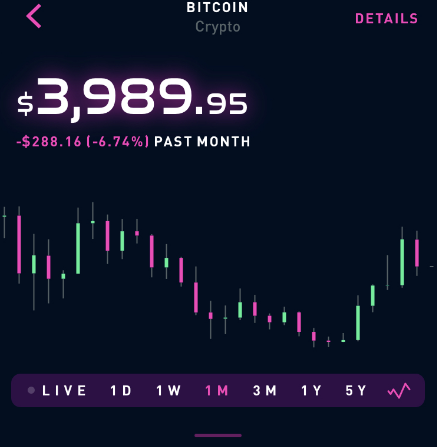 Robinhood users can also buy stocks and options, but not bonds or forex trading and many penny stocks aren't available. You don't have to pay commission, but the selection of assets is limited.
Bottom Line
Robinhood basically has four different investment options: stocks, options, ETFs and cryptocurrencies. Ally Invest doesn't have cryptocurrencies, but you'll be able to buy stocks, options and ETFs, along with forex, bonds, mutual funds, penny stocks and a list of commission-free ETFs. Outside of cryptocurrencies, Ally Invest simply has more to offer.
Ally Invest vs. Robinhood: Ease of Use
What Ally Invest Offers
Ally Invest's platform is more complex than Robinhood's, but you shouldn't have trouble finding your way. Ally Invest LIVE gives all your account information and watchlists on the same screen so you can track the market with ease. Experienced traders can find research on complex trades, but the platform is still geared towards helping novices find their way without too much hassle.
What Robinhood Offers
Simplicity is critical to Robinhood's mission. The company targets inexperienced investors who often need their hand held through buy-and-sell decisions. The app is aesthetically pleasing and easy to navigate. You can find stocks, ETFs, or cryptocurrencies by simply typing ticker symbols into the top right-hand corner.
Looking to buy options? Robinhood will ask you whether you think the underlying stock is going up or down and direct you to calls or puts based on your answer. Your account, settings and bank information are easily accessible from a dropbox on the app. It's simple and efficient, without bells and whistles.
Bottom Line
Robinhood's app is designed to be simple and easy. Ally Invest isn't a difficult brokerage platform to navigate by any means, but Robinhood lets you do everything with only a few taps on the screen. Due to a lack of extra features, Robinhood's simplicity is unmatched, as long as you don't need to talk to customer service.
Final Thoughts
Both Robinhood and Ally Invest are designed with a younger generation of investors in mind. Ally Invest is more of a traditional discount brokerage, while Robinhood is a disruptor with an unconventional business model and strategy. In reality, Ally Invest is the superior platform in every regard except price, but for many investors, price is the most important factor when choosing a brokerage.
securely through Ally Invest's website

Socially Responsible Investing

securely through Robinhood's website