Polygon is hoping to bring extreme speed and low costs to the Ethereum network. The project has high ambitions to become an integral part of the Ethereum ecosystem. However, the token has fallen drastically in recent months. Why did this happen? Does this mean that now is a good time to buy Polygon?
Is Now a Good Time to Buy Polygon (MATIC)?
MATIC has been steadily falling since November 2021 and recently hit a 52-week low. However, the entire crypto market has been falling at a similar pace, so the downturn is not specific to MATIC.
A few important factors determine if now is a good time to buy MATIC.
The first involves the overall crypto markets. If the overall markets continue to slide, then so could MATIC. Conversely, the markets could be reaching the bottom. In this case, there could be a solid move off the lows for MATIC.
The price of MATIC could also be dependent on the project itself. If the project releases new technology, it could send prices soaring. On the other hand, a failure of the project could bring about new lows, as seen with LUNA.
Overall, a variety of factors could have an impact on the future price of MATIC. As such, it is important to stay on top of all crypto news.
How Long Will the Crypto Bear Market Last?
While it is impossible to predict how long a crypto bear market will last, analysts from the Nasdaq exchange are not saying no to the idea of a bear market lasting 1 to 2 years, which means at least another 18 months.
If a bear market is to last that long, then it is important to be aware of investing strategies that could reduce losses. Dollar cost averaging is a great strategy that many investors use to mitigate risk. This strategy involves buying a set amount of a token on a fixed timeline (e.g. buy five MATIC once a month). This process gives investors exposure to various price levels the token experiences.
Another investing strategy is setting stop losses. This strategy automatically sells your tokens if they reach a certain price. This strategy can take the emotion out of investing and allow you to create a concrete plan for your investments.
Will Polygon (MATIC) Ever Reach All-Time Highs?
Polygon is currently trading at around $0.50, an over 80% drop from its all-time high of nearly $3.00 set in late 2021. MATIC currently has a market capitalization of $3.5 billion, a sharp fall from its market cap in late 2021 of nearly $22 billion.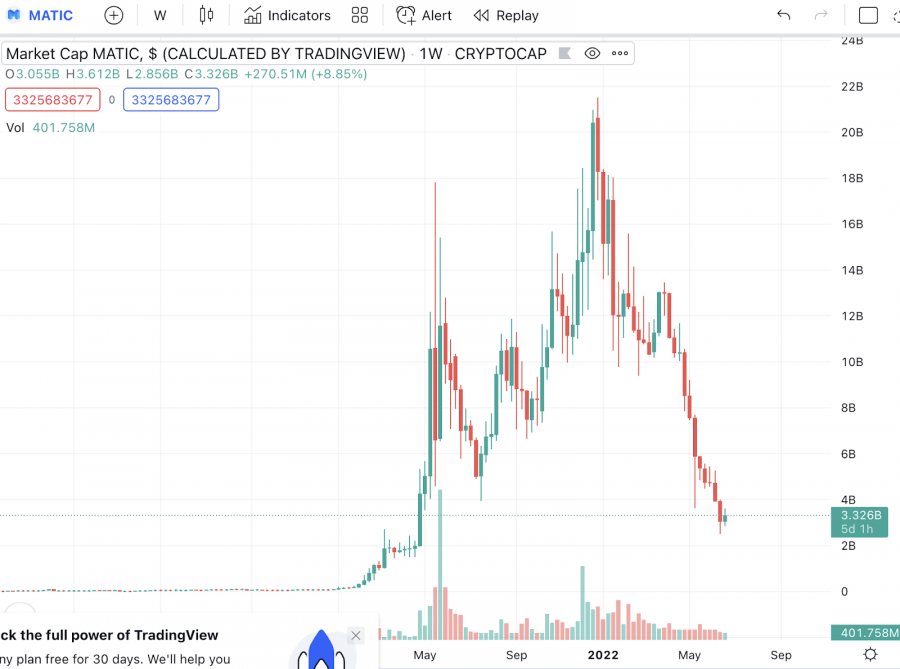 For Polygon to return to all-time highs, it would need to see a price increase of over 600%. This is obviously no small feat. If it does happen, it would either require large amounts of time or drastic changes to the markets.
Is Polygon (MATIC) a Good Long-Term Investment?
Polygon is a sidechain of Ethereum, meaning that it uses its own security protocols and is essentially a different blockchain. However, its main use is that it can process transactions for the Ethereum chain.
Polygon allows users to access Ethereum applications in a cheaper, more secure and often faster fashion.
While Polygon is a great idea on paper, the price of the token is largely dependent on the number of users that trade the token. More users lead to more demand and a higher price for the token.
Polygon could turn out to be a great long-term investment, but this eventuality is largely dependent on the number of users and volume the project can bring in.
How to Buy Polygon (MATIC)
Polygon has been around for several years, so it is available on a variety of different crypto trading platforms. Among the best are Coinbase Global Inc. (NASDAQ: COIN), Gemini and Voyager.
These platforms are well known for their security, low fees and ease of use. 
1 Minute Review
Coinbase is one of the Internet's largest cryptocurrency trading platforms. From Bitcoin to Litecoin or Basic Attention Token to Chainlink, Coinbase makes it exceptionally simple to buy and sell major cryptocurrency pairs. 
You can even earn cryptocurrency rewards through Coinbase's unique Coinbase Earn feature. More advanced traders will love the Coinbase Pro platform, which offers more order types and enhanced functionality.
Though Coinbase doesn't offer the most affordable pricing or the lowest fees, its simple platform is easy enough for complete beginners to master in as little as a single trade.
Best For
New cryptocurrency traders
Cryptocurrency traders interested in major pairs
Cryptocurrency traders interested in a simple platform
Pros
Simple platform is easy to operate
Comprehensive mobile app mirrors desktop functionality
Coinbase Earn feature rewards you with crypto for learning about available coins
Cons
Higher fees than competitors

1 Minute Review
Gemini is a cryptocurrency exchange and custodian that offers investors access to over 100 coins and tokens. Founded in the US, Gemini is expanding globally, in particular into Europe and Asia. Offerings include both major cryptocurrency projects like Bitcoin and Ethereum, and smaller altcoins like Orchid and 0x.
Gemini is 1 of the only brokers with multiple platform options based on skill level. New investors will love the streamlined interface of Gemini's mobile and web apps, while advanced investors might appreciate all the tools that come with ActiveTrader. 
In addition to a host of platform choices, Gemini users also have access to insured hot wallets to store tokens without worrying about digital asset theft. Learn more about what Gemini can do for you in our review.
Best For
New investors looking for a simple mobile and web app
Day traders looking to use technical analysis tools
Users looking for a 1-stop-shop to buy, sell and store all of their cryptos
Pros
Easy and quick signups — can get started in as little as a 5 minutes
Multitude of platforms to accommodate traders of all skill levels
Hot wallets include insurance to protect your from theft and hacking attempts
Cons
Charges both a commission and a convenience fee for users buying and selling through the desktop or mobile app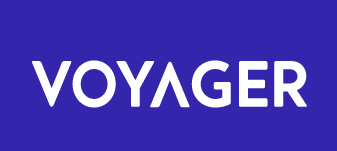 Disclosure: *Other fees may apply.
1 Minute Review
Voyager is a leading name in the sphere of cryptocurrency investing, giving you access to over 50 tokens and coins. Buy, sell and swap assets using Voyager Crypto's simple mobile platform available as a free download for iOS and Android users. 
When you invest through Voyager, you'll pay nothing in commissions, which is a major benefit when compared to other cryptocurrency brokers. Voyager is also one of the only brokers we've seen that allows users to earn interest on their crypto investments. 
Though the broker could do more to improve its customer service, it's an excellent option for beginner investors and seasoned professionals alike.
Best For
Cryptocurrency investors looking for a wide selection of supported projects.
Investors who prefer mobile trading.
Anyone interested in earning interest on their crypto investments.
Pros
Simple, straightforward and intuitive mobile platform
Wealth of investment opportunities
Allows users to earn interest on select crypto investments
Cons
Only available for mobile users — no desktop platform
Limited routes to contact customer service team
How to Store Polygon (MATIC) Safely
While it may be easy to store your MATIC on a crypto trading platform, these platforms have been hacked in the past, and users lost their investments.
A solution to this is a crypto wallet. These tools give users full control and responsibility for their funds. You can set up software and hardware wallets, athough hardware wallets are often regarded as a safer option.
Hardware wallets are physical devices that store the private codes needed to send crypto. If the physical device is not present to confirm transactions, then crypto cannot be sent.
Ledger is a leading brand of hardware wallet known for its safety and usability. It currently offers Nano S and Nano X models. The Nano S offers basic features while the Nano X is designed for easier use with bluetooth connectivity and a larger screen.
How Does Polygon (MATIC) Fit in the Bigger Picture? 
Polygon competes with many sidechains and Layer-2s for market share. However, Polygon is one of the older solutions and has a strong community that backs the project.
Overall, Polygon moves closely with Ethereum and the larger crypto market. As such, it is important to stay up to date on crypto prices with Benzinga's crypto price table.
So, is Now a Good Time to Buy Polygon (MATIC)?
Polygon has the chance to become a major player in the crypto space. However, its future direction is largely dependent on the project's ability to bring in users and volume. Without users, the project is useless.
If you think that the demand for MATIC and sidechains will increase, now may be a good time to buy MATIC. 
Frequently Asked Questions
Is now a good time to buy Polygon (MATIC)?
Polygon's success is dependent on a variety of factors such as the overall crypto markets and the project itself. If you are bullish on these factors, then now may be a good time to buy.
Answer Link
Can MATIC reach new all-time highs?
MATIC is far away from its all-time highs, but that does not mean price increases are out of the question. A massive turnaround could send MATIC back to $3.00.
Answer Link