The Enjin network is a blockchain-based gaming platform where builders can develop websites, games and non-fungible tokens (NFTs). Its native token, Enjin Coin, is an ERC-20 token. The key use today is that it holds a melting property, allowing users to destroy their digital assets to collect the value of ENJ from inside.
The Enjin Network is a popular bet for those looking to get exposure to GameFi, but the market sell-off has holders in pain. As the macro environment tightens with rising interest rates and reduced quantitative easing, speculative bets on altcoins have fallen out of fashion. Enjin Coin will need to see a shift in market sentiment, as well as continue building out its platform for a shot at returning to its previous highs. The following article will discuss whether right now is a good time to buy Enjin Coin (ENJ).
Is Now a Good Time to Buy Enjin Coin?
During market crashes, crypto goes on sale. While cheaper prices can produce higher returns during the next bull market, there is also the risk of trying to catch a falling knife. In other words, buying the dip, as it continues to dip, can be a painful experience for investors. Discipline and patience are encouraged in these market conditions.
Along with the risk of further pain in the market, Enjin Coin holds the risk of being wiped from existence. The platform does hold around 20 million users; however, previous market cycles have taken altcoins to zero. Enjin Coin has not created enough of a moat for itself to be ruled entirely safe from dying in this bear market.
How Long Will the Crypto Bear Market Last?
The crypto market is still deep in a bear market with Ethereum at around $1,100 and Bitcoin near $20,000. These drops took them below the last cycle's all-time highs, leaving the digital assets at prices that many experts once believed would never be seen again.
While this dip is worrisome to many, others see an opportunity. After all, money is often made in the bear market and realized in the bull market. That said, it is impossible to tell how long this bear market will last or how long cryptocurrencies can drop. Legendary Investor Kevin O'Leary gave his take on the crash in an interview with Market Insider, "I'm not selling anything. Long term you just have to stomach it. You have to understand you'll get volatility, and that some projects aren't going to work."
It is important to stay even keeled in times of high uncertainty, prices dropping should not alter your original investment thesis. If you believe blockchain technology is the future, then these prices have begun to look very attractive.
It's also important to not overextend your investments. It is often good practice to allocate a portion of your portfolio to cash. With fiat at the ready, you have a world of investment options at your fingertips and can take advantage of price drops. Also, by keeping cash you will be able to cover your everyday expenses without being forced to sell part of your portfolio at cheaper prices. By using dollar cost averaging, you can choose a set amount of cash to automatically buy every week, two weeks or month. This process helps eliminate some risk.
While Bitcoin is down, altcoins are receiving the blunt end of this bear market, on average losing more value than that of Bitcoin or Ethereum. This sentiment is true for Enjin Coin, which is down roughly 92% from all-time highs.
Will Enjin Coin Ever Reach All-Time Highs?
With Enjin Coin down about 92% from all-time highs, it is difficult to see it returning to these heights in the near term. Trading today at just under $0.50, market sentiment would have to do a full turn for ENJ to rise back to $4.85 and beyond.
Enjin Coin has remained a top 100 coin by market cap. If Enjin Coin is able to remain relevant and provide a reliable blockchain based gaming platform, it is possible to see it return to all-time highs during the next bull market. Until then, it is difficult to see a future where the ENJ token gains much momentum.
Is Enjin Coin (ENJ) a Good Long-Term Investment?
The Enjin Coin is an anti-inflationary token for the Enjin network. Its anti-inflationary property comes from its capped supply, as well as the melting property that locks ENJ into digital assets minted through the Enjin network. The token has strong utility and a narrative of GameFi growth in the next bull run. If this holds true, Enjin Coin is well positioned to profit.
How to Buy Enjin Coin (ENJ)
1 Minute Review
Coinbase is one of the Internet's largest cryptocurrency trading platforms. From Bitcoin to Litecoin or Basic Attention Token to Chainlink, Coinbase makes it exceptionally simple to buy and sell major cryptocurrency pairs. 
You can even earn cryptocurrency rewards through Coinbase's unique Coinbase Earn feature. More advanced traders will love the Coinbase Pro platform, which offers more order types and enhanced functionality.
Though Coinbase doesn't offer the most affordable pricing or the lowest fees, its simple platform is easy enough for complete beginners to master in as little as a single trade.
Best For
New cryptocurrency traders
Cryptocurrency traders interested in major pairs
Cryptocurrency traders interested in a simple platform
Pros
Simple platform is easy to operate
Comprehensive mobile app mirrors desktop functionality
Coinbase Earn feature rewards you with crypto for learning about available coins
Cons
Higher fees than competitors

1 Minute Review
Crypto.com strives to make cryptocurrency a part of everyday life by offering a full suite of services for crypto users. The company offers a Crypto.com App, Exchange, Visa Card, DeFi swap, DeFi Wallet, DeFi Earn, Crypto.com Price, staking, crypto lending, and many other services. What really sets them apart, however, is the combination of super low fees and incredibly generous rewards programs for their users.

Best For
Traders who want access to a secure, low-cost cryptocurrency exchange
Passive investors who want to earn interest on their balance without frequent trading
Mobile investors who prefer to handle all their crypto needs via their phone or tablet
Pros
Low fees
High security
One-stop shop for all your crypto needs (wallet, trading, spending, and more)
Lots of ways to earn interest, rewards, and rebates
Cons
Low privacy
Customer service response time could be improved
If you are based in the U.S., a popular way to trade Enjin Coin is through the Coinbase Global Inc. (NASDAQ: COIN) exchange or Crypto.com exchange. If you are skeptical of centralized exchanges, you can access a decentralized exchange (DEX) such as Uniswap. ENJ being an ERC-20 token makes it easily swappable via Ethereum, a non-custodial wallet and a reliable DEX.
How to Store Enjin Coin Safely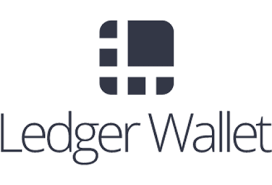 buy now
securely through Ledger Hardware Wallet's website
1 Minute Review
Launched in 2014, Ledger has transformed into a fast-paced, growing company developing infrastructure and security solutions for cryptocurrencies as well as blockchain applications for companies and individuals. Born in Paris, the company has since expanded to more than 130 employees in France and San Francisco.
With 1,500,000 Ledger wallets already sold in 165 countries, the company aims at securing the new disruptive class of crypto assets. Ledger has developed a distinctive operating system called BOLOS, which it integrates to a secure chip for its line of wallets. So far, Ledger takes pride in being the only market player to provide this technology.
Best For
ERC-20 tokens
All experience levels
Pros
Easy to set up and use
Supports more than 1,500 different digital assets
Tamper proof
Portable
Long-lasting battery
Bluetooth connectivity features
Some people will choose to stick with centralized exchanges. If that functionality is important to you, read the fine print and understand who holds your assets and what the assets are doing. It is also good practice to do your due diligence on the company and ensure the exchange is reliable.
If you choose the DEX route to purchase Enjin Coin, have a plan for safe storage. While software wallets can help you connect to decentralized applications, hardware wallets are better for secure storage. Wallets don't access the internet, keeping users safe from phishing attacks and scams.
The top hardware wallet brand in the world, Ledger, offers three great models: the Nano X, Nano S and Nano S Plus. These wallets keep your assets safe and have a relatively simple user experience. They support more than 1,000 different cryptos on many different blockchains.
How Does Enjin Coin Fit in the Bigger Picture?
Enjin Coin fits in the bigger picture if GameFi takes off and the Enjin network is able to carve out a position in the space. While there have been a healthy number of users on the platform, market downturns tend to scare users off. Enjin Coin should be focused on surviving the bear market and building for the next bull market. The Enjin network will need to compete with a number of other chains that are big in GameFi, including Gala, Solana and Avalanche. These niche GameFi chains are also at risk of Ethereum gobbling up smaller chains as it continues to develop and integrate Layer 2 solutions.
[we will insert cryptocurrencies table here]
So, is Now a Good Time to Buy Enjin Coin (ENJ)?
If you strongly believe in the future of GameFi as well as the Enjin Network, Enjin Coin could be a good buy for you right now. However, caution is encouraged when entering this volatile market. Practices like dollar cost averaging can help hedge risk and keep unwanted emotions from your trades.
Frequently Asked Questions
Is now a good time to buy Enjin Coin?
Enjin Coin is under heavy selling pressure because of the current crypto bear market. If you like its cheap price and position in the GameFi industry, it could be a good long-term hold.
Answer Link
Can Enjin Coin reach new all-time highs?
The macro environment will need to do a full 180 degrees for Enjin Coin to see new all-time highs.
Answer Link