1 Minute Review
IG is a comprehensive forex broker that offers full access to the currency market and support for over 80 currency pairs. The broker only offers forex trading to its U.S.-based customers, the brokerage does it spectacularly well. Novice traders will love IG's intuitive mobile and desktop platforms, while advanced traders will revel in the platform's selection of indicators and charting tools. Though IG could work on its customer service and fees, the broker is an asset to new forex traders and those who prefer a more streamlined interface.  
Best For
New forex traders who are still learning the ropes
Traders who prefer a simple, clean interface
Forex traders who trade primarily on a tablet
Pros
Easy-to-navigate platform is easy for beginners to master
Mobile and tablet platforms offer full functionality of the desktop version
Margin rates are easy to understand and affordable
Access to over 80 currency pairs
Cons
U.S. traders can currently only trade forex
Customer service options are lacking
No 2-factor authentication on mobile
Why IG Over Others?
Why use IG over competing forex brokers? Let's take a look at the platform's biggest benefits. It offers:
An easy-to-use introduction to the forex market: IG offers a welcoming and intuitive platform for desktop and mobile users, combining a simple interface with powerful tools and a host of indicators to choose from.
A comprehensive mobile app: IG's mobile app continues its commitment to simplicity. It offers full trading capabilities in a streamlined, powerful platform.
Native tablet interface: Are you a member of the often-forgotten tablet trader clan? IG is one of the few forex brokerages we've seen offering a native tablet interface on both iOS and Android platforms.
Brokerage Quick Summary
| | |
| --- | --- |
| Tradable assets | Forex (additional assets available for international account holders) |
| Platform | Comprehensive — a wide range of screening tools and indicators available |
| Mobile app | Fully operational, mirrors desktop web-trading platform |
| Account minimum | $0 |
| Available account types | Commercial and standard forex |
As a forex brokerage firm, IG charges commissions a little differently than brokers that focus on stock and ETF trading. Instead of charging a flat-rate commission, IG follows the spread pricing model like most other brokers focused on forex.
When you view currencies on your trading platform, you'll see 2 different prices listed: the bid price and the ask price. The bid price is the highest price that a buyer is currently willing to pay for the currency listed. The ask price is the lowest price that a seller is willing to sell a unit of his or her currency for. The difference between the bid price and the ask price is referred to as the "spread." The spread goes to IG in exchange for carrying out your trade.
Spreads may vary depending on your base currency, the currency you're trading for and current market conditions. IG institutes a minimum spread for all its transactions, but its spreads are, on average, on par with competitors.  

The difference between the bid and ask price is called the spread. The spread goes to your broker in exchange for executing your trades. IG's spreads vary depending on the currency you're trading.
IG also offers margin trading for forex accounts. Margin availability is high, like with most forex brokers. Instead of requiring a set dollar amount in your account to access margin trading, IG requires traders to maintain at least a certain percentage of their margin power in their account. For example, if your base currency is the United States dollar and you want to purchase British pounds on margin, you'll have a 2% margin requirement.
This means that if you want to trade with the power of $100,000 USD, you'll need 2% of the transaction value ($2,000) to use this level of margin. Percentage margin requirements vary depending on base currency and traded currency, with the highest margin requirements on currencies that frequently fluctuate in value.
IG has a minimum account requirement of $0, meaning that anyone can get started forex trading on its platform. However, IG loses points for its high hidden fees. IG charges an expensive "inactivity fee" of $18 per month if you don't make a trade for at least 2 years. If you want access to live charts, you'll pay a whopping $40 a month — though this fee is refunded if you place more than 4 trades a month. What happens if you forget to fill out a valid W-9 form? You'll be charged a $50 fee each quarter you fail to provide documentation.
Creating an account with IG is fast and simple, even for those who have never opened a brokerage account before. You can complete the entire process online, and IG's intuitive signup system will assist you in uploading identity verification documents and linking your bank details to fund your forex account. Most users will be able to open their account in a few minutes, and the process is simple enough that you can complete it on a phone or tablet.
IG's desktop trading platform is equally intuitive and easy to use. Bid and ask prices are clearly laid out side-by-side for faster comparisons. You can open, close and edit your positions with just a few clicks and you can even set automatic stop-loss and profit-taking orders to further streamline your trading. If you trade more than 1 currency pair, you can also create multiple workspaces and flip through tabs with just a few clicks.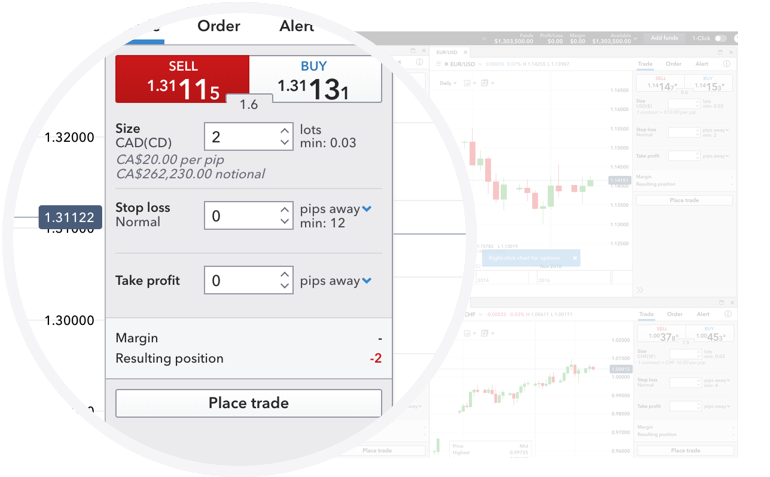 IG's quick search feature allows you to look for currencies by name or symbol. The platform currently supports a variety of order types, ranging from market orders to trailing stop orders. IG's platform also offers a wide range of indicator and charting tools for intermediate traders, and you can place multiple indicators and annotations on a single chart. Two-factor authentication is available for enhanced security. You can enable price alert notifications from your desktop as well. You'll find a wide selection of charting and platform tools and quick workspace tools. IG earns top marks for usability.
IG provides account holders with a few different educational resources to learn more about trading forex. Let's take a look at 3 of our favorite educational resources offered by IG.
IG Academy is IG's complete online forex course. IG Academy offers 8 unique courses, beginning with an introduction to the financial markets for beginners and ending with advanced risk management strategies. Each course is broken up into short, easily digestible lessons, engaging videos and graphics and interactive elements to test what you've learned. IG Academy currently only offers 1 course at the advanced level.
Live webinars: Prefer to do your learning live? IG offers a complete selection of live webinars to supplement your learning. Webinars are available at all skill levels and are free to all account holders. Some upcoming webinar topics include a Trading Masterclass on how to use IG's platform most effectively and MACD Trading Strategies, an introduction to the MACD indicator and how to use it.
Native news feed: IG's desktop trading platform includes a native newsfeed, complete with a variety of articles and current happenings related to the currency chart you're viewing. Click on an article to read, then flip back to your workspace to trade.
All educational materials are free, though you'll need to be logged into your IG account to start using them.
IG provides customers with two methods to contact customer service.
By phone: Call IG's customer service team by phone at 312-981-0500. Customer support is available by phone 24 hours a day from 3 a.m. Saturday to 5 p.m. Friday EST.
By email: Send a message to helpdesk.us@ig.com to contact IG's customer support by email.
IG offers a variety of different phone numbers for its customer support team, so check which number to call by checking the company's phone rubric. 
IG is primarily a forex broker, and if you're a U.S.-based trader, you can currently only access the forex market through IG. Though IG's available assets are limited for most traders, it offers comprehensive and affordable access to the forex market. You can currently trade over 80 currency pairs on IG's platform.
Fees are straightforward and clear. The broker's desktop platform is impressive and useful for forex traders of all skill levels. Beginner traders will appreciate the platform's easy-to-use and clean design and more advanced traders will be impressed with the variety of screening tools and indicators available.
IG continues its commitment to simple and streamlined design with a comprehensive mobile offering. Easy to use and quick to master, the mobile platform mirrors desktop compatibilities. IG's mobile app doesn't cut any features and allows you to place advanced and multi-step orders — just like on the desktop platform. We wish the app offered 2-factor authentication or Touch ID for enhanced security, IG's current mobile app is great for both beginner and advanced traders.
Let's take a look at a few of our favorite features you can take advantage of as an IG mobile user.
Personalized watchlists: Finding the currencies you want to trade is easy with IG's app. Search for currencies or currency pairs by name or symbol, then create a personalized watchlist of the pairs you trade most frequently. When you open the app, you'll see your most frequent pairs on your home screen from now on.
Real-time alert features: Prefer to trade on-the-go without being stuck to your mobile screen? Set a price alert through the IG app. When your specified price is triggered or your order is filled, you'll receive a convenient push notification.
Specific interface features for tablet users: While nearly every brokerage offers some form of mobile app, tablet users often get left behind. IG offers a native app for both Apple and Android tablets. IG's tablet offering is an enhanced version of its mobile interface — not a stretched-out clone of the smartphone offering.
The IG app is available as a free download for both Apple and Android users.
It's important to set your expectations beforehand when you compare IG to other traders. If you're a U.S.-based trader, that means understanding that IG isn't a one-stop shop for all your investing needs, and only offers access to the forex market. What IG lacks in offerings, it more than makes up for with its easy-to-use and welcoming platform.
IG's desktop platform seamlessly combines a clean and intuitive interface with a variety of hidden tools. Though the broker's customer service and educational offerings aren't anything to write home about, IG does wonders for providing a welcome first-step for new forex traders, who are often overwhelmed with expert-oriented platforms.
So, should you open an account with IG? If you're interested at all in forex trading, our answer is a resounding "Yes!" If you're a more casual investor who's only interested in stocks, options or retirement saving, you'll need to look elsewhere for your investing needs.