1 Minute Review
FOREX.com is a one-stop-shop for forex traders. With a massive range of tradable currencies, low account minimums and an impressive trading platform, FOREX.com is an excellent choice for brokers searching for a home base for their currency trading. New traders and seasoned veterans alike will love FOREX.com's extensive education and research center that provides free, informative forex trading courses at multiple skill levels. While FOREX.com is impressive, remember that it isn't a standard broker. You can't invest in the stock or bond market through your FOREX.com and you cannot open an account with tax advantages. The confusing pricing and margin structures may also be overwhelming for new forex traders.
Best For
MetaTrader 4 users
Beginner forex traders
Active forex traders
Pros
Impressive, easy-to-navigate platform
Wide range of education and research tools
Access to over 80 currencies to buy and sell
Leverage available up to 50:1
Cons
Cannot buy and sell other securities (like stocks and bonds)
Confusing margin requirements that vary by currency
Limited customer support options
Cannot open an IRA or other retirement account
FOREX.com is one of the leading online platforms for forex traders. Take a look at this in-depth review to see why traders are swooning over this particular platform.
Why FOREX.com Over Others?
Should you open an account with FOREX.com? Let's take a look at some of the benefits of working with this broker.
Wide range of currencies to trade: FOREX.com allows you to buy and sell over 80 currencies, making the broker one of the most comprehensive currency trading providers in the world.
Comprehensive list of indicators: Traders who use technical analysis to inform their positions will love FOREX.com's indicator offerings. FOREX.com offers access to over 90 individual indicators, and you can add indicators to a currency chart with a single click. You can even add multiple indicators to a single chart for the most informed view possible.
Plenty of education tools: Forex trading can be intimidating — especially to beginners. FOREX.com offers a massive selection of research and education tools for traders at every expertise level. From live webinars to beginner and advanced risk management courses, every trader can learn something new when they open an account.
FOREX.com Quick Summary
| | |
| --- | --- |
| Tradable assets | Forex, select CFDs, gold and silver |
| Platform | Comprehensive; wide range of trading tools and education resources |
| Mobile app | Fully operational, mirrors desktop web-trading platform |
| Account minimum | 50 units of your base currency |
| Available account types | Commercial and standard forex |
FOREX.com charges fees slightly differently than stock and option accounts. When you get ready to exchange a currency, you'll see 2 different prices listed: a "bid" price and an "ask" price. On some platforms, these are referred to as the "sell" and "buy" prices. The bid price is the highest price that a buyer is willing to pay for any given security. The ask price is the lowest possible price that a seller is willing to pay for a security. The difference between the bid and ask price is called the "spread," which goes to your broker in exchange for executing your trade.
The amount of money you pay in fees varies depending on how often you trade and your average trading volume. FOREX.com charges lower spreads than competing brokers. Though spreads change on a daily basis as markets move and change, its average spreads are less expensive than competing brokers. FOREX.com also offers an Active Trader Program, which allows traders with a balance of at least $25,000 in their account who make at least $25 million worth of trades per month to tighten their spreads and pay less per trade.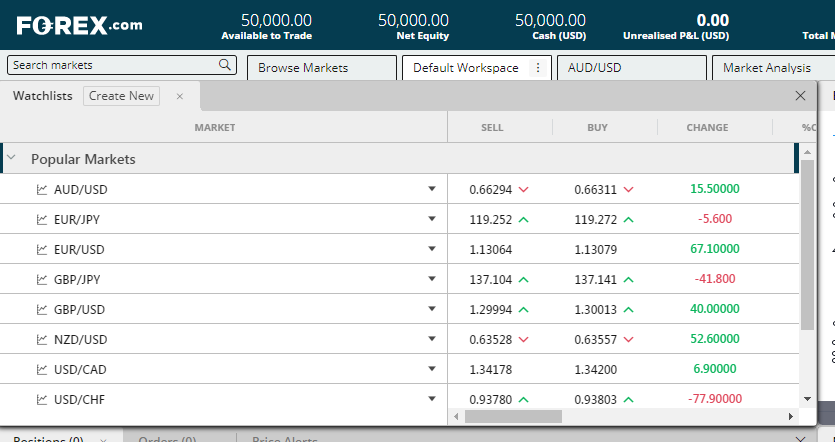 FOREX.com also offers a commission-based account. Commission accounts incur a fee of $5 per trade but have reduced spreads when compared to its standard accounts. You may be able to access spreads as low as 0.2, while spreads on standard accounts typically hover around the 1.0 mark depending on currency pair. Though this pricing structure may be confusing to new forex traders, spread pricing is standard across most forex brokers.
Because currency price movements are very low, leverage and margin trading are a common way to increase profits and make more meaningful trades. Margin requirements for FOREX.com vary depending on the currency pair you're trading. For example, margin requirements on the USD/CAD pair is 2%. This means that for every $100,000 of margin you want to use, you need to maintain a deposit of at least $2,000 in your account. The more volatile your currency pair, the more you'll need to deposit to use your margin.
The minimum balance required to open an account with FOREX.com is 50 units of your base currency. If you're a U.S. trader, this means that you can open an account with as little as $50. However, FOREX.com recommends that most traders maintain at least $2,500 in their accounts to limit their risk and use leverage more effectively.
FOREX.com is a comprehensive trading platform for currency traders. To navigate currency pairs, just type them into your search bar. Bids and asks are laid out clearly and update every few seconds to give you the most accurate pricing possible.
Opening an account with FOREX.com is simple. Simply choose the type of account you want to open, enter your personal information and upload an identity verification. In most cases, FOREX.com is able to verify your identity and open your account within a few hours. If your ID isn't readable, it may take up to 1 week for FOREX.com to finish opening your account. Once your account is open, you can link your bank account or debit card, fund your account and start making trades.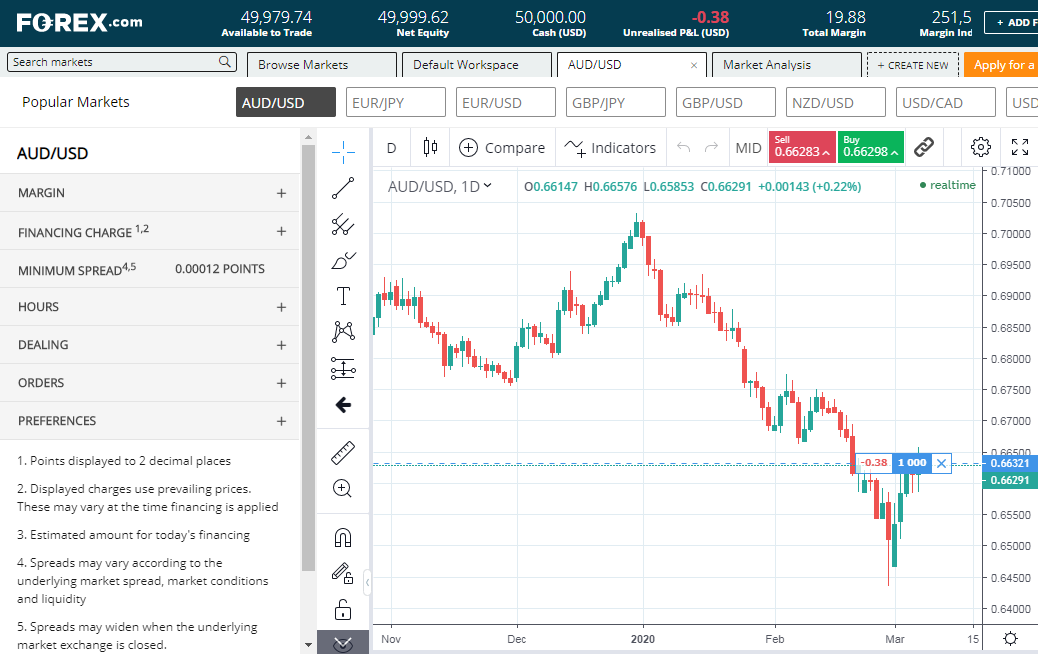 Executing a trade through FOREX.com is also simple. Just click on the currency pair you want to trade, enter the amount of currency you'd like to exchange and fill your trade. When you close out of a position, FOREX.com will show you a small summary of your trade and your overall net loss or gain.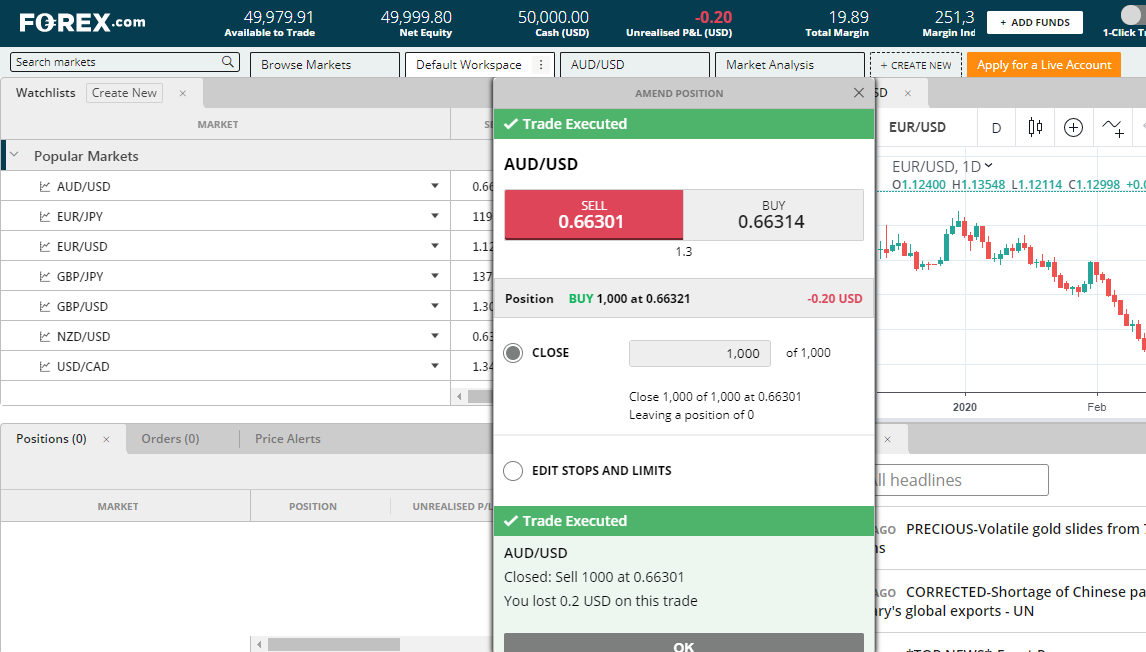 Experienced and intermediate traders will love FOREX.com's massive range of indicators. From average price to Ichimoku cloud charting, you can use over 90 indicators to help inform your trading. You can even add multiple indicators to a single chart with just a few clicks.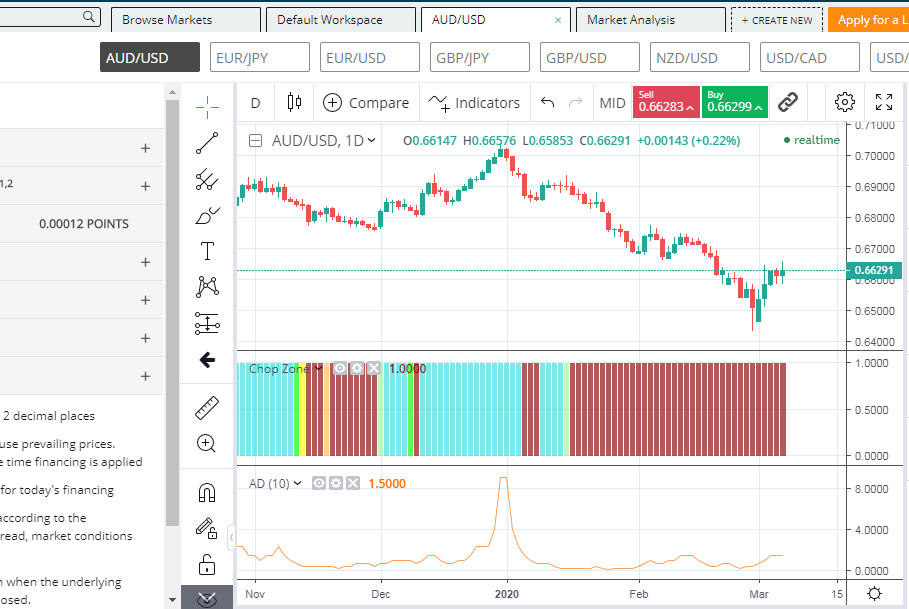 Although the platform offers tons of indicators, little explanation is provided within the platform as to what each is used for and how to interpret them. Read through FOREX.com's extensive education section for additional help; the platform is still aimed primarily at traders who already have a strong grasp on the forex market and how it works.
Account Minimum
100 of your selected base currency
Minimum Trade Size
$1,000
Spread
0.2 pips – 1.0 pips
Commisions
$0 – Variable starting at $60 per million traded depending on account
One of the most impressive aspects of FOREX.com is its research and education offerings. Let's take a look at 3 amazing features the brokerage offers for trader education.
Multi-level trading education courses: FOREX.com offers a massive range of trader education courses organized by experience and skill level. You can find beginner, intermediate and advanced level courses directly on its website. Beginner lessons start by introducing basic forex concepts like pips and the most commonly traded currency pairs, while advanced courses move into trading strategies and risk management. Courses are easy to interpret and follow, no matter your skill level or previous experience. Many courses also include YouTube video tutorials to solidify your learning. Best of all, all courses on FOREX.com are totally free — you don't need to be logged into your account to begin learning.
Native research tools: Many forex traders use fundamental analysis tools to inform their trades. FOREX.com's brokerage platform includes an organized and comprehensive native news feed, customizable to your favorite currency pairs. Begin by selecting your currency pair of choice and opening a new workspace. On the right-hand side of your screen, you'll instantly see the latest news headlines concerning either of the currencies listed in your pair. Click on each news headline to read directly from your app and flip back to your workstation in a fraction of a second to execute fast, informed trades. 
Live webinars: Prefer to get the classroom experience when you learn how to trade? FOREX.com also hosts regular live webinars at every skill level to help you boost your trading know-how. Topics range from basic forex strategy to trading psychology and risk management. You can quickly book your space at each webinar by entering your name, email address and phone number on FOREX.com's website. Like its trading education courses, webinars are hosted free-of-charge for all participants. 
FOREX.com currently offers 2 customer support contact methods.
By phone: To contact its customer service team by phone, call 877-367-3946 and select option 1.
By email: To contact the customer service team by email, send a message to support@FOREX.com.
Customer service is continuously available from 10 a.m. Sunday to 5 p.m. Friday EST. FOREX.com doesn't currently offer any unique customer service line for men and women with hearing limitations.
Prefer to do your trading on-the-go? FOREX.com offers a comprehensive mobile app that mirrors full desktop compatibility. Let's take a look at a few of our favorite features you'll be able to take advantage of when you download the FOREX.com mobile app.
Fast, integrated interface: Its mobile app features all of the tools of the desktop platform formatted to fit a smaller mobile screen. Buy, sell, perform currency research and chart all from the palm of your hand.
Easy customization: When you have limited time to perform trades, you probably don't want to spend minutes searching for currency pairs or tapping away at a tiny screen. FOREX.com's mobile app offers a number of customization tools you can use to make the app your own. Choose between light and dark themes, add currency pairs to your watchlist and customize your home screen to only show markets or currencies you're interested in, all with only a few taps.
Alert features: Prefer to trade without staring at your screen all day? FOREX.com's app also allows you to customize price, movement and order trigger alerts. When an alert is triggered, you'll receive a push notification informing you of a price movement or that your set order has been executed.
FOREX.com's mobile app is available for both iOS and Android platforms and is free to download.
When reviewing FOREX.com, it's important to remember what the broker is and what it isn't. FOREX.com focuses its resources on currency trading — and in this arena, it excels. Lower-than-average commissions and a comprehensive platform will delight the most experienced forex trader. While tiered pricing and margin access may be confusing for new traders, novices will revel in FOREX.com's comprehensive range of educational tools and resources. Mobile traders will also be impressed with FOREX.com's app, which mirrors the compatibility of the web platform.
It's not fair to compare FOREX.com to other brokers like Vanguard or Ally because it makes no effort to be a trader's one-stop-shop for every investing need. The platform offers no IRA options and very limited access to the stock market. Even if you do open a FOREX.com account, you should also open another account with a competing broker to invest for your retirement.
FOREX.com is not a standard broker; it has some limitations. But what it does offer — an impressive platform in tradable currencies and excellent education offerings — both beginners and the experienced can navigate and successfully trade, quickly and easily. It is definitely a site to explore and consider this year.