Want to jump straight to the answer? You can buy SKALE on Coinbase!
If you've heard of Ethereum, then you've probably heard of its problems adapting to the enormous influx of users in 2021. Scalability is among the largest problems Ethereum's network faces; gas fees can be upwards of $100 to make a trade on Ethereum's mainnet at peak times. This prices out many investors that seek to use Ethereum's blockchain. SKALE Network aims to solve these problems surrounding Ethereum's scalability, and many investors are bullish that SKALE can bring DeFi to the masses.
SKALE Network has created a viable solution for transaction fees on decentralized applications (dApps), so users only have to pay a fraction of the cost to transact their Ethereum tokens.
What is SKALE?
SKALE Network is a complex protocol that improves the general usability of the Ethereum blockchain. To understand how SKALE Network works, you need to be familiar with some blockchain-related terms.
Smart Contracts are code that's uploaded to the blockchain (in this case, the Ethereum blockchain). Smart contracts secure, uncensorable and permissionless.
dApps (decentralized applications) are programs that run on Ethereum's blockchain through the power of smart contracts.
Layer 2 Solutions are scaling solutions to Ethereum's blockchain without upgrading the core Ethereum blockchain protocol.
Consensus Models are how blockchains reach "agreement", hence securing the transaction and uploading it to the blockchain. The 2 most common consensus models are Proof-of-Work (used by Bitcoin and Ethereum) and Proof-of-Stake (used by many ERC-20 tokens).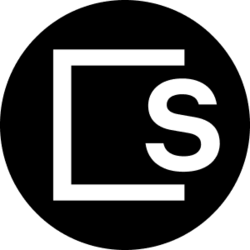 SKALE
JOIN THE MOON OR BUST EMAIL LIST
Our team is diligently working to keep up with trends in the crypto markets. Keep up to date on the latest news and up-and-coming coins.
SKALE Network is a solution for Ethereum's high transaction costs and low transaction throughputs. The SKALE Network solves the biggest problems Ethereum's blockchain faces: high latencies, expensive transaction costs and low transaction capacity.
Decentralized apps can use SKALE tokens to rent blockspace on the SKALE network. The network offers varying sizes of capacity for different needs, and companies can buy as much blockspace as they need to run their networks.
These dApps are incentivized to use layer 2 solutions to make transacting more affordable for their users. Decentralized exchanges are especially incentivized, as they may be able to charge higher exchange fees if they can significantly cut the cost of transacting on Ethereum.
SKALE Network uses a Proof-of-Stake consensus model to process smart contracts on its platform. The dApps are built on Ethereum, but they can launch their code on SKALE, as it communicates with Ethereum through the Ethereum Virtual Machine. This way, users of these dApps will only pay a fraction transaction costs and experience much faster processing times.
Brief History of SKALE Token
SKALE token is an ERC-777 token, which for all intents and purposes is the same as an ERC-20 token. The token has its initial coin offering in September 2020, selling each token for $0.03. The company raised $5.25 million dollars from its ICO, but it also raised funds from the likes of several established VC firms, such as Winklevoss Capital.
Fast forward to today and SKALE tokens are selling for $0.57 per token. The token holds a market capitalization of just $375 million, ranking it below the top 100 largest cryptocurrencies. While smaller market cap cryptocurrencies are higher risk, they can provide much higher returns during bull runs.
How to Buy SKALE Network (SKL)
Open an online account.

Coinbase supports SKALE token trading, so if you already have a Coinbase account, you're ready to get started. If you don't have an account, you can make one in seconds. Depending on where you live, you may need to provide additional information before you begin investing, such as your Social Security number, Driver's License and date of birth. 

Buy a wallet (optional). 

If you don't use a DEX to purchase your SKALE tokens, then you're trusting the exchange you hold your cryptocurrency funds for you. While large exchanges are generally secure, many cryptocurrency exchanges have been hacked in the past. Cryptocurrency exchanges are large targets for hackers; if they can breach the exchange's security, then they'd gain access to the investors' funds on the exchange.

To mitigate this risk, you should store your SKALE tokens in a cryptocurrency wallet. Since SKALE tokens use Ethereum's network, you can use any Ethereum wallet to store your SKALE tokens. 

Make your purchase.

The way you buy Uniswap differs based on the platform you use. Coinbase and Uniswap are both straightforward but process your purchase in much different ways.  Coinbase uses order books with buy and sell orders, so you can buy SKALE at market price. 

Since it would be hard to process the amount of data that order books require on the blockchain, Uniswap acts very differently than typical exchanges. Instead of using order books, Uniswap calculates the price of each cryptocurrency on the exchange by the ratio of funds in its liquidity pools.

Bonus section: As more and more decentralized applications are being made on Ethereum, gas prices will continue to rise with demand for network space. If Ethereum can't solve its scaling problems soon, then more investors may look to SKALE Network to reduce their transaction costs.
Best Crypto Exchange for SKALE
Disclosure
T&C: After your photo ID is verified, $10 in BTC will be added to your portfolio. Limited time offer. Offer available to new users who have not previously verified their identification. Offer not available to new users who were referred to Coinbase through the Referral Program or who have previously opened an account using different contact information. Coinbase may update the conditions for eligibility at any time, in its sole discretion.
Best Crypto Wallets
Here are the best software and hardware wallets for SKALE.
Best Hardware Wallet: Ledger Nano S
Hardware wallets are the safest way to store cryptocurrencies. Hardware wallets are physical devices that store crypto assets offline, and most hardware wallets support several different types of cryptocurrencies.
Of the hardware wallets on the market, the Ledger Nano S will give you the most utility for your money. It comes in at a lower price than most other hardware wallets on the market, yet the product offers some of the best security available. Ledger has been selling hardware wallets since 2014, making it one of the oldest hardware producers in the business.
Best Software Wallet: Coinbase
Coinbase Wallet is a free mobile app that lets you securely store your crypto assets on your mobile device. The application also supports NFTs, so you can keep all your cool crypto collectibles right next to your beloved bitcoins.
Trade, Sell or Convert your SKALE
As an ERC-777 token, converting your SKALE is easy. You can use a dApp like Uniswap to convert your SKALE tokens for Ether. Coinbase has a unique conversion feature that allows you to "convert" your cryptocurrency assets into any other supported asset on its exchange. However, this is done through Coinbase's internal accounting, and it's not actually recorded on the blockchain.
Many new cryptocurrency investors are frightened by the volatility in the crypto markets. Cryptocurrency investments are inherently risky, but they also have potential for radical returns. It's not uncommon for altcoins to dip 30% to 40% even during a bull market before continuing to break all-time high prices.
Current Crypto Prices
While major cryptocurrencies like Bitcoin and Ethereum have skyrocketed in value, some altcoins have shown even higher returns. Some promising subsectors of crypto include scaling solutions for Ethereum, decentralized finance (DeFi) and non-fungible tokens (NFTs). Some of these blockchain companies –– SKALE included –– have shown stronger returns than Bitcoin in 2021.
Is SKALE a Good Investment?
Before deciding if SKALE is a good investment, you should consider what other developments are going on in the cryptocurrency industry. Ethereum's Eth 2.0 upgrade should come out eventually, but it may take over a year to complete. This upgrade will scale Ethereum's network without the use of another blockchain, representing a large risk factor for SKALE.
This being said, SKALE Network has ambitious plans, and it's likely there will still be strong use cases for SKALE once the Eth 2.0 upgrade goes live.