Want to jump straight to the answer? You can buy AYA on Changelly.
An independent blockchain project, Aryacoin aims to provide users with a more secure, anonymous and affordable way to transfer value using its coin, AYA. You can buy and sell AYA on major exchanges like many other crypto projects. Learn more about investing in Aryacoin with our guide for beginners.
What is Aryacoin?
Aryacoin is a cryptocurrency that aims to solve the problem of high network fees by providing users with an easier and more affordable way to exchange electronic cash. Though Aryacoin is built on the same basic technology behind blockchain projects like Bitcoin and Litecoin, it doesn't use verification technology to complete transactions. This means that the network charges no fees and that users can transfer cash completely anonymously between Aryacoin wallets using the coin, AYA, as a medium. Aryacoin developers have also created a digital wallet completely controlled by the user after setup.
Brief History of Aryacoin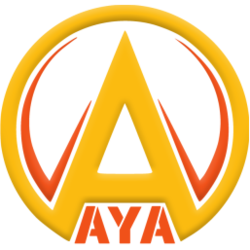 Aryacoin
JOIN THE MOON OR BUST EMAIL LIST
Our team is diligently working to keep up with trends in the crypto markets. Keep up to date on the latest news and up-and-coming coins.
Introduced in November of 2019, Aryacoin was initially offered at an ICO price of about $0.01 per coin. Since this time, the coin has hit an all-time high price of about $0.17 per coin in February of 2021. Though the price of Aryacoin has fallen from this value by about 70%, its coin continues to be offered on large exchanges and maintains a daily trading volume of about $95,000.
How to Buy Aryacoin
Open an online account.

The easiest and most straightforward way to invest in Aryacoin (or any type of cryptocurrency) is to open an account with a broker that supports the coin's trading. Like stocks and ETFs, cryptocurrencies can be bought and sold through the help of a broker's trading platform. In return for executing your trades, most brokers will take a small amount of cryptocurrency from each order you place as a commission.

Depending on where you live, you might have multiple brokerages to choose from when you initially start investing in Aryacoin. Some of the factors that you might want to consider when you choose a broker include:

Supported coins and tokens: Look for the broker's supported coins and tokens. If you're only interested in buying and selling Aryacoin, you can narrow down brokers by searching for the ones that support AYA. However, if you want to look into types of crypto beyond AYA, you should look for a broker that offers a one-stop shop for all of your cryptocurrency investing interests.
Local availability: Not every broker can offer accounts in every country and every state. Make sure that your broker can open an account for you based on your jurisdiction before you start applying for your trading profile.
Trading platform tools and educational offerings: Every cryptocurrency broker targets a different type of trader through the platform. For example, a broker that wants to appeal to more experienced investors will often provide a wider range of charting and analysis tools, while a broker that caters to new investors will offer a simple, streamlined platform. Choose a broker with a trading platform that matches your needs and level of experience. 

Open a wallet (optional). 

A cryptocurrency wallet is a hardware device or software program that stores your crypto investments using a private set of keys that only you can access. If you plan to hold your Aryacoin for more than a few weeks, we recommend storing your coins in a private wallet located outside of your exchange of choice. Holding your investments in your own wallet helps keep your coins protected in the event that your broker is targeted in a hack.

After investing in Aryacoin, we recommend downloading the official Aryacoin wallet directly from the team of developers. The official Aryacoin wallet is simple, straightforward and you can download and open it with no prior technical knowledge. In our test, we were able to download and open our wallet in as little as 5 minutes. After opening your wallet, you'll find an address that you can use to transfer your Aryacoin investment from your brokerage account to your personal wallet. You can also view outgoing and incoming transactions on the Aryacoin blockchain, as well as track your investment and initiate your own transfers. The official Aryacoin wallet provides a quick and easy solution to store your coins to keep your investment more secure for long-term storage. 

Make your purchase.

After you've opened your wallet and you know where you want to make your initial investment, you can place your first buy order. You can tap into multiple types of buy orders, and the order types that you have access to will vary depending on which options are supported by your broker. Some of the most common types of buy orders include:

Market order: Market orders execute at the current market rate as soon as your broker can fill the order. For example, if the current market price of Aryacoin is $0.07 per coin, you can expect to pay around this price for each coin you buy using a market order. Though market orders give you less control over the price that you pay per coin, they ensure that your order is filled as quickly as possible.
Limit order: Limit orders execute at or below a specific "limit price" that you choose when you place your order. For example, if Aryacoin trades around a price of $0.07 per coin, you might place a limit order to buy 100 AYA at a price of $0.06 per coin. In this example, your broker would only fill the order if it was possible to buy each coin at or below a price of $0.06 per coin. Limit orders are less likely to be filled when compared to market orders, but they provide you with complete control over the price that you pay per coin or token you buy.
Trailing stop order: A trailing order executes as a market order once the price of a coin or token rises above its lowest price by a certain percentage or dollar amount.

Depending on where you place your order, you might have access to additional types of buy orders that you can use to customize your purchases. 
BZ
Bonus:
In November of 2020, Aryacoin developers announced the implementation of smart contract compatibility with the Aryacoin network. As more users become aware of the project and begin to execute no-fee smart contracts on the network, it's possible that investor interest in Aryacoin may push the price of the coin up.
Best Crypto Brokers
If you still aren't sure where to begin your search, consider starting with a few of our favorite brokers below.
Trade, Sell or Convert Your Aryacoin
After your broker executes your order, you'll see your Aryacoin in your exchange wallet. From here, you'll need to decide how you want to earn a return on your investment. Some of the most common strategies that cryptocurrency investors use to see a return on their initial purchase include:
Trading: Active traders strategically sell their cryptocurrency when the price of each coin is high and then buying back their Aryacoin when the price of the cryptocurrency falls. You can then take profits directly from fiat or accumulate more Aryacoin to hold in long-term storage.
Selling: If you believe that the price of Aryacoin will rise over the course of months or even years, you may want to store your coins in a private wallet and sell once you've seen a significant profit. You may sell your Aryacoin for fiat currency directly or convert it to a stablecoin (like Tether or USD Coin).
Converting: If you buy your Aryacoin on an exchange like Changelly, you can use your account to instantly convert your coins into another cryptocurrency. The conversion options that you'll have access to will vary depending on the coins and tokens supported on the exchange.
Current Crypto Prices
No matter if you're trading Bitcoin or smaller offerings like Aryacoin, it's important to keep track of how prices are changing to buy in at the most optimal time. Get an idea of how the cryptocurrency market is moving today using our chart below.
Is Aryacoin a Good Investment?
If you're interested in the setup of Aryacoin's network, there's nothing wrong with investing a bit of money into its coin offering. However, it's important to remember that the Aryacoin project is still in its infancy, and its coin value can decrease at any time. Never invest more money than you can afford to lose in any cryptocurrency project.