Benzinga Money is a reader-supported publication. We may earn a commission when you click on links in this article.
Learn more.
As 1 of Europe's top financial powerhouses, Spain offers forex traders both a strong base currency and a wealth of forex broker regulations to exchanging currencies.
Are you curious about forex trading in Spain? Our guide to the Spanish forex market, regulations and more will make it easier to get started.
Get Started with Forex in Spain
No matter which forex broker you choose, you'll go through a similar process when you open an account. Let's take a look at the basic steps you can expect to take when you open your 1st forex trading account.
Step 1: Find a stable internet connection. Forex trading often capitalizes on quick, minute-to-minute price movements. This means that a stable, consistent internet connection is the most important tool a trader can have. Test your internet connection and be sure that your connection is stable before moving forward.
Step 2: Choose a broker. You cannot buy and sell currencies directly — you must work through a broker to execute your trades on your behalf. The forex broker you choose will play a direct role in the currencies you have access to, the fees you pay and the platforms you can use. Be sure to take plenty of time to compare brokers before you choose where you want to open an account.
Step 3: Open a brokerage account. After you select a broker, open your account. You'll usually be required to submit a bit of personal information and a scan of your photo ID before you can finish opening your brokerage account.
Step 4: Download your trading platform. Though some brokerages do provide a proprietary platform, you might also want to work with a 3rd-party platform like MetaTrader 4 or 5. Check and see which platforms your broker supports before you download.
Step 5: Fund your account. After your account is open, it's time to fund your brokerage account. Most brokers in Spain support bank transfers, wire transfers and even credit card deposits.
Step 6: Place your 1st order. Once your account is funded, you can officially trade forex and place your 1st order.
Spain Forex Trading Strategies
Most Spanish traders trade the EUR-USD currency pair when they get started forex trading. This is because both the euro and the dollar are considered to be safe reserve currencies, which means that fast price fluctuations are unlikely to cause you to lose excessive amounts of money in a short period of time.
Let's take a look at a few of the most common trading strategies traders in Spain use to capitalize on price movements between the euro and the dollar. Though these strategies aren't foolproof guarantees you'll make money, they can provide a strong starting point to build your own trading strategy.
Reversal Candlesticks
One of the 1st things traders look for when deciding when to buy or sell a currency is a reversal candlestick. When a reversal candlestick is triggered, it indicates that the general trend of a currency's movement may change. A reversal candlestick might indicate a buy signal or a sell signal depending on its placement.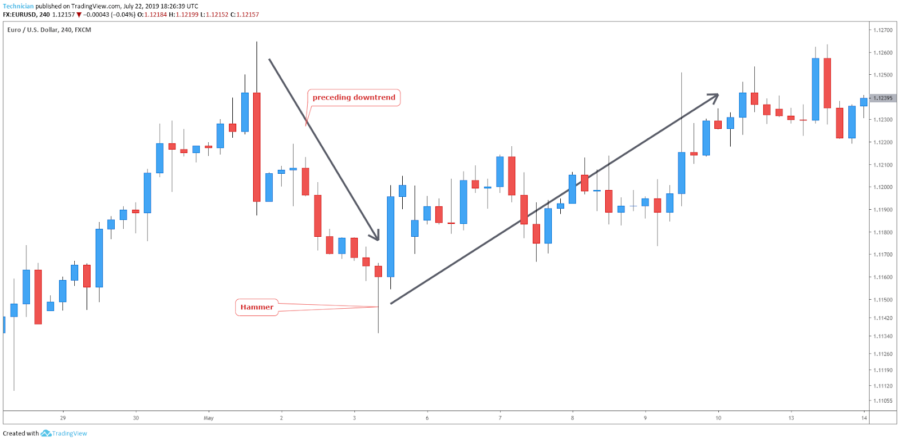 Breakout Strategy
The breakout strategy is most commonly used by traders who trade when market volatility is the lowest. Traders using the breakout strategy look for periods when their currency pair is following a sideways pattern. They track this pattern until a "breakout" candlestick forms — that is, a candlestick with boundaries that go outside of the standard pattern. This breakout candlestick may indicate the beginning of a trend movement, which may act as a buy or sell signal depending on its form.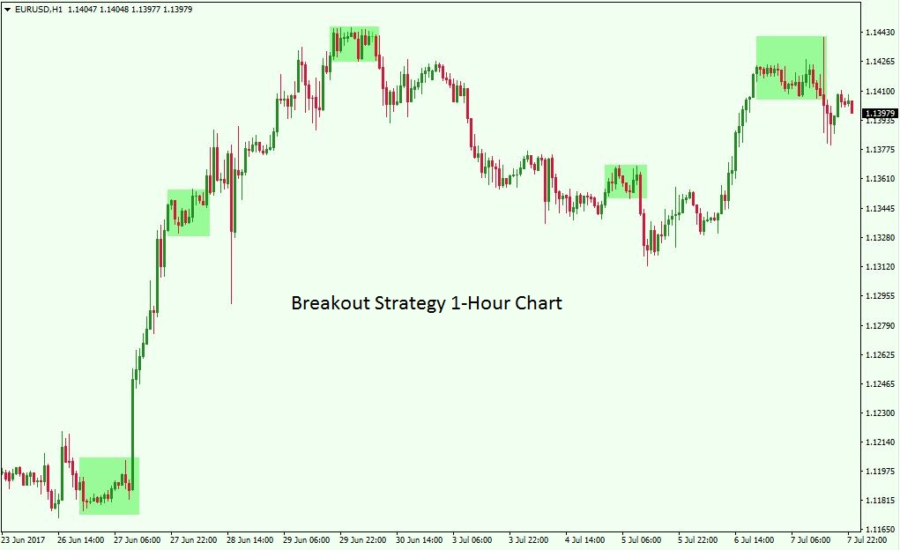 Forex Trading Example in Spain
How exactly does forex trading work — and is it really possible to make money on the forex market? Let's take a look at a basic example of how you might earn money trading forex as a resident of Spain or a traveler.
Imagine that you open a brokerage account and fund it with €10,000. Your broker offers you 10:1 leverage, which means that you have the power to trade with €100,000 if you choose to use it.
You believe that the value of the USD will rise in comparison to the EUR soon. You use all of your leverage to convert your EUR to USD, which is currently trading at a rate of 1:1.12. This means that when you use all of your capital and your leverage, you're left with $112,000 USD.
A few days later, you see that you were correct — 1 EUR is now worth only 1.09 USD. You decide that now is the right time to convert your entire lot of USD back to your base currency. After your conversion, you're left with about €102,752 EUR. After you account for what you borrowed in leverage, you made a profit of about €2,752 EUR on this transaction.
Making Money with Forex in Spain
It's legal and safe to earn money trading forex in Spain. Spanish traders are at an advantage over traders in other countries because the Spanish forex industry is well-regulated. Spanish investors enjoy protections from the Comision Nacional del Mercado de Valores and the Ministry of Economy and Finance of Spain as well as the Markets in Financial Instruments Directive that controls the forex markets of the European Union.
The euro is also an exceptionally strong base currency, as the world's second most popular base currency. This means that the euro showcases a stronger sense of liquidity and maintains its value well when compared to other currencies.
There are a few steps that forex traders should take to protect themselves when trading for the 1st time. Be sure that you only work through a licensed broker — though Spain enjoys a very high level of oversight, forex scams do still exist. You should also be very careful when using leverage, especially when trading minor currency pairs.
Best Online Forex Brokers in Spain
When you trade forex, you'll place your orders through a licensed broker. The broker you choose will make a major impact on the amount you pay when you trade — so it's worth taking the time to interview a few brokers before you choose which 1 is right for you. If you aren't where to begin, consider a few of our favorite brokers below.
Forex Terminology
Understanding a bit of the unique language that forex brokers and traders use when discussing the market can make it easier to execute profitable trades. Here are a few of the most common forex trading terms you'll hear when you trade currencies.
Pip: a pip is the lowest possible denomination of any currency. In most cases, 1 pip is equal to 0.0001 of the currency's value. For example, if the USD moves in value from 1.0000 to 1.0001, we'd say that the currency has moved by the value of a single pip.
Lot size: your lot size is the total number of units of any currency that you're trading on a single order. For example, if you're converting $100,000 USD into the equivalent in Japanese yen, your lot size is equal to 100,000.
Orders: an order is a specific set of instructions you provide to your broker in regard to the currency you want to buy or sell. Your order tells your broker how many units of currency you want to buy or sell, the price point at which you're buying or selling and when the order should be executed.
Calls: if you use leverage to trade, your broker might subject you to a "margin call" if your lot value drops below a certain percentage of its original value. If you receive a margin call, you must deposit more money into your brokerage account in order to maintain your position. Margin calls can quickly wipe out any profit you make forex trading — so be very careful when using leverage to trade.
Take Your 1st Steps Into Forex
With more than $5 trillion moving in and out of the market on a daily basis and near around-the-clock availability, there's little question why forex trading is so popular. However, this doesn't mean that you're guaranteed to make money forex trading — especially as a 1st-time trader. Be sure to practice your trading strategy using a demo account or paper trading account before you invest any of your own money.
Benzinga's #1 Breakout Stock Every Month
Looking for stocks that are about to breakout for gains of 10%, 15%, even 20% potentially or more? The only problem is finding these stocks takes hours per day. Fortunately, Benzinga's Breakout Opportunity Newsletter that could potentially break out each and every month. You can today with this special offer:
Hire a Pro: Compare Financial Advisors In Your Area
Finding the right financial advisor that fits your needs doesn't have to be hard. SmartAsset's free tool matches you with fiduciary financial advisors in your area in 5 minutes. Each advisor has been vetted by SmartAsset and is legally bound to act in your best interests. If you're ready to be matched with local advisors that will help you achieve your financial goals, get started now.