Want to jump straight to the answer? The best forex broker for most people is definitely FOREX.com or CedarFX.
Though France ranks as a leading European economy, it faces strong headwinds because of its weakening ties to West Africa. The creation of the eco, financially loosening France from its former West African colonies, is just the latest in a series of events that some experts say will destabilize the French economy over time. France will no longer have a formal emissary on the board of the Central Bank of West African States (BCEAO). Nor will West African Economic and Monetary Union (WAEMU) members keep half of their currency reserves in France, as was the policy before.
Attribution: Quora
The eco remains pegged to the euro and is ultimately guaranteed through France. However, France's guarantee of convertibility to the euro means much less in a world of widespread West African access to the forex market. Experts also question France's motivation to back a currency that no longer bears its name in a crisis. They point to the drained reserves and predict capital flight away from France alongside the virtually nonexistent French budget for the conversion guarantee.
As a result, many retail investors in France are using the forex market to protect their financial value and invest outside of the French economy.
Get Started with Forex in France
The French forex market is regulated through Autorité de Contrôle Prudentiel et de Résolution (ACPR). French investors have the advantage of being able to trade without worrying about fraud, but there are still important steps to follow.
Set up your internet. Forex trading is about timing. You need real-time access to news and financial charts. It's also annoying to experience downtime when you need to make a trade. Set up a strong internet connection so that you can take advantage of what are sometimes short windows of opportunity.
Choose your broker. Your broker facilitates your financial transactions and backs your investments if you trade on margin. You need a reputable broker you can trust with your backend.
Open the investment account. Your broker will take you through a process to connect your bank account and verify your ID.
Fund the investment account. Fund your investment account from your bank account or a debit card. Your broker will inform you of your options, and they may differ depending on the broker you choose.
Download trading software. This is the user interface you will use to trade. Some brokers have their own and there are many 3rd-party standard programs that professionals use.
Trade. Your trading setup is ready. You can immediately start investing in the forex market.
France Forex Trading Strategies
To trade forex successfully in France, you should know the strategies that have worked around the world. Here are a few of the most important that you should learn.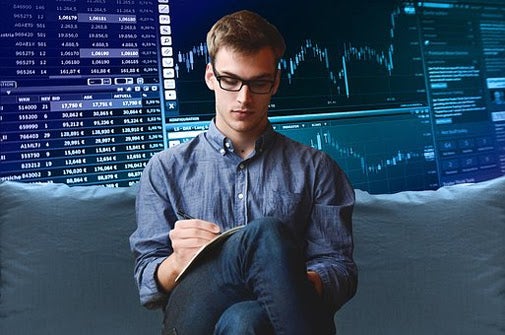 Attribution: Cnie
High-Frequency Trading
High-frequency traders are also known as day traders or scalpers. Traders work quickly in this space, sometimes holding an investment for no more than a few seconds. True high-frequency traders use automated platforms and execute multiple trades per second. These are usually institutions and market makers, though these tools are available for retail use.
Short-term trading requires a strong eye for opportunity and a strong stomach. Although forex is not as volatile as the traditional securities market, price changes can happen quickly. High-frequency traders cut losses just as quickly as they take gains to ensure the market cannot move against them in a significant way.
Trend Trading
Trend trading is about learning how to profit from ranges and directional moves of a currency. If a currency is moving within a range, the trend trader buys at support levels and sells at resistance. If a currency is trending up or down, a good trader tries to enter as early as possible and ride the "wave" until the directional movement ends.
Swing traders are also called mid-term traders because they may hold a trade for 1 hour up to a few weeks. Most trends last a few days.
Fundamentals Trading
If you like to understand the underlying macroeconomic conditions behind forex prices, then fundamentals trading is for you. Investors in this space may hold an investment for a few weeks to a few years. They are looking for larger profits than scalpers or trend traders because markets have more time to move.
Day traders are concerned with daily news, but the fundamentals trader is not. Ideally, the fundamentals trader encourages news that moves a currency away from its rightful place. The long-term trader knows that over time all short-term irregularities tend to matter less.
Forex Trading Example in France
EUR/USD is trading at 1.12030/1.12050. You want to buy €500,000 because you think the price will go up soon. The margin rate of this currency pair is 3.02%, so you will need a total of $16,918.04 cash actually in your account to control a €500,000 investment. Trading on margin means that your broker will lend you the rest of the money to make the full investment.
The EUR/USD price moves up and is trading at 1.12110/1.12130 after 3 hours. The value went up by 6 points, and you made (€500,000 x 1.12110) – (€500,000 x 1.12050), or $300 on the trade.
Making Money with Forex in France
Attribution: A French Perspective
Here are some of the most important financial vehicles you can use to profit in the forex market.
Short selling: If you think that the value of a currency will go down in the future, you can short sell it for profit.
CFDs: Contract for differences (CFDs) track profit and loss based on the price of the underlying asset, the currency. However, you never own the currencies you buy and sell.
Binary options: The binary option is a win or lose option that does not directly track the price movement of the currency it uses to trade.
Best Online Forex Brokers in France
There are plenty of forex brokers to choose from in France. Here are some reputable companies you may want to consider.
Forex Terminology
Here are a few of the basic terms you will hear when trading forex:
Pip: The smallest basis of movement in the forex market, equivalent to $0.0001.
Lot size: The size of currency that you trade, with the default being is 100,000 currency units.
Orders: You order through your trading platform based on the size and order type you want.
Calls: You can profit through contracts that give you an exclusive right to control a currency. One of these contracts is the "call option."
Creating New Opportunities
Despite the financial unrest in France, there are still plenty of opportunities for retail investors to use the global marketplace to their advantage. French investors have the advantage of strong regulatory bodies and access to the euro for efficient trading.
Bookmark this page as a resource and come back to our website for consistently updated tips on the forex market.
Get a Forex Pro on Your Side
FOREX.com, registered with the Commodity Futures Trading Commission (CFTC), lets you trade a wide range of forex markets plus spot metals with low pricing and fast, quality execution on every trade.
You can also tap into:
EUR/USD as low as 0.2 with fixed $5 commissions per 100,000
Powerful, purpose-built currency trading platforms
Monthly cash rebates of up to $9 per million dollars traded with FOREX.com's Active Trader Program
Learn more about FOREX.com's low pricing and how you can get started trading with FOREX.com.