Multiple award-winning online broker DEGIRO is the largest discount execution-only broker in Europe. The company is the result of the merger of Netherlands-based DEGIRO with German flatexDEGIRO Bank AG in early 2021. 
DEGIRO charges some of the lowest brokerage fees and zero commissions in all asset classes and has oversight from top-tier regulators. The broker offers intuitive and well-designed mobile and web trading platforms for online trading. 
DEGIRO is currently available to traders in 18 European countries and offers access to U.S., UK, Continental European, Australian, Japanese, Hong Kong and other markets worldwide. The broker allows you to trade stocks, exchange-traded funds (ETFs), bonds, options, funds, and futures but does not offer forex trading or accept U.S. residents as clients.     
Beginning and seasoned traders
Stock, bond and options traders
International traders and investors
Low fees
Zero commissions
Top-tier regulation
Intuitive trading platforms
No forex trading offered
Doesn't accept U.S. clients
Degiro Ratings at a Glance
Pan-European Trading at DEGIRO
DEGIRO trading platforms for mobile, tablet and desktop. Source: DEGIRO.
DEGIRO aims to make global investing accessible to everyone. The broker's award-winning, user-friendly platform is easy-to-use and provides access to world exchanges on any type of device.
The broker also offers some of the lowest trading fees among European brokers, and its stock trading app gives access to 50 global exchanges in 30 countries. 
Residents of the following European countries can trade through DEGIRO: Austria, Belgium, Czech Republic, Denmark, Germany, Spain, Greece, Finland, France, Ireland, Italy, Netherlands, Norway, Poland, Portugal, Switzerland, Sweden and the United Kingdom.
You can reach DEGIRO's multilingual customer service via email 24/7 and via telephone from 7 a.m. until 9 p.m. Central European Time (CET). DEGIRO also responds to several other email addresses for its order desk, account security, corporate actions and press information requests.
The company can also be contacted through traditional mail at its address in Amsterdam, the Netherlands, and you can follow the broker on social media via Twitter, Facebook, LinkedIn and Instagram. It does not offer a live chat feature on its website.
DEGIRO does not charge for deposits or withdrawals and has no inactivity or custody fees. The broker also lets clients trade commission-free on over 5,000 U.S. equities on the top U.S. exchanges including the New York Stock Exchange (NYSE) and the Nasdaq Exchange (NASDAQ). You can also trade equities commission-free at Tier 1 exchanges such as Euronext Paris, NASDAQ Stockholm, Bolsa de Madrid and Borsa Italiana.
You can now trade more than 300 ETFs commission-free, including ETFs on European exchanges in Spain, France, Portugal and Italy. For the Tradegate Exchange used for early and late trades, as well as for trades on all other European exchanges, DEGIRO charges a flat fee of €3.90 per trade. For trades made on exchanges in the Asia-Pacific region, a flat fee of €5 per trade is charged on stocks, while bonds are charged at a flat fee of €2 per trade.
Futures and options transactions incur a fee of €0.75 per unit, while global exchanges and transactions from the Irish Stock Exchange are charged at a rate of €2 per trade. Foreign exchange conversions also incur a 0.25% charge, while margin loans are subject to a 3% per annum charge.
DEGIRO also charges connectivity fees to provide you with opportunities outside of your home market. This service is charged on a pay-per-use basis, so if you don't access the foreign exchanges, then you don't pay the fee.
For connectivity fees, your account will be charged a maximum of 0.25% of the total value of your portfolio with a maximum charge of €2.50 per annum for each exchange, other than the Irish Stock Exchange that does not incur a charge. The connectivity fee for U.S. options contracts is €5.00 per exchange per calendar month, and the charges are applied if you make a transaction and hold a position during the calendar year.
DEGIRO recently announced an update to its pricing model. After December 20, 2021, it will add a handling fee of €0.50 for each transaction in all products, excluding futures, options and the broker's free ETFs and Tradegate transactions.
The DEGIRO mobile application was awarded the best mobile trading app in 2018 by Investment Trends. The app faithfully mirrors the broker's desktop application and provides real-time quotes, 2-factor authorization, fundamental analysis tools, advanced charting features, stock-specific news, and touch and facial recognition logins.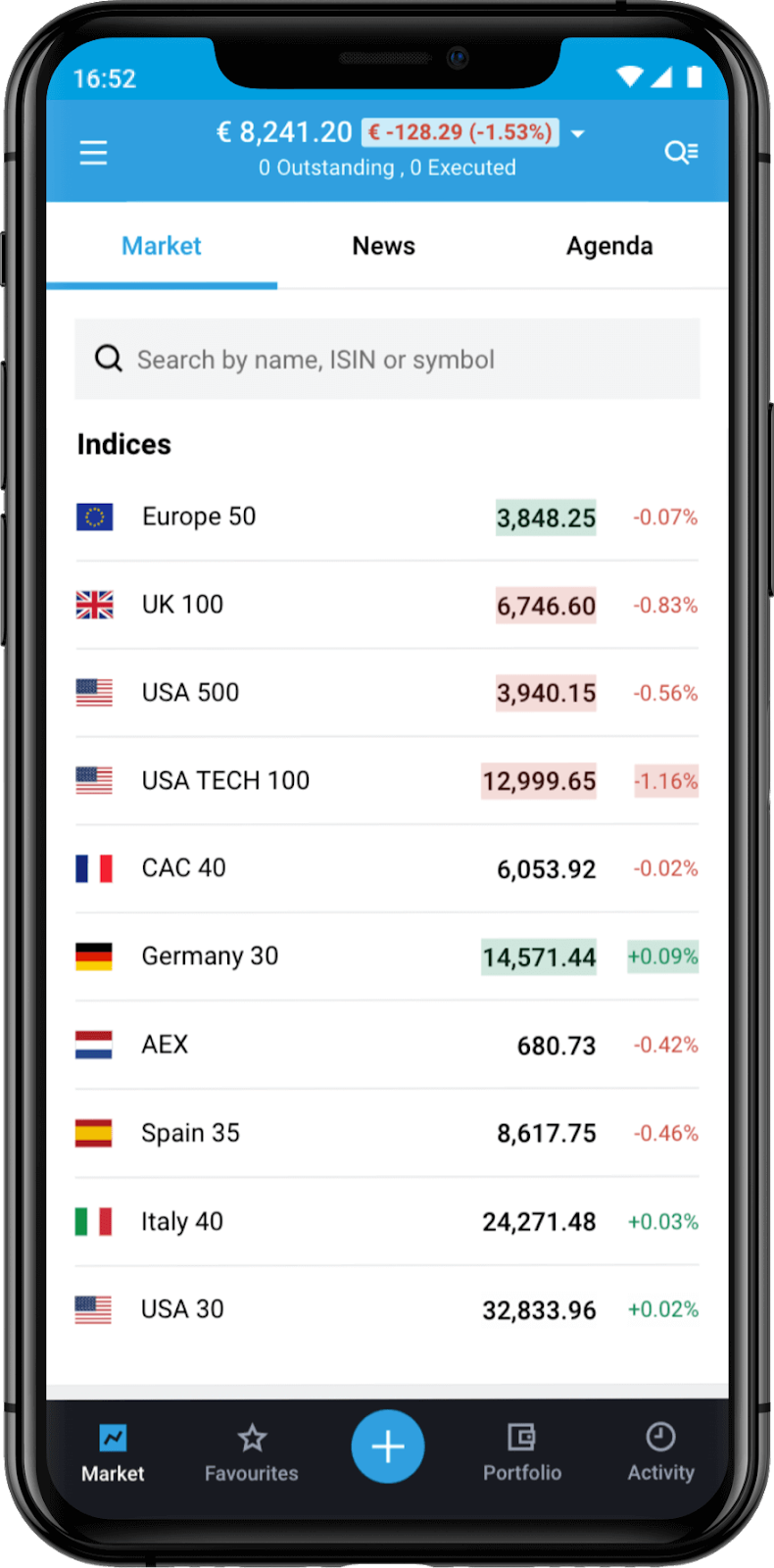 DEGIRO's mobile app. Source DEGIRO. 
It also lets you track your portfolio and provides access to over 50 world exchanges in the palm of your hand for the freedom to trade from anywhere.
DEGIRO user benefits include:
Low fees and zero commissions
Access to over 50 markets in 30 countries
Commission-free stock and ETF trading on most exchanges
User-friendly, intuitive trading platforms
Multi-language customer service
No deposit or withdrawal fees
No inactivity or custodial fees
Extensive range of investment and trading products
Secure and reliable
Educational resources
These benefits alone make a strong case for the broker. However, even though you can open a free account, DEGIRO does not offer a demo account, which would be ideal to try out the brokerage before funding an account.  
DEGIRO provides a powerful and exceptional user experience. The intuitive nature of the broker's trading platforms, and its low transaction costs make this firm a great choice for traders and investors who want to operate on multiple international stock exchanges. 
Unlike most other international brokers, DEGIRO does not have a minimum deposit. This means you can open a free account to gauge their platforms and services.
DEGIRO vs. Competitors
DEGIRO's services and costs make the broker among the most affordable brokers in Europe for stocks and ETFs. Despite its lack of support for trading in forex and contracts for difference (CFDs), the firm claims to have over 1 million customers worldwide.
Not many other international brokers offer the services and low prices found at DEGIRO, and many other international brokers that permit you to access global stock markets have high minimum deposits to open an account. Equities and options traders and investors based in Europe would be wise to check out DEGIRO.
Our overall rating for DEGIRO is 4.5 stars. This high rating was well-deserved due to the broker's remarkably low costs, excellent platforms and exceptional coverage of world stock exchanges. 
The slightly lower-than-perfect score was largely due to the lack of support for forex and CFD trading. And the broker's customer service rating would benefit from the addition of a live chat feature.
If you would like more information on any topic concerning finance, Benzinga offers a wealth of knowledge on a wide variety of topics in the financial realm.
DEGIRO Video Tutorial
Check out a video tutorial to learn more about DEGIRO and what it offers traders and investors. 
Frequently Asked Questions
Is DEGIRO good for beginners?
Yes. DEGIRO offers beginners a Knowledge Center that includes an investor's academy, a blog and tutorials on using the tools on the DEGIRO WebTrader platform. You can also open an account to check out the broker's services without making a deposit.
Is my money safe with DEGIRO?
completely segregated from DEGIRO's assets. Also, the broker has oversight by the German Bundesanstalt für Finanzdienstleistungsaufsicht (BaFin), and the flatexDEGIRO Bank Dutch Branch is registered in The Netherlands with the Chamber of Commerce and Industry in Amsterdam under number 82510245.
DEGIRO is well regulated, and you'll have legal recourse if any problem arises in your relationship with the broker.
User Reviews
How do you use this product to boost your finances?
Appalling customer service. Don't respond to emails. They are cheap for a reason.
Submit Your One Minute Opinion