FREE Trial with Benzinga Pro happening right now!
Branding is about customer loyalty and stability. A good brand won't just attract a buyer – it'll give you a repeat customer. You'll create buzz around your business, and your clients will associate it with positive emotions. All of this is essential to long-term success, regardless of what field you're in.
Of course, this won't come easy. All the elements of branding need to click in order to produce the results you want. Fortunately, there are great branding lasses out there that can help you create a brand people will be eager to get behind.
Quick Look: Best Branding Courses
What Makes a Great Branding Class?
Branding has been a big buzzword for a quite a while, so it's no surprise there are many online classes which deal with this topic. It's important to take the time to choose the right one. Paying attention to the following three factors will help with that.
Instructor's Knowledge
Naturally, you want an instructor with hands-on experience with the branding process or some of its elements. This means you're looking to learn from people who have built a successful brand for themselves or have helped others to do so.
Course Level and Content
Branding can be an incredibly complex topic. That's why it is important to decide if you want a simpler course that goes over the basics or a class that tackles the finer points.
Also, you should pay attention to the specific skills a class will teach. Courses on branding can encompass many topics, so make sure to select one that fits your needs.
Price
Building a strong brand can do more to benefit your business than any other part of your marketing. In that sense, a class that teaches you how to excel at branding is worth any amount of money. But you should be realistic when selecting a class that matches your wallet. Fortunately, there are some excellent courses you can take even if your budget is limited.
The Best Online Branding Classes
Based on these factors and a few others, we've come up with the following list. It contains nine classes, all of which can provide valuable insights into the branding process. Most are general in nature, but a few are more specialized.
The variety covered here should allow you to find one that suits your individual needs.
Best Online Branding Classes for Beginners
If you're looking to go over the fundamentals of branding, these classes are a great place to start.
1. The Staples of Branding: From Purpose to Product from Skillshare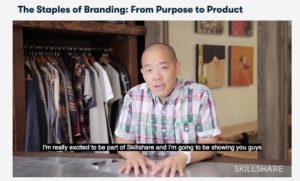 Who's it for? Beginners
Price: On sale
Staple Design is a New York-based agency which offers creative services, a clothing line, and also has a retail store. It has worked with some of the biggest companies in the world, such as Microsoft, Adidas, etc. Its founder, Jeff Staple, is the person behind this class.
Staple explains how to identify the core values your brand will revolve around, how to find any shortcomings, and much more. He bases all of this on his extensive personal experience. If you're dreaming of creating your own brand, Staple certainly has valuable knowledge to share.
You'll need to be a premium member of Skillshare to take this class. That costs either $8.25 or $15 per month, depending on the plan. But the platform also offers a free trial, so you can access the class at no cost if you sign up to Skillshare.
2. Intro to Branding from Skillshare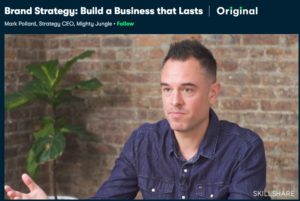 Who's it for? Beginners
Price: On sale
You may encounter a fair bit of confusion around branding, as it is a complex notion and not everyone grasps it fully. That is exactly the problem addressed by this class.
What is a brand? Intro to Branding promises to deliver the definitive answer to this question. It goes over many of the misconceptions, and it also provides clear explanations that are based on the author's decades of experience. With a reasonable base price, this class is a good option for anyone who feels the need to approach branding with more clarity.
Best Intermediate Online Branding Classes
If you're confident about the fundamentals and want to explore branding in more detail, these courses can accommodate you.
1. Logo Design with Draplin: Secrets of Shape, Type and Color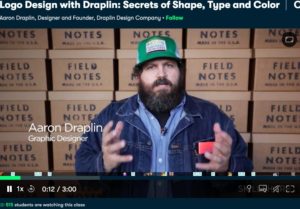 Who's it for? Intermediate
Price: Membership
In spite of the common misconception, your brand is more than just your logo. That being said, the logo is a crucial part of your brand identity and will play a huge role in helping you connect with your audience. That's why designing it is one of your most important tasks.
Luckily, this class can help you here. Led by Aaron Draplin, a famous designer with an impressive resume, you'll learn about geometric structures, color choice, typography, and more. You'll get valuable tips to apply to your branding project, and you may even be able to take the course for free if you're new to Skillshare.
Branding & Marketing for Startups: Learn How To Stand Out
All Levels • 40 videos • 1.8 hours
2. Branding & Marketing for Startups: Learn How to Stand Out from Udemy
Who's it for? Intermediate
Price: On sale
This is a general course with the goal of teaching its students how to use the power of branding to differentiate their business from the competition. It examines why people choose to buy brands in the first place and how to use that to your advantage.
You will learn how to identify your target audience and build a brand personality that resonates with your customers. With a base price that falls in the middle of this set, this class is a solid and well-rounded option.
The Climb: 6 Steps to a Powerful Personal Brand
All Levels • 22 videos • 2.3 hours
3. The Climb: 6 Steps to a Powerful Personal Brand from Udemy
Who's it for? Intermediate
Price: On sale
A bestseller on Udemy, this course can serve as a guide to anyone wishing to create a compelling personal brand. It discusses the ways you can tell your brand story in a compelling manner, how to attract the ideal customers, how to find your place in a crowded market, and more.
The course takes an action-oriented approach and provides tips you can implement right away. It's the most expensive course in this group but it also comes with the most content.
Best Advanced Online Branding Classes
The last set of classes is here to cater to the most demanding of students.
1. Digital Branding and Engagement from edX

Who's it for? Advanced
Price: Free
The essence of good branding is getting your customers to engage with you. This course explains how you can inspire these two-way conversations using digital technology.
The key is creating compelling content and distributing it effectively, which allows you to boost engagement and get people on board. The course takes four weeks to complete and requires you to put in three to four hours of work on a weekly basis. You can even take it for free – you only need to pay if you want the certificate.
2. Advanced Branding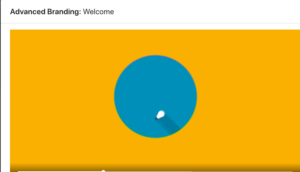 Who's it for? Advanced
Price: Subscription
This course provides a comprehensive look at what it takes to build a successful brand and how to maintain it. It covers issues such as brand positioning, touchpoints, and brand culture and responsibility.
Students will also learn about brand equity (the value a famous brand name brings) and how to measure it, what brand promoters and detractors can do, etc.
You need a plan for LinkedIn Learning to access this class. However, a free one-month trial is available, so you may not actually need to pay anything.
YouTube Masterclass – Your Complete Guide to YouTube
All Levels • 65 videos • 5.4 hours
3. YouTube Masterclass – Your Complete Guide to YouTube from Udemy
Who's it for? Advanced
Price: On sale
Take any truly successful brand and it'll have a YouTube channel. The reason is simple – videos are incredibly important for spreading brand awareness. So if you're looking to take your own branding efforts to the next level, YouTube may be the key, and this class can help.
With it, you'll learn many tricks to kickstart your channel – and as your viewership grows, so will your brand. You'll learn how to make good videos on a limited budget, how to optimize them with catchy titles and descriptions, how to get more views, etc. The course is among the priciest on this list but it contains over 11 hours of advice-packed video.
Final Thoughts
You can't build a successful brand overnight. It's a long road with various challenges, but it's easily worth all the effort you'll put in. With these classes, you'll have help along the way.
Looking to learn more about business and marketing classes? Check out our guides to the best PR classes, the best presentation skills training and the best people management courses.
Southern New Hampshire University Online
SNHU Online Offers:
Flexible schedules
Affordable tuition
Online tutoring
Access to electronic research materials
Specialized academic advising
Supportive online community