Benzinga Money is a reader-supported publication. We may earn a commission when you click on links in this article.
Learn more.
Binary options present a simple choice to investors — yes or no. If you pick the correct choice, you win money. If you pick the wrong one, you lose a large percentage of your investment. The prospect of full transparency is very attractive to some investors who may prefer upfront terms on their investments. Unlike traditional options, you don't have to worry about pricing in volatility, price manipulation or the other factors that may cause weird option price movements.
You can choose different accounts based on the type of trading you want to do. Here is a list of the most popular types.
The Virtual Account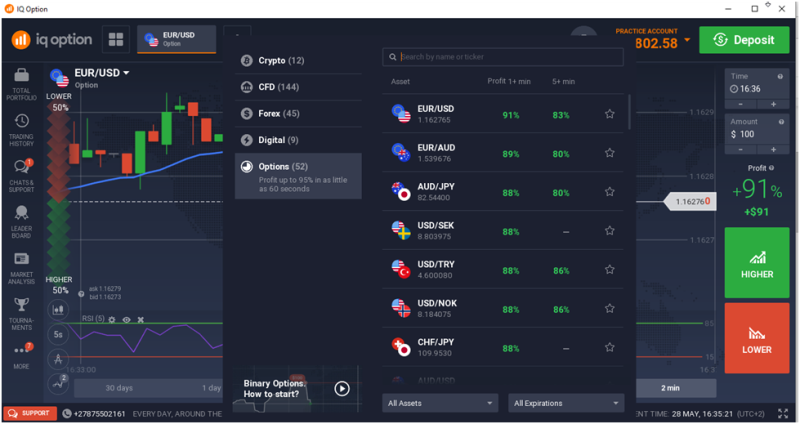 Attribution: IQ Option Mag – Your virtual account will have all of the features of a real account. You just won't use real money.
Before you begin investing in binary options with real money, a smart way to test your strategies is through a virtual account. A virtual account works the same way as a real account without real money. You can still invest and see what would have happened, but you do not win or lose actual cash.
Savvy investors use virtual accounts to test the veracity of the platform as well. Traders need to know the characteristics of a platform along with having a winning strategy. For instance, some binary options have expiration times of seconds. Reducing latency can mean the difference in a win and a loss.
The Low Minimum Account
If you are just getting into binary trading options, you may want to start with a low minimum account. Accounts with low minimums allow investors to exercise full trading privileges with a lower account balance than usual.
Standard accounts for binary options start at around $500. Anything lower than that is probably defined as a low minimum account depending on your broker. Other names for a low minimum account include the Micro, Basic or Beginner account.
You may give up access to certain privileges or investment opportunities if you are trading through a low minimum account. If your account balance stays under the minimum for regular trading, you may not be able to use leverage on the account. You may not be able to invest in certain high-risk opportunities or options with an extremely short time frame. Usually, once you upgrade your account or add more money to it, you can add those features to your repertoire.
The High Leverage Account
Some of the best binary options strategies involve using leverage, or borrowed money. Brokers can serve as your interim bank, providing you capital for trades above and beyond the capital you have in your account. Some brokers may call this leverage a "bonus," but the concept is the same.
In some trading accounts, you will not be able to claim your bonus as cash until you reach a certain amount of trading activity. The activity volume is usually based on a multiple of the bonus. For instance, if your broker gives you $500, you will have to make 20 times worth of trades ($10,000) before you can claim the $500 as cash. Should you lose your account more quickly because you are leveraging up on trades, the bonus is forfeit.
The Exotic Trades Account
Exchanges can offer binary options on literally anything — you are not limited to following stocks or precious metals. Some of the best binary options may have nothing to do with financial markets at all. Exotic trading means that you can bet on the weather in Chicago a week from now or an interest rate announcement during a Federal Reserve meeting.
You may also have access to different option types using this account. Here is a list of the most popular types:
High/low: The basic binary option that pays out if the strike price is higher than the current price at expiry
In/out: The trader predicts whether a price will be inside or out of a certain range
Ladder: Similar to high/low trades except that the option will use a staggered price instead of the current price to determine a payout
Touch/no touch: The trader predicts whether an asset price will touch or not touch a certain level above or below its current price
Investing in exotic trades gives you the ability to use any direct knowledge you have about a certain subject. Keep in mind that a broker likely will not offer an option on a trade that it hasn't researched extensively.
The Professional Account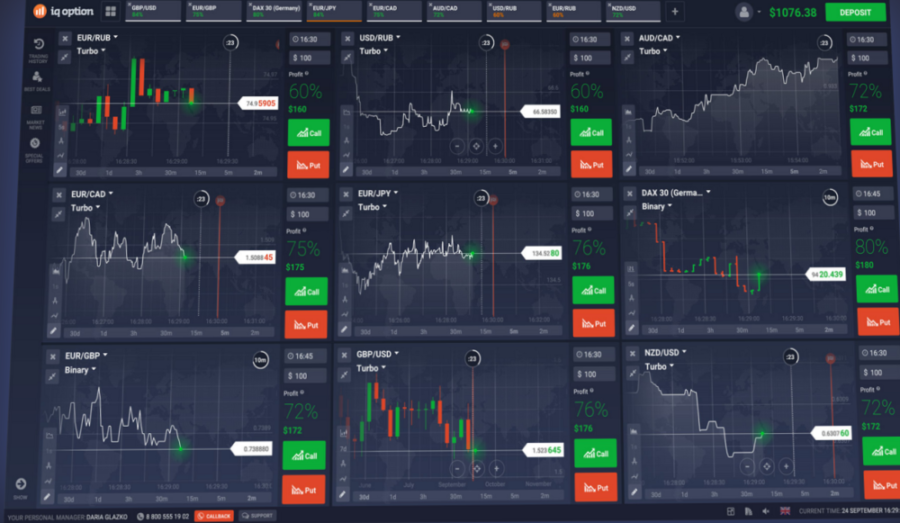 Attribution: Profitf
Professional accounts are usually meant for sophisticated traders. These are traders who have high average account balances and keep multiple trades going at the same time. Although binary options are yes/no propositions on their own, professional traders may use them as hedges against each other. These strategies can be used quite effectively, but their misuse means the potential for huge losses.
Professional accounts also allow the highest levels of leverage. Leveraged accounts allow an investor to trade exponentially more than the account balance. Investors can lose more than the value of the account and end up owing the broker money in this scenario.
Pro investors also have access to the full range of trades. Depending on your trading style, you can participate in high-frequency trading or trading on any exotic premise your broker can dream up. Certain brokers may also offer personalized assistance with a professional account, including a concierge and access to proprietary educational materials.
Trade Options
Make sure that you are trading options through a reputable and properly regulated exchange. The feature set of your broker will likely affect the way that you trade.
1 Minute Review
This publicly listed discount broker, which is in existence for over four decades, is service-intensive, offering intuitive and powerful investment tools. Especially, with equity investing, a flat fee is charged, with the firm claiming that it charges no trade minimum, no data fees, and no platform fees. Though it is pricier than many other discount brokers, what tilts the scales in its favor is its well-rounded service offerings and the quality and value it offers its clients.
Best For
Novice investors
Retirement savers
Day traders
Pros
World-class trading platforms
Detailed research reports and Education Center
Assets ranging from stocks and ETFs to derivatives like futures and options
Cons
Thinkorswim can be overwhelming to inexperienced traders
Derivatives trading more costly than some competitors
Expensive margin rates
Commissions
$0
flat rate, includes closing costs
Commissions
$0
flat rate, includes closing costs
1 Minute Review
Tastyworks is a sophisticated options and futures broker aimed toward experienced traders. The platform was designed by the founders of thinkorswim with functionality and precision for complicated options trades and strategies. Tastyworks offers stocks and ETFs to trade too, but the main focus is options. 
Options on tastyworks are only charged a 1-way, $1 commission —  far cheaper than almost all competitors. Commissions on futures and micro futures are also affordable, and there's no minimum required to open a cash account. It's $2,000 if you want to use margin.
Best For
Options traders
Futures traders
Advanced traders
Pros
Powerful platform inspired by thinkorswim
Multiple order types and strategies
Cheap options commissions
Cons
Advanced platform could intimidate new traders
No demo or paper trading
1 Minute Review
Webull, founded in 2017, is a mobile app-based brokerage that features commission-free stock and exchange-traded fund (ETF) trading. It's regulated by the Securities and Exchange Commission (SEC) and the Financial Industry Regulatory Authority (FINRA).
Webull offers active traders technical indicators, economic calendars, ratings from research agencies, margin trading and short-selling. Webull's trading platform is designed for intermediate and experienced traders, although beginning traders can also benefit.
Webull is widely considered one of the best Robinhood alternatives.
Best For
Active traders
Intermediate traders
Advanced traders
Pros
Commission-free trading in over 5,000 different stocks and ETFs
No account maintenance fees or software platform fees
No charges to open and maintain an account
Leverage of 4:1 on margin trades made the same day and leverage of 2:1 on trades held overnight
Intuitive trading platform with technical and fundamental analysis tools
Cons
Does not support trading in options, mutual funds, bonds or OTC stocks
Picking Your Type
Pick your binary options account types based on the type of trading you want to do and the size of your account. Make sure that the binary options trading software you choose executes your chosen trades properly. Although this kind of trading seems simple and transparent, there are a lot of moving parts to sync if you want a good chance of success.
Frequently Asked Questions
Q: What is the difference between options and binary options?
A: Traditional options track the price of the underlying asset closely. Binary options are known as "all or nothing" options because they offer only a binary win/lose scenario.
Q: Are binary options legal?A: Yes, binary options are legal in the U.S. as long as the exchange is regulated through the Commodity Futures Trading Commission (CFTC). Exchanges outside of the U.S. are not legally allowed to offer binary options to retail customers inside the U.S.
Benzinga's #1 Breakout Stock Every Month
Looking for stocks that are about to breakout for gains of 10%, 15%, even 20% potentially or more? The only problem is finding these stocks takes hours per day. Fortunately, Benzinga's Breakout Opportunity Newsletter that could potentially break out each and every month. You can today with this special offer:
Hire a Pro: Compare Financial Advisors In Your Area
Finding the right financial advisor that fits your needs doesn't have to be hard. SmartAsset's free tool matches you with fiduciary financial advisors in your area in 5 minutes. Each advisor has been vetted by SmartAsset and is legally bound to act in your best interests. If you're ready to be matched with local advisors that will help you achieve your financial goals, get started now.