Benzinga Money is a reader-supported publication. We may earn a commission when you click on links in this article.
Learn more.
While it may be possible to jump right into the options market with no experience, it's a much better idea to gain some experience trading before you risk your money. A virtual options trading simulator can help you practice using varying order types and develop your trading strategy without risking your trading capital. If you've never traded options before, we highly recommend starting with one of our recommended virtual options simulators before you enter the market. 
Why Use an Options Trading Simulator?
The options market is dynamic — just like the stock market shifts and changes every day, the same options trading strategy might not work every day. A virtual options trading simulator mimics real market conditions, allowing you to test your trading strategy and practice executing orders before you risk any of your capital. Virtual trading simulators also often include virtual fees and commissions, which helps you get a better understanding of the actual transaction costs involved in options trading.
Virtual options trading simulators are particularly useful for traders who have no experience with options. Even if you've traded stocks before, options trading has its own unique methods and vocabulary — you can benefit from learning these before you start to trade. Trading virtually lets you practice in a simulated environment without risking your trading capital to help you learn to avoid pitfalls.
Best Options Trading Simulators
There are dozens of virtual options trading simulators available on the market. If you aren't sure where you'd like to begin your trading, consider a few of our top choices below.
Best for Real Broker Practice: Power E*TRADE
If you plan to trade with E*TRADE, you'll find plenty of value in the broker's Power E*TRADE platform. The Power E*TRADE platform provides you with a robust set of trading and charting tools. Practice using these tools, then transfer your strategy back to E*TRADE's standard options trading platform when you're ready to invest.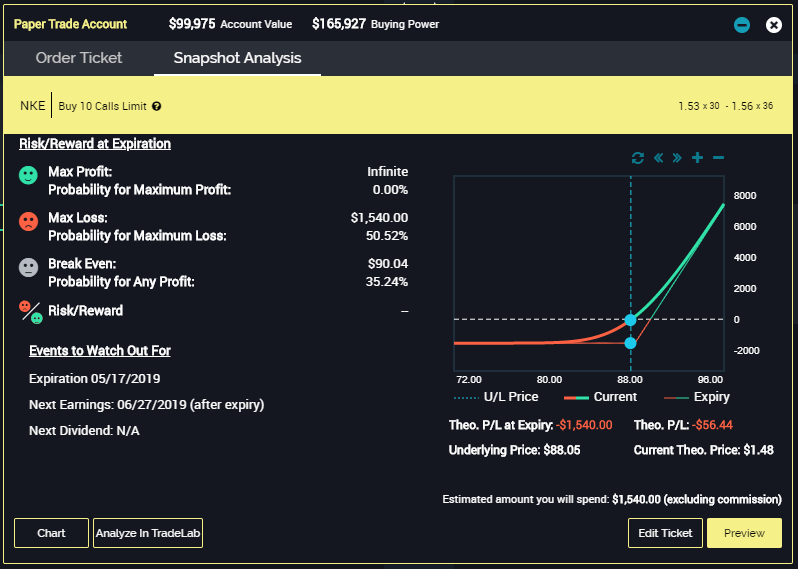 Test your trading strategy and E*TRADE's tools with no money at stake.
Power E*TRADE also offers a comprehensive education section to help you learn more about the options market and how to use E*TRADE's tools. The platform even offers a Snapshot Analysis tool to assist in visualizing maximum potential profits and losses, trading opportunities and exit plans without risking trading capital.
Best for Mobile: TD Ameritrade "thinkorswim" paperMoney
TD Ameritrade's thinkorswim platform is renowned in the investment industry as the forerunner of trading platform analysis software. But did you know that thinkorswim also extends to mobile? A thinkorswim paperMoney account allows you to access TD Ameritrade's groundbreaking mobile trading tools and platform using $100,000 in virtual funds.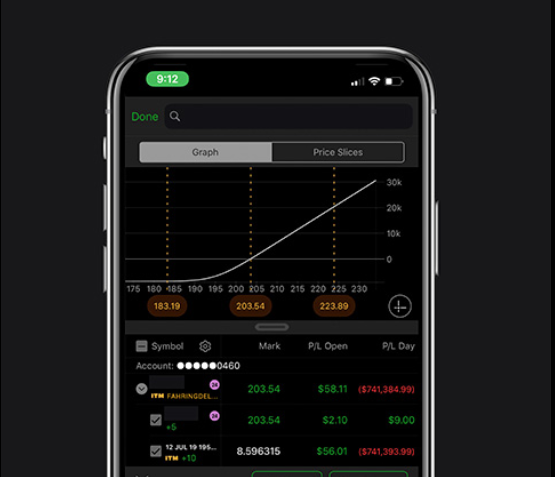 TD Ameritrade's thinkorswim paperMoney platform allows you to practice trading options on-the-go.
PaperMoney accounts offer you full access to TD Ameritrade's massive range of tools and features — and the mobile platform allows you to perform any trade available on the desktop platform. Work on your trading strategy without impacting your trading capital and master thinkorswim's platform with a paperMoney account.
Best for "Gamification:" Investopedia Stock Market Game
Does competition motivate you to learn? If so, you might enjoy Investopedia's Stock Market Game, which also allows options trading. Compete with over 700,000 other investors in a fun, interactive environment while you explore the market and trade with $100,000 in virtual money. You can invite your friends to play along with you and compete to see who can make the most profitable trades.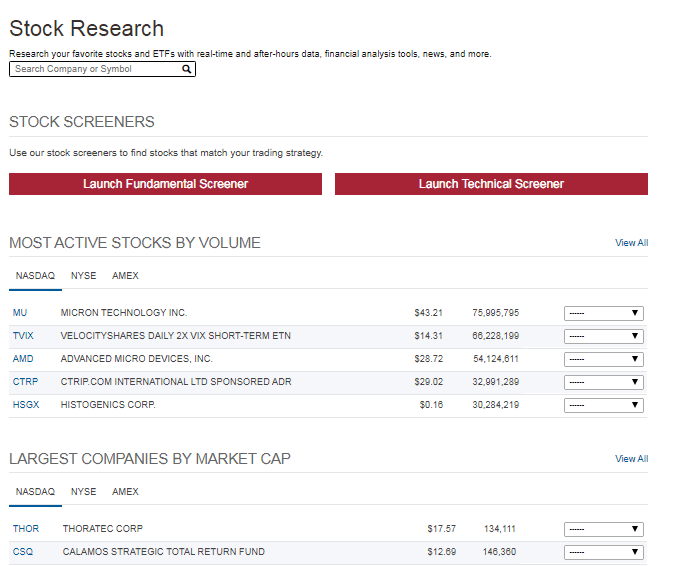 Compete with your friends in a fun, educational environment with Investopedia's Stock Market Game.
Investopedia's robust community and variety of trading tools can make learning how to trade significantly more motivating — and fun.
What is Virtual Options Trading?
Virtual options trading allows you to practice trading options without risking money. When you sign up with a simulator, you'll receive an account prefunded with a set amount of trading funds and access to a mock options market. Most options simulators attempt to mimic the real NASDAQ, New York Stock Exchange and other stock markets as closely as possible.
Using your virtual trading platform, you'll practice reading options chains and placing options orders without the possibility of losing money. You can practice buying, selling and executing orders during regular market hours, which can allow you to explore platform features and strategies without the possibility of losing your capital.
Pros and Cons of Options Trading
Understanding both the pros and cons of options trading is important. Let's take a look at some of the benefits and drawbacks of options.
Pros
Limited risk: As the buyer, you can choose to execute an options contract or allow it to expire if fulfilling the contract would mean a financial loss.
If you choose to allow an options contract to expire, you'll only lose the money you put down in a deposit. If you execute the contract, there's no limit to the amount of profit that you can take if you go on to sell the asset.
Less upfront financial commitment: When you purchase an options contract, you'll only need to pay a premium upfront. If you exercise the option, then you will have to put up the money required to buy the stock at the strike price of the option. You can also sell the option back before expiration to avoid this. You only pay a fraction of the stock's price to hold the option and participate in favorable market moves. You'll tie up less trading capital using an option position instead of holding a position in the underlying stock.
Ability to ensure a stock's price: Options allow you to speculate on a stock's future without investing in the full price of the stock. For example, imagine that you want to purchase shares of Company X's stock, but you aren't sure if their stock will increase or decrease in the future. Buying an options contract on a stock lets you purchase the stock at its strike price at or before the expiration, although you also need to factor in the initial premium paid to get your overall purchase price for the stock.
Con
Potential for more loss as a seller: If you sell a call options contract and the price of the stock you hold goes up, you generally lose money if the stock price ends above the strike price (plus the premium you received at expiration) and you are still holding the short position. This can mean very high losses in exchange for a relatively small reward.
How Virtual Trading Platforms Work
Virtual options trading is similar to real options trading. Your virtual options simulator will provide you with a virtual wallet preloaded with a set amount of virtual currency. Your simulator will then mimic the actual circumstances of the current options market as closely as possible, allowing you to practice your trading strategy as the market changes. As you practice "buying" and "selling" puts and calls, you'll track how well you're doing by monitoring your demo account movements.
If you choose a simulator associated with a brokerage that offers options trading, you'll also get to practice using your broker's charting and analysis software. These simulators also include standard fees and commission along with your trades so you can better estimate what you'll pay in fees.
Even the best simulator cannot perfectly mimic market conditions. Your options simulator won't be able to account for your personal risk tolerance, trading horizon, taxation needs and more. You also cannot perfectly mimic the market psychology that comes with real options trading, as actual cash is never at risk. However, this relatively stress-free environment is the ideal place for a beginning trader to start learning.
Benzinga Options Newsletter
Though market simulators can be helpful to beginners, up-to-the-minute market knowledge is the most powerful tool that you can have at your disposal. Do you have time to spend hours a day researching the morning's most profitable trades — and the skill to analyze the markets accordingly?
If you prefer to leave your research to the professionals, subscribe to Benzinga Stocks To Watch today. You'll receive daily recommendations and breaking news from the industry's top analysts, researchers and news correspondents delivered straight to your inbox before the market opens each day. Trade-ready and easy for even total beginners to understand, you can't afford to trade without Benzinga Stocks To Watch in your email list.
Making Your Way Into the Options Market
If you've traded stocks before, you might assume that you'll have no problem entering the options market. However, options trading is completely different than stock trading — and you may even find yourself overwhelmed when reading your first options chain. Even the most experienced stock trader can learn from a virtual options simulator or a paper trading account. And in an industry where knowledge is power, you'll want to get as much practice as possible before you risk any of your trading capital.
Benzinga's #1 Breakout Stock Every Month
Looking for stocks that are about to breakout for gains of 10%, 15%, even 20% potentially or more? The only problem is finding these stocks takes hours per day. Fortunately, Benzinga's Breakout Opportunity Newsletter that could potentially break out each and every month. You can today with this special offer: