Benzinga Money is a reader-supported publication. We may earn a commission when you click on links in this article.
Learn more.
Competition among financial institutions is fierce in Iowa. The state ranks No. 1 in banks and credit unions per capita, so your search for a personal loan lender can be daunting.
Benzinga's done the work for you. Check out our list of the best personal loans in Iowa to get started.
Best Personal Loans in Iowa Near You:
Best for Wide Variety of Options: Veridian Credit Union
Best Personal Loan Options: Greater Iowa Credit Union
Best for Comparing Rates: Regions Bank
Best Online Functionality: Credible
Best for Credit Card Consolidation: SoFi
Best for Fast Cash: Smarter Loans
Best Personal Loans Through a Credit Union in Iowa
Credit unions are member-owned and profits are returned to members in several ways, including lower loan rates and terms. Take a look at our recommended personal loans through some of Iowa's credit unions.

Loan Amounts
Up to $40,000
Terms Offered
12 to 120 months
Best for Wide Variety of Options: Veridian Credit Union
Veridian Credit Union's membership base is the largest of any credit union in Iowa with a host of financial products that match its size.
Veridian offers four types of personal loans. Any member can apply for Verdian's Personal Loan. If you have a credit score of at least 720, you may be eligible for a Premier Personal Loan, which has a higher loan cap and lower APR. The Quick Draw Line of Credit is a form of overdraft protection. You can link funds to your checking account specifically to stop payments from bouncing.
The last personal loan type is a Payday Alternative Loan (PAL). A PAL loan is a quick cash infusion under $1,000. You get 1/2 of the loan upon approval and the other 1/2 is held until you pay the first 1/2 back. This provides urgent financial relief and teaches better budgeting habits.
Besides personal loans, Veridian also offers auto loans, mortgages, home equity lines of credit and student loans to its members. You can also apply for lines of credits and payday loans. 

APR
As low as 6.99% to 9.99%
Terms Offered
1 to 60 months
Best Personal Loan Options: Greater Iowa Credit Union
Greater Iowa Credit Union (GICU) formed in 1932 and has 8 branches throughout Iowa. The credit union counts over 33,000 members.
GICU offers 3 types of personal loans with variable rates and terms:
The Good Choice loan is unsecured (no collateral needed) and can help you pay an expense over an extended period of time. This personal loan could be a good option if you're planning a home improvement or a wedding.
The Emergency Loan is an alternative to payday loans when you need quick cash. This loan is a short-term unsecured loan with fixed rates.
The Credit Builder loan is an option if you're focused on your credit, and the requirements are simple. Submit your Social Security number or Individual Taxpayer Identification Number (ITIN) and proof of income, 6 months residency at the same place or 6 months employment at the same employer. You'll need to prove your capacity to repay the loan.
Best Banks in Iowa Offering Personal Loans
Banks typically offer a wide range of personal financial products, many locations and a full suite of online banking capabilities. Review our list of the best banks for personal loans in Iowa.

APR
Fixed; depends on credit history
Loan Amounts
$2,000 to $35,000 if you apply online, up to $50,000 if you apply in person at a branch
Terms Offered
Varies based on the amount
Best for Comparing Rates: Regions Bank
Regions Bank has 9 branches in Iowa and several types of loans are available. The bank offers access to credit cards, mortgages, home equity, lines of credits, auto loans, student loans and personal loans.
You can take a personal loan out for home improvement, debt consolidation or emergency expenses. Calculate your expected rates and terms using the free calculator.
Regions may also connect you with other lenders who can help you if it's unable to offer you a loan based on your personal and financial information.
Best Personal Loans in Iowa from Online Platforms
You might conduct much of your financial business online already. Why not add loans to that list? The sheer number of vetted online lenders means you have a high chance of finding a loan that fits your needs.
Start with our list of the best online lenders for personal loans.

APR
from 5.95% APR (with autopay)*
Loan Amounts
$5,000–$100,000
Best Online Functionality: Credible
Credible scores points with borrowers for its easy-to-use platform and transparent comparisons to other potential lenders.
It's a free online service to compare personalized loan offers from multiple vetted lenders.
Credible can connect you with lenders for student loans and mortgages. You can also refinance either type of loan or secure a personal loan.
You'll find personal loan options starting at 5.99% APR with terms ranging from 2 to 7 years. Loan amounts range from $5,000 to $100,000.
This means you can use Credible to find a personal loan for larger expenses like home improvements and weddings or smaller costs like car repairs.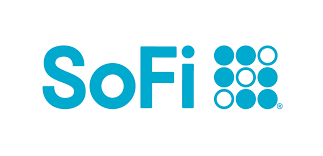 Loan Amounts
$5,000 – $100,000
Terms Offered
5, 7, 10, 15 and 20 years
Best for Credit Card Consolidation: SoFi
If you carry a high balance on your credit cards, paying them down gets difficult as interest compounds. You can use a personal loan to consolidate your debt into 1 monthly payment. Personal loans often have a lower interest rate than credit cards, so debt is made more manageable.
SoFi offers personal loans for credit card consolidation, home improvements, relocation assistance, and medical procedures. A personal loan from SoFi has no origination or prepayment fees. The online application process is easy and you can prequalify to see how likely your approval odds are without affecting your credit. You can borrow anywhere from $5,000 to $100,000 with flexible terms and a fixed rate.
You can also apply for a mortgage or home equity loan with SoFi. Investment accounts (including cryptocurrency investing), savings accounts and insurance are also available once you're a client.

Loan Amounts
$1,000–$35,000
Best for Fast Cash: Smarter Loans
Smarter Loans is a great application if you need access to personal loans within days. Start the application online, and Smarter Loans will connect you with a lender. You can receive your loan money in as few as 1 to 5 business days.
Rates from its recommended lenders range from 5.99% to 24.99% APR, and terms range from 2 years to 5 years. You'll need at least a 640 credit score to apply.
Smarter Loans gives you access to peer-to-peer loans, personal installment loans and bank personal loans. You can apply for up to $35,000.
You may have to visit a local lender to complete your bank loan application after connecting through Smarter Loans.
Personal Loan Considerations
There are a few key considerations if you're thinking about a personal loan. Guide your decision making with these questions:
Are the rates offered by the lender lower than a credit card?
Do you need a lump sum of quick cash or a line of credit you can pay back and use again?
Can you repay the loan within the given terms?
A personal loan may be your best bet if your answers are yes.
Be aware that some lenders, especially online, do prey on unsuspecting borrowers. Make sure you research a potential lender before you sign off on anything.
Personal Loans vs. Credit Cards
Personal loans and credit cards are both ways to pay for expenses you can't cover with your regular cash flow. Credit cards tend to be revolving and have variable rates — this is good if you need a consistent line of accessible credit, but variable rates can mean you end up paying more in interest than you expected. Personal loans are a set amount with fixed rates. These are better if you need a 1-time lump sum of cash and want to budget out how much extra borrowing on credit will cost you by the time you pay it back.
A personal loan can cover a large expense or consolidate your debt. Use a credit card if you want a reusable line of credit to use for everyday expenses and purchases.
Frequently Asked Questions
Q: What happens if I can't repay my personal loan on time?
A: Make sure you're clear on the terms of a loan. You may face late payment fees if you pay off a loan late (or early in some cases). You can also face collateral seizure with secured loans or prepayment penalties.
Q: Can I get a personal loan with bad credit?
A: Yes. It just depends on the lender. Some lenders welcome borrowers with imperfect credit. However, you may face higher rates and more rigid terms.
Find Your Personal Loan
Personal loans can help your credit score, and some offer lower rates than other forms of credit. You can get a loan from a brick-and-mortar institution or use an online lender. Start with our recommended lenders and connections to find the best personal loan for you.