Did you know most of our readers choose The Hartford for their professional and business insurance needs?
Builder's risk insurance is a unique and often misunderstood type of insurance for construction professionals. Builder's risk insurance is a specialized type of property insurance that helps protect your financial interest in buildings that are currently under construction.
Whether you work in the construction industry or you're responsible for overseeing a remodel, it can be a good idea to learn more about the benefits that builder's risk insurance provides.
Our guide to builder's risk insurance will show you the ins and outs of how this business insurance works, what factors may influence what you pay for coverage and a few of our favorite providers.
Types of Builder's Risk Insurance
From homeowners completing renovation projects to construction companies engaged in the new creation of a commercial space, nearly anyone with a vested interest in a construction site can apply for builder's risk insurance.
Most builder's risk insurance policies are classified by the length of the project:
Single project/1 shot. This type of insurance covers one individual construction, remodeling or installation project. The insurance usually expires when the project is completed.
Reporting form. This insurance covers 2 or more residential or commercial new construction projects valued up to $3 million.
Blanket. This type of insurance is an ongoing builder's risk policy for construction professionals involved in more than 25 new development projects per year.
Additional types of builder's risk insurance may vary by company and project type. Some insurance providers classify builder's risk by project type instead of number.
Cost of Builder's Risk Insurance
With so many variations between builder's insurance policies, it can be nearly impossible to predict what you'll pay for your insurance without getting a custom quote from an insurance provider. Because construction projects vary widely in terms of budget, tools used and risk, getting a quote from a reputable insurance company is the easiest way to predict what you'll pay for coverage.
The average builder's risk insurance policy costs between 1% and 5% of the total cost of the construction. Most builder's risk policies are influenced by 3 major elements unique to your project: project type, location and construction materials.
Project Type
Your project type is the 1st factor that insurance underwriters will take into account when determining what you'll pay for coverage. Most builder's risk insurance providers offer coverage for a range of project types, including new constructions, installations and remodeling jobs that include or exclude the exterior of the remodel site.
New constructions and installations tend to receive the most affordable rates from insurance providers. Installation projects in particular tend to be the most affordable because the insurance provider only needs to cover the specific installation site. These projects also tend to take less time, which decreases the possibility of an accident or damage.
Commercial and residential new construction projects are the 2nd most affordable type of projects behind installations when it comes to builder's risk insurance. This is because the insurance provider knows that they will be insuring a project using new materials and new construction plans. This decreases risk because the insurance company doesn't need to worry about whether or not an existing structure has damage that would hinder construction.
Remodeling projects are the most expensive projects to purchase builder's risk insurance for. If you choose to exclude coverage for the existing structure surrounding the remodeling project, you'll receive more favorable rates. However, you won't receive protection for any of the existing structures around your remodeling area.
Remodeling projects that include existing structures are the most expensive to insure. This is because the insurance provider needs to insure your project without knowing about the stability or construction quality of the existing structure.
Previous faulty construction may leave an insurance provider with an expensive bill even if the current remodeling team is doing everything perfectly. For example, if a poorly-installed retaining wall collapses and destroys a portion of the remodel, the builder's risk insurance provider would need to compensate the construction site owner for any damage.
Location
Location is another crucial factor that determines the price you'll pay for your builder's insurance. Some environmental factors that may influence your builder's insurance premiums include:
Proximity to high-risk flood zones
Location in a wildfire state
Proximity to a coastline or major body of water
Location in a wind or hail-prone state
In addition to environmental factors, your local construction site location will also influence your premiums. For example, if your construction site is in an urban area with faster response times from fire and police departments, you will likely pay less for your insurance.
Construction Materials
The quality of construction materials you use for your project play a role in the risk the insurance company takes on when they offer you coverage. For example, buildings created using fire-resistant materials would receive more favorable rates than buildings created using flammable wooden frames. Investing in higher-quality, safer building materials can help you lower what you'll pay for builder's risk insurance.
How Builder's Insurance Works
Builder's insurance can be difficult to understand because each insurance policy is specially designed to fit the project that is being insured. As a general rule, you can expect your builder's risk insurance to cover your building structure and materials from damage resulting from the following hazards:
Fire
Wind
Lightning
Vandalism/theft
Hail
Vehicles
Explosions/gas leaks
Every builder's risk insurance will include limitations. If your building site or structure is damaged due to an excluded hazard, you cannot file an insurance claim. Some common examples of excluded perils include:
Earthquakes
Employee theft
Government action/failure to abide by permits
Any type of intentional damage you cause to the structure
Flood damage
Your builder's risk insurance will offer you a payout only up to your policy's limits. It's a good idea to consult your construction budget and the cost of any existing structures you need to insure before you choose a policy. This ensures that you have sufficient coverage to protect you in the event of a total loss.
Note that builder's insurance only compensates you for building materials and sometimes existing structures surrounding your construction project. It will not provide any compensation for:
Tools or equipment you use on the job
Any form of lawsuits incurred as a result of negligence or poor craftsmanship
Workers and contractors who are injured on the job
The property of anyone besides the construction company
Mechanical breakdowns
Typically, your builder's risk insurance ends when the construction plans are completed. You may also apply for an extension that includes coverage for perils not typically included on standard policies, like property in transit or debris removal.
Best Builder's Risk Insurance
The cost and coverages provided by your builder's risk insurance may vary widely depending on which company you choose to service your policy. A good way to compare coverages and get a better idea of what you can expect to pay for your insurance is to collect multiple online quotes from competing builder's insurance providers.
Below you can browse a few of our favorite insurance providers offering comprehensive builder's insurance policies and claim your free quotes.

1 Minute Review
Shopping for business insurance can be a tedious process. It takes time to collect and review quotes and coverage unless you visit CoverWallet. CoverWallet, an Aon company, makes it easy to get quotes from multiple insurance providers.
With CoverWallet, you can start by talking with an insurance advisor or start directly with quotes. You can get quotes from multiple reputable insurers, including Hiscox, Chubb and Progressive. Choose from a wide range of coverage options to protect every area of your business, including workers' compensation, general liability and commercial property insurance.
Once you decide on your insurance coverage, you can manage your policies through MyCoverWallet. This online dashboard allows you to send copies of your insurance certificates when needed, file claims and pay premiums. It keeps your policies organized and allows you to reach out to an expert at any time.
CoverWallet also offers extensive educational resources. You can review its recommended coverage by industry. You can also dig into more specific information based on your industry, location, number of employees and annual revenue.
The one drawback to the CoverWallet is that it doesn't have a mobile app. You can still access the site through your mobile browser and you can call any time for assistance. Overall, CoverWallet makes it easy to shop for and buy business insurance, and it's an excellent fit for small businesses and the self-employed.
Best For
Self-employed
Start ups
Small to medium businesses
Pros
Can get multiple quotes easily
Can learn about recommended insurance for your industry
Offers many types of insurance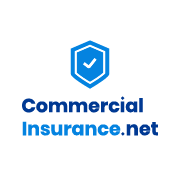 get started
securely through CommercialInsurance.net's website
1 Minute Review
Shopping for commercial insurance can be a daunting task. You need to contact multiple insurance companies, ask each for quotes on the different types of insurance and then finally compare quotes to make the best choice.
Or you could simplify things and visit CommercialInsurance.net. With CommercialInsurance.net, you can easily get quotes on the insurance you need from multiple reputable insurance companies like Progressive, The Hartford and Liberty Mutual Insurance. You can get a quick quote online or give CommercialInsurance.net a call. 
CommercialInsurance.net can connect you with all types of business insurance, including general liability, commercial property and workers' compensation insurance. It's best for business owners who want to save time and money by getting insurance quotes from multiple providers with 1 quote request.
Best For
Busy business owners
Comparing insurance policies
Pros
Easy quote process
Quotes from multiple insurers at once
Cons
No mobile app
No tools for managing multiple policies from different providers
Constructing the Ideal Builder's Risk Insurance
Most construction projects have multiple hazards and exposures that can put your work in jeopardy. Because there is no standardized set of inclusions for builder's risk insurance, it's important that you read and understand your policy's inclusions and exclusions before you sign on. 
The last thing you want is to underestimate your true liability and be at a financial loss if your project is damaged beyond repair. Start with 1 of our recommended providers to find the ideal builder's risk insurance today.