Microsoft Excel and Google Sheets offer a powerful platform for calculations, task management and business cash flow analysis. But did you know spreadsheets can also streamline personal and household budget management?
Move over budgeting apps – Savvy savers can enhance spreadsheets with affordable budgeting templates to make tracking finances less complicated than the old-fashioned way.
Get started with Benzinga's favorite free or low-cost budget spreadsheets to organize your finances and save more money this year.
The Best Budget Spreadsheets:
Vertex42 Spreadsheets – Free
Mint Lifestyle Spreadsheet Templates – Free
It's Your Money! Free Editions – Free
Google Sheets Budget Template Gallery – Free
PearBudget – Free trial
It's Your Money Deluxe Envelopes Excel System – $11.95
You Need a Budget (YNAB) – Free trial
What to Look for in a Budget Spreadsheet
The best budget spreadsheets should offer you the following:
1. A Layout that Fits Your Needs
Everyone's budget looks a little bit different. If you're a single young woman who's budgeting only for yourself, you might want a simple budget spreadsheet that isn't bogged down with categories that you won't use and don't need.
But if you're a business owner with childcare expenses, you want a budget spreadsheet that's a little more comprehensive. Consider your individual needs before you devote storage space or money to a spreadsheet option.
2. An Affordable Price Tag
Tracking expenses is 1 of the best ways to save money. It doesn't make sense to spend on tools to budget if you're trying to get rid of student loans or pay off credit card debt.
There are plenty of free budget spreadsheet options that rival the functionality of pay-to-play peers. Choose a free spreadsheet option instead of adding another monthly bill.
Compatibility with Your Platform of Choice
Spreadsheets (especially free spreadsheet options) often have single-platform compatibility. This means if it's designed to work with Microsoft Excel, you can't use it on Google Sheets and vice versa.
Test out a few spreadsheet software options to decide which system is easiest for you to use. Then search for spreadsheet choices that work with your favorite platform.
The Best Free Budget Spreadsheets
These spreadsheets can get the job done without a monthly fee.
1. Vertex42 Spreadsheets
If you're new to spreadsheets or spreadsheet applications, one of the best places to start is through Vertex42. Vertex42 Spreadsheets is a free resource that offers users numerous household budgeting options, all easy to use, no matter your level of technical knowledge.
The spreadsheet provider offers all options in the form of free downloads which can then be opened with your spreadsheet program. Most options are available for both Microsoft Excel as well as OpenOffice Calc, but a number of selections are also compatible with Google Docs.
What makes Vertex42 stand out is its simplicity of use. Categories for expenses and income are clearly divided and marked, and you'll have no trouble manually entering your own custom categories as well. Vertex42 also offers a range of spreadsheet choices that can be personalized for your own needs.
From a monthly household budget to a budgeting spreadsheet just to track what you're spending on Christmas, Hanukkah, and other holiday gifts, to a money manager spreadsheet for kids, Vertex42 has something for everyone. Simple, straightforward, and free if you have standard budgeting needs, you'll find everything you could want from a budgeting spreadsheet through Vertex42's download list.
2. Mint Lifestyle Spreadsheet Templates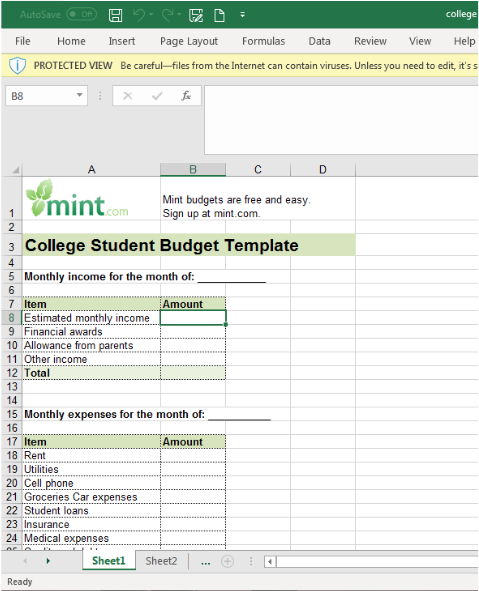 Intuit's Mint is 1 of the most popular budgeting apps available. But did you know that the company also offers a series of free spreadsheets for your laptop or desktop as well?
Mint's Lifestyle budgeting sheets are available as a free download online. You don't even need to have an account open with Mint to take advantage of itsofferings.
The budgeting sheets are a series of individual budget templates that each cater to the unique needs of different lifestyles.
For example, it has different spreadsheets for college students, parents, high school students and more. There is also offer a standard household budget spreadsheet you can customize.
Mint's spreadsheets don't include any specialized calculations beyond adding up your total expenses and income streams.
Mint's demographic-specific sheets can offer a simple solution to better manage your cash flow.
3. It's Your Money! Free Editions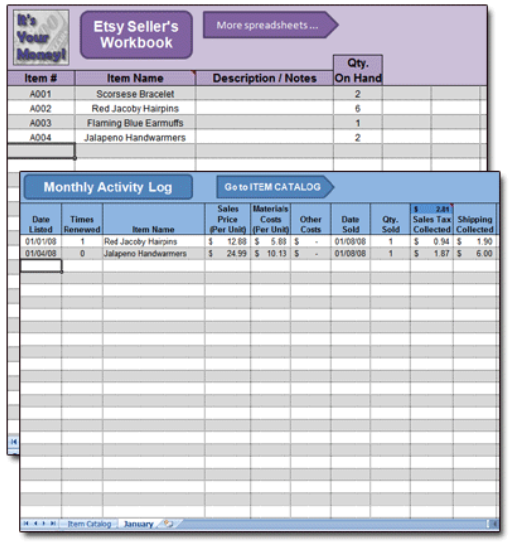 It's Your Money offers a series of both free and low-cost spreadsheets. These 10 spreadsheets work well for both household and business cash management.
It's Your Money offers complementing spreadsheets tooled to follow the rules of debt-management plans like Dave Ramsey's famous debt snowball method. There's even a simple Etsy seller's budgeting template. But what really sets the spreadsheet site apart is its free business management sheets.
The site offers small business tools alongside individual budgeting options. You can download an easy invoicing calculation tool that has an easily-editable formula. There is also an accounts receivable and payable spreadsheet to manage cash flow and client payments.
It's Your Money is an excellent choice if you're looking for a free, yet in-depth option. All spreadsheets are compatible with Microsoft Excel only.
4. Google Sheets Free Budget Template Gallery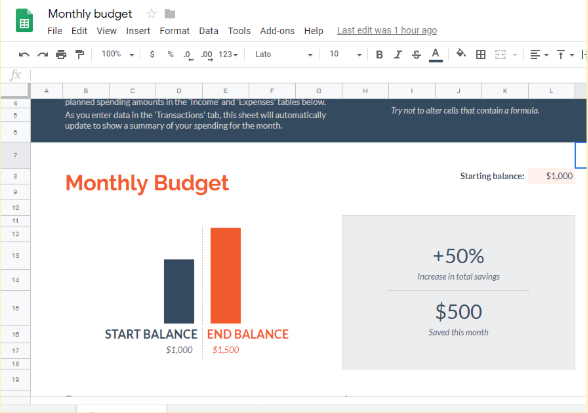 Google Sheets is a cloud-based file storage system that allows users to create, upload and share spreadsheets. When you create a Gmail account, you're automatically given 15 MBs of storage for free. You can upgrade to a premium account for more storage space.
Google Sheets offers a free series of budgeting templates. From travel planning spreadsheets to assignment grading sheets for teachers, there are tons of unique and functional tools available.
Monthly budgeting sheets make great use of Google's formulas and calculation tools. It automatically calculates percentage changes and spending goals without your need to know or understand how to program these commands into the program.
You can also easily share your Google Sheets with other members of your family who have Gmail accounts. This makes it easy to turn budgeting into a team effort with a spouse or child.
Google Sheets is a great option if you don't have Microsoft Excel or another spreadsheet application installed on your desktop or laptop.

The Best Low-Cost Budget Spreadsheets
Looking for a little more functionality than your standard free sheets? These spreadsheets offer cool tools with affordable pricing.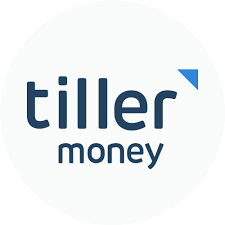 1. Tiller Money
Tiller Money lets you easily track your money over time. You'll always know what's safe to spend, and you can confidently plan for the future with its automated spreadsheets.
Tiller Money automates Google Sheets and Microsoft Excel, so you can keep a clear view of your finances with everything in 1 place. It securely updates Google Sheets and Microsoft Excel with daily balances and transactions from 21,000 banks, credit cards, brokerages, loans and other financial sources.
You can create your own autocategorization rules and auto or manual updates. Link up to 5 spreadsheets at a time.
Get started with a 30-day free trial. Then Tiller Money is $79 per year or $6.58 per month.
2. PearBudget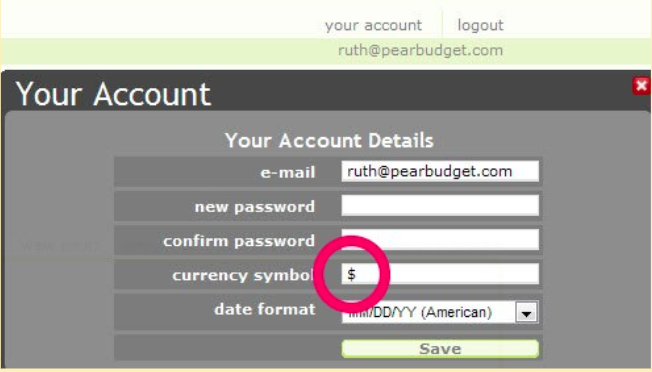 PearBudget is a comprehensive household finance management spreadsheet that uses an online or mobile budgeting platform without downloading any files. PearBudget is easier to use than Quicken or Microsoft Money but offers a large suite of tools that anyone can manage.
The company features a mobile app that makes it easy to upload and input expenses on-the-go. The app syncs with your online sheets for a streamlined experience.
PearBudget even allows you to enter and manage multiple currency types. This feature is great if you accept payments in multiple currencies or send funds to family members abroad.
PearBudget is free for 30 days and costs about $5 a month after the trial period. The company is not accepting new signups temporarily. Send an email to help@pearbudget.com to be the 1st to know when signups open again.

3. It's Your Money! Deluxe Envelopes Excel System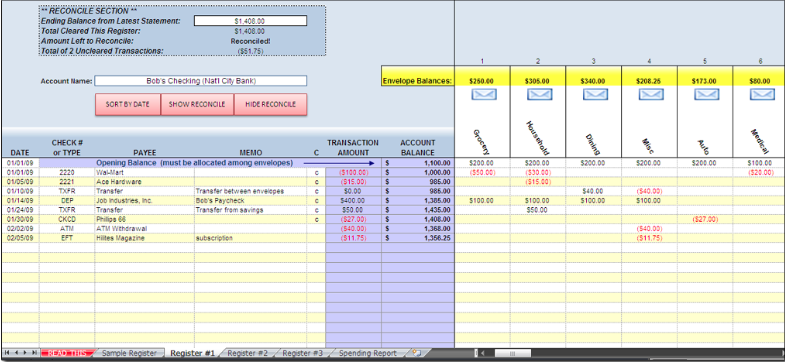 In addition to its free offerings, It's Your Money also offers a few premium spreadsheets. The most impressive is by far the Deluxe Envelope Excel system.

The envelopes budget system requires you to divide your money among defined envelopes each month. For example, you might have separate envelopes for rent, emergency expenses, entertainment and groceries.
Throughout the month, you take money out envelopes as expenses pop up — but once an envelope is empty, you can't take money from another. This system discourages impulse purchases and encourages you to plan for your fixed and fluctuating expenses.
The Deluxe Envelope Excel system takes this process and digitizes it. Using Excel, you can create your "envelopes" and assign money at the beginning of the month. As you record deductions, the spreadsheet will automatically deduct from your envelope and show what is left at a quick glance. The system even automatically generates a "spending report" for month-to-month comparison.
The Deluxe Envelope Excel system costs $11.95 for a 1-time download.

4. You Need A Budget (YNAB)
You Need A Budget (YNAB) is an online budgeting tool that syncs with your banking data and makes it easy to understand how much you're spending across multiple accounts.
YNAB has a mobile app that allows you to enter cash purchases on the go. The app continuously syncs with your online spreadsheet so you can accurately measure your spending no matter which platform you're using.
You can also easily adjust spending categories and move budget allocations from one category to another for a truly individual solution to overspending.
YNAB is free to use for 34 days. After your trial period has ended, it costs $6.99 a month or $83.99 a year. This is a little more expensive than other budgeting spreadsheets, but the tools may be worth the price.
Read Benzinga's full YNAB Review
Take Control of Your Spending
The best way to limit your spending is to know exactly how much money is coming in and where you spend the most. Sit down with your budget and calculate how much you'd like to save each month, and use a spreadsheet to track your spending.
Whether you're looking to build a nest egg, pay down your student loans, or just to be more mindful of your spending, it's never a bad time to build a better budget.

Want to learn more? Check out Benzinga's guides to the best wedding budget spreadsheets, the best budget apps for couples and how to pay off credit card debt.
Frequently Asked Questions
What are some free spreadsheets?
You can use Google Sheets, Microsoft Excel, Smartsheet and Quip.
Answer Link
What are the best low-cost spreadsheets?
A few low-cost spreadsheets include Tiller Money, YNAB and PearBudget.
Answer Link
Continue reading: BEST BUDGET APP FOR COUPLES