Your wedding may be one of the biggest (and most stressful) events you'll ever plan. From finding the perfect venue to choosing a catering company, it can be far too easy for inexperienced wedding planners to throw budget to the wind and go into debt for the sake of one ceremony and reception.
However, planning a wedding on a budget isn't an impossible task if you stay organized. One tool that many soon-to-be brides and grooms use to manage their wedding expenses is a wedding budget spreadsheet. Wedding budget spreadsheets are easier than trying to record every expense on paper and gives you and your future spouse a one-stop zone for expense calculation.
Getting into debt is no way to start a marriage. Use one of our favorite wedding planning spreadsheets to keep your "I do's" within your budget so you have more money to spend on your new life together.
Best Wedding Budget Spreadsheets:
Bridal Musings' Wedding Budget Spreadsheet
Wedding Wire's Wedding Planner
The Knot's Wedding Budget Calculator
What Does a Wedding Budget Spreadsheet Help You Accomplish?
One of the best ways to save money in any area of your life is to stay organized and track your expenses, and planning a wedding is no different. Wedding spreadsheets help you keep track of how much you spend on each expense category, which can be especially useful if you and your soon-to-be spouse have been putting payments on different savings accounts or credit cards.
The best way to use a wedding spreadsheet is to begin by sitting down to figure out how much you can afford to spend in total on your upcoming ceremony. Don't forget to include expenses for your honeymoon, reception and invitations, three categories that many couples overlook when they first begin the planning process. Once you have an overall budget, you can begin to assign budgets to each individual category. If you overspend in one area, you can shift allocations from other categories to keep your finances on-track.
Items to Look for on a Wedding Budget Spreadsheet
Your wedding is a unique experience, but there are some things that every wedding spreadsheet should have, including:
The basics: Every wedding planner needs to anticipate a few expenses. Make sure your wedding spreadsheet has areas to record the most basic features of every wedding, like your venue, attire, invitations, save-the-dates and catering.
Entertainment: Are you the type of bride or groom who wants to rock out to music from your iPhone played over the venue speakers or are you willing to splurge for a violin quartet? Either way, you need to allocate at least some money for your entertainment, even if it's just $20 to legally download your favorite songs.
An adjustable category for cultural expenses: If you're planning a traditional or culturally significant wedding, your wedding spreadsheet needs to allow you to add expenses that other couples may not need. For example, if you're planning a Hindu or Muslim wedding ceremony, you'll need to pay for your mehendi artist to complete your henna art. On the other hand, if your wedding will follow Japanese Shinto traditions, you might need to double your attire expenses if you plan to change out of the heavy and expensive shiromuku for your reception.
Our Picks for the Best Wedding Budget Templates
The internet has made wedding planning easier than ever before. Here are a few of our top picks for wedding spreadsheet choices.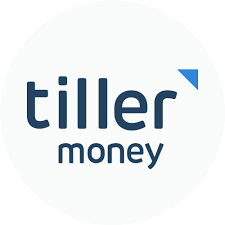 1. Tiller Money
Looking for a straightforward and easy to use wedding budget spreadsheet? Tiller Money might be exactly what you're looking for. Tiller Money auto-updates Google Sheets and Microsoft Excel with your daily spending and account balances. You get to see everything in one place and easily customize how you organize your wedding budget.
Tiller Money Feeds securely updates Google Sheets and Microsoft Excel with your latest finances from over 21,000 banks, credit cards, brokerages and other financial sources each day. Try Tiller for free today.
Monthly Cost
FREE for 30 Days $2.99/month after
2. Simplifi
Simplifi, a personal finance app created by Quicken, helps you easily stay on top of your wedding budget and other finances for use on IOS, Android and web platforms. You can set up watchlists to track your wedding savings and set up savings goals to help you achieve your post-wedding financial dreams.
Simplifi is a paid subscription product, with monthly and yearly plans available. Simplifi offers a 30-day free trial so you can make sure the app is right for you. However, the fees are not cost-prohibitive, with an annual subscription at only $2.99 or a monthly fee option for only $3.99.
Simplifi is comprehensive and intuitive and flexible, and best of all, offers an ad-free experience so nothing distracts you from your financial goals.
Learn more about Simplifi today.
3. Bridal Musings' Wedding Budget Spreadsheet
Frustrated with cutesy designs that sacrifice functionality for style? Just want a simple, straightforward, free place to track your ongoing wedding expenses with your future spouse? Bridal Musings' Wedding Budget Spreadsheet is a no-nonsense, barebones wedding spreadsheet with a full list of offerings. You can access Bridal Musings' Wedding Budget Spreadsheet online with Google Sheets and your file can quickly be shared with and edited by anyone you grant permission to.
This feature can be an asset for brides and grooms who are splitting wedding expenses but who don't have access to the same computer to jointly edit an Excel file. You also have the option of exporting your data to a personal Excel sheet if you wish.

Bridal Musings' Wedding Budget Spreadsheet makes it easy for wedding planners to add or remove rows in their budget, which makes it a strong option for brides and grooms who plan on adding a large number of nontraditional or cultural expenses.
Simply right click on the left-hand side of the sheet to add a row or to delete a line. A simple and shareable option, Bridal Musings' Wedding Budget Spreadsheet is perfect for the most practical brides and grooms.
4. Wedding Wire's Wedding Planner
WeddingWire's Wedding Planner isn't a spreadsheet in the traditional sense. Instead, it's a free app available as a download for both Apple and Android phones and tablets.
WeddingWire's app is a powerful, one-stop shop for everything that brides and grooms need to budget and plan for their wedding expenses. After creating a free account through WeddingWire, you can create a total budget through the app and allocate funds for expense categories like "catering," "photography," "ceremony music" or your own custom categories. The app allows you to set your original estimated expenses while you're in the early stages of planning, then adjust categories based on what you actually spend.
This makes it much easier to stay on budget by allowing you to move money from one category to another without messing with a spreadsheet's format or doing a whole new set of calculations. There's even an option to enter your total budget and let WeddingWire distribute funds between categories for you based on industry standards.
WeddingWire's Wedding Planner is much more than a simple budget spreadsheet. The app also offers connectivity and synchronization with WeddingWire's community of vendors, and you can create a guest list, registry, countdown and even a personalized to-do list and store them with your budget.
A free and comprehensive wedding planning tool, WeddingWire's Wedding Planner is a strong budgeting contender for mobile planning.
5. The Knot's Wedding Budget Calculator
Another online budgeting tool, The Knot's Wedding Budget Calculator is not a traditional spreadsheet. Instead, it offers a more visual way to manage your finances and contact vendors. First, create a profile on The Knot's website and enter your total budget in the "maximum budget" section. Then, enter your estimated and actual expenses below, using multiple categories organized by color.
As you spend money on different services, The Knot's calculator will automatically deduct these expenses from your total overall wedding budget and serve you with a pie graph that displays the funding that you have left. This unique tool can be especially useful if you still have more than 12 months until your big day and you need to think about your budget in the context of long-term planning.
Though The Knot's Wedding Budget Calculator comes with a list of some of the most common wedding expenses, it's easy to add or delete items with a few simple clicks.
The Knot's website also has full wedding-planning capabilities, allowing you to create a guest list, design your own wedding website, and even compare vendors in one convenient place. Another all-access wedding planning site, every couple should register with The Knot before their ceremony.
6. You Need a Budget (YNAB)
Okay, You Need a Budget (commonly abbreviated "YNAB") isn't an app or spreadsheet specifically for couples planning their wedding. However, it is a powerful spreadsheet-based budgeting app that can make saving up for a wedding and honeymoon easier.
YNAB's app links with your bank accounts, categorizes your expenses and shows you exactly where your money goes each month. The app works off the idea that you should assign every dollar a "job" at the beginning of each pay period to curb impulsive spending and encourage saving. YNAB syncs with its online platform and allows you to upload expenses on the go, which is perfect if you and your future spouse have a joint budget that you need to manage together. YNAB also features a number of graphs and charts and other display images to help you better visualize your spending habits.
YNAB is free for 34 days. After your initial trial period has ended, you can continue to use the app for $11.99 a month. If you or your soon-to-be spouse need to save up for your ceremony (or pay down some student loan debt) before you say "I do," YNAB is a simple and easy-to-use budgeting tool that's perfect for beginners.
Fall in Love with an Affordable Wedding
Too many couples assume that if they're throwing a wedding, enforcing a strict budget will result in a drab courthouse affair. However, the truth is that a creative couple can throw a Pinterest-perfect wedding without breaking the bank.
When you finalize your budget, sit down with your soon-to-be-spouse and think about areas in which you can save. For example, you might want to consider creating your own custom centerpieces to save on decorations or cut down on your catering bill by holding a Sunday brunch-themed wedding instead of a traditional dinner.
Cutting costs doesn't have to mean cutting the magic from your ceremony. After all, the thing that makes a wedding memorable and joyous isn't fancy décor or a designer dress — it's the family and friends who come together to celebrate the love that you and your future spouse share.

Looking for more ways to save money on your big day? Check out Benzinga's guides to the best cheap wedding invitations, the best budget spreadsheets and the best budget apps.
Frequently Asked Questions
What are the costs for a wedding with 100 guests?
A wedding with 100 people will range from $5,000 to $10,000.
Answer Link
What amount is the wedding venue of my total budget?
Related content: Best Wedding Insurance