1 Minute Review
Voyager is a leading name in the sphere of cryptocurrency investing, giving you access to over 50 tokens and coins. Buy, sell and swap assets using Voyager Crypto's simple mobile platform available as a free download for iOS and Android users. 
When you invest through Voyager, you'll pay nothing in commissions, which is a major benefit when compared to other cryptocurrency brokers. Voyager is also one of the only brokers we've seen that allows users to earn interest on their crypto investments. 
Though the broker could do more to improve its customer service, it's an excellent option for beginner investors and seasoned professionals alike.
Best For
Cryptocurrency investors looking for a wide selection of supported projects.
Investors who prefer mobile trading.
Anyone interested in earning interest on their crypto investments.
Pros
Simple, straightforward and intuitive mobile platform
Wealth of investment opportunities
Allows users to earn interest on select crypto investments
Cons
Only available for mobile users — no desktop platform
Limited routes to contact customer service team
Voyager Crypto Quick Summary
Tradable assets
Wide range of cryptocurrencies, including Bitcoin, Ethereum, stablecoins like USD Coin and altcoins like Chainlink and Polkadot
Platform
Mobile-only platform available for iOS and Android devices
Mobile app
Comprehensive mobile app that allows simple trades and intuitive investing
Unique mobile features include advanced charting options, integrated profit and loss calculators and a proprietary newsfeed
Account minimum
$10 minimum deposit required to open your account
$5,000 daily instant deposit limit for investors who want to use uncleared funds to trade immediately
Commissions and fees
$0 commissions on all cryptocurrency order placements
Available account types
Individual taxable cryptocurrency accounts
Voyager Crypto is a commission-free cryptocurrency trading platform. This means that no matter if you're buying or selling cryptocurrency, you'll pay only the quoted price when you execute your order.
How is this possible? Voyager uses a unique Smart Order Routing that takes advantage of discrepancies between listed prices on cryptocurrency exchanges.
When Voyager finds you a more advantageous price, it extends the savings onto you and keeps a small percentage of the differentiation. In other words, Voyager's exchange only makes money when you do.
In addition to commission-free trading, you can also earn interest on your cryptocurrency investments as well, simply by leaving them in your Voyager wallet. Interest rates range from 1% to 8.5% APR depending on the asset. You must meet a minimum number of coins or tokens in your wallet to qualify for Voyager's interest program.
Voyager Crypto is a mobile-based investing app that focuses on providing investors with a wide range of unique cryptocurrency investments. If you're a new cryptocurrency investor, you'll likely find plenty of unique features that make Voyager easy to begin with.
A few of the features that make Voyager especially easy-to-use include:
Smart Order Routing. Have you ever wondered if you're getting the best possible exchange rate when buying and selling cryptocurrencies? Voyager makes it easier to trade with confidence via its Smart Order Routing system.

Voyager connects with 12 of the largest and most reputable exchanges before executing your order to ensure that you're getting the most favorable exchange rate. This also provides investors with smaller spreads between bid and ask prices as well as higher levels of liquidity which makes it much easier to enter and exit the positions you're interested in.
Account Minimum
$10.00 USD
Simple signups and an intuitive platform. If you've ever worked through a cryptocurrency broker before, you probably already know that many brokers must verify your information before you can gain access to the market and begin trading. Voyager has streamlined the account creation and verification process down to its most simple steps to help you begin trading as soon as possible.

Start by downloading Voyager's free mobile app and submit a bit of required personal information through the app to open your account. From here, Voyager will show you how to link a funding method and enter the market. Most users will be able to fully open their account in as little as a few minutes.
Voyager offers some of the quickest account creations in the cryptocurrency sphere. The broker supports transfers of up to $5,000 USD, and you can begin trading with instant deposits immediately after they clear. Unlike some competitors, there's no holding period on your deposits when you trade through Voyager.
Voyager's simplicity also extends to the platform itself. Though the app does include a range of professional analysis tools that you can use to enhance your trading, it still maintains a clean, straightforward interface that beginners will be able to master. This can be a welcome surprise for users who have found themselves overwhelmed with more expert-oriented platforms in the past.
Simple order submissions. Even if you've never placed an order to buy or sell cryptocurrency before, you'll have no trouble using Voyager's ordering system. Simply select the token or coin that you want to invest in, select your order type, enter the amount of the asset that you want to purchase in dollars and swipe up to trade. Voyager will then fill the order on your behalf using its Smart Order Routing. As soon as your order is complete, you'll see your investment in your wallet.
Voyager's cryptocurrency ordering system is comprehensive and simple — swipe on the asset you're interested in, enter your investment amount, place your order and watch your money grow over time from a single platform.
Overall, we gave Voyager Crypto high markets for its simple and welcoming (yet powerful) mobile platform. The platform seamlessly blends innovative technology with a straightforward ordering system and advantageous pricing that beginners will find to be a breath of fresh air. More advanced investors will appreciate the platform's more advanced charting features and lightning-fast executions.
Voyager Crypto also offers a number of unique tools that you can use to learn more about the cryptocurrency market before you invest.

Some of our favorite educational features include:
Node by Voyager. Node by Voyager is Voyager Crypto's company blog. The blog features a number of straightforward articles written with beginners in mind. Learn a little more about what makes each token and crypto project unique and how you can add it to your portfolio in just a few minutes.
Up-to-the-minute newsfeed. Voyager's app includes a constantly refreshing crypto newsfeed that provides you with up-to-date information on the market as a whole and the specific tokens and coins that you have in your portfolio. Click on a ticker to view specific news articles that pertain to that project or view a general newsfeed before you start your trading day.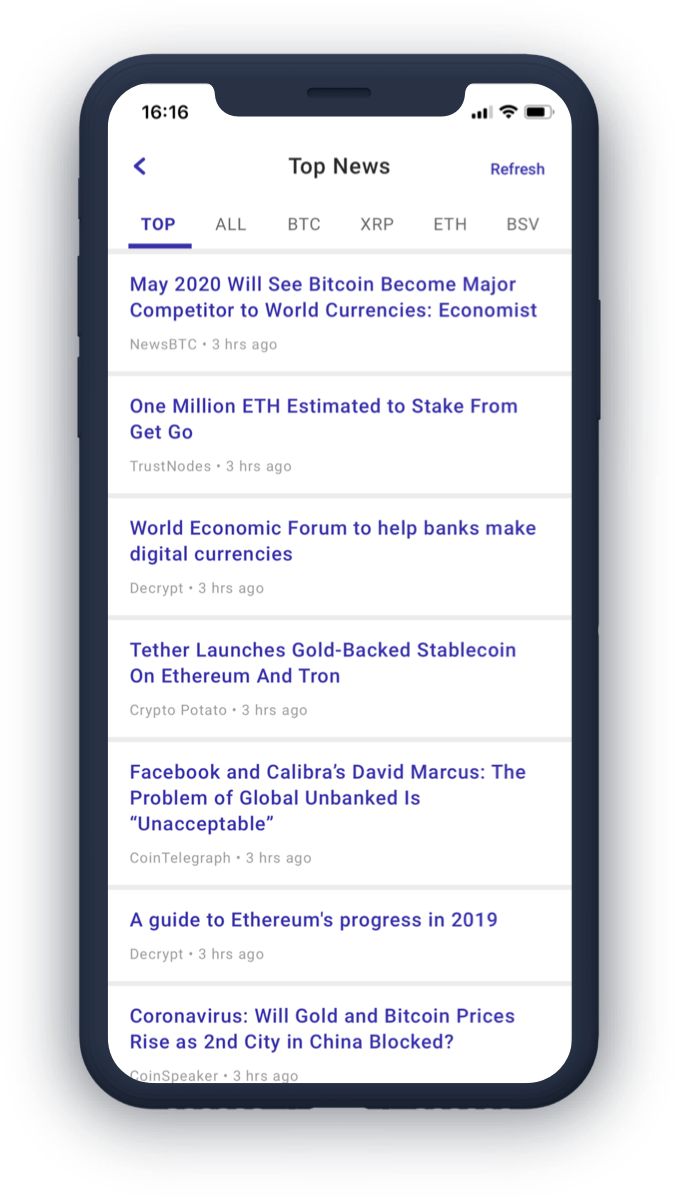 Browse the day's top crypto news stories or sort market news by cryptocurrency using your in-app feed.
Integrated profit and loss calculator. Interested in taking a more long-term approach to cryptocurrency investing? Voyager's app includes an integrated profit and loss calculator that helps you more effectively track your balances over time. This can be a crucial tool if you have a wide range of crypto assets and you want to see which of your investments are performing exceptionally well or poorly before continuing to invest.
Voyager Crypto currently offers a limited selection of customer service options:
By email. To get in contact with Voyager Crypto's customer service team by email, send a message to support@investvoyager.com. For the quickest possible response, it's best to give as much detail as possible and submit the request using the email associated with your account.
Through in-app messaging. If you'd prefer to access assistance through your Voyager Crypto app, open the application and navigate to your account page. Click on the tab labeled "Help" to submit your request.
In addition to personal support, Voyager Crypto also offers a comprehensive FAQ section that tackles some of the most common issues and inquiries the broker receives. Currently, no phone customer service option exists, and you can't get answers to your questions if you don't already have a Voyager Crypto account.
Voyager Crypto is a cryptocurrency broker that focuses on providing highly liquid access to a wide range of coins and tokens.
You can currently invest in the following projects through Voyager:
Cardano (ADA)
Algorand (ALGO)
Cosmos (ATOM)
Avalanche (AVAX)
Band Protocol (BAND)
Basic Attention Token (BAT)
Bitcoin Cash (BCH)
Bitcoin Satoshi's Vision (BSV)
Bitcoin (BTC)
BitTorrent (BTT)
Celo (CELO)
Compound (COMP)
Dai (DAI)
Dash (DASH)
DigiByte (DGB)
Dogecoin (DOGE)
Polkadot (DOT)
Enjin (ENJ)
Eos.io (EOS)
Ethereum Classic (ETC)
Ethereum (ETH)
Filecoin (FIL)
Golem (GNT)
Hedera Hashgraph (HBAR)
ICON (ICX)
IOTA (IOT)
Kyber Network (KNC)
Chainlink (LINK)
Litecoin (LTC)
Decentraland (MANA)
Maker (MKR)
Neo (NEO)
Ocean Protocol (OCEAN)
OMG Network (OMG)
Ontology (ONT)
Orchid (OXT)
Qtum (QTUM)
Serum (SRM)
StormX (STMX)
TRON (TRX)
TrueUSD (TUSD)
UMA (UMA)
Uniswap (UNI)
USD Coin (USDC)
Tether (USDT)
VeChain (VET)
Voyager Token (VGX)
Stellar Lumens (XLM)
Monero (XMR)
Ripple (XRP)
Tezos (XTZ)
Verge (XVG)
Yearn.finance (YFI)
Zcash (ZEC)
0x (ZRX)
Voyager Crypto is also looking to continue expanding its coin offerings through 2021, so this list may change frequently. You can choose to fund your account in USD, BAT, BTC, BCH, DASH, ETH, ETC, LTC, USDT, USDC, TUSD or VGX. Like its list of supported coins and tokens, Voyager is continuing to explore new funding options throughout the coming years.
Voyager's mobile app is its standout feature, with full trading and investing capabilities and easy-to-master features.
Some of the features that we love about Voyager's mobile app include:
Intuitive order placements. Customized orders for mobile are simple and straightforward. Simply enter your order information, swipe up and wait for your order to be completed. Unlike some competing brokers, Voyager has taken steps to ensure that order placement is quick and requires only a few taps on mobile.
Custom chart views. Voyager's app works using both horizontal and vertical chart views. To get a better idea of bid and ask spreads, hold your phone in the upright position. To use advanced charting and analysis tools, rotate your phone to its horizontal position.
2-factor authentication. 2-factor authentication ensures that only you have access to your cryptocurrency account. When you log into the Voyager Crypto app, you'll be prompted to enter a code sent to you by text or email. This helps keep your personal information and investments out of the hands of unauthorized parties.
The Voyager Crypto app is compatible with both Apple and Android devices and is available as a free download from both the Apple and Google Play store.
No matter if you're new to cryptocurrency investing or an experienced trader, we recommend Voyager Crypto for mobile crypto investments. With a wide range of access to both major cryptocurrency projects and smaller altcoin projects, chances are that you'll find something new when you work with Voyager. Voyager is also unique in its comprehensive range of interest options for altcoin investors.
In the future, we hope to see Voyager Crypto continue to expand its offerings and customer service options. However, for now, Voyager Crypto remains a straightforward and intuitive cryptocurrency investing platform.