Sogotrade, in business since 1986, stands out as a deep-discount broker. It creates value for its clients due to a combination of four factors: low commissions, fast execution, friendly service, and advanced technology. Stocks, ETFs, and options are among the assets on the firm's platform.
Leave Your Own 1 Minute Review!
Cost-conscious traders
Options traders
Active traders
Penny stock traders
Low commissions
A lack of maintenance fees
Uncomplicated user interface
Limited investment options (forex, futures, commodities, cryptocurrencies, bonds not available for trading)
Lack of third-party and sound research
$35 annual charge for an IRA account
Very basic mobile trading platform
24/7 and even 24/5 customer support isn't available
SogoTrade, a brokerage with office all over the world, can appeal to high-volume traders and those looking for a simple trading experience.
Who is SogoTrade for?
Active traders
SogoTrade is a better bet if you're an active trader, as you stand to benefit from the lowest commission at $2.88. This is as opposed to the $25 charged for broker-assisted trades (potentially handy for if you're a passive investor). Active traders can also take advantage of the firm's diverse trading platforms and charts and tools.
Cost-conscious traders
Apart from low commissions and fees, the lack of inactivity or account maintenance fees allures the firm to traders, who are looking at a cheap and best option.
Options traders
Apart from the exclusive SogoOptions trading platform the firm provides for options traders, it also offers low per contract commission charges, provides a clear picture of risk/reward of a trade and charges only base rate for multi-legged orders.
SogoTrade's commissions and fees
If a client makes 150+ trades per quarter, the firm charges a commission of $2.88 for online equity trades. The commission increases to $4.88 when the trades fall below 150 per quarter. However, for these low-volume traders, SogoTrade allows a prepaid option, which can bring commissions down to $2.88 or $3.88.
The prepaid option allows you to purchase in advance of placing an order. Prepaid packages are available in quantities of 20 or 50 prepaid trades and are valid for a year.

For extended hours equity trades when only limit orders are allowed, the firm charges a base rate.

SogoTrade charges a commission of $25 for broker-assisted equity trades, and this service is available only for regular market hour orders placed by 4 p.m. ET.

Sogotrade charges a base rate of $2.88 plus 50 cents per options contract if 150+ trades are made per quarter. However, for volumes below 150 trades per quarter, it's a $4.88 base rate, plus 50 cents per contract.

Broker-assisted options trades are a $25 base rate plus 50 cents per contract.

SogoTrade also charges $15 for options exercise/assignment.
Services such as online trade confirmation, online account statement, online prospectus, online tax statement, paper proxy, etc. are provided for free. ACH fund transfer is also done for free.
The firm charges $5 for paper trade confirmation, $10 for paper account settlement, $5 for domestic paper prospectus, $5 for paper tax statement and $10 for duplicate trade confirmation/account statement/tax statement.
There is no minimum account deposit requirement. However, purchase of penny stocks warrants a minimum investment of $100.
SogoTrade's platform and tools
SogoTrade's online trading platforms allow trading from any kind of computer or touch-screen device.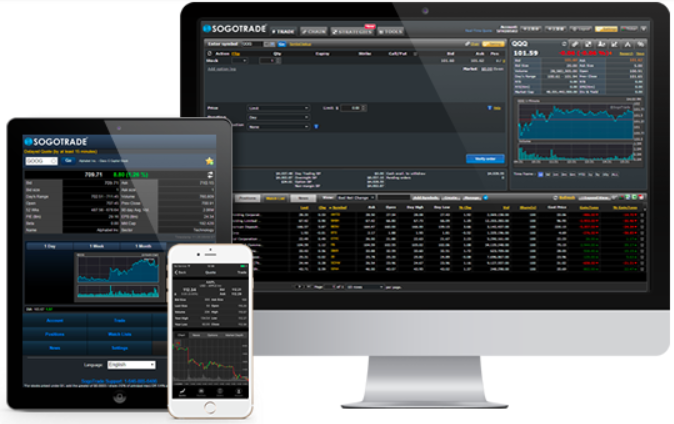 The SogoElite is a downloadable desktop platform, which provides ultra-low latency real-time streaming market information for U.S. stocks and options.
The SogoMobile is a browser-based mobile trading platform that could be used on any smartphone, tablet or any internet-enabled mobile device.
SogoPlay is a platform that provides a combination of resources to help identify different trade ideas for options trading.
The SogoApp provides on-the-go access to the firm's fast order routing technology.
Research & data on SogoTrade
SogoTrade provides research tools in the form of quotes and charts, news headlines, symbol finder, ETF screener, stock screener, and sample ETF portfolio.
The firm has educational content such as:
The basics (investing, stock, options, investment alternatives, risk etc)

The mechanics of trade (stock symbol, working of exchanges, order routing, penny stocks, pink sheets, index, order types, a method to place an order on SogoTrade.com, etc.)

Selecting a stock (strategy, research, stock summary data, technical analysis, fundamental analysis, screening tools etc.)

Option education

Margin trading
SogoTrade's security
Since SogoTrade is a member of the Securities Investor Protection Corporation (SIPC), which protects customers' securities of its members up to $500,000, including $250,000 for claims for cash.
Additionally, SogoTrade's clearing firm Apex has insurance coverage, which protects securities and cash up to an aggregate of $150 million, subject to a maximum limit of $37.5 million for any one customer's securities and $900,000 for any one customer's cash.
SogoTrade's customer support
SogoTrade's nationwide English service center could be contacted by clients/prospects using a toll-free number (1-888-709-7646/1-646-885-6594). A nationwide Chinese customer center also functions (1-888-681-7646/1-646-885-6246).
Customer service associates are available for contacting from Monday through Friday between 7 a.m. ET and 8 p.m. ET. Clients can also fill out an online form and submit questions as well.
SogoTrade's tradable asset classes
Tradable asset classes included:
SogoTrade offers varied account types such as individual accounts, joint accounts, business accounts, IRA accounts (traditional, Roth, SEP IRA), Coverdell educational savings accounts, UTMA/UGMA accounts as well as trust accounts.
SogoTrade's ease of use
Opening an account at SogoTrade is fairly easy. Individual and joint accounts can be opened by completing an online application form, which should not take more than five minutes. To open a business account, you may have to contact the firm at the email address newaccounrs@sogotrade.com.
Following activation of the account, it can be funded using wire transfer. Other funding options such as check deposit, automated clearing house, or ACH, account transfer etc. are also available.
Final thoughts: breaking down SogoTrade
Sogotrade's unique selling proposition is its discounted commission, although now some big names among brokers also offer services at attractive commissions and fees.
The firm's platform seems a good fit for active traders, who have their own means of researching and analysis. The diverse trading platforms offer choices for clients. That said, a lack of strong research content, limited customer service, limited tradable securities, and the feature-poor platforms are definite deterrents.
Frequently Asked Questions
Questions & Answers
SogoTrade is a US stock broker founded in 1986. They are regulated by the SEC and FINRA.
Submit Your One Minute Opinion