Quantamize makes big data sets easy to digest for beginning to veteran investors. The result: a user-friendly platform complete with similar features of its powerful, more expensive competitors.
Beginning traders who need a simple user experience
Veteran traders that seek big data sets at an economical price
Traders who want a one-stop-shop with an extensive suite of products and education
Options traders looking for industry-leading returns
User interface is clean and easy-to-navigate
Cryptocurrency traders that want all of their securities in one platform
Q-Factor score gives traders a bird's eye view and helps formulate actionable strategy
Suite of products includes Morning Brief, Stock Ideas, Rankings, Portfolios, and ETF Smart Beta Scores
Mobile app not developed, but site is mobile-friendly
Quantamize is a research platform and suite of products that prides itself on its multi-factor quantitative framework that helps traders "cut through the noise around, stocks, options, ETFs, and cryptocurrencies." The platform relies on the its AI-powered Q-Factor methodology that grades stocks, ETFs, options, and cryptocurrency using a letter grade, which indicates if the stock is buy-worthy or unattractive.
Who's Quantamize For?
Quantamize was designed with beginner to advanced traders in mind. The research platform makes big data sets less intimidating for novice investors while serving the needs of other traders looking to take a deeper dive to secure actionable trading ideas.
You'll find Quantamize's research platform particularly helpful if you consider yourself a:
Novice trader who wants to understand the why in the markets
Advanced trader that needs a clean interface and one-stop-shop for all of your investing research
Someone looking for powerful data at a wallet-friendly price point
Quantamize's Platform and Tools
Quantamize offers its proprietary research platform with a suite of trading products. With a free trial, annual, or monthly subscription, you get access to each product all in one dashboard.
Global Top Stock Ideas
After a quick log into your dashboard, you can find the "Global Top Stock Ideas" under the "Discover" tab. The AI-powered short and long ideas cover over 10,000 stocks from around the globe and are updated monthly. This feature is incredibly valuable for new investors who open their first trading account.
A beginner trader may have some idea of what sectors they'll want to invest in, but not the particular companies. Users can filter the ideas through US vs. International stocks, then by market cap, and sector. The menu shows "Top Buys" and "Top Shorts" and in-depth company information is just a click away.
Stock Research and Highlights
Quantamize's platform allows users to download in-depth research reports on a particular stock, called QuantShots. They reveal the stocks Q-Factor Score (Quantamize's stock A-F grading system), alternative data analysis, technical analysis, and company financials
Stock Model Portfolios
Users can access condensed qualitative portfolios optimized to fit personal investing objectives or purely for performance. Quantamize organizes Model Portfolios using the following; United States, International, Global, and Options, and are further divided by type (e.g. US Quality Value, China New Economy.)
Options Trades and Portfolios
Quantamize offers comprehensive options strategies – and takes into account the user's risk level.  The platform and allows you to toggle your risk level from low to high, and presents Bullish, Bearish, Yield Enhancement, ETF & Macro, and a Portfolio Protection trade ideas.
The strategy will show the type (e.g. long call spread), recommended strikes, reference price, expiration, net credit, max payout, max loss, upside breakeven, next earning, and risk level, along with the Q-Factor Score Implied Volatility Metrics.
This may seem like a lot of data to process, but it doesn't seem overwhelming due to the platform's clean interface and hover-for-more-information functionality.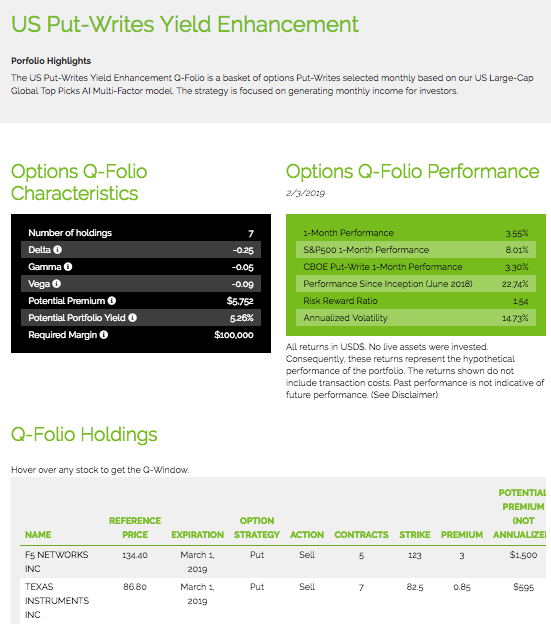 The Options Portfolios provide users with a basket of options and their respective Q-Folio metrics, including the Q-Folio Characteristics, that get into alternative and traditional data, as well as hypothetical performance.
Cryptocurrency Research
Crypto enthusiasts looking to experiment trading other tradable asset classes will find comfort in the platform's extensive cryptocurrency research offerings alongside stocks, options, and ETFs.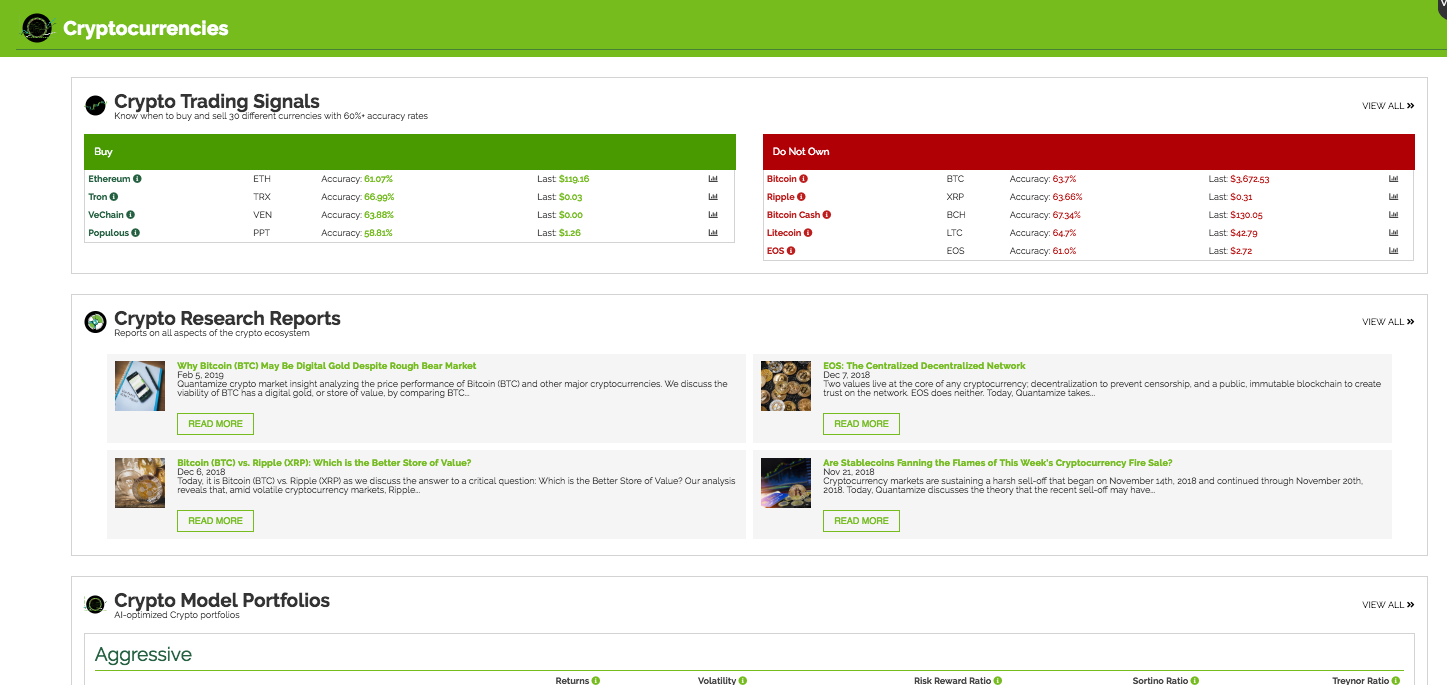 The inclusion of Crypto Trading Signals, Crypto Research Reports, and Crypto Model Portfolios shows the platform's commitment to cryptocurrency. And, that their information isn't a ton of fluff. Instead, it's packed with alternative data, heatmaps, and highlights. Even beginners can lose themselves in the wealth of information and come out of it a better cryptocurrency trader.
ETF Research
Quantamize built out an ETF investing section on the platform, mirroring the stock and cryptocurrency products, and is built on the power of AI and quantum computing.
It also comes with the ability to look up 3,000 ETFs across its database. Again, it's complete with Smart Beta ETF Trading Signals which are broken down by sector, smart beta, and general regional or thematic categories.
Along with the Smart Beta ETF Trading Signals, the ETF research also features ETF AI Portfolios, and ETF Rankings and Q-Factor analysis.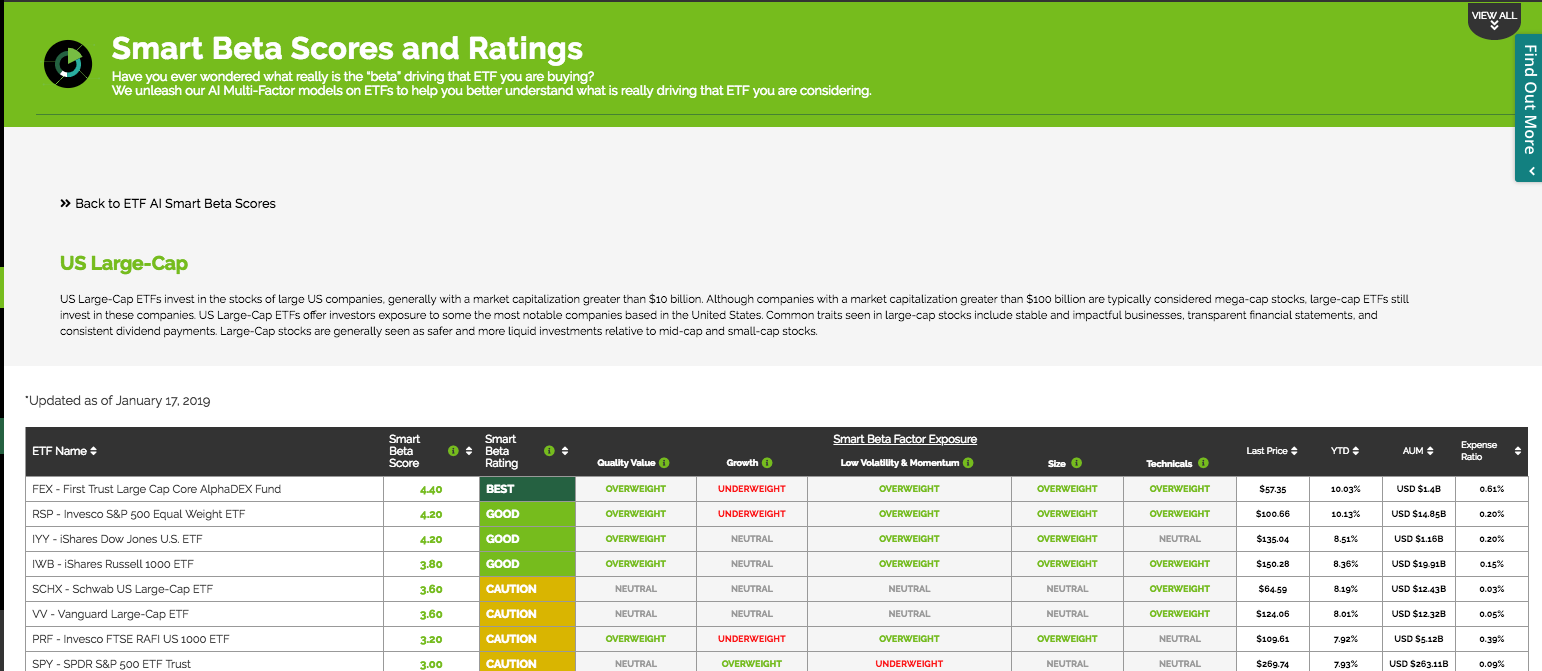 New and advanced traders will love the ETF AI Smart Beta Scores and Ratings. They show an updated list of over 300 ETFs with a complete view of alternative and traditional data, including the true beta attribution of the ETFs the user buys.
And, once again, Quantamize's hover-over-for-more-information works flawlessly. Users can learn more about Q-Factor data, as well as get additional information on a particular ETF.
Morning Brief
On top of unlimited access to the research platform's tools and suite of products, you'll get a bird's eye view of the markets through Quantamize's Morning Quant Ride. The email comes complete with daily stock picks, a recap of the markets, and links for further reading.
Quantamize's Ease of Use
Quantamize really shines in this department. They prove that those who aren't fans of Bloomberg Terminal's overly technical-looking interface, but don't want to sacrifice usability, can find what they need.
For new users, account creation is straightforward. Quantamize only requires first name, last name, email address, and password to access the 21-day free trial.
The best part: Quantamize doesn't require your credit card information, meaning less hassle if you decide it's not for you. The dashboard, called the "Overview" on the platform, makes navigation a breeze. All clickable pathways are logical – and a big sidebar navigation makes it simple to find your way back if you stumble into unfamiliar territory.
All products are accessible on the side navigation bar and are organized by asset type. The interface is clean and with plenty of negative space that lets you take a breath between digesting data sets. New users will value the hover functionality that's present on almost any page.
Unfamiliar terms, AI processes, and more information on stocks, ETFs, etc. can be found by hovering your mouse over the word. Another click will lead you to another page filled with insights, company information, and other valuable data.
Quantamize's Pricing & Fees
Quantamize's pricing structure positions itself as one of the most cost-effective stock, ETF, options, and crypto research platforms on the market. The subscription includes access to the platform that hosts each product: Global Top Stock Ideas, Stock Research Highlights, Stock Model Portfolios, Options Trades and Portfolios, and Cryptocurrency Research.
The Morning Brief is delivered to your email inbox. Here are some key facts about Quantamize's pricing structure:
Currently, all new users qualify for a free 21 day trial – no credit card necessary
New users can get 50% off the first three months ($49) if you pay for an annual subscription up front
Subscriptions are automatically renewed at the end of the year
Quantamize's Customer Service
Quantamize's customer service team is available through email and live chat. Questions, comments, or other feedback can be sent to help@quantamize.com.
Final Thoughts
There's no doubt that artificial intelligence and alternative data have carved out a huge place for themselves in the world of trading research platforms. Some traders, including novices and professionals, have shied away from these practices and stuck with the traditional stock, ETF, cryptocurrency, and options data.
But, Quantamize proves that there's value blending new practices with traditional data. It gives users access to almost 20,000 global stocks in the S&P global database and over 3,000 ETFs, along with making AI and alternative data accessible, easy-to-use, and, above all, actionable, at an economical price.
Want to learn more about trading? Check out Benzinga's guides to the best online brokerages, free stock trading and the best alternatives to Bloomberg Terminal. 
Frequently Asked Questions
Can I trust Quantamize?
Yes, Quantamize is a trusted platform.
Submit Your One Minute Opinion