Benzinga Money is a reader-supported publication. We may earn a commission when you click on links in this article.
Learn more.
Origin Investments Quick Summary
| | |
| --- | --- |
| Investable assets | Private real estate funds |
| Platform | Beginner-oriented; Fund overview documents are easy to find and clearly visible |
| Mobile App | Offers enhanced functionality and investment options through their app, Path by Origin |
| Investment Minimum | Investment minimums begin at $50,000; higher investments may be required depending on the asset |
| Fees | Vary depending on the investment chosen |
Each one of Origin Investments' private real estate funds come with its own unique fees. You may need to pay an acquisition fee, an administration fee, an annual management fee and/or a performance fee depending on the fund you invest in. You can view each offerings' fees on the asset offering page within their proprietary investor web portal.
The minimum initial investment to begin with Origin Investments varies by fund or asset. For example, you must be ready to commit at least $50,000 to get started with the Origin QOZ Fund. Origin Investments is only open to accredited investors.
You'll have a very easy time getting started with Origin Investments — even if you've never invested in private real estate before. Some of the features we love from the Origin Investments platform include:
● Quick signups. Getting started with Origin Investments is exceptionally easy — we were able to open an account in under 5 minutes. Simply answer a few questions about your net worth and risk tolerance, enter a bit of personal information and receive your personal dashboard to begin exploring investment opportunities.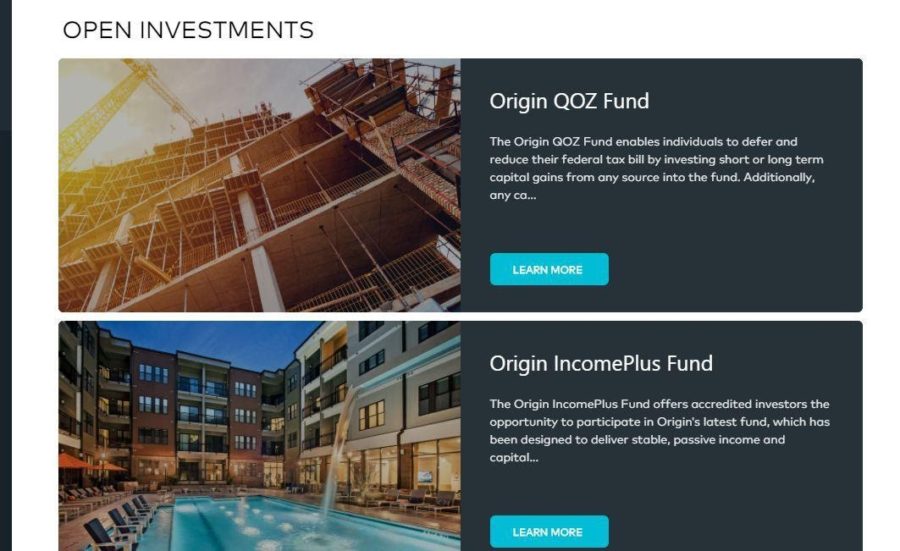 Quickly open an account and begin browsing investment opportunities in just a few minutes with Origin Investments.
● Comprehensive education center. We were particularly impressed with Origin Investment's comprehensive learning section, which is available for free to all users and visitors. Browse articles investigating everything from the basics of real estate investing to advanced private real estate investing topics through Origin Investment's website. Their learning center even includes a selection of pre-recorded webinars that allow you to learn along with the platform's founders. Some previous webinar topics include "How Active Management Mitigates the Risk of Downturns" and "How to Play Offense in a Distressed Market Environment." Education tools are organized by popularity and experience level, and every investor will be able to learn something before they open an account.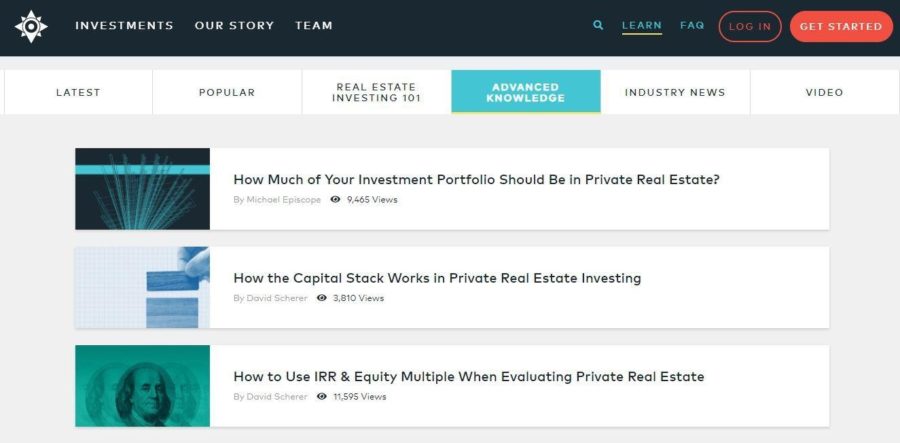 Educate yourself before you begin investing or open an account with Origin Investment's free learning tools.
Origin Investment takes a more personal approach to customer service than competing investment platforms. When you sign up for an account, you'll receive an email connecting you with your personal investment contact. Instead of linking you to a generic customer service center, you'll be able to schedule one-on-one calls with your personal investment associate.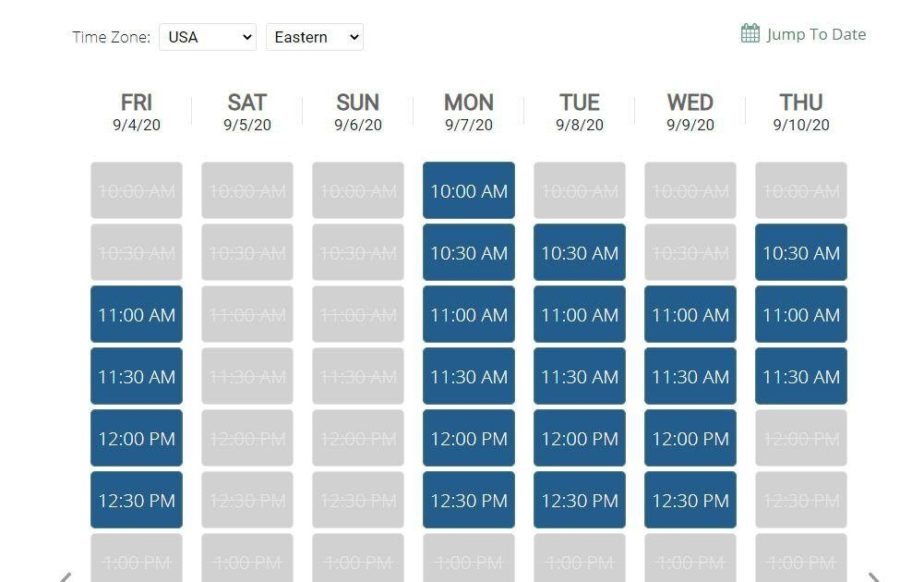 Origin Investments connects you with a personal investing associate — not a generic customer service line. You can schedule a call with your associate to get started as soon as you sign up via email.
In addition to personal calls with your associate, you can also contact Origin Investments using the following methods:
● Through in-platform messaging. To send a message to Origin's team through your desktop platform, log into your account, click on the tab labeled "Contact Us" then click on the tab labeled "Investor Relations." From here, you can submit your question or concern directly though the platform's online messaging system.
● By phone. If you'd like to reach out to Origin Investment's team by phone, call 800-628-8008.
Origin Investments is a real estate investment firm that owns and operates commercial properties. Investors have the option to pool their funds together with the company's owners and other investors to invest in an income-creating, appreciating asset as part of their open funds.
Origin Investments isn't just a real estate crowdfunding website. They are a private real estate fund manager that hand-selects real estate opportunities made available to outside investors through their open real estate funds.
Currently, Origin Investments offers two private real estate funds (the IncomePlus Fund and QOZ Fund).
IncomePlus Fund
Origin Investments' IncomePlus Fund is a growth and income-oriented fund that gives accredited investors access to stable, passive income. The IncomePlus Fund is evergreen, which means that it has no expiration date. However, it does offer periodic liquidity to investors who need to access their capital. This "fund and hold" strategy has proven tax efficiency and long-term wealth growth benefits.
The IncomePlus Fund currently includes 6 multi-family units with more properties in the pipeline. Each multi-family property contains between 120 and 409 units, and the fund generates income by maintaining the unit and charging rent. You can view asset, location and agreement information for each property in the fund directly through your Origin Investments account.
The IncomePlus Fund is structured as a limited liability company (LLC) with a real estate investment trust (REIT) subsidiary. When you make an investment in the IncomePlus Fund, you make your investment in the LLC itself, which owns 100% of the REIT. The REIT subsidiary allows you to invest in the Fund with your IRA or 401(k) without worrying about what you'll owe in unrelated business income tax. The properties included within the Fund are owned and managed by the REIT, which distributes funds to investors based on the size of their investment. Origin Investment says that the IncomePlus Fund intends to target a total net return of 9% to 11%, inclusive of a 6% annual yield paid out in monthly dividends.
QOZ Fund
Origin Investments' QOZ Fund allows investors to defer and reduce their federal tax bills by investing outside short-term and long-term capital gains into the Fund. Any capital gains funds you invest in the QOZ Fund can be deferred from federal tax dues until December 31st, 2026 and will be taxed at a lower rate of up to 15% lower when this date arrives. Additionally, any capital gains realized from the Fund will not be taxed so long as the gains stay within the investment for at least 10 years.
Like the IncomePlus Fund, the QOZ Fund invests its assets into multi-family properties. The Fund will invest in both completed residential units as well as ground-up development projects. The Fund will target hot properties in growing real estate markets like Dallas, Orlando, Raleigh and Atlanta.
You can view a complete list of due diligence documents and agreements for the QOZ Fund through your Origin Investments accounts. Click on the tab labeled "Offerings," select "Private Real Estate" and choose the QOZ Fund.
Origin Investments' app is called Path by Origin Investments. You can use the same login information on the app as you use when you log into your Origin Investments account on desktop. The Path app is an extension of Origin Investments' smarter real estate investing platform. Some of our favorite features of the app include:
● Investment tracking. Monitor your entire portfolio and track how your balances are changing over time with the all-inclusive Path by Origin Investments app.
● Browse private real estate investments. Just like on the desktop platform, you can browse and show interest in private real estate funds through the app as well. You can also browse past closed funds and swipe through legal and due diligence documents directly on the app.
The Path by Origin Investments app is available as a free download for both Apple and Android mobile devices.
Origin Investments allows you to leverage professional real estate experts, tax-advantageous and income-producing funds from one convenient platform. Origin Investments might be a particularly attractive option for investors who value more personal customer service options. Though the platform is only open to accredited investors, Origin Investment offers an easy and passive way to invest in real estate and see returns on your investments.
Benzinga's #1 Breakout Stock Every Month
Looking for stocks that are about to breakout for gains of 10%, 15%, even 20% potentially or more? The only problem is finding these stocks takes hours per day. Fortunately, Benzinga's Breakout Opportunity Newsletter that could potentially break out each and every month. You can today with this special offer:
Hire a Pro: Compare Financial Advisors In Your Area
Finding the right financial advisor that fits your needs doesn't have to be hard. SmartAsset's free tool matches you with fiduciary financial advisors in your area in 5 minutes. Each advisor has been vetted by SmartAsset and is legally bound to act in your best interests. If you're ready to be matched with local advisors that will help you achieve your financial goals, get started now.