Want to jump straight to the best options broker? Most people prefer Interactive Brokers for their options trades.
What is the S&P 500?
S&P stands for Standard and Poor's and the 500 refers to the number of companies present in the index. The 500 companies in the index are a combination of the largest stocks on the NYSE and NASDAQ. The index is a free float capitalization weighted index.
An index fund is a mutual fund that aims to benchmark itself against an index that resembles that fund's strategy. It is always essential to read the fund's objective and prospectus to identify the fund's targeted benchmark.
So, instead of buying all the stocks in the S&P 500, you can simply invest into a fund that tracks its performance in coordination with the index. S&P 500 Index funds currently stand as one of the easiest ways to invest in anything and everything.
Why should I invest in the S&P 500?
Whether it be the overall market or certain sectors, it can be hard to decide what and where, geographically-speaking, you want to invest. This is exactly why you want part of your portfolio to have exposure to the entire market–for the best diversification.
The S&P 500 index is referred to on Wall Street when describing the overall movement of the equity in the economy.
It's important to understand that not every market has identical characteristics, especially when it comes to regulations and politically motivated restrictions. For instance, if you are an emerging markets enthusiast and are looking to place an investment over a large umbrella of securities, it may be wise to avoid China due to an escalating trade war and a lack in regulatory transparency.
Investing in the S&P 500 eliminates most of this risk due to the fact that there is not a Chinese company present in the index.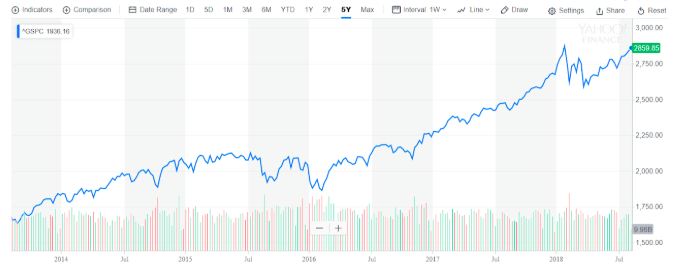 Steps to investing in the S&P 500
Now that you know a little more about the S&P 500, you can invest. Here's how to invest in the index.
Step 1: Pick a broker
If you already invest with your favorite financial advisor or online brokerage you can skip this step. But, if you're new to the investing world. You can do some research and choose what brokerage is best for you.
There's not a perfect broker, but it's always important to know the advantages and disadvantages of each. For some tips, it would be wise to seek a brokerage that offers managers with no-load fees and low expense ratios. Not all brokerages have the same transaction costs, either. Make sure you do your research to see who can provide the most value, for the cheapest price.
Step 2: Pick your fund
You are ready to screen for certain index funds that fit your needs once you have registered with a brokerage. Take your time to review the fund's objective, prospectus, and performance. Consider the time period you want to invest and the trends in the overall market. Do not expect last year's return of nearly 19 percent to occur year after year. Geopolitical factors, taxes, and natural disasters will not be as nearly calm as they were prior to 2018.
While analyzing a fund's performance, it's important to pay attention to historical cumulative returns, portfolio turnover, and volatility metrics. Be sure to analyze regional diversification, sub-industry diversification, and asset allocation when viewing the fund's composition.
That being said, the S&P 500 should hit a lot of these metrics. But, make sure to look at real-time data before investing. Also, remember that a brokerage cannot fill an order for a mutual fund until the end of the day after net asset values (NAV) have been adjusted.
Final thoughts
All in all, index funds provide diversification and steady returns. Mutual funds have strict regulatory oversight and require the fund manager to release almost all profits back into the fund, in order to avoid paying taxes.
The end of the year is famous for people who like to take advantage of capturing year-end cap distributions. If you're an investor that desires liquidity, try an ETF that tracks the S&P 500 or check out Benzinga's picks for the best S&P 500 index funds.
Benzinga's #1 Breakout Stock Every Month
Looking for stocks that are about to breakout for gains of 10%, 15%, even 20% potentially or more? The only problem is finding these stocks takes hours per day. Fortunately, Benzinga's Breakout Opportunity Newsletter that could potentially break out each and every month. You can today with this special offer: