Closing out a bank account involves more than finding your routing number and notifying your bank. Here's an efficient 4-step plan you can use to successfully close out your bank account once and for all.
The Steps You Need to Follow to Close Your Bank Account
The 4 steps required to close your bank account are:
Find a new bank account.
Update your automatic and recurring payments.
Switch your direct deposit.
Transfer funds from your old account.
Step 1: Find a New Bank Account
Before you close out a bank account, open a new account. This will help you avoid missed payments, provide immediate access to your money and allow you to write checks through the transition. Expand your new bank account search to other banks — not just your current institution.
Online financial businesses have increased competition in today's banking services market. For instance, Credit Karma Savings offers a federally-insured, high-yield savings rate. Over 800 banks have optimized this rate so you can earn at 18 times the national level.
After you have chosen your new bank, find out whether it provides a switch kit. The kit can include checklists and cover topics like closing your checking account. You may also be able to find account forms to notify billing agents and depositors.
Step 2: Update Your Automatic and Recurring Payments
Update your automatic and recurring payments to avoid damaging your credit with late payments. Having trouble finding your automatic and recurring payment arrangements? You can solve this problem by reviewing your bank statements for the past 12 months.
Update the payment information with each billing company, such as your electric company, water, trash disposal and more. Most billers need your new bank account and routing numbers.
You can find your account's routing numbers in your checkbook. These 9-digit number sets serve as electronic addresses. U.S. financial institutions use routing numbers to conduct business. Most banks use several routing numbers for their accounts — you may have separate routing numbers for your checking and savings accounts.
It's easy to find your routing number:
Open up your checkbook to a check or a deposit slip.
In the bottom left corner, you'll see a 9-digit set of numbers between 2 identical symbols. Refer to the image below.
If you use your bank's online payment service, you can delete those accounts on the bank's website. Check out the image below.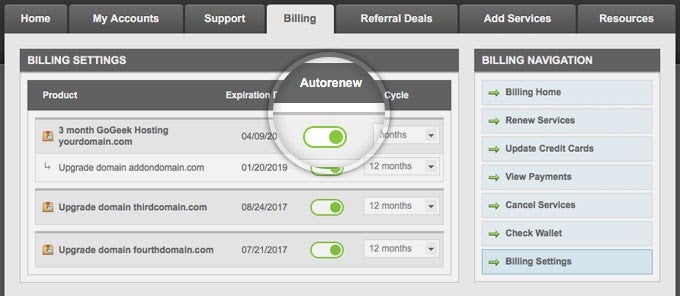 Step 3: Switch Your Direct Deposit
Overlooking direct deposit details can cause some annoying cash flow problems. If you get paid this way, make sure to alert your employer that your bank information has changed. Provide your employer with your new bank's routing number and your new account number before your next paycheck. This step applies to investments or any other direct deposit income you may receive. Banks can be slow to process these changes, so track both accounts.
Once your bank account closes, your bank will reject any erroneous direct deposits. It could take several days (or longer) for the bank to return the money to your employer. You might not get paid on time, so don't leave yourself dangling if you need a paycheck in the meantime.
Step 4: How to Transfer Funds From Your Old Account
At this stage, you can start transferring funds to your new account. Many banks have a required minimum balance. Leave enough money to cover it and any pending payments. Some banks have transfer limits so you may need to transfer your funds in stages. Be aware that $0 balance accounts don't always close automatically.
Step 5: Closing Your Bank Account
Finally, you can close your bank account. Visit an account representative at your home branch, call a customer service line or close your account online. A customer service representative of an online bank will send you paperwork to sign and mail back to the bank. Request a written confirmation of the account closure and the bank will pay you the remaining balance in your account.
How Long Does it Take for Your Account to Close?
On average, it takes about 2 weeks to close out a bank account — but it may take longer. It's a good idea to shred all your old checks and debit cards so they don't fall into the wrong hands.
Keep at least a year of your old bank statements for tax purposes. Go to the bank's website and download copies if you don't receive paper statements in your mailbox.
Close Your Account Today
Follow the right steps to close your bank account and move on today. You'll avoid any unnecessary bank fees and be ready for a fresh start.
Use our guide to get started, and don't be afraid to get on the phone and speak to a representative. A voice at the end of the line can help you feel sure you've closed your account once and for all.
Frequently Asked Questions
Q: How can I find the best bank accounts for me?
The online marketplace has opened a whole new stream of banks available to you. While hometown, brick-and-mortar banks still have their place, you may find the perks of an online bank meet your needs.
Review our guide to the best banks to find your fit today.
Q: Are there bank accounts beyond checking and savings I should consider?
Banking certainly goes beyond the standard checking and savings accounts. Banks have build account types to meet all types of financial needs.
Review all types of bank accounts and use Benzinga Money to dig into the banks that can serve you.
Hire a Pro: Compare Financial Advisors In Your Area
Finding the right financial advisor that fits your needs doesn't have to be hard. SmartAsset's free tool matches you with fiduciary financial advisors in your area in 5 minutes. Each advisor has been vetted by SmartAsset and is legally bound to act in your best interests. If you're ready to be matched with local advisors that will help you achieve your financial goals, get started now.