Want to claim 6 FREE stocks? Head over to Webull to get started.
When kids simulate stock buying in school, the Walt Disney Company (NYSE:DIS) is often a prime choice when they're learning how to buy Disney stock. What's not to like? Theme parks, blockbuster movies, and ESPN are enough of a reason for kids (and investors) to get excited. After all, since 1957, Disney stock has returned more than a whopping 5,000%.
Disney at a glance
The list of assets owned by Walt Disney Company is staggering. Here's the (start of) the list:
The Walt Disney Studios:

Production, d

istribution,

Disney Music Group,

Disney Theatrical Group, and

Disney Studio Services.

Parks, experiences and consumer products:

Disney retail,

Disney games and interactive experiences,

DCP! content, p

arks and resorts,

Walt Disney World Resort,

Disneyland Resort,

Disneyland Paris,

Hong Kong International Theme Parks,

Shanghai Disney Resorts, and

Disney Signature Experiences.

Disney Media Networks:

ABC Entertainment Group,

A&E Networks, and

ESPN Inc.

Marvel Entertainment
Direct-to-Consumer and International
Other:

Property holding companies, f

inancial, v

enture capital, and

Chinese holdings
History of Disney
Disney's initial public offering (IPO) on the New York Stock Exchange (NYSE) appeared on November 12, 1957 at $13.88 per share. However, its common stock traded over the counter (OTC) prior to its IPO at $3 per share (1949) and jumped all the way to $52 per share before a 2-for-1 split. (It was held by the Disney family and other partners prior to unleashing its IPO.)
Disney's stock splits occurred on the following dates:
| | | |
| --- | --- | --- |
| Date | Type of split | Price before split |
| August 17, 1956 | 2-for-1 | N/A |
| October 26, 1967 | 2-for-1 | $105 |
| February 4, 1971 | 2-for-1 | $177.75 |
| December 6, 1972 | 2-for-1 | $214.50 |
| February 10, 1986 | 4-for-1 | $142.63 |
| April 20, 1992 | 4-for-1 | $152.87 |
| June 19, 1998 | 3-for-1 | $111 |
If you had invested $1,000 at the time of Disney's IPO, you would have been able to purchase 72 complete shares. The original 72 shares would equal over 27,000 shares today.
On August 31, 2018, Disney stock closed at $112.02 a share, which would make the original $1,000 investment worth $3 million now.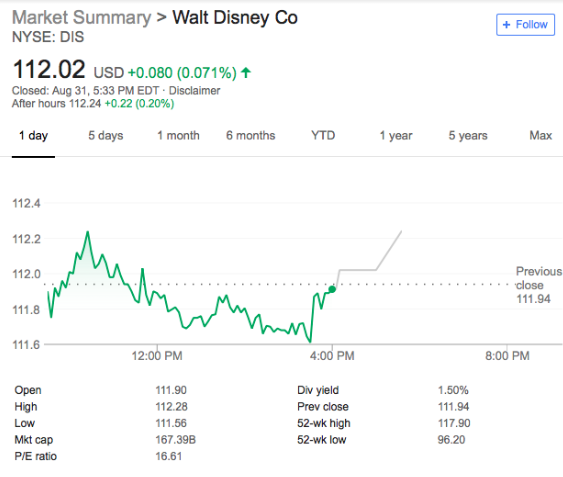 Why purchase Disney stock?
Pros of purchasing Disney stock:
Its theme parks will always make money.

Disney's diverse operations and offerings as a major conglomerate offer endless opportunities for the company (and for investors)

Past DIS history has outpaced the S&P (though past history does not determine future performance)
Cons of purchasing Disney stock:
ESPN has been on the decline

Disney's film division has experienced declining profits (digital media's takeover, combined with the falling number of moviegoers has affected Disney's
How to purchase DIS
You can buy Disney stock directly through a stock purchase plan and can also choose a brokerage firm to purchase DIS. Here are some general guidelines for purchasing stock:
Determine how much you'd like to invest in DIS.

Generally speaking, you should only invest an amount you could afford to lose. Stocks can be volatile and it's easy to lose money, even with a stock as seemingly-infallible as Disney.

Determine your broker.

Once you've determined how much you'd like to invest, you can call a brick-and-mortar broker, such as Schwab, sign up for an account, fund the account, and then place a "buy" order on the stock. You can also sign up for an online broker such as E*Trade or Interactive Brokers, apply for an account, fund the account, and buy DIS.

Buy the amount of DIS stock you want.

There are generally two types of "buy" orders: market order and limit order. A market order will execute the purchase at the present market price, while a limit order will only execute if the price falls at or below the limit price. Although a limit price might give you a lower price of entry, there is no guarantee that the limit order will execute.

For more information about buying stock, check out Benzinga's How to Open a Brokerage Account.
Best Online Brokers For Stocks
Future outlook for Disney stock
Disney's financial statements value the company at right around $91 billion. This includes (in general numbers):
$5 billion in cash and short term investments

$9 billion in accounts receivable

$3 billion in inventory and other current assets

$27 billion in property and equipment, and another $35 billion in intangibles

$12 billion in long-term investments, receivables and other assets.
On the flip side, debt amounts to about $43 billion, which includes a combination of short term and long-term debt.
That leaves $48 billion in total shareholder equity. Roughly $4 billion of that includes Disney's minority interests and leaves the remaining $44 billion for common shareholders. When it comes right down to it, Disney's book value comes out to $26 per share, barely over a quarter of the company's stock price.
Final thoughts
Disney isn't going anywhere. To know exactly when to buy, keep an eye out on what's coming down the pipeline for Disney. (What movies are coming out, etc.?)