1 Minute Review
Leave Your Own 1 Minute Review!
Gemini is a cryptocurrency exchange and custodian that offers investors access to over 100 coins and tokens. Founded in the US, Gemini is expanding globally, in particular into Europe and Asia. Offerings include both major cryptocurrency projects like Bitcoin and Ethereum, and smaller altcoins like Orchid and 0x.
Gemini is 1 of the only brokers with multiple platform options based on skill level. New investors will love the streamlined interface of Gemini's mobile and web apps, while advanced investors might appreciate all the tools that come with ActiveTrader. 
In addition to a host of platform choices, Gemini users also have access to insured hot wallets to store tokens without worrying about digital asset theft. Learn more about what Gemini can do for you in our review.
Best For
New investors looking for a simple mobile and web app
Day traders looking to use technical analysis tools
Users looking for a 1-stop-shop to buy, sell and store all of their cryptos
Pros
Easy and quick signups — can get started in as little as a 5 minutes
Multitude of platforms to accommodate traders of all skill levels
Hot wallets include insurance to protect your from theft and hacking attempts
Cons
Charges both a commission and a convenience fee for users buying and selling through the desktop or mobile app
Looking to get started investing in cryptocurrency? Check out this Gemini review, looking into one of the leading cryptocurrency exchanges in the U.S.
Why Gemini?
With the blockchain industry rapidly expanding, investor options for cryptocurrency exchanges seem to grow by the day. While you could use a stock trading platform like Robinhood, these exchanges greatly limit what you can do with your cryptocurrencies. Instead, you should use a platform like the Gemini exchange, as this will allow you to send crypto across wallets, earn interest on your holdings and even use your cryptocurrency as collateral if needed.
Compared to other cryptocurrency brokers, Gemini offers a number of unique features. Security, coin offerings and user experience should be some of the most important features you look for in a cryptocurrency exchange. Make sure that the exchange you choose supports the cryptocurrencies you seek to invest in, or else you'll need to make a separate exchange account for other altcoins down the road.
Interest bearing accounts. Not looking to actively trade your cryptocurrency? If you're investing in crypto for the long-term, then an interest bearing cryptocurrency account is a great option for you. By staking with the Gemini wallet, you can earn anywhere from 2% to 7.4% annual interest on your digital assets. This interest in paid in the cryptocurrency stored in your account, making it easy for you to passively add to your portfolio.
Wide selection of cryptocurrency offerings. Gemini provides support for a diverse mix of 48 cryptocurrencies, ranging from major projects to smaller altcoins. Although there are other exchanges with more variety, Gemini allows you to earn interest on your crypto positions.
Dynamic price alert features. Mobile investors will love the Gemini app's alert features, which allow you to receive a push notification when an asset you're interested in reaches a predetermined price target. You can even set alerts to inform you when an asset increases or decreases in price by a predefined percentage.
Quick Summary
Tradable assets
Cryptocurrency
Platform
Beginner-oriented; easy to open an account and start placing orders
Mobile app
Fully-operational, mirrors desktop web-trading platform
Products
Primary products include web and mobile trading and insured hot wallets.
Advanced options are available for more experienced investors.
Fees
Varies by platform and account type
Gemini trading fees vary depending on which platform you use to invest in the cryptocurrency market. Most new investors will invest using the mobile or web trading platform, which carries the following fees for U.S. residents:
| | |
| --- | --- |
| Web or mobile order amount (in USD) | Transaction fee |
| Less than $10 | $0.99 |
| More than $10 but less than $25 | $1.49 |
| More than $25 but less than $50 | $1.99 |
| $50.01 to $200 | $2.99 |
| More than $200 | 1.49% of your total order value |
Gemini also charges a convenience fee on top of the amount that you pay on your transaction fee. Gemini's current convenience fee is set at 0.50% of the current market price of the coin that you're buying. You'll see your convenience fee included with the price of the coin when you place your order. While these fees are higher than exchanges like Crypto.com and Voyager, these charges are still significantly less than Coinbase.
Let's take a look at an example of how this dual fee schedule works. Imagine that you want to buy $500 worth of Bitcoin and that the current market price of 1 Bitcoin is $40,000. When you place your order, you'll see a quoted price of $40,200 per coin (that's the market price, $40,000, plus the convenience fee of 0.50%).
When you enter your order, Gemini will also apply a 1.49% transaction fee to your purchase, which is deducted directly from your trading funds. This means that when you place a $500 order for Bitcoin, you'll receive $492.55 worth of Bitcoin at the current market rate plus the convenience fee.
Different maker-taker style fee schedules apply to users buying and selling on Gemini's API and ActiveTrader platforms.
Gemini's range of platform offerings provide a solution for traders at every skill level. Let's take a look at some of the features you'll be able to take advantage of when you choose Gemini as your cryptocurrency broker.
A simple web exchange platform. New investors will appreciate Gemini's simple, straightforward and intuitive web platform, which makes it easy to buy and sell cryptocurrencies with just a few clicks. Gemini's desktop interface is clean and attractive with an instant view of the day's market movements, as well as all the tools that you need to manage your investments from a single screen.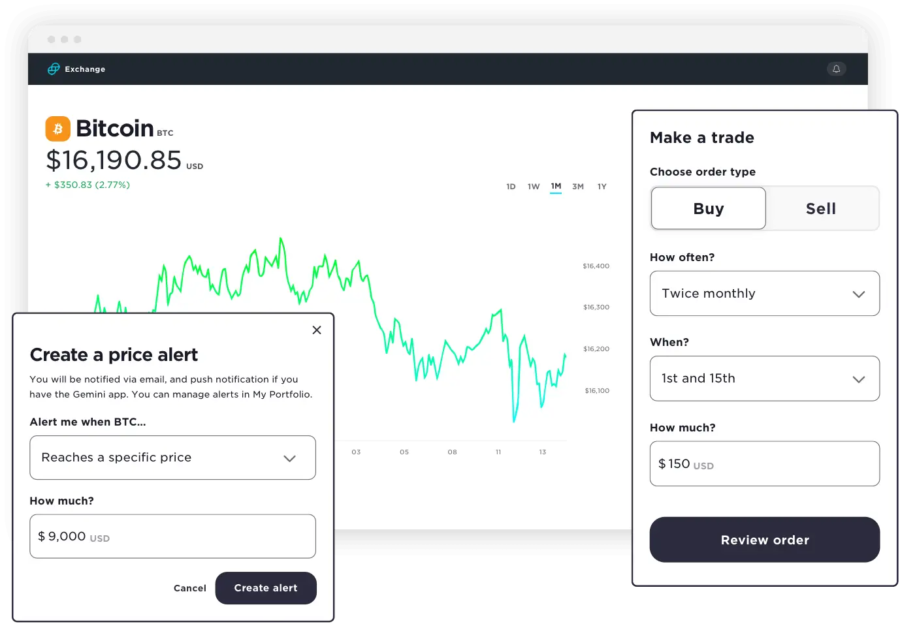 Gemini's web-based platform is a welcoming platform for new cryptocurrency investors, with straightforward order placement and a simple, easy-to-navigate platform.
Comprehensive transaction histories. You can easily review your Gemini account basics, history and transactions, as well as download a complete list of your transaction history. This can be a major benefit during tax time, especially for frequent and professional investors.
Insured hot wallet services. A hot wallet is a type of cryptocurrency wallet that must be connected to the internet in order to access your coins. Though some cryptocurrency investors worry about the level of security that standard hot wallets provide them with, Gemini's wallets feature a range of unique features that make it a reliable place to store your coins and tokens. Gemini's hot wallets support all of the assets you can purchase through the Gemini platform, which means that you won't need to worry about compatibility issues.
Gemini payment methods. Debit cards and bank transfers are the most popular way to fund your account, and Gemini offers instant bank transfers in the UK.
Gemini's hot wallets are insured and backed by underwriters, which is very rarely found among hot wallets. This means that you're protected against digital asset theft and hacks. The majority of assets are actually held in Gemini's offline cold storage system and only a small portion are held in the online hot wallet. Assets in cold storage are still instantly accessible to investors.
The Gemini team is constantly upgrading to include new cryptocurrency offerings and additional security protections — for example, Gemini was early to introduce interest-bearing accounts for digital assets, and they still provide some of the highest interest rates to its users. Other platforms, such as Coinbase, have far less options when it comes to earning interest from your cryptocurrency.
In addition to standard features that appeal to new investors, Gemini also offers a range of more advanced tools, including its comprehensive ActiveTrader platform. The ActiveTrader platform allows you to access optimized speeds. The more dynamic maker-taker Gemini transaction fee schedule makes the platform affordable. Plus, a wide selection of charting and market screening tools help you study the market.
Plus, Gemini withdrawal fees are zero as long as you complete 10 or less transactions per month. Even then, fees are reasonable and affordable.
In addition to a beginner-friendly platform, Gemini also offers a few helpful resources that you can use to learn more about the cryptocurrency market before you invest. Think of this as a Gemini review of the markets and how to succeed. Let's take a look at some of our favorite education tools currently offered by Gemini.
5-minute cryptocurrency guides. Overwhelmed with complicated cryptocurrency articles? Gemini makes it easier to learn more about assets like Bitcoin, Chainlink and more with its simple 5-minute guides. Guides are broken down into beginner-friendly sections and are written with complete novices in mind. If you've tried to learn about crypto mechanisms in the past but found yourself overwhelmed by confusing terminology, Gemini's guides can be an excellent place to start educating yourself.
Crypto glossary. Have you ever been reading an article about a particular cryptocurrency project and come upon a word or term you didn't recognize? Gemini makes it easier to dissect press releases, seminars and articles with its comprehensive cryptocurrency glossary.
Webinars. In addition to written resources, Gemini also offers video webinars that you can use to learn more about the market. Previous webinar topics include "Cryptocurrency 201" and "Introduction to Ethereum." Gemini's webinars are pre recorded, which means that you can view them at your own pace and when it's most convenient for you.
All of Gemini's education resources are available for free, and you don't need to be logged into your Gemini account to access any educational tool or video.
Gemini offers 2 methods that you can use to get in contact with the customer service team.
By message. To contact Gemini's customer support team by message, fill out an online request form. For the quickest and most comprehensive reply, be sure to include the email address associated with your Gemini account.
By phone. To get in contact with Gemini by phone, dial 866-240-5113.
Direct message. @GeminiSupport on Twitter.
Gemini's primary customer service method is email. In addition to coordinated assistance, Gemini also offers a comprehensive FAQ section, which can help you get quick answers to some of the most common inquiries the broker's team receives.
As you learn about Gemini, you'll see that the platform is always changing. As press time, the selection fo tokens was quite robust. Gemini helps you access 51 of the most popular cryptocurrencies.
All Gemini's offerings are available across the platform from mobile trading to ActiveTrader desktop trading. Both mobile and desktop options are great, but the mobile interface is targeted toward beginners, as its simplicity makes it easier to use. Plus, you can set notifications via the mobile app to get alerted about cryptocurrency price movements.
In addition to its comprehensive desktop offerings, Gemini also offers a beginner-friendly mobile app. Let's take a look at a few of our favorite features you can take advantage of using the mobile platform.
A simple, straightforward interface. The platform's straightforward web design extends to the layout of the Gemini app. Place buy orders, sell your cryptos and view your holdings with just a few simple taps.
Dynamic price alerts. Gemini's mobile app allows you to set dynamic price alerts that inform you when a specific asset meets a predetermined price. For example, you can set an alert to be notified when the price of Bitcoin reaches $19,000. When these conditions are met, you'll receive a push notification on your phone. This allows you to monitor the market and make timely trades without being glued to your phone all day.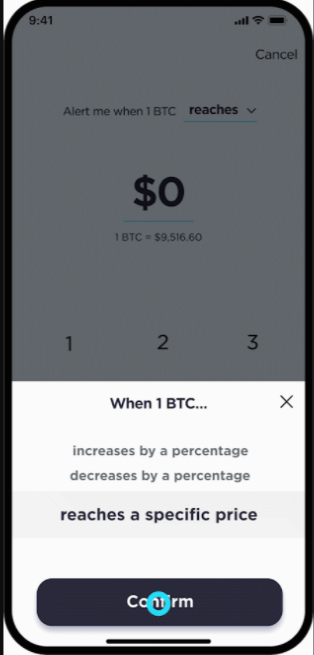 Gemini's mobile app allows you to set dynamic price alerts for both currency percentage movements as well as pre-determined price targets.
Quick mobile signups. Don't already have a Gemini account? No worries — you can quickly create your free account directly from the mobile app. Opening a Gemini account takes about 3 minutes for most mobile users, and you can place your 1st order as soon as your account is opened. Gemini's mobile app employs high-level security standards like its desktop platform as well, providing you with peace of mind no matter how you create your account.
The Gemini mobile app is available as a free download through the Apple Store, Google Play store and the Galaxy Store.
Gemini Mastercard
Gemini now offers a Bitcoin-back rewards Mastercard. The card will launch during summer 2021, and cardholders will earn up to 3% back in the cryptocurrency of their choice from the 30 available cryptos. Gemini will deliver rewards immediately, and deposit rewards into its customers' accounts automatically.
Gemini cardholders will benefit from World Mastercard benefits. This includes features like exclusive DoorDash, Lyft and ShopRunner partnerships, as well as exclusive Mastercard experiences.
Gemini vs Competitors
While Gemini isn't the most competitive exchange when it comes to fees, its suite of features make using it as your primary cryptocurrency account well worth it. With over 50 cryptocurrencies to invest in, you'll have plenty of investment options. Plus, users can earn interest on their cryptocurrency directly from the app, with no minimum lock-up times.
Learn all about Gemini to determine if it give you the best chance to turn a profit and manage your holdings. Unlike other exchanges, Gemini offers its users a cryptocurrency Mastercard, giving investors yet another way to passively add to their cryptocurrency portfolio.
Check out Gemini now to see what its platform can offer you.
User Reviews
Tell Us Your Experience With "Gemini Crypto"
They are thieves , beware of Jospeh , he calls himself an account manager , but he is just a thief , this company stole dollars from me. I was contacted by Kayafx trade company, I made an initial huge deposit of $12,000 after reading good reviews about th
Tell Us Your Experience With "Gemini Crypto"
They are thieves , beware of Jospeh , he calls himself an account manager , but he is just a thief , this company stole dollars from me. I was contacted by Kayafx trade company, I made an initial huge deposit of $12,000 after reading good reviews about th
Tell Us Your Experience With "Gemini Crypto"
My experience with binary scam broker. I invested 90% of my retirement payment in binary online investment broker Umarket trade option, with the mindset of getting it multiplied and enjoying a better retirement life. It was sweet and smooth from the start