Dough, geared toward the next generation of investors, is only available via iPhone or Android smartphone apps. Accounts require no minimum to open, but investment options are limited to U.S.-based securities.
Want to use complex technical analysis to identify tight entry points? Dough may not be the platform for you. But the big remaining question for the platform is whether its clients will demand more than basic charts and U.S.-listed stocks. It might be a matter of when, not if.
Novice traders
Social traders
No commissions on stock and ETF trades
Mobile app for both iOS and Android
No account minimums
Live chat customer service feature
Limited charting tools
No desktop trading
Dough Ratings at a Glance
Dough LLC is an offshoot of Tastytrade Inc., the financial services firm behind the Tastyworks derivatives trading platform. Tastyworks appeals to a more sophisticated class of investors and Dough is geared toward novice investors who want to cut through the Wall Street jargon and simply invest.
Are you an advanced trader looking for complex technical analysis or detailed macroeconomic reporting? Dough may not be your best match. Dough LLC doesn't cater to sophisticated traders looking for multi-leg option chains or futures bets. But if you want to buy and sell your favorite companies, learn how markets work and create some good money habits, Dough will likely be a good solution for you.
Dough's ideal clientele? New investors or traders who identify as novice or intermediate in the markets. Plenty of other brokers appeal to the advanced trading crowd. You can still view charts, earnings reports and economic data, but the platform is very basic and there's a chance new investors will eventually outgrow it as they gain experience and move into the world of technical analysis.
Dough's trading platform is for smartphones only. You can download the Dough mobile trading app for either your iPhone or Android phone and account approval can be granted in less than 3 business days. You'll be asked the basic brokerage questionnaire when you open your account: name, address, Social Security number, income, net worth and market acumen.
Once your account is approved, you can open the app and add funds. First, you'll need to select a few industries that interest you. You can choose from the basics like finance and industrials or add newer, trendier sectors like cannabis, payment processors and video games.
Once you've selected your favorite industries, the platform will be tailored to those interests.
The Dough Idea Feed lists trending news and stocks in the industries you've selected. If you click on Trading Payments in the Idea Feed, you'll get a summary of the sector with a few key factors, plus a listing of the top 10 companies in the sector and any applicable ETFs. You can add stocks to your favorites list for easy access on the main brokerage screen.

The platform is incredibly easy to maneuver, but its simplicity is both a strength and a weakness. Newbies won't have any problems finding their favorite stocks and placing orders but going any more in depth is a challenge. You can use market or limit orders when buying shares, but you can't set up a stop-loss. If you want to use charting tools, you'll need to look elsewhere because Dough only has simple line charts that show a stock's 5-year history. In the right-hand corner, you'll find a target symbol — tap there to show the range and median analyst price targets. You can also view financial data and earnings reports, but the lack of charting tools knocks Dough down a couple of pegs.

Dough is commission-free with no minimums and no fees, but Dough doesn't provide any market research from firms like Morningstar or Zack's. Instead, you'll get news updates on your watched stocks from free sites like Yahoo Finance, Business Insider, MarketWatch, The Street and Benzinga. You can also view a snapshot of a stock's stats on each equity page. It'll show numbers like average volume, market cap, dividend yield, beta and 52-week highs and lows.
The Report Card lists the following information about each tradable stock on Dough:
Ratings: Buy, sell and hold recommendations from the analysts covering the stock
Earnings: Reported and expected earnings from each of the previous 3 quarters, plus a projection for next quarter.
Net income: Can be viewed as quarterly and annually going back 4 years
Revenue: Like net income, can be viewed quarterly and annually
Debt/cash: Show how much debt and cash the company has on hand with data going back 4 years.
Dough does have some nifty features for its clients, despite its professional research options. The 3Cap is a 3-minute review of the market's biggest stories and headlines. You'll get actionable information with no market jargon or sell-side sales pitches. Dough is also launching its Social Currency podcast with Chief Financial Strategist Ryan Grace and Dough's own CEO, Victor Jones, 2 guys who can talk about markets in a conversational tone without leaving meat on the bone.
You don't need to be an account holder to view the 3Cap, either. Simply head over to Dough's YouTube channel and view the videos listed there to find out what the company is all about.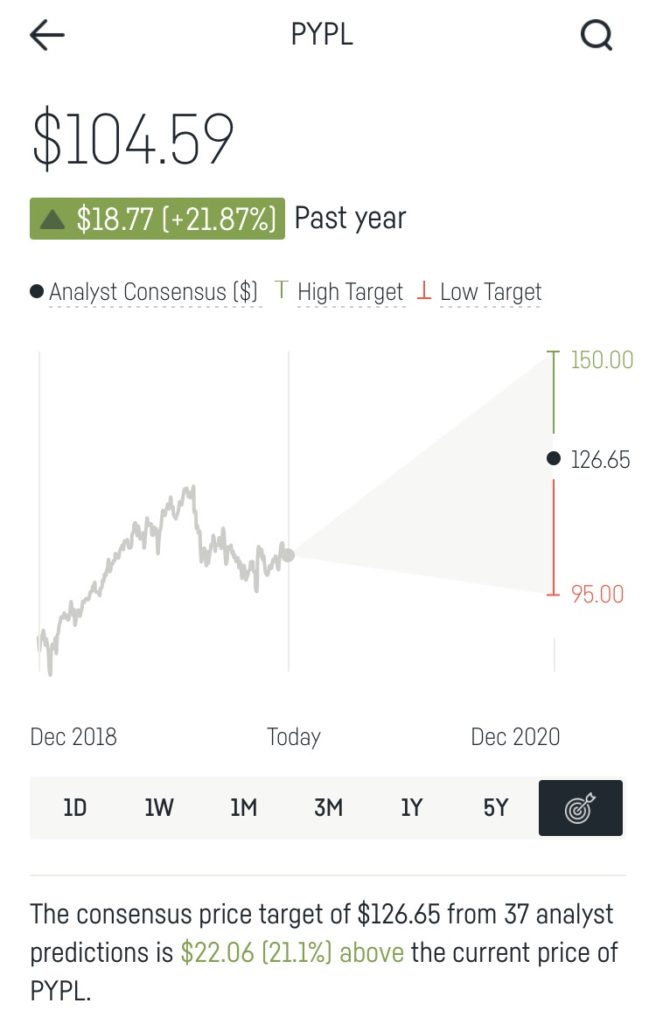 Can't beat free, right? The commission arms race is well underway in the financial world and many legacy brokers have begun to reduce sales commissions to $0.
At Dough, you'll never pay commission on any trade you make. If you buy a stock or ETF today and sell the same equity tomorrow, you won't be charged a penny in commission. Brokerage accounts have no minimum funding thresholds to meet, either. Of course, the platform isn't completely without fees.
Paper confirmations and statements cost $5 and $10 a pop respectively and you'll still pay the bid/ask spread on any equity trade. Money transfer fees apply, too. Wire transfers are each, as are returned ACH, check or wire transfers. Overnight check delivery is $50 and outgoing account transfers are $75. Also, real-time streaming quotes are only available to unfunded accounts for the first 15 days.
Dough LLC is registered with both the U.S. Securities and Exchange Commission (SEC) and the Financial Institution Regulatory Authority (FINRA) and licensed or trading in all 50 states, plus Washington, D.C., the U.S. Virgin Islands and Puerto Rico. Dough LLC is also a member of the Securities Investor Protection Corporation (SIPC). Customer accounts are insured up to $500,000.
Dough uses the most sophisticated protection available today. Customer data is always secured by 256-bit encryption systems and your account will automatically log off after a period of inactivity.
Dough understands your needs and offers a live chat feature. This isn't a bot-operated chat simulation — a live person at the other end of the connection answers your personal questions. The chat feature is available Monday through Friday from 7:30 a.m. to 5 p.m. CST.
Chat questions are answered promptly during working hours. We accessed the chat feature and asked several questions about the platform. Each question was met with an almost instant response and the rep was pleasant and helpful. You'll need to send an email if you have a question during off-chat hours. Dough doesn't have a phone number listed on its website, but its FINRA Broker Check page does, along with its Chicago address.
Dough's trading platform is for novices, so its asset class options are expectedly light. As it currently stands, only stocks and ETFs listed on U.S.-based exchanges can be bought and sold from a Dough brokerage account. Clients can trade several thousand different securities, including OTC stocks that cost less than 10 cents per share. But that's it — no mutual funds, no futures, no bonds and no options. Dough says that options trading will eventually come to the platform, but it's not expected until the first quarter of 2020.
Dough's platform makes buying and selling stocks a breeze. You can open a new position in seconds with just a few taps on your smartphone. The learning curve for Dough's platform is nonexistent if you're comfortable using apps to trade stocks. New accounts only take 2-3 business days to finalize and the company is currently running a free stock giveaway for new clients.
You can add to your watchlist based on your predetermined investment interests, view analysts' price targets, financial data like revenue and debt and all the news of the day related to that particular company with a single tap. The "Buy" icon is always visible in the bottom right-hand corner. Customer service reps can be reached almost instantaneously during live chat hours. Dough's platform is one of the most user-friendly we've reviewed and even if you know nothing about trading, you can be up and running in a few hours once your account is activated.

Dough is a terrific platform for a particular clientele — young professionals who want to bypass the commission and fee hurdle. The app is sleek and easy to use and opening an account is a painless process. But if you're a young professional, you'll eventually become an older, more sophisticated investor and Dough's simplified process may no longer work. Commission-free brokers aren't hard to find anymore and there are better options if you want to trade options or leverage technical analysis with charting tools.
Dough has enough company news and financial data to help you make an informed decision. Dough doesn't appeal to advanced traders, but that's fine — a free DIY investing platform that cuts out the jargon has no shortage of prospective clients.
Frequently Asked Questions
What are the requirements to open an account with Dough?
It's easy to apply for a Dough account. You must meet the following requirements:
1. Be 18 years or older.
2. Have a valid Social Security number.
3. Have a U.S. residential address within the 50 states or Puerto Rico.
4. Be a U.S. citizen, U.S. visa holder or U.S. green card holder.
Is there a minimum amount required to open a Dough account?
There is no minimum required to open up a Dough account.
What are the benefits of using Dough?
Dough has no commissions, live customer service and user-friendly mobile apps.
What are the drawbacks of using Dough?
There are no desktop applications and limited charting tools.
User Reviews
How do you use this product to boost your finances?
Everything is good until you need to contact them for any reason I need my taxes statement and my account is down I email them no one responde yet and I can't even create a new account so I could at least speak to a live agent.
How do you use this product to boost your finances?
I'm trying to open an account to trade options but it keeps telling me to try later
Christopher Brian Ledford
How do you use this product to boost your finances?
Submit Your One Minute Opinion