The iPhone XS Max may have made waves earlier this year as one of the most expensive smartphones of all time (with an impressive $999 price tag) but that doesn't mean that older iPhones are obsolete. According to Apple sales data, about 22 million iPhones are sold in the United States every single year, solidifying the cellphone as one of the hottest products on the market.
If you have an old iPhone hanging around thanks to a new upgrade, you might be sitting on a pile of cash. Before you decide to list your old phone, make sure you read our comprehensive guide to selling your phone for the most money possible — and avoid common scams.
Best Places to Sell Your iPhone Right Now:
BuybackBoss – Excellent customer satisfaction
Decluttr – Free instant price evaluation to sell iPhone
QuickSell – Sell device in any condition
uSell
Apple
eBay
What to Consider Before You Sell Your iPhone
You don't need to have the latest edition to sell your iPhone. However, you will need to have realistic expectations about how much you can get for an older or used phone. Some things to consider before you sell your iPhone include:
Carrier: Most cellphones are now sold as unlocked, meaning that they're compatible with any data, text, and voice carrier. However, if you have an older cellphone, it might be bound to a certain carrier. You can find your iPhone's original carrier using your IMEI number, which can be found in your phone's settings tab.
Condition: If you aren't selling your phone to a refurbishing site, buyers will want to know what condition your iPhone is in before they buy. The better your iPhone looks and works, the higher it will sell for. Carefully examine your iPhone for scratches and cracks, plug it in to make sure it charges and try to run some of your favorite apps to get a feel for the phone's condition.
Generation: Apple categorizes its product launches into "generations," beginning in 2007 with the original iPhone 2G and going all the way up to the 21st generation in 2018 with the iPhone XS Max. As a general rule, the more recent the generation of your phone, the more valuable it is.
Price: All of the factors listed above play a role in determining how much you can expect to sell your phone for. If you aren't sure how to price your phone, you can search for the same generation and condition on sites like eBay and Amazon to see what the average going price is.
Where to Sell Your iPhone
So, you've got an old iPhone, you know how much you can sell it for, and you've got a good understanding of the phone's current condition — what now? We've gathered some of our favorite online sales sites that are great for used and new phone sales.
Best For
People Looking to Sell Electronics
1. BuybackBoss
BuybackBoss offers the highest price, and they guarantee it. No matter what your device is, they allow you to easily chose it, pick the condition, and give you an accurate price to sell it. Doesn't matter if it is new or used, poor or excellent condition.
They provide a simple process and have a dedicated team to ensure you get to most money for your phone, all the while making it simple.
Ratings can give you added insight when making a decision, and they have top reviews from the third-party websites.
Try it out and get a free price evaluation & a free shipping label.
Best For
People looking for a convenient, secure way to sell their items
2. Decluttr
Decluttr is tech refurbishing company which buys iPhones directly for cash. Simply tell Decluttr about the current condition of your phone, Decluttr sends you an offer and a free shipping kit. You send in your phone and get paid directly through Decluttr. With over six million previous customers, Decluttr is a solid and well-known choice for selling your iPhone and getting paid quickly.
Decluttr offers three payment methods: PayPal, direct deposit or a mailed check. If you make passive income through selling multiple phones or devices a month, setting up a direct deposit system with Decluttr is an option to help you get your money more securely and faster than waiting for a check or risking a PayPal scam.
Here are the prices you can fetch for some iPhone models on Decluttr:
| Model | Good | Poor | Faulty |
| --- | --- | --- | --- |
| iPhone 11 Pro (64GB) | $615 | $369 | $115 |
| iPhone X (64 GB) | $321 | $192 | $64 |
| iPhone 8 (64GB) | $183 | $109 | $36 |
| iPhone 7 (128GB) | $182 | $109 | $36 |
Sign up and get a free device evaluation
3. QuickSell
QuickSell prides themselves on customer service and efficiency. Larger operations may take more time to process devices. QuickSell has an instant price evaluation. From there you are given a 100% Free shipping label to send in your phone. Payments are then made available instantly through PayPal or eCheck. Paper checks are also available if that is your preference.
Use promo code "Benzinga5" for an additional $5 on your order! Claim Offer
With QuickSell you have the ability to sell your device no matter what condition it is in. They accept new, used, broken or damaged devices.
Customers agree that QuickSell puts your satisfaction first, as 97% of consumers rated them 5 out of 5 stars on Trustpilot.
Use QuickSell and get paid faster
4. uSell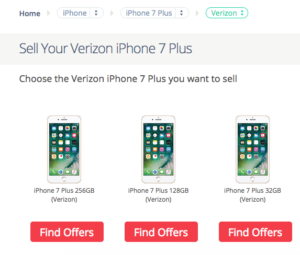 uSell is an online iPhone and electronic refurbishing company that handles the buying and selling process for you. You won't need to worry about finding a buyer for your phone or getting scammed because uSell offers you a payment directly after it receives your iPhone.

First, you'll create a profile on uSell and tell the company a little about your phone's condition, carrier and generation. uSell then produces a custom offer to buy your phone. If you accept the offer, uSell will send you a free shipping package. As long as your phone matches the condition listed, uSell will send you a payment in the form of a check in the mail or a PayPal deposit.
uSell's streamlined process and free shipping make it a top choice for iPhone sellers. The company also purchases both functioning and nonfunctioning phones, so anyone can earn money back for their old hardware.
5. Gazelle
Gazelle is a similar choice to Decluttr, though it offers a little less on average than its competitor when it comes to price. Create a profile through the site, list the generation and condition of your phone and get an immediate offer from Gazelle's algorithm.
If you accept the offer, Gazelle provides you with a free shipping label to complete the process and you get paid after they've received and assessed the phone.
Gazelle offers three payment methods for sellers: PayPal, mailed check and an Amazon.com virtual gift card. Another solid and reputable choice, Gazelle offers a fast and reliable way to sell an old phone.
6. Get a Credit with Apple iPhone Trade In: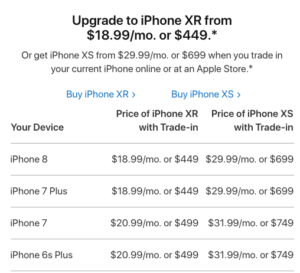 Are you hoping to sell your old iPhone and purchase a new one? If you're less interested in taking cash and more concerned about an upgrade, you may want to consider trading in your old phone at your nearest Apple store. Apple experts assess the condition of your current phone and offer you a discounted upgrade plan, credit towards a new device or an Apple store gift card.

While Apple won't offer you cash for your iPhone, there are a few benefits you get when you trade in your old device instead of selling it. You don't need to worry about finding a buyer or getting scammed after the sale.
Plus, Apple wipes all of your data from the device directly, which removes any chance of identity theft and fraud.
7. eBay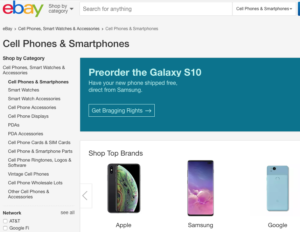 One of the world's first auction sites, eBay is a popular place for both independent sellers and refurbishers to sell new and old iPhones. When you sell on eBay, you first create a listing page detailing the condition, generation and details of your phone.
Users can then bid on your iPhone or buy the phone at a pre-set price, depending on the type of listing you use. You can even ensure that you get at least a certain minimum price for your iPhone by setting a "reserve" price at the time of listing. If your reserve isn't met by the time the auction ends, the bids will be canceled, and the auction will close without a winner.
Unfortunately, eBay only allows users to accept PayPal as payment. You'll also pay both a listing fee and a selling fee when you sell through eBay's platform.
Though eBay comes with a list of unknowns, there are a few steps that you can take to protect yourself. If you're selling a used phone, make sure that you clearly detail and photograph every crack and flaw before you list. Also completely restore your phone to factory settings before shipping and to only sell to verified buyers with at least a few months of history on the site.
Though selling on eBay involves a bit more work than simply selling to a rebuying site, you have the potential to make much more money from your iPhone's sale. This can be worth the extra effort for some sellers.
What to Look Out for When Selling Your iPhone on a Marketplace
Not every iPhone marketplace will give you the exact same retail experience — and some sites are definitely better than others. A few things you should look for when deciding where to list your iPhone include:
Popularity and Reputation
You'll only want to consider selling your iPhone on reputable and well-known trade-in and sales sites. Because iPhones are high-value items that can quickly and easily be resold on almost any market around the world, they're prime targets for scam sites and thieves, so make sure to do your due diligence before you list.
Seller Protections
If your side hustle is selling old products or items in your home that you no longer need, make sure that you choose a site with a robust seller protection policy.
For example, you should be hesitant to sell high-value items like iPhones on sites that only accept PayPal as a method of payment because PayPal is notoriously liberal when it comes to granting buyers refunds. A common scammer tactic is to purchase your iPhone, send a payment through PayPal, then file a fraudulent complaint against you through PayPal to have the money refunded…and you're out of luck and without an iPhone.
Fees
Almost every website except some local meetup sites will charge you a fee to list your iPhone for sale. Choose a site that lays out fees directly and be sure to read your marketplace's complete list of terms and conditions before you sell your iPhone.
Sell Your Phone and Earn a Little Cash
Selling an old phone instead of tossing it out isn't just great for your wallet, it also helps the environment and limits companies' need to mine new materials.
No matter where you decide to sell your iPhone, remember to exercise good judgment and due diligence when working with buyers. Have a realistic expectation of how much money your phone is worth and remember that if someone is offering to buy it for much more than the average price you see on other sites, the offer is probably too good to be true.
Frequently Asked Questions
Related Content: GAZELLE REVIEW – ideal for people looking for a convenient way to trade in their electronics for cash