Want to claim 6 FREE stocks? Head over to Webull to get started.
Learning how to trade stocks does not just come naturally. You might also have trouble learning about stock trading via traditional educational methods. You can learn how to do almost anything on YouTube, and videos can be the perfect medium for learning how to trade stocks. 
It's important to review the quality of the channels you choose to watch. Review the best stock trading YouTube channels to get started now.
1. Best for Seasoned Traders: PreMarket Prep on BenzingaTV
For traders with an intermediate to high levels of expertise, Benzinga PreMarket Prep is a live talk show on trading that airs every weekday from 8 a.m. until 9 a.m. EST. It's part of the BenzingaTV channel on YouTube. The show is currently hosted by Dennis Dick and Joel Elconin, 2 market professionals with considerable background in trading stocks and other assets.
Other hosts include Benzinga's CEO Jason Raznick and Hot Stocks' Luke Jacobi, who give their trading perspectives on stocks they like or dislike. Additional recent guests include top Dogecoin YouTuber Matt Wallace, CEO of Trxade Group (NASDAQ: MEDS) Suren Ajjarapu and Jacob from Team Bull Trading. 
You can also find links to Benzinga's free market newsletters with a wealth of information on market activities. These include:
Watching the YouTube videos on the channel also gives you access to a 20% discount to Benzinga Pro, where you can get the latest relevant market information.
Other videos you can watch on the channel include market education topics. You can even view a free webinar where you can interact with others in discussions on market movers, trading ideas and key technical levels. 
Subscribers: 92.3K
Views: 6,387,859+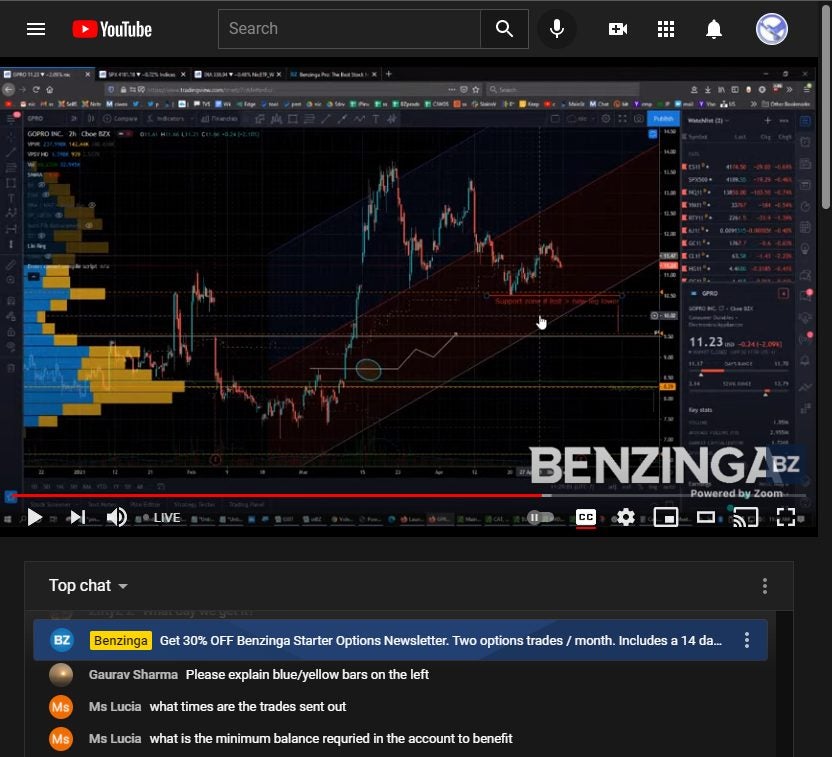 2. Best for Beginning Traders: Bulls on Wall Street
Started by Kunal Desai in 2009, the Bulls on Wall Street (BOWS) YouTube channel features a wealth of video information on stock trading with courses on swing and day trading. You can watch BOWS on a live feed every weekday morning, starting 30 minutes before the market opening. The channel has over 1,000 videos on a plethora of market topics for new and seasoned traders alike.
You can even attend live trading sessions with Kunal Desai and Paul J. Singh via screen sharing. The chatroom lets you access the group's pre market watch list and scans, as well as live market analysis.
As Desai and Singh share their trading screens, you get to see the exact charting layouts, software and market scanners they use. You might also qualify for a free bonus BOWS Trading Kit that includes a playbook and introductory course. 
In addition to the YouTube channel, the BOWS website offers different courses on stock market trading with different packages designed for traders at different levels of expertise. The website includes a live chat feature that can save you a lot of time if you're searching for a specific course or event.
Subscribers: 73.3K
Views: 6,205,881
3. Best for Day Traders: Warrior Trading
If you want to get involved in day trading stocks, then Warrior Trading YouTube channel might be the channel to watch for you. Started by Ross Cameron in 2013, the channel offers complete courses in day trading with on-demand educational courses and tools for day traders, as well as community support.
The channel features a Daily Morning Show where highly successful trader Ross Cameron spends almost 2 hours showing and discussing his trading, trade scanners and different parameters for his trades. If you want more trader insights, Warrior Trading's website offers a chatroom with over 4,000 traders who discuss their trades and strategies. 
In addition, you'll find a wide array of trading tools and a trading simulator to hone your newly acquired day trading skills. Warrior Trading has been featured on Bloomberg, Huffpost and Benzinga. If you prefer to day trade stocks, then Ross Cameron and his team could probably help you improve your skills and trade success rate.
Subscribers: 838K
Views: 75,333,409
4. Best for New and Intermediate Traders: Meir Barak
Meir Barak and his Tradenet Day Trading Academy claim to have educated 30,000 professional traders worldwide since 2004. The channel features a free trading room on YouTube that you can watch Monday through Friday from 9:10 a.m. until 4 p.m. EST.
Meir Barack has an impressive social media presence, with 2 Twitter profiles, a Facebook page and group, and an Instagram page. If you have confidence in your trading abilities, you can sign up for Tradenet's Challenge and win a cash prize. You must only day trade in a virtual account with $10,000, and you cannot lose more than $300. Also, all positions must be closed by the end of the day. 
Subscribers: 83.1K
Views: 18,004,732
5. Best for Technical Analysts: Steve Miller (AskSlim)
If you're an experienced trader with a background in technical analysis, then Steve Miller's YouTube channel provides information packed videos analyzing the market. Miller has 45 years experience trading stocks, options and futures on the trading floors in Chicago.
Steve Miller addresses many trader issues both on his frequent videos and in his workshops at AskSlim.com. His videos feature a sophisticated combination of technical and cycle analysis that lets you take advantage of stock price action as it unfolds. Miller also offers live webinars and 4 membership options. You even sign up for coaching and workshops.
Slim's focus on trading psychology would benefit any trader, as would exposure to his in-depth knowledge of technical and cyclical analysis. Steve Miller's YouTube videos provide a good introduction to this well known trader's methods and are definitely worth watching.
Subscribers:22,4K
Views: 1,666,414
Best Online Stock Brokers
With the number of online stockbrokers offering commission free stock trading, figuring out which broker is preferable for you might take a little research. Also, once you know what you need in a stockbroker, you can make a better decision about which broker will suit you best. 
Many brokers now offer paper trading or demo accounts funded with virtual money that you can open to check out their trading platform and services. You don't have to make a real money deposit to open a demo account, and it gives you the opportunity to practice trading and test strategies. You can get started by reviewing our list of the best online stock brokers below to find the right broker to fit your needs.
Online Stock Trading Courses
Most of the YouTube channels and the websites behind them offer courses in trading stocks. Some are geared towards day traders, while others cater to momentum traders. Knowing the type of trading you're interested in will save you a lot of time when you shop for a trading course.
While you can watch YouTube videos and learn a considerable amount about trading stocks from them, taking a formal stock trading course and getting some professional mentoring from an experienced trading coach could be even more beneficial. Even seasoned traders consult with other successful traders to get fresh ideas and learn ways to make their trading more profitable.

How to Trade Stocks by Benzinga
Benzinga offers a complete trading course that covers all the questions you may have about trading. If you've never traded in the stock market, the Benzinga course on How to Trade Stocks is for you.
The course includes 7 modules that cover:
Why Trade?
Picking a Broker
Trading Strategies
Price Studies
Technicals and Indicators
Developing a Strategy and Trading Plan
Trading Psychology
The course teaches you everything you need to get started trading stocks, with topics ranging from selecting a broker to reading price charts and developing a viable trading strategy. Once you've completed the course, you'll be ready to take your knowledge and apply it to trading in practice. Also, you'll learn the basics of trading psychology, how your emotional state can affect your trading and how to manage emotions appropriately.
Trading Stocks for Your Future
Whether you are interested in stocks for investment purposes or to trade them for a second income, the benefits of learning how to trade stocks could significantly improve your cash flow and even give you financial independence. Also, knowing the best markets and stocks to invest in could substantially improve your income and benefit your retirement fund. 
Finally, if you become proficient in stock trading and develop a consistently profitable trading strategy, you can make very good money. Keep in mind, however, that trading financial markets entails taking risk that needs to be managed prudently for the best chance of success over the long term.
Frequently Asked Questions
Can YouTube be used as a learning tool?
Absolutely. Watching videos by experienced traders like those reviewed above could significantly improve your stock trading knowledge.
Answer Link
How much do YouTube stock trading channels cost?
Watching YouTube videos doesn't cost anything, but the ads associated with videos often promote stock trading courses that could be quite costly.
Answer Link