Looking for the right advisor for you? Datalign Advisory makes finding a financial advisor specific to your needs easier than ever.
Managing your finances can protect your hard-earned money, ensure that your family's financial future is secure and prepare you for retirement.
Finding a financial advisor in Idaho Falls won't be difficult because there are options galore! Benzinga's made it easy for you to find the best-qualified advisors of the many choice in Idaho Falls to give you financial guidance.
Best Financial Advisors in Idaho Falls, Idaho Near You:
Best Robo-Advisor: M1 Finance
Best for Planning, Insurance and Investments: Northwestern Mutual Investment Services LLC
Best Mobile App: Betterment
Best for Customized Approach: Global View Capital Management Ltd.
Best Portfolio Analysis: Personal Capital
Best Robo-Advisor: M1 Finance
M1 Finance is a popular money management platform that lets you spend, invest and borrow money easily. M1 is best for investors who prefer to manage their finances on their own — you'll get automation and customizability. M1 Finance has 2 types of accounts: M1 Basic and Plus. There is no minimum balance required for either account.
Best For
Customizable Robo Investing
M1 Finance's Basic account charges $0 to get you started and includes:
No trading commissions
No management fees
Free checking account
3.5% base rate for a portfolio line of credit
M1 Finance's Plus account has an annual fee of $125 and includes:
All Basic account features
1% APY on checking account balance
1% cashback on qualifying debit card purchases
Access to a 2nd daily trade window
2% rate for portfolio line of credit (1.5% reduction)
Best for Planning, Insurance and Investments: Northwestern Mutual Investment Services LLC
Northwestern Mutual has been around for 163 years and serves more than 4.5 million clients. The firm has certified financial advisors all over the U.S. and 6 serve in Idaho Falls.
The firm specializes in offering 3 financial services:
Planning: Get a personalized financial plan and advice on debt repayment, the right types of insurance to own and a realistic budget.
Insurance: The firm's advisors help you take care of your loved ones and offer advice on life insurance, disability insurance and long-term care.
Investments: The firm helps you make the most of your money with smart investment and retirement strategies, wealth management and exclusive market commentary.
Claim Profile
Reach out to our team to improve your companies visibilty
Fixed fees (other than subscription fees)
Other
INVESTMENT RESEARCH; REFERRALS TO OTHER ADVISERS
Address
720 EAST WISCONSIN AVENUE MILWAUKEE WI, 53202-4797
Phone number
866-664-7737
Best Mobile App: Betterment
Betterment links all your accounts so you can see all of your money in 1 place. The app lets you keep track of your net worth, spending and investments.
You can choose between Betterment Digital and Premium. If you opt for the digital plan, you don't require any minimum account balance to open but you do have to pay an annual fee of 0.25%.
For unlimited access to Betterment's certified financial planners (CFP®s) to get in-depth advice on IRAs, 401(k)s, and more, you can opt for the Premium plan. Premium members require a $100,000 account minimum with a 0.40% annual fee.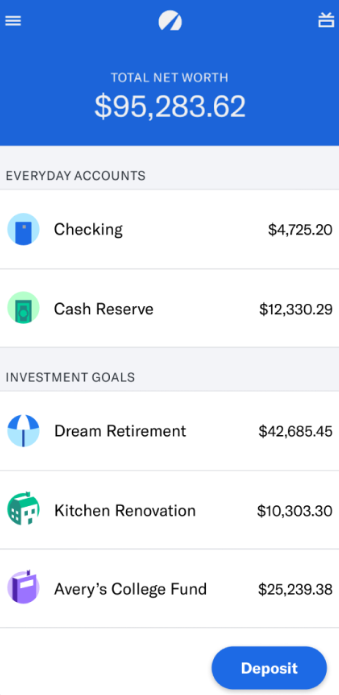 Best for Customized Approach: Global View Capital Management Ltd.
Global View Capital is a registered advisory firm that offers investment and insurance services. The firm does not offer a cookie-cutter approach to managing your finances. Rather, it offers a customized approach that is pertinent to your situation and goals.
The firm's platform has over 40 money manager firms, 100 separately managed strategies, over 80 focused fund selections and multiple custodians. The firm has also partnered with Wealthsimple, a popular Canadian robo-advisory app that's recently launched in the U.S. and U.K. You only need $1 to get started with the app.
Claim Profile
Reach out to our team to improve your companies visibilty
A percentage of assets under your management
Fixed fees (other than subscription fees)
Other
Financial planning services
Selection of other advisers (including private fund managers)
SUB-ADVISER TO OTHER ADVISERS & ADVICE TO PARTICIPANTS OF 401(K), 403B, 457 AND SIMPLE RETIREMENT PLANS
Address
N14 W23833 STONE RIDGE DR – SUITE 350 WAUKESHA WI, 53188
Phone number
262-650-1030
Best For
High Net Worth Individuals
Best Portfolio Analysis: Personal Capital
Personal Capital is a good fit for if you want to plan your finances with a robo-advisor. With Personal Capital's dashboard, you can use its multiple free investment management tools to help you track a multi-asset portfolio.
You can also opt for an advisory team that can manage your portfolio. This option is only available if you have an account minimum balance of $100,000. If you have over $200,000 in investable assets, you can get access to dedicated advice and specialist support.
You'll need more than $1 million of assets under management to build customized investment plans.
Frequently Asked Questions
How can I research the background of my financial advisor?
There are 2 credible websites that can offer you information on your financial advisor — the investment adviser public disclosure website and the BrokerCheck website through the Securities and Exchange Commission (SEC) and the Financial Industry Regulatory Authority (FINRA). Enter your advisor's name or the CRD number and you should be able to get all the information you need.
Answer Link
What's the difference between financial planning and retirement planning?
Financial planning and retirement planning are both services offered by advisory firms. The difference between the 2 has to do with the various focus areas. Financial planning is an all-encompassing plan to meet your short- and long-term goals such as a wedding, college tuition or retirement. Retirement planning involves managing assets, identifying income, etc., with the sole goal of being financially stable after retirement.
Answer Link
Do financial advisors check your credit?
No, advisors typically don't check your credit unless it is absolutely necessary.
Answer Link
Choose the Right Financial Advisor in Idaho Falls
You can make the most of your money with a financial advisor if you choose the right one. A good financial advisor can help you manage your portfolio effectively, manage taxes, clear debt and much more. It's a good practice to meet with at least 3 advisors after you do a thorough background check to make an informed decision.
Methodology
To determine the top financial advisors in Idaho Falls, we pored through all SEC-registered advisory firms that have an office in Idaho Falls. We winnowed the list by only including advisors that are registered fiduciaries, have no past disclosures and have minimal personal conflicts of interest. To further break down the list to the true top advisors in the area, we gave weight to advisors that offer both investment management and planning, have no conflicts of interest, have offices in multiple states, have a wrap fee program and over $50 million in assets under management.