BZ
Quick Look: Best Credit Cards for Bad Credit
Bad credit can happen for a variety of reasons and might seem difficult to overcome. However, bad credit is more common than people think and can occur at any point in life regardless of income level or education. Bad credit is considered a credit score below 550. Low credit scores can hinder your ability to receive a loan or flexible financial options. Rebuilding and improving credit scores can take time and consistency. Benzinga researched and reviewed the best credit cards for bad credit so that you can start rebuilding your credit score today. A secured or unsecured card may help. Before signing up, consult a financial professional to see which cards and terms would work best for you.
1. Mission Lane Visa® Credit Cards
learn more
securely through Mission Lane Credit Card's website
Regular APR
26.99% – 29.99% (Variable)
1 Minute Review
Get an instant decision on your Mission Lane Visa®Credit Card application. No more waiting for days or weeks to find out if you're approved. With no activation fee, no hidden fees, no over-the-limit fees, no security deposit and a powerful mobile app, you can track your spending, build credit and gain some financial freedom.
Specs
Annual Fee: $0
Regular APR:

26.99% – 29.99% (Variable)

Minimum Payment: $25 or $35 + 3% of new balance or 1% of the new balance depending on your card agreement + interest charges
One Time Fee: $0
Pros
Accepted globally where you see the Visa® logo
No over-the-limit fees
No security deposit
No activation fee
Cons
There is currently no rewards program
The Mission Lane Visa® Credit Card includes:
Cards for those with poor, fair or good credit
No security deposit or activation fee
No over-the-limit fees
Increase your credit line if you make your first 6 payments on time
Instant application decisions
No interest on purchases when paid in full after 1 month
Mobile account access
Free, online credit score access
With the Mission Lane Cash Back Visa® Credit Card, you get the benefits of the traditional Visa, including:
1% to 1.5% cash back on all purchases
Annual fees from $0 to $19
2. U.S. Bank Cash+ Secured Visa® Card
1 Minute Review
U.S. Bank has a history that stretches back to the early 1860s. It offers a tool called the U.S. Bank Smart Assistant that is designed to help manage accounts. The tool is interactive and can work as a voice-activated assistant.
Specs
Annual Fee: No annual fee
Regular APR:

Variable APR 26.24%

Minimum Payment: $300
One Time Fee: No one-time fee
Intro APR: Yes; 0% for the first 15 months
Rewards: Offers cash-back rewards
Pros
Allows more flexible payment due dates
Offers autopay and works with a digital wallet
Can work well for people with no previous credit history
Cons
Foreign transaction fees are around 2%
Higher security deposits up to $5,000
Varied cash advance fees
What makes the U.S. Bank Cash+ Secured Visa® Card unique is that it offers cash back. In addition, there are no annual fees, and it can appeal to potential lenders with no credit history. The credit card can help boost credit scores and guard against missed payments. For example, the card offers autopay options to help ensure that payments are made promptly. In addition, the account offers fraud liability protection and 24/7 account access. Credit limits are based on your deposit. A security deposit of $5,000 translates to a credit limit of $5,000.
However, the APR rate is relatively high. The security deposits range in price but are refundable deposits. In addition, the card has late fees and foreign transaction fees, which might not be ideal when traveling abroad. The security deposit remains untouched as long as the account is in good standing.
3. Capital One QuicksilverOne Cash Rewards Credit Card
1 Minute Review
What makes the Capital One QuicksilverOne Cash Rewards so unique is that it offers 1.5% cash back on purchases and higher-quality services while remaining relatively attainable for lower credit scores. The card works with fair or limited credit. For example, the credit card offers beneficial tools such as CreditWise, which allows you to keep track of your credit score for free. The credit card provides fraud coverage and automatic credit line reviews to more quickly increase credit lines and allow for larger purchases. The credit card includes annual fees and a higher-than-usual APR at around 26.99%. The credit card also charges annual fees.
Specs
Annual Fee: About $39
Regular APR:

Variable APR 26.99%

Minimum Payment: None
One Time Fee: No member fee
Intro APR: N/A
Rewards: 1.5% cash back
Pros
Provides automatic credit line reviews
No foreign transaction fees
Fraud coverage
Cons
A $39 annual fee
Penalty late fee of up to $40
Includes higher APRs
Capital One offers a wide range of services, including credit cards, checking accounts and saving accounts. The website offers a section that provides educational tools. Larger credit lines have the potential for trouble because bigger balances can be more difficult to repay when fully used. Try to stay within your financial means even if your credit line increases to prevent missing payments or incurring large amounts of debt.
4. Fingerhut Credit Account
Annual Fee
No annual fees
1 Minute Review
The company first began in the late 1940s and now offers products online. Fingerhut offers two types of accounts: Fingerhut Fetti Revolving Credit Account as well as a Fingerhut Freshstart Credit Account. The Fingerhut Revolving account can potentially require a downpayment that can then be applied to your first order. The credit card has a limited reach but can help you slowly rebuild your credit score. Positive spending habits can allow you to potentially increase your line of credit.
Specs
Annual Fee: No annual fees
Regular APR:

Generally around 29.99%

Minimum Payment: Can vary depending on your situation
One Time Fee: No application fees
Intro APR: No stated intro APR
Rewards: Unclear rewards
Pros
Automatically authorized for a Fingerhut FreshStart Loan if not accepted for credit card
Provides monthly updates about your FICO score without hurting your score
Accounts systematically reviewed with the possibility of increasing credit lines
Cons
No introductory APR rate
Higher APR rates
Credit card can only be used within Fingerhut network
Fingerhut is an excellent option to rebuild credit because it's more accepting of bad and low credit scores. What makes the company unique is that the credit card can only be used with Fingerhut and the other approved partner companies. The credit card accepts interested borrowers with limited credit history without a security deposit. No clearly stated rewards are attached to the account. There are potential late fees if you fail to pay. Luckily, there are no interest rates if you pay off each monthly balance in full. There are no strict minimum credit scores, so it's an excellent idea for low and poor credit.
5. Wells Fargo Business Secured Credit Card
Regular APR
Variable based on the prime rate
1 Minute Review
Wells Fargo first began in the early 1850s to help businesses manage money. Today, the company offers a wide range of financial services and banking. The secured credit option requires a security downpayment that increases with the requested credit line. For example, a maximum credit line of $25,000 would require a $25,000 deposit. Currently, the card offers a prime rate on cash advances near 20.74%, but that prime rate changes to around 11.90% on purchases.
Specs
Annual Fee: No annual fee
Regular APR:

Variable based on the prime rate

Minimum Payment: About $500 deposit
One Time Fee: Security deposit depends on the amount of the credit line
Intro APR: Not stated
Rewards: Yes, with points
Pros
Offer credit line up to $25,000
Provide 1.5% cash-back for certain purchases
Rewards point option
Cons
Wells Fargo Business card applications not accepted in Wells Fargo Branches
Must already have a Wells Fargo business checking or savings account
What makes the Wells Fargo Secured Business Card so unique is that it's a viable option for bad credit that can offer a credit line up to $25,000 while providing rewards and cash-back options. The card allows for automated payments to help avoid penalties and late fees. It charges no foreign transaction fees, and the card can be used for up to 10 employees, which might prove helpful when working abroad. The card helps protect against fraud.
6. Milestone Mastercard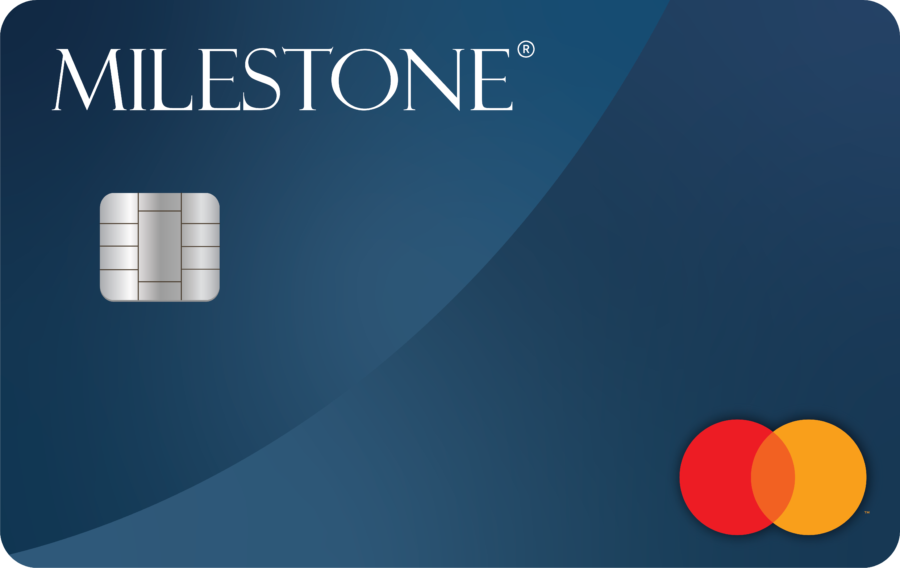 get started
securely through Milestone Gold Card's website
Annual Fee
$35 to $99 based on credit worthiness
1 Minute Review
The Milestone Mastercard comes from Mastercard. Mastercard, located in New York, works to integrate new technology with banking. The APR rates are around 24.9% for credit lines of $300. However, the card has no stated rewards or bonuses and charges higher APR fees with limited benefits.
Specs
Annual Fee: $35 to $99 based on credit worthiness
Regular APR:

24.90%

Minimum Payment: No security deposit
One Time Fee: None stated
Intro APR: None stated
Rewards: N/A
Pros
Reports monthly statements to three different credit bureaus
Offers 24/7 account access
No minimum security deposit
Allows people to be pre-qualified
Cons
Annual fees
No rewards or bonuses
What makes the Milestone Mastercard so unique is that it complements low credit scores by acknowledging the need to build or rebuild credit. The monthly payments are shared with credit bureaus, and prequalification for the card will not impact your score. The card offers online account access. The card is ideal for people in need of rebuilding credit and allows accepted users to access the account online.
7. Secured Sable ONE Credit Card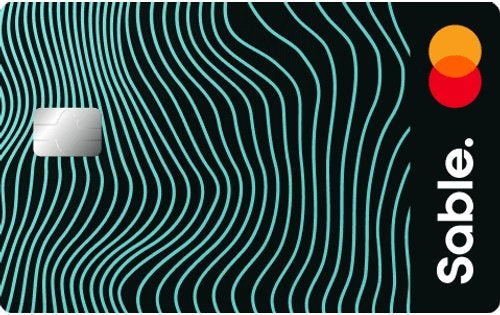 Disclosure: Terms Apply
1 Minute Review
The Secured Sable ONE Credit Card is accepted anywhere you see the Mastercard logo, and it offers a range of benefits that make building credit easy. No late payment fees, no annual fee and regular credit reporting make the card that much easier to manage while building your credit. You earn 1% cash back on all your purchases, and there's a dollar-for-dollar reward match at the end of your first year of use. You can also earn 2% cash back with popular merchants. The card also features cell phone damage protection, rental car insurance, zero liability protection and much more.
Specs
Annual Fee: $0
Regular APR:

11.74% (variable)

Minimum Payment: N/A
One Time Fee: N/A
Intro APR: N/A
Rewards: Up to 2% cash back at your favorite merchants
Welcome Bonus: N/A
Pros
The card tracks milestones leading to unsecured credit
No annual fee
Competitive interest rates
Cons
The card operates more like a prepaid debit card
The Secured Sable ONE Credit Card is an excellent card for those with bad credit, and it offers several advantages that include:
No credit checks
Helps you build your credit history
Move up to unsecured credit in as little as 4 months
No annual fee
No minimum security deposit
Contactless payment options
Unlimited cashback and premium perks
Because you can build credit and amass rewards, you have more options that will help you benefit from spending and building your credit at the same time.
8. Shell Fuel Reward Card
Regular APR
Variable APR up to 29.99%
1 Minute Review
Shell first began in the early 1830s as a seashell-selling operation. However, the company shifted into oil with its second generation of owners. Currently, the company is expanding its exploration of cleaner energy while remaining firmly rooted as a leader in the oil industry. The variable APR has the potential to be much higher than usual, around a maximum of 29.99%.
Specs
Annual Fee: Vone
Regular APR:

Variable APR up to 29.99%

Minimum Payment: No
One Time Fee: No
Intro APR: N/A
Rewards: Yes
Pros
Excellent gas rewards
Rewards on groceries and dining
Offers cents-per-gallon savings
Grace period of around 25 days on purchases without interest
Cons
Many Shell rewards are not directly tied to credit card
Foreign transaction fees and cash advance fees
Late fees up to about $40
What makes the Shell Fuel Reward card so unique is its strong rewards program that allows you to earn while spending on dining and online shopping. Once you reach a certain status, the rewards accumulated from spending activities such as dining and online shopping can be combined. Rewards give you the opportunity to save up to $0.30 per gallon of gas. The credit card can only be spent with approved merchants. New credit card members get gold status for the first 6 months but then can potentially be lowered to silver if the stated minimum purchases are not met in the designated timespan. The credit limit depends on factors such as your annual income and debt.
Features to Look for in a Credit Card for Bad Credit
Before selecting a card, research available options and compare them to your financial situation. If possible, consult a financial professional to gain a better sense of the necessary steps.
APR Rates
When examining different credit cards for bad credit, research APR rates. The rates will be higher for bad credit scores, but try to find the lowest rates in that specific bracket. For example, APRs that are higher can be more difficult to repay and might make rebuilding credit more tedious. APRs for bad credit are between 18% to 29%.
Interest Rates
Interest rates are similar to APR rates, but they do not include everything that is examined within an APR. For example, an APR rate tends to be higher because it reflects a combination of data points.
Interest rates for bad credit tend to range around 18% but can be higher depending on if the intended credit card is unsecured. Factor in interest rates because they indicate the amount of annual interest you will likely need to pay on a card.
Credit Boosting Tools
Paying off cards monthly is a great way to help boost a credit score. Setting up monthly automatic payments helps avoid paying late. However, automatic payments might not be an excellent option if your finances are tight or unpredictable.
Consider getting a credit card such as a secured card that allows you to check your scores and reports. However, certain credit score checking options can lower your score so research the different options before deciding which one you should use.
Annual Fees
Annual fees associated with a particular credit card will affect whether you choose it. Annual fees help lenders offset the offered benefits and perks. However, benefits such as rewards tend to be minimal for low credit scores.
How to Get Approved for a Credit Card if You Have Bad Credit
Know Your Credit Score
One step to getting a credit card with bad credit is understanding your credit score. Certain scores that are considered bad, low and fair can vary depending on the potential borrower. Research credit card options and know your credit score to see if your score can potentially qualify you as fair credit. For example, credit scores around 580 can potentially be marked as fair instead of low depending on the borrower. This change in score classification could potentially offer you better rates.
Create Positive Spending Habits
When aiming to obtain a credit card, try to create positive spending habits. A credit card can be a useful tool, but it can also become a hindrance when improperly used. For example, failing to promptly pay off a credit card during each billing cycle can negatively impact your score.
Build Credit
Building credit before entering into a credit card agreement, see if you can find better options. The best way to build credit and positive spending habits before obtaining a credit card is to promptly pay bills. Payment behavior can help improve your available credit card options or hinder them if you have a history of late payments.
Consider a Retail or Secured Card
Reviewing credit card options will help you better understand the likelihood that you will be able to receive specific cards. Credit cards that are secured are a good option for lower credit scores. However, secured credit cards often require a cash deposit.
How You Can Improve Your Credit Score
Know Your Score
If possible check your score to track your progress. Some services charge or negatively impact your score each time that you look. Since these fees and credit dings can be counterproductive, find a program that allows penalty-free checks.
Understand Your Debt
Knowing and understanding the full extent of your debt can rightfully feel overwhelming. Unfortunately, the concept of out-of-sight/out-of-mind does not apply to debt or debt payments because they do not go away when ignored. Instead, it is best to look debt directly in the eye to get an entire understanding of the beast. It's nearly impossible to fix the problem if you have no real understanding of where to start. Sometimes what you think is the main cause of your debt and increasing bills is something you didn't realize. If possible, consult with a financial professional to understand your debt and to feel more empowered about your situation.
Consistently Pay Off Bills
Consistently paying off your bills can help build your credit. Building your credit can take time, so try to remain up to date with bill payments to avoid late fees and penalties that can potentially further lower your credit score.
Focus on Paying Ongoing Bills Such as Rent on Time
If possible, fully pay rent when due to help build and improve your credit score. When building your credit score, rent payment history can negatively influence your score if you fail to pay or pay late.
Frequently Asked Questions