Compare Medicare Advantage plans and quote side-by-side to get the best rate here.
You've hit a milestone once you become an official "senior citizen" — you qualify for senior citizen discounts and get your AARP card. You're also eligible for Medicare when you turn 65. The Medicare plan you choose will impact your health care coverage for the rest of your years. Medicare can be confusing, so Benzinga has sifted through the facts. Here's what you need to know to choose the right plan.
What is a Medicare Advantage Plan?
A Medicare Advantage plan is an extension of Original Medicare coverage offered by private insurers. Here are some key points to know about Medicare Advantage plans.
Key Points: Medicare Advantage Plans
Plans and plan providers are contracted with the federal Medicare program to bundle Medicare Part A (hospital insurance) and Medicare Part B (Medicare insurance) in one plan
Medicare Advantage plans are always purchased through private insurers
Medicare Advantage plans offer benefits to people eligible for and enrolled in Original Medicare who also enroll in a Medicare Advantage plan
Best Medicare Plans and Providers
Medicare Overview: What is Medicare?
Medicare is a federally-funded health insurance plan created for seniors 65 and older. You're eligible to sign up 3 months before and 3 months after your 65th birthday. You could pay a late penalty if you don't sign up during this time.
There's also a Special Enrollment Period, which allows you to sign up for a plan or switch plans if you've experienced a life event such as a move or a marriage. Medicare is also available to people under 65 with certain disabilities as determined by the Social Security Administration.
Who is Eligible for Medicare?
You qualify to enroll in Medicare if you're a U.S. citizen who has paid Medicare taxes throughout your working years — you won't be eligible if you've never paid in. Medicare is divided into 4 parts:
Part A covers inpatient hospital stays, skilled nursing facilities and some home care.
Part B covers inpatient care, doctor and specialist visits, medical supplies and equipment. Parts A and Part B are referred to as Original Medicare.
Part C takes the place of Part A and B and is known as Medicare Advantage coverage. Medicare Advantage plans, offered by private insurance companies, are meant to take the place of Part A and Part B. Medicare Advantage plans are regulated by the federal government and often feature extras such as health and wellness plans.
Part D covers prescription drug costs. You can enroll in Original Medicare or a Medicare Advantage and add on a Part D plan. You can also buy a Part D plan on its own. Many Medicare Advantage plans come with built-in prescription drug coverage — it's why they're so popular.
The majority of the 64 million people enrolled in Medicare are covered by traditional Medicare, but 34% are enrolled in Medicare Advantage plans, according to the Henry J. Kaiser Family Foundation. Over the past 10 years, enrollment in private Medicare plans has doubled from 11.1 million to 22 million.
Another option to consider is a Medicare Supplemental Insurance plan, which you can buy to fill in any gaps in your Original Medicare plan. Medicare Supplement plans are also offered by private insurers.
Important Insurance Terms for Your Plan:
Premium: A monthly fee you pay to maintain your insurance coverage.
Deductible: The amount you pay out of your pocket before your insurance company starts paying any expenses.
Coinsurance: The amount you pay to supplement the amount your insurance company pays to cover the cost of a health care procedure or hospital visit.
Average Medicare Insurance Costs for Seniors
There are many variables to Medicare plans, depending on what you choose, so it's hard to come up with an average Medicare plan cost. Here are some examples from Medicare.gov:
Part A premiums: $240–$437 a month
Part A hospital inpatient deductible and coinsurance: $1,364 for each benefit period
Part B premium: $135.50 (higher depending on your income)
Part B deductible and coinsurance: $185 per year
Part C premium: Varies according to plan
Part D premium: Varies according to plan
Comparing Medicare Advantage Plans
Consider cost as well as plan features when you compare Medicare Advantage plans. Do you need a prescription drug plan? How about dental, vision or hearing coverage? Is a fitness plan important to you? Your answers will help you narrow down your plan options.
Another factor to consider is the rating Medicare Advantage plans receive from the Centers for Medicare and Medicaid Services (CMS). CMS is the federal agency that oversees and regulates Medicare Advantage plans. CMS sets guidelines for marketing practices, pricing and performance standards.
CMS assigns star ratings of 1-5 (5 is excellent) to each plan based on factors such as performance, providers and pricing. Plans that don't meet guidelines can be fined or have their plans terminated, depending on the violation.
You'll have two main plan types to choose from:
Health maintenance organizations (HMOs): HMOs are regional networks of doctors, specialists and hospitals you must choose from. Let's say you want to see a specialist. You'll need a referral from your primary care doctor.
HMOs also focus on health and wellness — if your BMI is too high, you smoke or have high blood pressure, you'll be required to improve through medications, diet or smoking cessation programs. HMOs are a bit more limiting than PPOs due to network limitations, but they're usually cheaper.
Preferred provider organizations (PPOs): PPOs are large national networks of doctors, specialists and hospitals you can choose from. All providers in the network agree to charge a set amount for services and care. You can choose a doctor who is out of network, but you'll pay more. No referrals are needed. PPOs cost more than HMOs.
Benzinga used Medicare's plan finder tool to show you a few examples of typical plan costs. You can try it out yourself below!
| Plan Name | Company | Plan Type | Health and Drug Costs | Star Rating |
| --- | --- | --- | --- | --- |
| Primary Choice Medicare | HAP | HMO | $3,950 | 3.5 |
| PriorityMedicare Key | Priority | HMO-POS | $4,050 | 4.5 |
| HealthyValue | BCN Advantage | HMO | $4,110 | 3.5 |
| PriorityMedicare Ideal | Priority | PPO | $4,420 | 4 |
| Aetna Medicare Value Plan | Aetna | PPO | $4,480 | 4 |
| HAP Senior Plus Option 1 | HAP | PPO | $4,490 | 3.5 |
Get an Instant Medicare Quote
Tip: compare 2-3 companies
Of course, these rates are estimates and depend on the features you add on, your income, how much you paid in Medicare taxes, where you live and other factors. Read on to learn more.
What Impacts Medicare Rates for Seniors
Certain factors play a role in determining Medicare rates, such as:
Income: You'll be subject to a surcharge called the income-related monthly adjustment amount (IRMAA) if your gross income increases significantly. Your monthly premiums could go up to $100–$300 a month, depending on your income.
Cost of living: CMS takes the cost of living into account when it reviews Medicare Advantage plan rates. Rates go up as the cost of living increases.
Age: You'll pay more for Medicare if you're 75 and older compared to 65–75 because your health care needs increase as you age.
Health status: You'll pay more for Medicare as a smoker compared to a non-smoker because you're more of a health risk.
Health status is the area you can control the most and you'll pay less for a Medicare insurance plan if you maintain a healthy lifestyle.
Best Medicare Advantage Companies
Pros
Offers multiple mobile app offerings to reward you for reaching fitness goals
Dental discount plans may include coverage for prescription drugs
Medicare Advantage plans available with no monthly premiums
Cons
Vision insurance only available when purchased with a dental plan
ACA-compliant health insurance no longer available
1. Aetna
Many of Aetna's Medicare Advantage plans have above-average star ratings. Aetna is also among the top picks in J.D. Power and Associate's annual Medicare Advantage study.
The study rates plans for overall satisfaction, billing and payment, communication, cost, coverage and benefits, provider choice and customer satisfaction.
Aetna offers affordable HMO and PPO plans in all 50 states. The company also offers plans with monthly premiums as low as $0, with reasonable copays and deductibles. Again, Aetna's a great choice since it's a top-rated plan with high rankings in J.D. Power and Associate's studies.
Best For
Same day coverage available
Pros
Offers a wide variety of plans
Strong financial and customer service ratings
ACA and non ACA plans available
Cons
Not all plans ACA-compliant
The website can make it difficult to get a quote
2. UnitedHealthcare
The AARP MedicareRx Walgreens plan covers an array of generic and brand-name drugs. You won't have copayments on prescription drugs and no deductible on both Tier 1 and 2 drugs. You may also be eligible for $15 cost savings or more on select prescriptions. An AARP membership isn't required to qualify for coverage.
This plan is most ideal if you live near a Walgreens because you'll have to fill your prescriptions there. Use Walgreens' online store finder to find a location near you.
Best For
Medicare Advantage Plans
Pros
Medicare Parts A + B and Medigap plans available
6% discount if you enroll online
Shop plans by ZIP code
Cons
Discount not available CA, CT and OH
3. Humana
Humans is supplemental insurance provider that offers plans throughout the country. Humana offers supplementary policies for nine out of 10 Medicare plans and some of Humana's plans also offer international coverage as well.
Humana's website is a great tool if you're just beginning your search for a Medigap plan, as its pages are packed with information and tools that you can use to learn more about the differences between Medicare plans as well as estimate how much you'll pay and how you can lower your premium.
Humana's easy-to-use search function will introduce you to plan options in your state just by entering a zip code, and in most states, you also have the option to meet up with a local agent to discuss your plan options and sign on without making a commitment online.
Humana also allows policyholders to chat with a nurse over the phone and around the clock if you're concerned about some facet of your health but aren't sure if you should see a specialist or go to the emergency room.
If you're overwhelmed with supplemental plan options and you'd like to learn more about Medicare itself before you begin thinking about which plan is right for you, Humana's comprehensive site and human-assisted planning is a great choice to get started.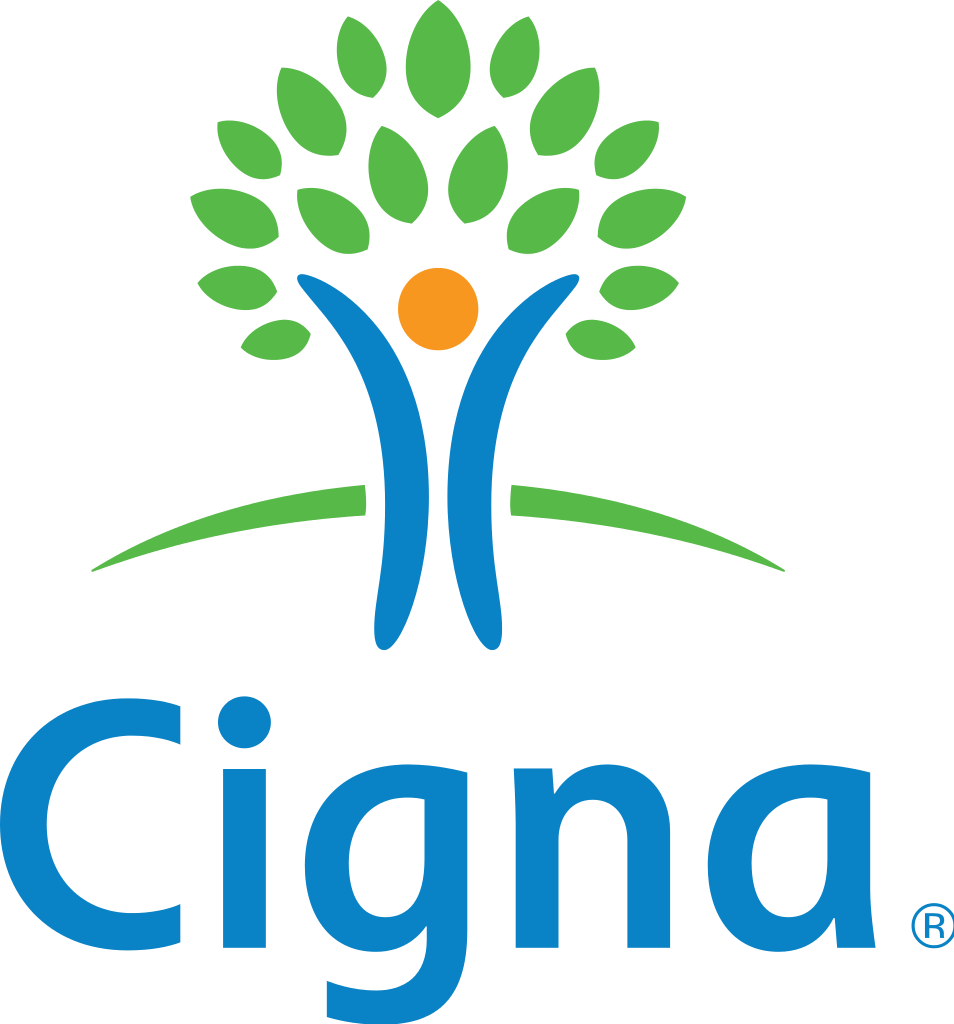 Best For
Easy access to benefits
Pros
Home delivery for prescriptions
Health management mobile apps
Easy ID card replacement
Cons
Can have high deductibles
4. Cigna
In addition to offering some of the most popular HMO, PPO and Part D Prescription drug plans, Cigna (NYSE: CI) also offers policyholders access to a 24/7 advice line staffed by trained nurses. This feature can help save you both time and money if you aren't sure whether you need to seek emergency care after an illness or accident. Cigna also offers competitive pricing and plans in most parts of the country.
Cigna's contracts with Medicare to to offer Medicare Advantage Plans as well as policies that complement Medicare Parts A, B, and D (prescription drug coverage), as well as a few other less common Medicare benefit plans.
Cigna's policies are also guaranteed renewable for life except under extenuating circumstances — so you won't have to worry about suddenly being dropped from your plan. With wide availability and affordable rates, Cigna is a great supplemental insurance choice for those who qualify for Medicare.
Best For
Wide network of doctors, hospitals and specialists across the U.S.
Pros
Offers Medicare Advantage, Medicare supplement and Medicare Part D plans
Available in all 50 states, Washington D.C. and Puerto Rico
Health and wellness discounts offered
Cons
Product offerings vary by region
5. Blue Cross Blue Shield
Blue Cross Blue Shield is an umbrella corporation that provides insurance by working through over 30 established healthcare providers. An estimated 95 percent of hospitals and independent healthcare practices work with or contract services from Blue Cross Blue Shield, and plans are available in all 50 states. This makes the Blue Care Network one of the most extensive provider networks available.
Blue Care Network's Medicare Advantage plans offer extras you can add on, including hearing, dental and vision coverage for less than $25 more a month.
Blue Care Network also offers free fitness programs in every state. Its plans are also top-ranked among J.D. Power and Associate's studies and many plans have above-average star ratings.
Starting Rate
CoverRight is a free-to-use platform
Pros
Easy application process
Assistance in finding the right insurance plan
Help in finding an insurance plan that covers your doctors and medications
Concierge-style service with your own dedicated agent
Cons
Not available in every state
Disclosure
Only available to consumers in the following US states: Alabama, Arizona, California, Colorado, Connecticut, Florida, Georgia, Illinois, Indiana, Iowa, Kansas, Kentucky, Louisiana, Maine, Maryland, Michigan, Mississippi, Missouri, Nevada, New Jersey, New Mexico, New York, North Carolina, Ohio, Oregon, Pennsylvania, South Carolina, Tennessee, Texas, Utah, Virginia, Washington (State), West Virginia.
6. CoverRight
Medicare selection can be one of the more taxing issues that come with aging into retirement. The average Medicare-eligible person has 40+ options to choose from, and navigating Medicare Advantage and Medicare Supplement plans is made more confusion by the heavy use of jargon.
CoverRight's free-to-use platform and friendly, licensed agents make it easy for Medicare-eligible people to compare, select and enroll in the right Medicare Advantage or Medicare Supplement plan. Your agent will never try to upsell you on products you don't need and will recommend the plans most suited to your unique situation.
CoverRight prides itself on being customer-first, leveraging technology to streamline the Medicare selection process while retaining the human touch of one-on-one assistance from their agents. They're partnered with the top rated insurance companies in the nation, so you can search with confidence.
Get started with CoverRight today. Get a quote in under 2 minutes and see instant personalized recommendations from hundreds of plans.
Research Before You Enroll
You don't have to wait until you turn 65 to research Original Medicare and Medicare Advantage plans. Use resources like Medicare.gov, J.D. Power and Associates and CMS to compare plans and choose the one that meets your health care and budget needs.
Frequently Asked Questions
What are the different parts of Medicare?
Medicare has 4 parts named Parts A, B, C, and D. Part A provides hospitalization coverage while Part B provides outpatient coverage, like doctor visits. Parts A and B make up Medicare's core coverages. Part C is provides private-market Medicare plans, called Medicare Advantage Plans. Part C coverage often includes additional benefits. Medicare Part D provides coverage for prescription drugs. Get a Medicare Insurance Quote through the top providers here.
Answer Link
Because there are 4 parts to Medicare, there can be different cost structures. Most people won't have to pay for Medicare Part A (hospitalization). Eligibility for premium-free Part A is based on your work history during which you paid Medicare taxes. Many people do pay a monthly premium for Medicare Part B, however, which covers outpatient medical services, like doctor visits. Deductibles also apply to services covered under Medicare Parts A and B, so you'll pay a part of the annual cost.
Medicare Parts C and D are optional coverages and have premium costs of their own. Medicare Part C refers to Medicare Advantage Plans that offer additional coverage in exchange for a monthly premium. Part D, the prescription plan, reduces the cost of medications but also requires a monthly premium. Subsidies may be available for low income households to help reduce overall Medicare costs.
Answer Link
Do I need to sign up for Medicare?
If you signed up for Social Security before age 65, you were enrolled in Medicare automatically but benefits will begin at age 65. In most cases, there are penalties for not enrolling at age 65, so it pays to sign up on time. Click here to get a medicare quote in minutes from the best providers. 
If you have employer coverage, you may be able to delay Medicare coverage while your work plan is still in force. However, the size of the employer determines whether you'll pay a penalty for not enrolling at age 65. Employees (and their spouses) of companies that offer group health insurance to 20 or more people are usually exempt from late sign-up penalties if they are covered by the employer's plan.
Answer Link