What Happens When Artificial Intelligence Arrives?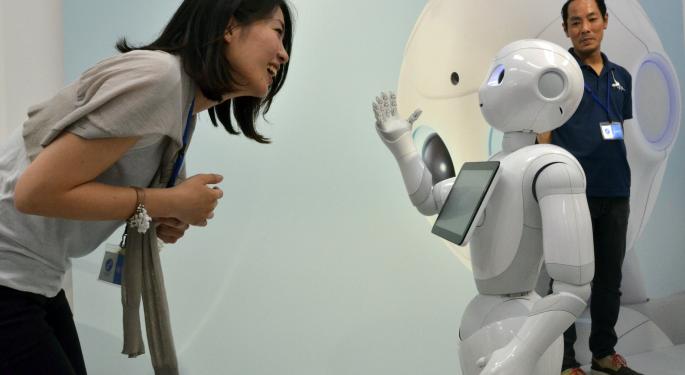 Earlier this year, Tesla Motors Inc (NASDAQ: TSLA) and SpaceX founder Elon Musk made public comments via Twitter concerning his fear of an Armageddon brought on by artificial intelligence.
When promoting a book that details artificial intelligence, "Superintelligence: Paths, Dangers, Strategies" by Nick Bostrom, Musk tweeted the following:
Worth reading Superintelligence by Bostrom. We need to be super careful with AI. Potentially more dangerous than nukes.

— Elon Musk (@elonmusk) August 3, 2014
While the term "singularity" comes to mind (in which humans can no longer control their hyper-intelligent, technological superiors), Musk's bold statement is still nothing more than a wildly contested theory in the scientific community, expanding on the bigger debate of whether or not an artificial intelligence would want to cause harm to organic matter in the first place.
With that in mind, physicist Stephen Hawking has also been vocal about his fears concerning artificial intelligence, and made public statements concerning its dangers.
Related: Why Starbucks' New Mobile Payments Will Be 'Transformational'
In "Future Progress in Artificial Intelligence: A Poll Among Experts" by Bostrom and Vincent C. Müller, the authors come to this conclusion:
"These results should be taken with some grains of salt, but we think it is fair to say that the results reveal a view among experts that AI systems will probably (over 50%) reach overall human ability by 2040-50, and very likely (with 90% probability) by 2075.
"From reaching human ability, it will move on to superintelligence in 2 years (10%) to 30 years (75%) thereafter. The experts say the probability is 31% that this development turns out to be 'bad' or 'extremely bad' for humanity."
While a Terminator-esque future might not be on the horizon, the team behind Vicarious, "a unified algorithmic architecture to achieve human-level intelligence in vision, language, and motor control" according to its website, is backed by Amazon.com, Inc. (NASDAQ: AMZN) founder and CEO Jeff Bezos and Facebook's Mark Zuckerberg, among other high-level investors.
Another Musk tweet captures the appropriate sentiment:
Hope we're not just the biological boot loader for digital superintelligence. Unfortunately, that is increasingly probable

— Elon Musk (@elonmusk) August 3, 2014
Jason Papallo had no position with the mentioned entities while writing this article. Visit Jason on Twitter at @JasonPapallo and @Benzinga.
Posted-In: Artificial Intelligence: A Poll Among Experts Dangers Elon Musk Mashable Nick Bostrom Stephen HawkingTech Media Best of Benzinga
View Comments and Join the Discussion!