7 Tips To Help Pay Off Debt More Quickly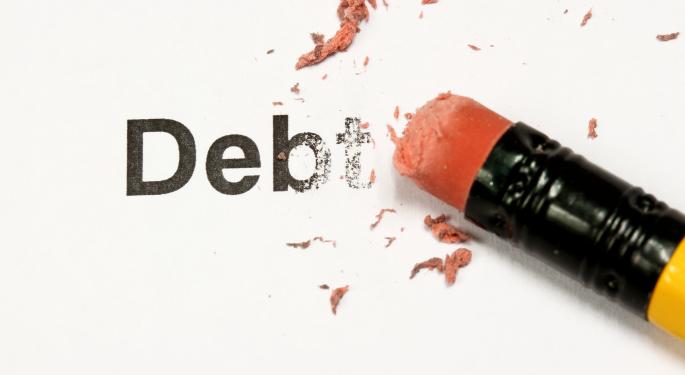 The typical American has some unpaid credit cards, medical bills and other kinds of debt.
Even those who consider themselves relatively debt-free probably have mortgages, car loans or student loans outstanding. No surprise, then, that millions of Americans are constantly looking for new ways to get out of debt.
Here's a look at seven tips you can implement to help you get out of debt more quickly.
Make The Commitment And Be Disciplined
Any resolution to become debt-free will only be effective if you first decide to get out of debt and commit to following a measured and disciplined approach. Without these two essential pillars your "get out of debt plan" will be dead in the water.
Make A Plan To Repay Highest Interest Rates First
Take a look at all of your debts, and organize them by yearly interest rate. When you begin to repay the debts, it is important that you pay the debts with the highest rates first, and then pay the debt with the next highest rate, and so on. This will help you to get the most bang for your buck.
Implement The "Snowball"
Snowballing, when it comes to repaying debts, refers to the act of using the payment amounts for paid off debts to make a bigger dent when paying subsequent debts. For example, say you have three debts with payments of $500 for 24 months at 11 percent, $300 for 18 months at 8 percent and $700 for 36 months at 5 percent.
Related: 4 Good Reasons To Go Into Debt
If you work hard to pay off the $500 per month debt in just 10 months, you would then use that "extra" $500 and apply it to the $300-per-month debt until it's paid. Then you'd use the extra $800 to tackle the finale $700-per-month debt.
Ask For A Rate Reduction
Oftentimes credit card companies will be willing to give you a lower interest rate if you ask. Be warned: It is probably not a good idea to try to reason with them and tell them that you are having a hard time paying off the card, or that if they lower the rate then you can repay it faster.
Instead, tell them that you'd like to make their card your primary choice for making purchases, but they need to give you a more competitive rate first.
Settle Out Collections
By the time a debt reaches collections you have a good chance of repaying it for far less than the original amount, even including penalties. Call the collections company, and ask how much they are willing to knock off the balance. Having funds to pay the agreed upon amount immediately will usually get you a better deal than if you were to make a payment agreement.
Reduce Expenses
This is such a common sense suggestion that it almost seems like it should not be included here. It bears repeating. When looking to get out of debt you should reduce your expenses as much as possible, and use the savings to apply to repaying your debts faster.
Seek Extra Income
Working a second job, working overtime and earning more commissions (for salespeople) have helped millions get out of debt over the years and could work for you, too. Also, consider selling valuables that you may not need.
Posted-In: college loan debt credit card debt debt Debt Consolidation MortgagesEducation Personal Finance Best of Benzinga
View Comments and Join the Discussion!