1 Minute Review
Leave Your Own 1 Minute Review!
TrendSpider is a unique new offering in the world of technical analysis, offering a wealth of automatic features and AI-assisted technical know-how that will wow even experienced traders. Though TrendSpider's software can be expensive depending on the package, professional traders who want to get in, track their stocks and move on with their day will love TrendSpider's focus on customization and personalized alerts.
Best For
Automated Technical Analysis
Automated Dynamic Price Alerts
Pros
Tons of automatic technical analysis tools
Personalized alert settings
Free one-on-one user training sessions.
Cons
A learning curve for new users
Can only be used in a single browser at a time
No desktop platform option
When most people imagine professional day trading, they picture a glamorous lifestyle of $1,000 trades at the push of a button.
Unfortunately, this isn't usually the reality of trading, as every trader worth his or her salt will tell you that for every trade made, hours of research was devoted to figuring out exactly how to make the most out of the stock's daily price movement.
TrendSpider can help you track market trends. Learn more about what TrendSpider can offer in our review.
Who is TrendSpider For?
TrendSpider is a powerful tool for charting and analyzing stock market trends — but the system only works if you know how to use it.
Professional and experienced stock traders will love the depth of TrendSpider's features and clear tutorials.
Newer traders and traders who are still getting the hang of reading candlestick charts can take advantage of free training, extensive videos, and full user documentation to guide you. Training is also not limited to just one session. TrendSpider will talk to you as much as necessary through phone, email and live chat support.
If you're learning to proof check your work, you'll find TrendSpider immensely helpful. TrendSpider will show you things you missed, and you'll become a better analyst because of it.
TrendSpider's Platform and Tools
If you're a statistics or math nerd, you're going to love TrendSpider's impressive and expansive range of tools and features. Some of the platform's standout offerings include:
Automatic trendline detection.

TrendSpider uses algorithms to automatically place and calculate trendlines. Because TrendSpider's application uses data to place trendlines in lieu of the traditional method of "eyeballing" where the line looks about right, users can expect TrendSpider's lines to be more accurate than ones placed manually. TrendSpider is also completely customizable to the user's style of drawing lines.

Automatic Fibonacci retracements.

No more manually guessing where your peaks and troughs are and no more spending your valuable time calculating retracement levels. TrendSpider calculates all of this data and serves it to you within seconds of initiating a request, which will soon be customizable. TrendSpider takes a ton of the guesswork out of technical analysis for more accurate results.

Automated candlestick pattern detection.

Shooting stars, hammers and bear(ish engulfing candles), oh my! TrendSpider's algorithms can detect and highlight over 40 different types of candlesticks, displaying them with easily-recognizable marked segments.

Automated dynamic price alerts.

Set any technical indicator or candlestick pattern for stocks on your watchlist and TrendSpider will automatically fire off an SMS or email notification when your indicated pattern has been spotted. You can create complex, multi-conditional alerts with a mix of lower indicators, upper indicators, moving averages, candlestick formations, and more. You can even set "quiet hours" to stop notifications for hours when you're away — so no need to fear your phone beeping every 15 minutes while you're in a meeting. Check out a snapshot of the alert menu below.

Ability to draw your own trendlines and create dynamic price alerts on your own lines. This is specifically intended to broaden the appeal of the system and ease the learning curve. You can choose to use automated trendlines, your own trendlines or a combination of them. You can also do all the cool things you can do with automated trend line alerts like define buffer zones or sensitivity and configure the confirmation candle timeframe as well.
Multi-timeframe analysis. This is the ability to overlay multiple timeframes on a single chart to view how longer-term indicators and price levels are interacting with shorter-term price action.
These are just a few of the major features TrendSpider offers from a long list of automatic tools. The TrendSpider team also seems to be motivated to continue developing new tools and features, as its website consistently showcases improvements in the software's performance.
If you don't already have a basic grasp of how candlestick and bar charts work or you're still learning how to read and analyze them, TrendSpider's wealth of features may be off-putting and overwhelming.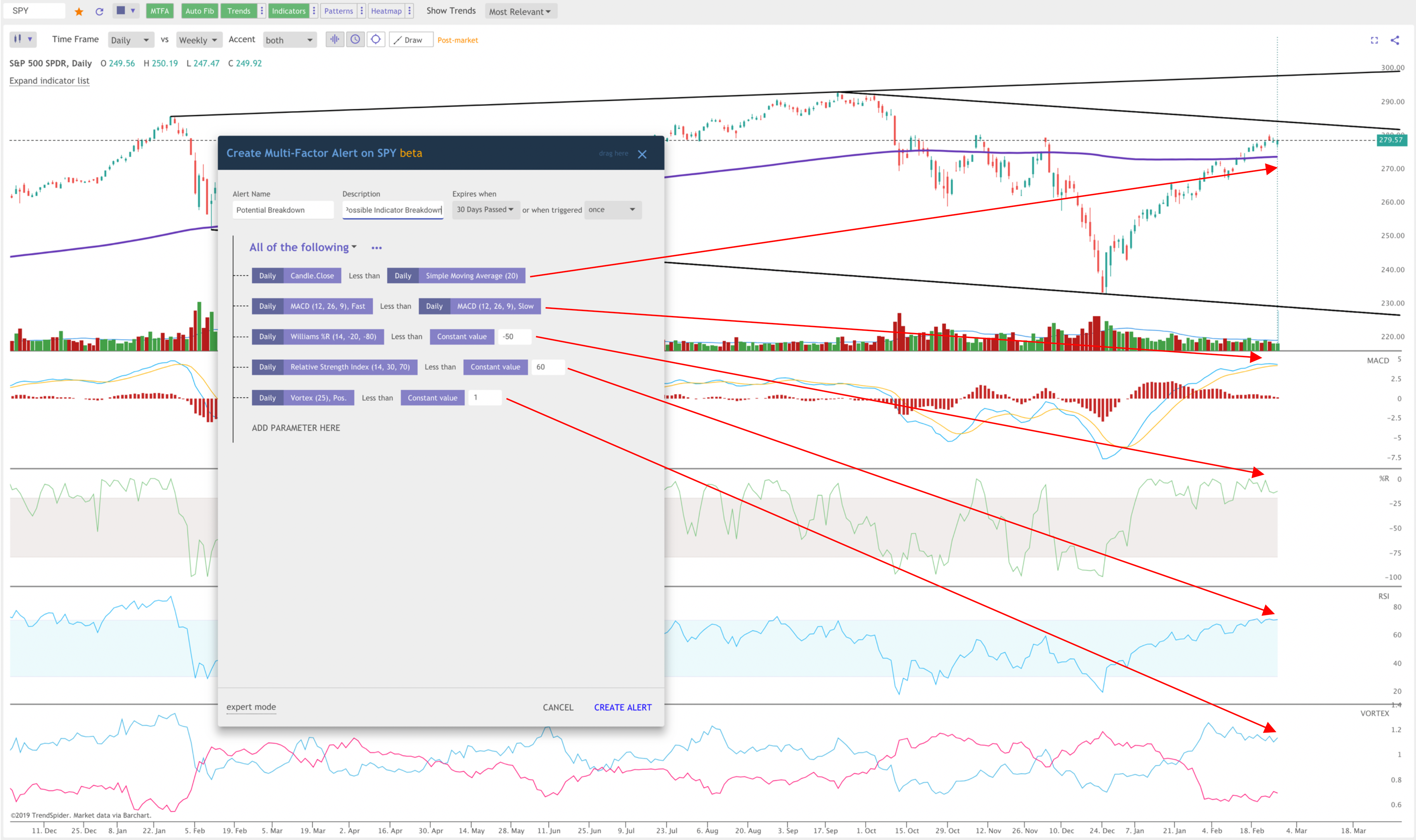 TrendSpider's Research Offerings and Educational Tools
TrendSpider's main educational tools come through the company's YouTube channel. Videos on TrendSpider's channel include introductions and demonstrations that show you how to use some of the application's most unique features, like its heatmap charting and automatic trendline positioning.
It's YouTube videos are clear and concise, and the authors behind the videos are excellent at slowly explaining not only the steps they're taking on-screen, but also how you can apply what you've learned to your own TrendSpider account.
TrendSpider does have a blog but lacks a community forum section, which can be off-putting for newer traders. TrendSpider offers a full strategy guide column to show users different and unique ways to use the software. It also sends regular emails to users with tips on how to use the software and have a full user documentation section.
Want to trade a particular stock later in the day but don't want to sit around at your computer staring at charts all afternoon? Automatic SMS and email alerts from TrendSpider are completely customizable and can even recommend when you may want to buy and sell, allowing you to set an alert and then forget about it until later.
If you're a new trader who wants to learn more about technical analysis and trading before you get started, most of the best online brokerages offer comprehensive trading libraries that you can browse for free if you have an account.
Technical Analysis
Most professional traders use a method called technical analysis to decide whether a stock will increase or decrease in value. Technical analysis is a type of financial analysis that uses mathematical formulas and charting to see patterns in a stock price's movement or the movement of the market as a whole. Technical analysis usually requires hand-drawing trendlines and resistance points on a candlestick or bar chart — and half of the time, these trendlines may be wrong and require re-drawing.
TrendSpider is an automated technical analysis tool that aims to replace the manual portion of traditional technical analysis for more accurate results. TrendSpider focuses heavily on customization tools and indicators and also allows you to set your own alerts and watchlists for a more personal technical analysis experience. Here are some foundational elements of technical analysis:
The market discounts all information into the price of an asset (all information about the company/security that you need to know is reflected in the price. It's all already priced in).

Prices tend to move in patterns.

History tends to repeat itself (price tends to revisit areas that it traded at in the past).

Long term trends are more meaningful and reliable than short term trends (and TrendSpider offers multi-timeframe analysis).

Patterns tend to repeat themselves on multiple timeframes (fractal theory).

Algorithms are better and faster at recognizing these patterns than humans are because they are not subject to emotions, biases, social pressures, and good

ol

' fashioned mess-ups like people are.
TrendSpider's Fees
TrendSpider splits its pricing into three different categories, depending on your trading interests: stocks and ETFs, cryptocurrencies and forex data or its all-in package, which includes access to all four data sets in real time. You can get either of the former packages for between $27 and $39 monthly depending on your billing periods or you can get the Elite package for $69 per monthly.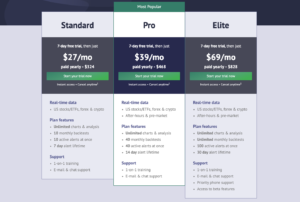 TrendSpider's Ease of Use
The system works efficiently and reliably. TrendSpider has really nailed the user-forward interface and if you understand enough about technical analysis to find your indicators and tools of choice, the application is fun to use and educational to boot.
When you sign up with TrendSpider, you even get access to a free 1-on-1 phone call with a trading expert who will teach you how to use your favorite tools. If you're a professional trader, this might be all you care about, but TrendSpider's website is a whole different story.
For how easy and effortless TrendSpider's application is to operate, its website is very frustrating to use. Pop-ups impede clicking and navigation of the site.
You also can't use 2 concurrent TrendSpider tabs when logged into your account. However, all things considered, TrendSpider is functionally a very solid product — just don't spend too much time outside of the application page.
Try TrendSpider Today
TrendSpider openly admits that there is a "learning curve" to using its platform and that even the most experienced users will want to take some time to play with its tools and watch the developers' YouTube channel before using it as a practical tool to complement everyday trading. TrendSpider offers a unique range of tools and a stellar host of customization options that intermediate to advanced traders can use to enhance trading.
Professional traders who regularly day trade multiple stocks a day will enjoy TrendSpider's alert system, which eliminates the need to sit at your charting software all day and strain your eyes analyzing patterns to decide when the right time to buy and sell should be.
However, if you're still in the process of learning how to read a stock chart or you're not yet confident enough to make your first trade, you're better off sticking with less expensive and easier-to-operate choices until you really get your hands on the ropes.
The only way to know whether or not TrendSpider is truly right for your needs is to give the system a try for yourself. TrendSpider knows this and offers everyone an affordable $7 14-day trial period to learn and test out the software.
If you're considering investing in a TrendSpider subscription, first check out the company's YouTube learning resources to get a feel for what the software can and cannot do, then test out your favorite charting tools with stocks. This will allow you to get the most out of your inexpensive trial period — and leave you with plenty of time to cancel your order if you eventually decide that TrendSpider just isn't your style.
Frequently Asked Questions
Q: How does an ETF differ from a mutual fund?
Both ETFs and mutual funds are managed by fund managers and diversified across many different securities. Many of these funds are designed to track the performance of a major market benchmark or index.
Some mutual funds are actively managed. Mutual funds distribute capital gains even if you haven't sold any shares. This can create unintended tax consequences.
You decide when to sell your ETFs and take capital gain distributions. This gives you more control of when taxable events occur. It also allows you to minimize and control the timing of your tax liability.
Q: How can I figure out my personal risk tolerance?
Risk tolerance refers to how much risk you are willing to endure, and it impacts how you shape your portfolio. You can tune into your gut feeling. If you fear a down market, you may be carrying too much risk. But if you think you're missing out on earnings, your investments could be too conservative. 
There are online quizzes that can help you pinpoint your investing mindset. It's also wise to consult your investment advisor or use the tools and education available through a robo-advisor. The closer you are to the time you need your money, the more conservative your investment approach should be.