Options AI is a next-generation trading platform that aims to level the odds for retail options traders by putting institutional-style spread trading at their fingertips.
Options AI believes that improving access to the higher-probability strategies enjoyed by institutional traders, while letting customers know exactly what's at risk, is just as important as low commissions.
Leave Your Own 1 Minute Review!
Retail investors wanting to upgrade options trading
Those who want a faster, more innovative platform
Investors who need advanced order options but who don't want to pay extra commissions depending on order type
Straightforward and simple investing platform uses AI to enhance investing
Low, standardized commissions that don't vary depending on order size
Free education center that helps you learn more before you invest
Interactive charts
Limited options to contact customer service
Options AI Ratings at a Glance
Options AI Quick Summary
Tradable assets
Stocks, ETFs, single-leg options, multi-leg options and select ADRs Only stocks listed on US-based exchanges are available
Platform
Focused largely on options trading — easy-to-master platform uses a unique blend of AI strategies to help investors anticipate market movements; chart based trading and smarter stock and outright option alternatives
Mobile app
No proprietary mobile app currently available
Mobile website that mirrors desktop trading functionality
Account minimum
$0 on all accounts
Commissions and fees
$5 per executed order, no matter the size or contracts purchased
Also includes multi-leg option orders.
Available account types
Individual margin accounts only at this time
Options AI believes you don't need to pay more for long-options chain orders or more advanced order types. No matter what type of order you place through the platform, you'll pay just $5 to execute the trade.
For example, if you're buying a call option for 100 shares or for 500 shares, you'll pay the exact same total price. This is different than the vast majority of competing options brokers, which charge you a per-contract fee to execute options orders and may charge more depending on the type of order that you place.
This rate is the same for short options as well as stock purchases. If you tend to purchase large lots of contracts in a single trade, this can mean a ton of money saved in commissions.
This fee is the only regular fee you're likely to incur through Options AI. The broker doesn't charge an annual account maintenance fee, a subscription fee, inactivity fee or a fee for failing to maintain a certain account balance.
Options AI also doesn't have a minimum account balance, which means that you can get started immediately. Competing brokers might have minimum balances that range between $100 and $1,000. However, you will need to apply to open your account, and you'll need to wait for Options AI's team to verify your financial information and qualification to trade options before you can open your account. This is a standard practice across brokers that offer access to options trading, as risks are unique when compared to stock trading and long-term investing.
Options AI also offers access to margin trading. Margin interest rates are set at a flat 7.45% interest rate on all debit balances. Lower rates are not extended to users who use more margin, which can be an area where Options AI improves in the future. Options AI also maintains $500,000 of insurance for each of its members from the Securities Investor Protection Corporation (SIPC).
Overall, the broker offers a unique trading structure that offers high-volume investors access to more affordable options trading, especially if they tend to use multi-leg orders or purchase multiple lots in a single order. Option volumes are soaring as retail investors seek a leveraged alternative to stocks. But a bias toward simple, low-probability strategies means that for the average investor, outcomes remain notoriously poor.
We love how easy it is for new investors to get started on the Options AI platform.
Some of the most memorable features that make Options AI particularly welcoming and easy to use include:
Simple and fast account signups. Getting started with Options AI takes only a few minutes. Start by visiting OptionsAI.com, which guides you through each step in the account opening process and why it's necessary. You can also easily explore some of Options AI's most notable features and tools before you open your account. Most users can open an account and get started in as little as a few minutes.
Real-time expected moves and probability estimates. If you're a new investor, you might have a harder time understanding the difference between the many available options order types. Options AI's straightforward system can be a welcome change of pace for all investors, as contract details are laid out in plain English that even completely new investors can understand.
Options AI's infrastructure is based on a real-time movement chart that provides you with probability calculations and break-even points for future options trades. So long as you understand the difference between bullish and bearish predictions, you'll have no trouble exploring options trades and the likelihood of breaking even or seeing a profit with seamless integration.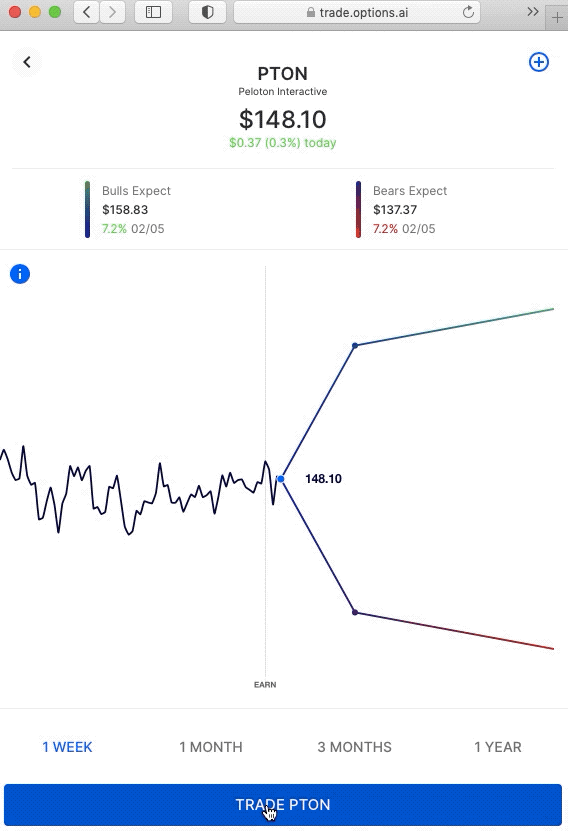 Simply choose a stock and begin exploring potential risk and loss, how the options markets anticipate a stock will change in value and more with just a few clicks. This easy to master format can be ideal for both new investors and those who rely on quick trade executions.
Pre-set up trading tickets. Once you find an option that interests you, setting up an order ticket is all that's left to do. Click on the option you're interested in and instantly view a pre-completed trading ticket that only requires your limit and number of contracts. If you want more advanced options, you can also quickly edit your ticket and generate new options with just a few clicks. From editing your strikes to quantifying how changing your order details will change your maximum risk, Options AI makes it exceptionally simple to execute even advanced order types.
No subscription models and straightforward pricing. If you're an advanced investor and want to execute more complicated options orders, you'll enjoy the same low-priced, straightforward options pricing as those executing simpler call and put orders. This can be a major benefit for investors that frequently place larger trades and who need a more inclusive pricing model. There are also no hidden subscription fees or annual fees — so you can calculate profits with confidence.
Overall, we gave Options AI high marks for useability and signup processes. Most users will be able to begin in a single afternoon, and both new and advanced investors will quickly master Options AI's clean and straightforward interfacing.
Even more complicated order types are easy to begin with, which can also make Options AI an ideal platform for learning more about options trading before you jump into the market.
In addition to a straightforward and informative trading platform, Options AI also offers a range of extra education tools and calendars you can use to inform your investments.
Some of the many features offered by the broker include:
Earnings calendar. Knowing when the assets in your portfolio will report their earnings can be crucial to your trading strategy. Get advance notice of upcoming earnings reports with Options AI's free earnings calendar.
Educational articles. If you're a new investor, you might not yet know the difference between the many types of options. Thankfully, Options AI provides users a free library of articles and videos that take a beginner-friendly approach to trading education. Articles use side-by-side comparisons taken directly from the Options AI trading platform — so you can put your knowledge to good use as soon as you're finished.
Prefer to watch a demonstration to learn how to master a platform? Options AI also has a YouTube channel where you can view a few sample orders and get a better idea of how the platform works before you open an account.
Expected move calculator. Options AI incorporates intelligent software into its capabilities through its expected move calculator. Search for the most active stocks last week or input your own custom ticker to see what both bulls and bears are anticipating in the next weeks. This can be a crucial tool for planning your investing week ahead of time.
All educational tools are available for free, and you don't need to be logged into your Options AI account to start exploring.
Options AI currently offers limited routes to contact its customer service team.
By email. To get in contact with Options AI by email, send a message to support@optionsai.com. For the quickest possible service, it's best to send your message directly through the email account associated with your Options AI account.
In addition to email support, Options AI also offers a comprehensive FAQ that answers some of the most common questions. If you need a quick answer, be sure to take a look before sending an email.
In the future, we'd love to see Options AI introduce a customer service phone number or online live chat option to keep up with competitors.
Options AI currently supports 3 asset classes:
U.S.-listed stocks and ETFs
U.S.-listed stock and ETF options
Select ADRs
Though you can trade stocks on Options AI, the platform doesn't support shorting.
Options AI currently supports the following option strategies:
Long call
Long put
Long call spread
Short call spread
Long put spread
Short put spread
Short iron fly
Short iron condor
Options AI supports defined risk strategies only at this time.
Options AI doesn't currently offer a proprietary mobile app. However, its interface has been well-formatted to support most mobile browsers, which means that you won't have trouble investing on-the-go with the broker's streamlined website and simple order placements.
In the future, we'd love to see Options AI develop its own mobile application.
Options AI can be an excellent choice if you're searching for a smarter way to trade options. Using its unique price prediction technology, you can see how each asset may perform in the future before you invest.
Even new investors will be able to quickly master the platform and start learning more about options. Advantageous pricing (especially for larger investors) is all the more reason to start with Options AI.
There are a few places where Options AI can improve. In the future, we'd love to see the broker extend its customer service options to include phone support and offer more affordable margin rates for high value investors. However, most users will find plenty to love with Options AI's intuitive and simple interface.
Submit Your One Minute Opinion
Benzinga's #1 Breakout Stock Every Month
Looking for stocks that are about to breakout for gains of 10%, 15%, even 20% potentially or more? The only problem is finding these stocks takes hours per day. Fortunately, Benzinga's Breakout Opportunity Newsletter that could potentially break out each and every month. You can today with this special offer: