Looking for the easiest way to start investing in real estate? Fundrise lets you start building a profitable real estate portfolio with as little as $10. Get Started
Buying a rental property can be a great starting point for real estate investors. There are several different ways to attain properties, as well as several funding options available.
The real key is in understanding the right way to go about it, and that depends upon each individual long-term goal and financial situation. Anyone can have a successful investment future in rental properties with the proper tools and real estate knowledge. Start with our guide to learn how to buy rental property now.
Benzinga's Favorite Real Estate Investment Offerings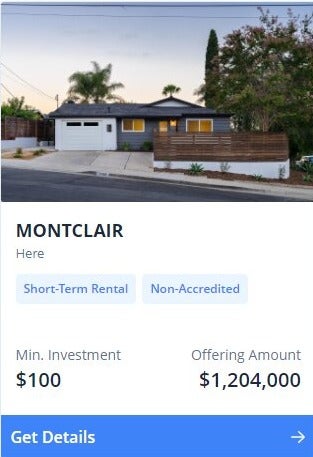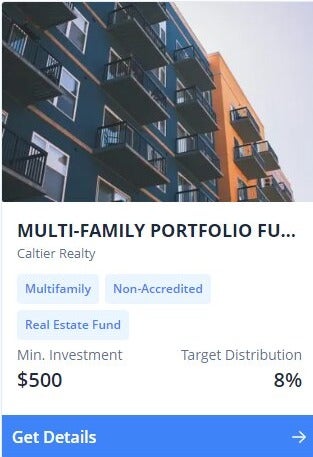 Who Should Buy a Rental Property?
Investing in the real estate market is a great investment opportunity because anyone can do it. Even owning just 1 rental property can offer financial stability and passive income. Anyone who can take the time and put in the effort to research neighborhoods, schools, crime, property taxes, and vacancy rates in a particular area can invest in a rental property.
In addition to everyday investors interested in a residential rental property, businesses can profit from owning a commercial rental property. Say a business rents a space in a building. They will be one of the first ones to know when the entire building goes up for sale and can buy out the whole building. Then that business can begin collecting rent from all of the other tenants in the building, while keeping their business comfortably in the same location, just with extra income now coming in from their investment.
Businesses can also establish rental divisions to diversify their investment property. Businesses can rent out apartments or retail space within the building or buy out a nearby building as residential rental property or commercial rental property. With a knowledge of the area and the market, a business has a great understanding of what type of rental is needed in that particular area and can take advantage of that knowledge.
Whether opting for investing in commercial or residential real estate, the end goal is making a profit. With a rental property, an investor can make a steady, reliable income. With leases in place, you can count on that money coming in for the duration of the leases, on however many rental properties you own. The result is a steady stream of passive income, as long as you always have tenants lined up and no major gaps in leasing.
Anyone interested in owning a rental property needs to know about the tax advantages. Although this type of investment may seem like a huge undertaking, there are deductions on a rental property that can help offset some of the costs. For example, landlords may be able to deduct operating expenses such as insurance, repairs, mortgage interest, travel costs, even attorney and advertising fees. It's worth a conversation with your tax advisor to see what deductions are possible in your individual situation.
Further, a rental property can be housing or business security in some circumstances. If something happens to your primary residence or work office, you may have the ability to move yourself or your business into a property that you already own. This can save you time and money, not to mention a major headache trying to find a new place.
How to Acquire a Rental Property
There are several different ways you can acquire a rental property. Here are a few of the most common:
Rent out your home. The simplest way to acquire a rental property is to move out of your current home and rent it out instead of selling it. Many people do need the down payment from selling their current home in order to purchase a second. If you don't, it can be a great opportunity to start renting to tenants. It's also a plus because you already know the ins and outs of the home, the maintenance included, the fees associated and the ages and functions of the major systems. This would be a great opportunity for anyone looking to downsize or relocate. In addition, it's faster and usually much easier to get a tenant in and begin collecting rent rather than finding a buyer, depending on your market. The selling process can take months while renting can take mere weeks. And in the long run, you could end up making even more off of the house, especially if it's in a good location, in good condition, and you don't owe much on the home.
Get a second loan. Another option to get started with your real estate investment is to get a second loan for a rental property. Generally, the down payment for a rental property is about 20 to 25%. However, there are many options for non-owner-occupied loans and competitive interest rates.
Take out a commercial loan. As a business that wants to purchase a commercial rental property, or even any developer or investor interested in commercial properties, a commercial loan is a typical go-to. Purchasing a commercial rental property has its advantages, such as longer leases (5 to 10 years as opposed to a 1-year residential lease) and options like triple net leases, which make the tenant responsible for all of the expenses of the property, including rent and utilities, maintenance and even real estate taxes and building insurance.
Keep in mind that if you own a business and you want to acquire a property, you may need to pay the prepayment penalty on the seller's loan. Due to paying their loan off early, some lenders can enforce a penalty for their lost interest. The fee is typically a percentage of the prepayment based on the timing of the payoff.
Alternative Forms of Real Estate Property Investment
If you don't think owning a rental property is the right route for you, there are alternative real estate investments you can consider. The market has opened fractional opportunities, so you can invest with just a minimal commitment. Here are some of the most common alternative forms of real estate property investment:
REITs: Real Estate Investment Trusts, or REITs, are another investment opportunity for those interested in real estate. REITs are companies that own and operate income-producing real estate. They generally deal with commercial real estate such as apartment buildings, offices, retail shopping centers, etc. The great part about REITs is that as the investor, you put money into the company and receive dividends quarterly based on your investment. You do not have to maintain or own any real property. Unfortunately, you also don't have much control over specific properties that you are investing in, but the idea is more of a hands-off approach to investing. The REITs manage and control the properties and tenants, paying out at least 90% of their profitable income to shareholders.
Crowdfunding: Another great alternative in real estate property investing is real estate crowdfunding. Through crowdfunding, varying amounts of money are raised by several investors, typically over the internet. It's a great way for entrepreneurs to team up with investors and grow their business, or at least get it started. The investment money raised is used to fund a project or real estate venture. Billions of dollars have been raised over the years through this alternative financing platform.
Benzinga's Best Real Estate Investment Platforms
Getting started with a real estate investment can be intimidating and confusing. Benzinga is here to guide you through your investment journey with the best investment platforms to utilize for a successful future.
Must be accredited investing a minimum of $25,000.

Beginner real estate investors

Commercial Real Estate Investors

Newer accredited investors
The Bottom Line on Buying Rental Property
Many people don't realize how easy it really is to buy a rental property. Once you get started investing in properties, more opportunities, options, ideas and rental properties pop up. Before you know it, you may just have a serious stream of rental income coming and the capital for more investment.
Frequently Asked Questions
Questions & Answers
Do you need 20% down to buy a rental property?
In a short answer – yes. Now, you may be able to squeak by at 15% for a single-family home depending on the loan type, but in general, you need at least 20% down for most rental properties. This is mainly because mortgage insurance isn't offered on rental properties.
Is rental property really a good investment?
Owning a rental property can be a great source of income. Owning several, or multi-family complexes or commercial real estate can be an even greater source of income. It's all about your end goal and your knowledge of the market. A good investment is one that is thoroughly researched and makes a profit. Rental properties are an excellent investment when done right.
Accelerate Your Wealth
Arrived Homes allows retail investors to buy shares of individual rental properties for as little as $100. Arrived Homes acquires properties in some of the fastest-growing rental markets in the country, then sells shares to individual investors who simply collect passive income while waiting for the property to appreciate in value over 5 to 7 years. When the time is right, Arrived Homes sells the property so investors can cash in on the equity they've gained over time. Offerings are available to non-accredited investors. Sign up for an account on Arrived Homes to browse available properties and add real estate to your portfolio today.