With the addition of many investment products, platform enhancements, and service offerings, what's the best way to tease out the differences between E-Trade and Fidelity? We tested, measured and compared to show you the best of both.
Brief history of Fidelity and E-Trade
In the 1980's Peter Lynch made Fidelity a household name by taking the Fidelity Magellan Fund from $18 million in assets in 1977 to $14 billion in 1990. Today, the company holds a massive $6.9 trillion in assets under management in over 27 million accounts. A full-service brokerage, Fidelity offers everything from checking accounts to active funds.
Many consider E-Trade the pioneer in online investing. Founded by William Porter in 1982, E-Trade grew alongside the internet, only to crash with the dot-com bubble. E-Trade maintains its original emphasis on empowering individual investors. E-Trade focuses more on advanced investors with a suite of screeners and technical analytics.
How they compare
Today, E-Trade and Fidelity are some of the most well-known brokerages in the game. We broke down their similarities and differences based on account types, fees, securities and platform, among other features.
Feature 1: Account types
Both cover most common accounts. However, E-Trade provides clients high-yield checking and savings accounts.
| | | |
| --- | --- | --- |
| Account Types | Fidelity | E-Trade |
| 401(k) | ✓ | |
| Roth IRA | ✓ | ✓ |
| Taxable IRA | ✓ | ✓ |
| Rollover IRA | ✓ | ✓ |
| SEP IRA | ✓ | ✓ |
| Joint | ✓ | ✓ |
| Traditional IRA | ✓ | ✓ |
| Custodial | ✓ | ✓ |
| Trusts | ✓ | ✓ |
| 529 | ✓ | |
| Annuities | ✓ | ✓ |
| Savings | | ✓ |
| CDs | ✓ | |
| Money Market | ✓ | |
| Checking | ✓ | |
| Coverdell | ✓ | ✓ |
| Non-Profit | ✓ | |
Fidelity offers an interesting advantage with its combination accounts. Brokerage and cash management accounts allow you to receive the benefits of a brokerage account as well as FDIC insurance on deposits.
Features 2: Fees
E-Trade offers better pricing for clients that make more than 30 trades per quarter. Stock commissions drop from $6.95 to $4.95 and options contracts drop from $0.75 to $0.50.
Until a few years ago, Fidelity charged $7.95 per stock trade. Today, Fidelity charges a mere $4.95 per trade. Unlike E-Trade, it does not require a minimum number of trades in a quarter.
securely through ETrade's website

securely through Fidelity Investments's website
Feature 3: Platform and tools
E-Trade
Since its beginning, E-Trade focused on giving sophisticated investors the tools they need.
OptionHouse platform
The desktop platform contains slick, advanced charting for in-depth analysis. The platform's side panels offer quick access to customizable information about accounts and orders and the center cockpit displays interactive charts along with a redesigned option chain.
It features a professional-grade charting package adds 10 chart types and new pre-built studies along with intuitive charting tools.
Web platform
The web platform provides many of the same features found in the desktop software. Users can access third-party analyst research, quotes, news, and charts. This platform makes it easy to create screeners and alerts. Newer traders and retirement planners can find educational resources and tools here as well.
E-Trade offers users a choice between the OptionsHouse advanced trading app and the E-Trade mobile app.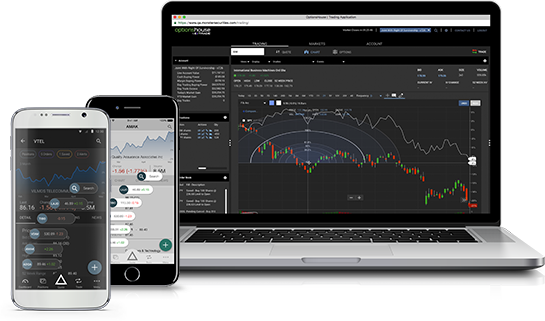 Fidelity
Although Fidelity offers advanced analytics, it focuses more on education and research for beginning traders.
Active Trader Pro
Fidelity offers the Active Trader Pro as its desktop program and as a web application. It has charting allows for pre-built studies with an array of indicators and features advanced analytics that bring in pattern recognition from Recognia.
And, its simple to use. Window interfaces make it easy to customize layouts across multiple tabs and has integrated news and research bring in third-party content for breaking information.
The Fidelity website
The Fidelity website allows for more in-depth research and education on investments, where traders can view order flow for other Fidelity customers' stock trades. It provides screeners on stocks, bonds, and options based on pre-built strategies or custom criteria.
Options calculators allow you to see profit and loss calculations for a trade idea.
Mobile application
Fidelity's mobile application offers investors and traders a simple interface to check balances and place trades. New apps allow customers to view account balances without logging in. Clients can log into their accounts using their fingerprint.
The mobile app gives users the ability to view market commentary and trade ideas.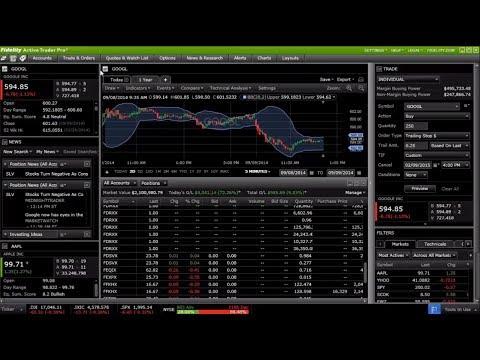 Feature 4: Research and education
Neither company lacks in research and education for investors. The difference comes in whom they better serve.
Fidelity
Fidelity tries to be everything to everyone. Its education and research reflect this approach. Investors can access everything from market commentary to the basics of bonds.
Advanced traders and quantitative analysts see just as much value in its content, and Wealth Lab offers a great tool for advanced analytics. However, Fidelity offers little support and advice on how to use the program.
E-Trade
The research and education provided by E-Trade comes up a bit short. Its fundamental analysis hits the basic points of what you would expect.
However, E-Trade's technical analysis knocks it out of the park. Beyond providing Market Edge reports, its platform enables users to dig into charts and technicals. While most of these items come with Fidelity's platform, the interface and navigation in the OptionsHouse platform is cleaner and easier to use.
Feature 5: Investment selection
Both E-Trade and Fidelity offer trading in the major asset classes:
Stocks

Bonds

Mutual funds

Options
If you want to trade futures you won't find them on Fidelity. Only E-Trade provides futures trading between the two brokerages.
Fidelity outclasses others when it comes to funds. They offer many Fidelity managed funds that range in management style and investment strategy.
Feature 6: Customer service and support
Increased competition forced both to step up their service game.
Clients can reach E-Trade and Fidelity representatives 24/7 through phone or online chat. Although both have retail locations, Fidelity maintains thousands of locations around the U.S.
Final thoughts
If you're new to trading or need a lot of advice, Fidelity will be your best bet. Fidelity's planning and education can help you create a retirement plan without an advisor.
However, if you're a day trader or enjoy the active art of technical analysis, you'll find a better home with E-Trade. Fidelity isn't far behind, but its support for advanced traders still lags.