Delta crypto tracker is an iOS and Android app that keeps track of your cryptocurrency holdings and trades in real-time on your mobile device. Delta was started in October 2017 and sold to eToro in November 2019. 
The Delta crypto tracker app is highly rated as the best and most intuitive app of its kind, both for its functionality and its interface. The app monitors the latest values of Bitcoin, Litecoin, Ethereum and over 7,000 altcoins and charts cryptocurrencies and your positions in your local fiat currency. You can set alerts on the app and keep track of cryptocurrency news on the app's news feed so you don't miss out on any potential trading opportunities. 
The app has support from more than 300 cryptocurrency exchanges and includes a portfolio manager that keeps track of your cryptocurrency portfolio's value with its profit/loss shown for the last hour, the previous 24-hour period, the last week or since you began trading. The portfolio manager also generates a personal portfolio graph where you can see the progress of your positions in BTC, ETH or any fiat or cryptocurrency. 
Delta crypto tracker also allows you to set up unlimited different crypto portfolios that let you track portfolios from different owners or that use different strategies. The app gives you a detailed overview of asset splits, sources and locations, the most used exchanges and the status of your positions. 
Delta crypto also lets you customize your own personalized watchlists and market overview, and the app automatically generates personalized notifications based on your behavior using it. If you use several devices for your trading, Delta crypto lets free users keep 2 devices in sync, while PRO users can have as many as 5 devices synced.
Cryptocurrency traders with multiple portfolios
Frequent crypto traders
Those who require detailed cryptocurrency market and portfolio analysis on-the-go
Over 7,000 supported cryptocurrencies
Multiple crypto portfolio tracking capability
Simple setup for connecting wallets and exchanges
Personalized notifications and watchlists
Companion desktop version for Windows, Mac and Linux OS
PRO upgrade somewhat costly
Buy/sell prices not auto-populated when entering new trades
Delta Crypto App Ratings at a Glance
Disclosure: ²Sum of median estimated savings and rewards earned, per user in 2021 across multiple Coinbase programs (excluding sweepstakes). This amount includes fee waivers from Coinbase One (excluding the subscription cost), rewards from Coinbase Card, and staking rewards. ³Crypto rewards is an optional Coinbase offer. Upon purchase of USDC, you will be automatically opted in to rewards. If you'd like to opt out or learn more about rewards, you can click here. The rewards rate is subject to change and can vary by region. Customers will be able to see the latest applicable rates directly within their accounts.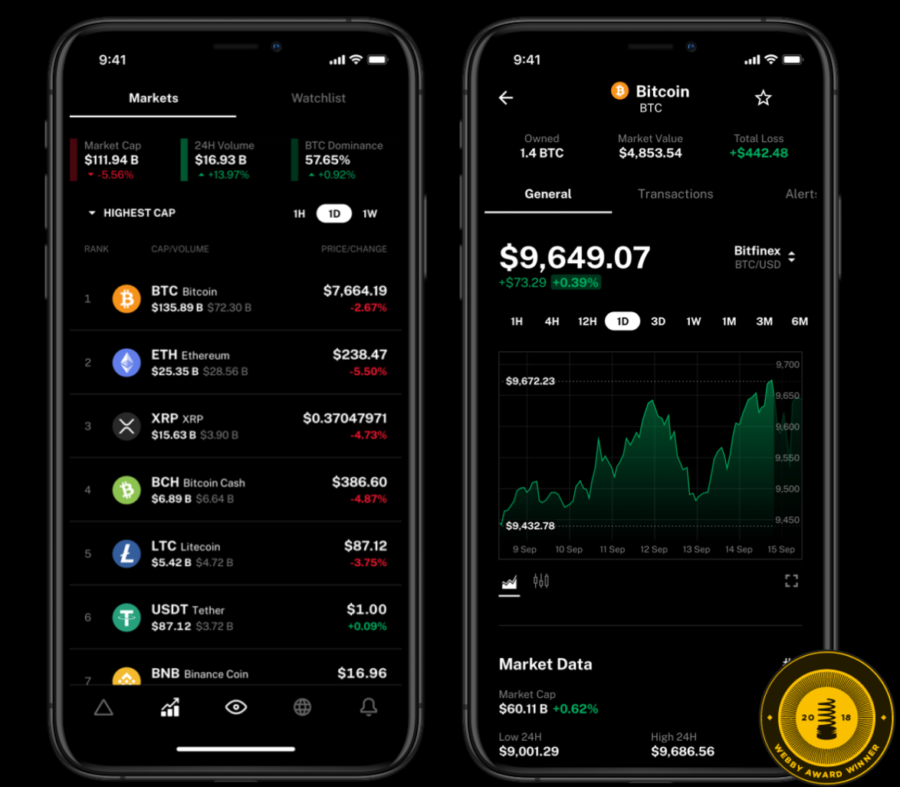 The Delta crypto tracker mobile interface. Source: Delta.app
securely through Delta App Direct's website

Beginners & sophisticated investors
Delta supports cryptocurrencies, NFTs and stock tracking, providing live updates on coin prices, market charts and alerts for significant market shifts. It boasts numerous features that establish it as a powerful investment tracker. Here's an overview of its offerings.
Crypto Portfolio Tracking and Management
Delta is the ultimate crypto tracker and portfolio management app for crypto traders or investors. It supports a broad range of cryptocurrencies, encompassing Bitcoin (BTC), Ethereum (ETH), Litecoin (LTC) and over 10,000 altcoins and tokens across various blockchains. Delta lets you track these crypto assets' prices, market cap, volume, supply and historical data. Additionally, you can access the latest crypto news articles, social media posts and notifications related to your digital asset holdings directly from within the app.
Delta provides personalized notifications based on your in-app behavior to keep you informed, ensuring you take advantage of your next big crypto investment. Delta enables you to connect your portfolio with your preferred crypto exchanges and wallets. It supports over 300 crypto exchanges and wallets, including platforms like Coinbase, Binance and MetaMask, to facilitate tracking of transactions, airdrops and exchange fees. You can manually add and track your diversified holdings.
Delta provides valuable features to help you manage your crypto portfolio and properly make sound investment decisions. It grants you a crystal-clear overview of your crypto portfolio performance regarding total portfolio balance, total profit/loss since you started investing or since the last 24 hours, percentage change (daily/weekly/monthly/yearly), fees paid (per coin) and average buy price (per coin). You can visualize the trend of your cryptocurrency investments through the personalized portfolio graph.
Delta provides a comprehensive overview of your asset allocation, sources of assets, their location, your most frequently used exchanges, trade history and the current status of your investments. Additionally, you can assess your portfolio diversity by categories (Bitcoin vs. Altcoins), market capitalization (Large Cap vs. Small Cap) and sectors (DeFi vs. metaverse). It allows you to compare your portfolio's performance against other portfolios or specific crypto assets over time, like measuring its performance against Bitcoin or Ethereum for the last month or year.
Stock Portfolio Tracking and Management
Delta is one of the market's best and most popular stock trackers. It enables investors to monitor stocks spanning global markets, including the Nasdaq exchange, the New York Stock Exchange (NYSE), Euronext, HKEX and more. You can track up to 3,000 small, mid and large-cap stocks from various U.S., U.K., European and Asian companies. You can seamlessly connect your brokerage account to facilitate automatic tracking of transactions and brokerage fees. Delta supports the most prominent global exchanges, including Interactive Brokers, E*TRADE, Robinhood, eToro and Fidelity.
You can track current prices, the latest trend charts, your equity holdings and profit/loss for each asset in your stock portfolio. Alternatively, you can add specific stocks to your following list to monitor only selected equities. Delta also excels in stock portfolio management, offering a clear overview of your overall portfolio balance and total profit/loss since you started investing or over the past 24 hours. You can analyze the trend of your equity investments through a personalized portfolio graph, which can be customized to show different time ranges for trend analysis.
You can create unlimited distinct stock portfolios, enabling you to track portfolios from different owners or with various strategies. You can compare your portfolio's performance with the S&P 500 over the past month or year and monitor fiat currency rates across different countries worldwide. Soon, investors will also be able to access a comprehensive analysis of their trade history, industry-specific stock splits, portfolio performance relative to the market and additional insights.
NFT Tracking
NFTs are unique digital assets representing ownership or proof of authenticity of digital or physical items using blockchain technology like Ethereum, Binance Smart Chain and Polygon. They can be a potentially good investment because they offer scarcity, provable ownership and the ability to tap into various markets like art, collectibles and virtual real estate, potentially providing long-term value for collectors and investors. Delta is the go-to mobile NFT explorer for diverse traders and NFT communities.
You can gain a comprehensive view of all your digital collectibles and access other innovative features by simply and securely connecting your ETH wallets, including MetaMask, to Delta. You can establish this connection automatically or manually. Either way, Delta offers clarity and convenience for managing your NFT assets. You can monitor your wallets, those of friends and those of the world's top NFT investors. Delta's smart notifications ensure you stay updated on the latest NFT developments.
Delta's NFT Explorer lets you browse hundreds of thousands of NFTs and collections easily, facilitating your discovery of new collections and enhancing user experience. In the Spotlight section, you can refine your preferences to discover collections based on criteria such as trading volume. This feature allows you to find collections that align with your interests. You can follow any NFT or collection. Delta's innovative price change algorithm ensures you receive updates when the floor price experiences significant movements.
Salient Features and Functionalities of Delta Investment Tracker
Besides its multi-asset tracking and portfolio management capabilities, here are the core features that make Delta an excellent tool for your investment journey.
Asset Details and Portfolio Analytics
Delta provides a comprehensive overview of every asset in your portfolio. Details, including price charts, coin trading volumes, depth charts, market capitalization figures and various essential fundamental and technical metrics, are readily available. Delta provides access to asset-specific news articles and details about the holdings in your portfolio. Delta's Portfolio Analytics provides an in-depth analysis of your cryptocurrency holdings, displaying your portfolio's coin breakdown, composition and balance history on the analytics dashboard.
Watchlist and Customizations
Delta's watchlist and market features streamline multi-asset monitoring. You can easily add any asset to your watchlist within the app, making it accessible for quick price checks on your app's home screen. You can add cryptocurrencies, stocks and major indices, such as the S&P 500 or the FTSE 100, to your watchlists to stay informed about market trends. Delta provides investors with account customization options tailored to their preferences. For example, you can set your crypto portfolio balance to display in local fiat currency, BTC, ETH or any secondary currency you choose. Balances for traditional assets are shown in local fiat currency or any secondary currency you select. You can customize Delta to hide your portfolio balance and assets you no longer hold, and you can personalize your price alerts.
Robust Integration
Delta integrates seamlessly with 1,600+ brokerages and over 300 crypto exchanges and wallets. This feature streamlines investment management by consolidating diverse financial assets and accounts into one accessible platform. You can link your Delta dashboard to your crypto exchange accounts using APIs and your crypto wallets by inputting your public wallet address. You can manually sync your exchange and crypto wallet connections.
Broker account connection is partly done manually. Depending on your brokerage or bank account's capabilities, you can import only your account balances or import both your balances and transaction history during broker connections. Brokers may not always provide the entire transaction history via integration, particularly for margin trades, conversions and wire transfers, which may need manual addition. Delta strives to import all transactions accessible through the connections.
Smart Notification, Price Alerts and Delta Direct
Delta allows investors to configure notifications and price alerts for assets in their portfolios and watchlists. This feature lets them receive notifications when an asset reaches their predefined price level. You can set a price alert that notifies you when the price of your selected assets rises or falls below your fixed price, enabling you to take appropriate actions in response to asset price changes. Additionally, suppose you're developing a blockchain-based asset. In that case, you can connect your social channels and project details to Delta through Delta Direct; that way, prospective investors can better understand your project and the opportunities it presents them in the market.
Data Synchronization and Back-up Across Devices
Delta simplifies data transfer and synchronization between devices, using a recovery QR code without requiring accounts. Alternatively, if you prefer using accounts, you can effortlessly connect through your eToro account to regain access to your portfolio.
Delta offers customer support via email and live chat on the company's website. Responses might take about an hour, which is disappointing. However, you can get any information you need from the Help Center. It serves as a comprehensive repository of carefully curated questions and answers that can address your queries, reducing the need to contact customer support. Potential questions or complaints are categorized into various topics, including general inquiries and personalization, with detailed articles explaining each subject within the respective category.
Additionally, Delta maintains a strong and active presence on popular social networking platforms, including Twitter, Instagram, Facebook, LinkedIn and Telegram, where it posts market reactions and investment updates, especially on crypto. These channels offer an alternative means of connecting and engaging with the team and the broader trading community to share trading knowledge and learn from others.
For educational purposes, you can visit the blog page, which features regularly updated weekly investment updates and crypto roundups to assist you in your daily investing journey. Suppose you're looking for information about app updates, new features and other company-related details. In that case, you can find it on the Press page. Delta has an impressive App Store rating of 4.7/5 from over 2,800 reviews. Comments were overwhelmingly positive, with users acknowledging the app's simplicity, intuitive design and user-friendly interface. However, Delta could offer phone support or enhance the responsiveness of its live chat services.
Delta highly prioritizes the security and privacy of users' data, employing diverse measures to protect them. It uses robust and state-of-the-art encryption protocols and firewalls to protect data in transit and at rest, preventing theft and access by unauthorized third-party cyber actors for malicious purposes. The data is further backed up in a cloud in a secure manner. Delta does not store your API keys on its servers; they remain solely on your device. Additionally, you have the option to only use API keys that grant Delta read-only access to your data without the capability to trade or withdraw funds.
To enhance security against unauthorized access, you can safeguard your app with a Passcode or face ID, ensuring that only authorized users can access it. Delta highly recommends the activation of 2FA. Any personally identifiable information collected while using the platform is used mainly for personalized service delivery and marketing and is not sold or shared with a third party except on consent or to fulfill prevailing judicial injunctions. You can review the company's privacy policies for a more constructive understanding of how it collects, uses and protects data.
Delta is transparent about applicable fees associated with the usage. You can download the app and use some of its tools and charting features for free. However, while you can access all the 10.000+ assets, this freemium package allows you to connect only two crypto exchanges. To unlock Delta's full benefits and available tools, you'll need to upgrade to the premium version — Deltra Pro. This costs $9.99 per month or $99.99 billed annually. On subscription, you have an unlimited connection to exchanges, wallets and brokers and access to the portfolio insight module, which provides in-depth analysis of your investments. However, that's not all the features that Delta Pro offers. Other features include:
Advanced metrics: These encompass proprietary statistics designed to assist you in evaluating the robustness of your investments via portfolio analytics. It offers a deeper insight into your portfolio, including realized and unrealized gains.
Live pricing: All Delta users can view the current prices of cryptocurrencies and traditional assets in their portfolios and exchanges. However, for Pro subscribers, the Delta app automatically refreshes to provide real-time prices from major stock and crypto exchanges. This process simplifies your search for the next investment opportunity by eliminating the need to manually refresh your screen every few minutes, ensuring you have up-to-the-minute data at your fingertips.
Extended hours: Delta Pro lets you assess an asset's performance beyond regular market hours, offering pre-market and after-hour prices for supported exchanges. You can access PRO-exclusive explanations for an asset's daily movements, both current and historical, for assets you follow.
Device synchronization: With Delta Pro, you can synch to up to five devices compared to two for freemium users. Additionally, you enable monochrome mode to give your interface a sleek and more pro look.
You can subscribe to Delta Pro via in-app purchase on Apple's App Store (iOS devices) or Google Play Store (Android devices). You can also pay with cryptocurrency — BTC or ETH.
Delta offers a highly customizable mobile app for iOS and Android devices. The app makes for excellent ease of use, catering to beginners and experienced investors. Its intuitive interface ensures that essential features are easily accessible, making it a user-friendly platform. The app offers robust compatibility, supporting a wide range of devices and operating systems, ensuring accessibility for a broad user base. The ability to customize portfolios and set up price alerts enhances the user experience, allowing investors to tailor the app to their preferences.
Delta's mobile app combines ease of use, compatibility and customizable features to create a positive and efficient user experience. Its vast user base and impressive App Store rating of 4.7/5 reflect its overall user experience. You can contact the customer team via email, telegram or social media for queries about the App usage. Although a response might take long, Delta is backed by dedicated professionals ready to assist and address your concerns. Again, you can access most information regarding your inquiries via the Help Center. 
Delta seems designed to optimize user experience with its sleek and intuitive interface that simplifies asset tracking and management. It accommodates a wide range of assets, from cryptocurrencies to stocks, allowing users to consolidate their portfolios in one convenient location. Users can personalize their experience through customization options like watchlists, price alerts and portfolio configuration. Real-time data updates keep users informed of the latest market information, ensuring a seamless and user-friendly experience.
The onboarding process is super fast and takes a little under five minutes. First, you need to download the app from the Apple App Store if you're an iOS user (Google Play Store if you're using an Android device). Once you've completed the download and installation, open the app and create your account with your email and password. You can also sign up with your Google account and Facebook. This account creation is done via eToro, which makes sense since eToro owns the app. If you have an eToro account, you can use it to sign in instead of creating another account.
Upon completing the signup process, navigate to the settings section to configure your preferred language, currency and other settings, such as viewing options and security preferences. It's important to note that most settings and customization options are exclusive to Delta Pro users, clearly indicated by the Pro label alongside them. You can subscribe and pay the associated subscription fees to access these features. Subsequently, you can add your holdings by linking your account from various brokerages, exchanges or wallets. Alternatively, you can add your holdings manually. Benzinga considers Delta highly recommendable.
Delta Investment Tracker vs. Competitors
Delta has many competitors, including Kubera and BlockFi, which are excellent investment tracking apps like Delta. However, following the collapse of FTX, which acquired BlockFi in mid-2022, using BlockFi could present significant privacy challenges and is not advisable. Delta's strongest competitor remains Kubera. Delta is a mobile app designed to provide streamlined access while on the go, primarily optimized for smartphones and tablets, while Kubera is a web app.
Unlike Delta, Kubera tracks DeFi, homes, cars, precious metals and domains in addition to cryptocurrencies, NFTs and traditional assets. Delta's pricing offers a competitive advantage, with the premium accounts priced at $99.99 per year compared to Kubera's $150 per year (its lowest subscription service). Additionally, Delta provides a freemium version with a range of features, whereas Kubera offers a 14-day free trial for $1. Delta provides curated news for assets and markets, unlike Kubera. Both trackers are more alike than they're dissimilar.
securely through Delta Crypto App's website

Beginners & sophisticated investors

securely through Kubera's website
Delta is a versatile and possibly the best multi-asset investment management and portfolio tracking app. Its intuitive user interface and customization options streamline ease of use for novice and experienced investors. Delta's pricing for its premium services is competitive and more than aligns with the range of features and tools available. It offers a freemium version with moderate functionality and features for undercapitalized traders. Crypto investors seeking to track additional assets like stocks, ETFs and NFTs will find Delta investment tracker an invaluable tool to include in their investing arsenal. Suppose you have multiple accounts or investments spread across various platforms. In that case, you'll find Delta helpful as it can help you track those investments in a centralized location. 
Frequently Asked Questions
Is Delta portfolio tracker free?
You can download Delta and use some of its services for free. However, you must subscribe to Delta Pro, the premium version to unlock the full functionalities and features.
Who owns Delta Investment Tracker?
Delta was acquired in 2019 by eToro, one of the world's largest multi-asset brokerages and social trading platforms.
Do I need an investment tracker?
An investment tracker can be beneficial depending on your investment goals and portfolio complexity.
Submit Your One Minute Opinion
The Crypto Rocketship: Weekly Newsletter
Exclusive Crypto Airdrops
Altcoin of the Week
Insider Interviews
News & Show Highlights
Completely FREE