Delta crypto tracker is an iOS and Android app that keeps track of your cryptocurrency holdings and trades in real-time on your mobile device. Delta was started in October 2017 and sold to eToro in November 2019. 
The Delta crypto tracker app is highly rated as the best and most intuitive app of its kind, both for its functionality and its interface. The app monitors the latest values of Bitcoin, Litecoin, Ethereum and over 7,000 altcoins and charts cryptocurrencies and your positions in your local fiat currency. You can set alerts on the app and keep track of cryptocurrency news on the app's news feed so you don't miss out on any potential trading opportunities. 
The app has support from more than 300 cryptocurrency exchanges and includes a portfolio manager that keeps track of your cryptocurrency portfolio's value with its profit/loss shown for the last hour, the previous 24-hour period, the last week or since you began trading. The portfolio manager also generates a personal portfolio graph where you can see the progress of your positions in BTC, ETH or any fiat or cryptocurrency. 
Delta crypto tracker also allows you to set up unlimited different crypto portfolios that let you track portfolios from different owners or that use different strategies. The app gives you a detailed overview of asset splits, sources and locations, the most used exchanges and the status of your positions. 
Delta crypto also lets you customize your own personalized watchlists and market overview, and the app automatically generates personalized notifications based on your behavior using it. If you use several devices for your trading, Delta crypto lets free users keep 2 devices in sync, while PRO users can have as many as 5 devices synced.
Cryptocurrency traders with multiple portfolios
Frequent crypto traders
Those who require detailed cryptocurrency market and portfolio analysis on-the-go
Over 7,000 supported cryptocurrencies
Multiple crypto portfolio tracking capability
Simple setup for connecting wallets and exchanges
Personalized notifications and watchlists
Companion desktop version for Windows, Mac and Linux OS
PRO upgrade somewhat costly
Buy/sell prices not auto-populated when entering new trades
Delta Crypto App Ratings at a Glance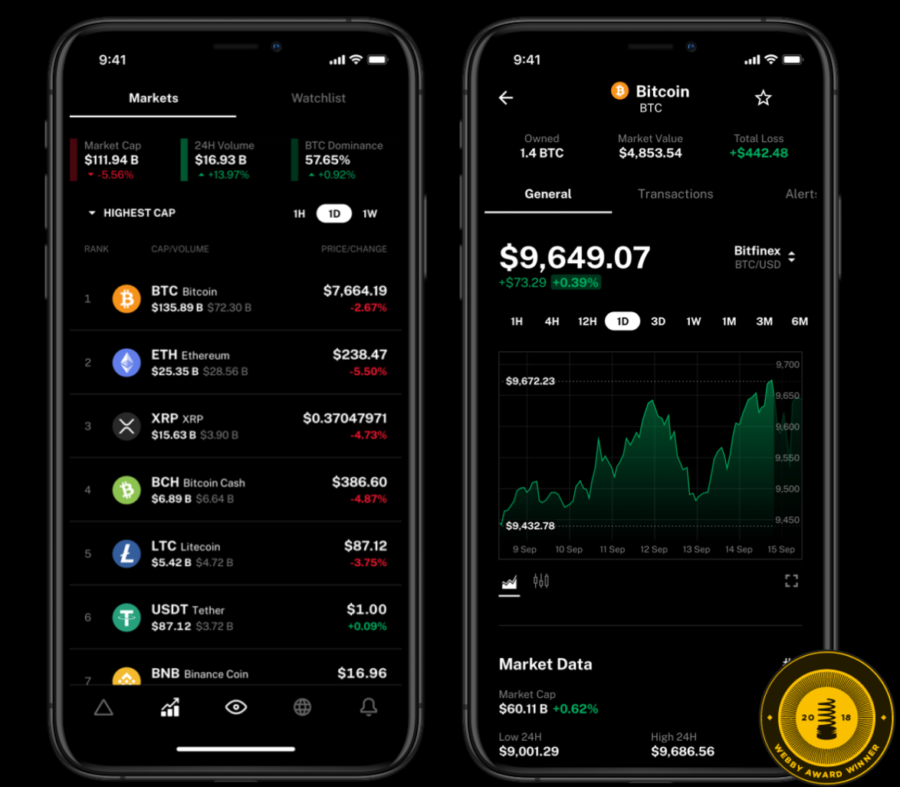 The Delta crypto tracker mobile interface. Source: Delta.app
The Delta crypto tracker app is widely considered the best cryptocurrency tracker available. The app's revolutionary portfolio tracking feature gives you a clear overview of all of your cryptocurrency positions with multi-asset support. 
Delta crypto supports more than 300 crypto and stock exchanges from around the world, in addition to the top-traded indices and commodities. The app allows users to perform a detailed analysis of their trading history and assets, get an overview of their asset split, location and source, and review their trade and investment status. You can also find out which exchanges are most commonly used for trading a given cryptocurrency.
In addition to having access to the values of its huge library of 7,000 cryptocurrencies, you can set up customized watchlists. You can also track your portfolio's value in cryptocurrency or fiat currency terms. The app also gives you real-time tracking of an altcoin's current value, the latest trend chart, your cryptocurrency holdings and the current profit/loss on each of your positions.
With Delta's free app, you can sync data on only two different devices, although the PRO version lets you sync data on up to five devices. The PRO version also gives you access to an unlimited number of exchanges, while the free version only allows you to access 2 exchanges. 
Once you've downloaded the free mobile app, you can also download a companion desktop version to your computer running the Windows, Mac or Linux operating systems. You will need to activate the desktop version by scanning a QR code into the Delta iOS or Android app.
Another great offering by Delta crypto is their Delta Direct, which directly links cryptocurrency token teams to existing and potential future coin investors and traders free of charge. The feature includes all users of the Delta crypto app and is open to all asset teams. This function was created to promote the flow of transparent information to all Delta crypto users.
If you're in the market for an application program interface (API) data plan, you can contact Delta for a custom solution. The data includes an order book snapshot of multiple exchanges, daily and hourly historical data, minute historical data for up to 1 year, an account manager and options for integration assistance, indexing services, private servers and service-level agreements (SLA).
The Delta crypto tracker app is offered free of charge at the Apple and Android app stores for iOS and Android devices. After you've downloaded the free app, you have the option of subscribing to the PRO version. Delta PRO is offered free for 1 week and has a cost of $80 per year after the 1st week free of charge. While Delta's service is unquestionably excellent, that additional price tag seems somewhat steep.
Available at the Apple and Android app stores, Delta crypto tracker is primarily a mobile application with an associated desktop download option that can be activated once you've downloaded the mobile version. The mobile app has one of the most striking visual interfaces of any tracker on the market and has been highly rated by other reviewers, too.
The mobile app provides users with an intuitive, easy-to-navigate platform built on a solid collection of cryptocurrency market tracking tools, which can be used immediately to make trading decisions for your portfolio. The portfolio tracker lets you watch cryptocurrency movements in real-time, letting you make split-second decisions that can affect your bottom line.
Delta crypto tracker has been carefully developed to allow users to navigate different screens and make transactions in the most efficient way possible. Delta crypto tracker's mobile application and its companion desktop version are constantly being updated and improved, so remember to perform updates and keep track of new developments after you've initially downloaded the free app.
You can reach Delta's customer support via email if you have a specific issue to discuss with the support staff, although no phone access currently seems to be available. For general information, you can go to the Delta crypto tracker website's support page for a series of informational articles. You can choose from several helpful menus that cover these topic areas:
General
Getting started
Backups, syncing and transfers
Delta PRO
Import and export
Exchange and wallet connections
Troubleshooting
Personalization
Requests and partnerships
The Delta crypto tracker is widely ranked as one of the best mobile applications of its kind, and for good reason. The app currently has over 1 million downloads. The app provides users with clear, concise cryptocurrency information on an easy-to-use mobile and desktop platforms. Delta crypto's portfolio at a glance, coin overview and watchlists, as well as the enhanced features of the PRO version, make this application an excellent choice for anyone interested in actively trading cryptocurrencies.
Frequently Asked Questions
What is the Delta investment app?
The Delta Investment app is a multi-asset investment tracking app. The app allows you to manage multiple portfolios and track them live.
Submit Your One Minute Opinion
The Crypto Rocketship: Weekly Newsletter
Exclusive Crypto Airdrops
Altcoin of the Week
Insider Interviews
News & Show Highlights
Completely FREE