1 Minute Review
Leave Your Own 1 Minute Review!
Billing itself as the world's 1st eco-friendly broker, CedarFX makes it easy to trade and give back to the planet. You can choose a 0% Commission Account or an Eco Account — or open multiple accounts to meet all your needs. 
CedarFX offers access to a wide range of tradable securities, including stocks, futures, major and exotic forex pairs, cryptocurrencies and more. Though CedarFX could introduce a few additional educational resources, the broker remains a unique option for traders invested in giving back.
Best For
Forex investors
Investors interested in 0% commission or eco conscious trading
Investors looking for 24/7 customer service
Pros
Allows users to offset their carbon footprint
0% commission investing
Offers demo account access
24/7 customer service available through live chat
Eco Account Option (10 trees planted for each lot traded)
Fast deposits/withdrawls with Bitcoin
Cons
Limited number of educational resources for new investors
CedarFX Quick Summary
| | |
| --- | --- |
| Tradable assets | Stocks, forex, cryptocurrencies, futures, metals |
| Platform | MetaTrader 4 |
| Mobile app | No proprietary app currently available |
| Account minimum | $10 to $50 depending on transfer method |
| Available account types | 0% Commission or Eco Account |
Every forex trader knows that commissions and account fees can quickly cut into your investing profits. CedarFX offers 2 account types that will influence how much you pay per trade:
0% Commission Account. As the name suggests, 0% Commission Accounts come with no commissions on your trades or deposits. You can access your money instantly after depositing and begin trading immediately. In addition, CedarFX doesn't charge any account maintenance fees.
Eco Account. The Eco Account is CedarFX's new offering that provides you a unique way to support the environment while meeting your investing goals. A $1 commission is charged on all your trades, but CedarFX will match all commissions paid with a donation to Ecologi, an organization dedicated to offsetting corporate carbon footprints by planting new trees. To date, CedarFX has planted over 111,000 trees thanks to the help of Eco Account holders.
As you can see, both accounts come with $0 in fees, and optional Eco Accounts automatically give back when you trade. $1 paid in commission is enough money to plant 5 trees through Ecologi. You can open both a 0% Commission Account and an Eco Account if you choose.
Though CedarFX doesn't maintain an official minimum that you must keep in with your brokerage account, the broker charges varying minimums for deposits. There is a minimum deposit of $10 when you fund your account with Bitcoin and a minimum deposit of $50 for all other payment methods.
This minimum must be met when you open your account and before you can begin investing. These minimum deposits are significantly lower than other competing brokerages offering cryptocurrency and forex trading access.
CedarFX also offers access to leverage. Available leverage rates vary from 1:20 for stocks to 1:500 leverage for forex and metals trades.
If you've never opened a brokerage account before, complicated signup processes and the range of account options can be intimidating. CedarFX combines affordable investing with a platform that's simple enough for beginners.
Some of our favorite features that make CedarFX easier to begin with and utilize include:
Quick and simple signups. If you've ever dealt with a seemingly endless signup and verification process, you know just how frustrating it can be to open your account with some brokers. CedarFX offers an intuitive and lightning-fast signup process — simply enter your name and confirm your email address and you can get started with your account in as little as a few seconds. While you'll need to enter a bit more personal information to actually begin investing, CedarFX's quick signup process can make it easier to create your account.

After entering your name and email address, you can begin exploring the CedarFX platform. A progress bar will guide you in your steps to fully open your account.
Direct MetaTrader downloads. CedarFX operates on the MetaTrader 4 platform, a favorite among industry leaders and passionate forex investors. When you choose CedarFX as your broker, starting with MetaTrader 4 is as quick and simple as the process to open your account.
After creating your CedarFX account, visit your account homepage and open the taskbar on the left hand side of the platform. Click on your operating system to directly download MetaTrader. You can also trade from your web browser in as little as a single minute with CedarFX's web trader option.
An easy way to give back. CedarFX makes it exceptionally easy to give back to the environment while executing your trades. Simply choose an Eco Account during signups and trade as you normally would. Each time you pay a $1 commission, CedarFX will match your contribution to Ecologi. You'll be helping to reduce carbon emissions and protect the planet without remembering to schedule a donation.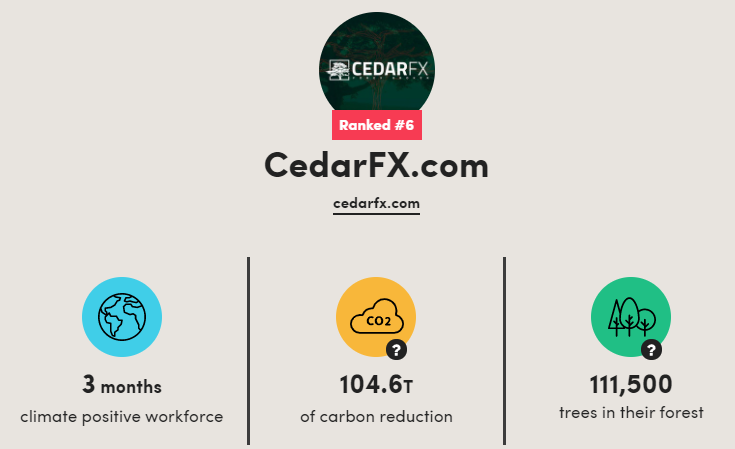 Eco Account holders have made it possible for CedarFX to plan more than 111,000 new trees around the globe — just by trading as they normally would.
With quick signups and a host of features that make CedarFX easy to master, we gave CedarFX high marks in the ease-of-use category. If you're a new trader interested in lower commissions and an intuitive platform, CedarFX can be an excellent place to begin your investing journey.
Though CedarFX doesn't offer as many investing education tools as some other brokers, it still has a number of unique features that you can use to learn more about the market before you enter. Let's explore a few of our favorite tools that CedarFX offers that might be of particular use to newer or less experienced investors.
Free demo accounts. A demo trading account is a type of practice investing account that allows you to fund a fake forex account with virtual funds to practice your trading strategies. CedarFX offers users the ability to download a free demo platform before they fully commit to an account to hone their trading skills and get a feel for the MetaTrader 4 platform before making a commitment.

CedarFX allows investors to open a demo account to test their trading skills and refine their strategy without risking any of their own money.
Live spreads. In the world of investing, the "spread" is the difference between the bid price and ask price of a certain asset. CedarFX allows investors to view real-time spreads between both physical and digital assets. Monitoring the spreads and how they're changing can help investors choose the best time to enter the market.
Around-the-clock customer service. Run into a trading issue with your account's performance? CedarFX offers around-the-clock customer service standing by to help you tackle any issues.
In the future, we'd love to see CedarFX continue to expand its educational offerings to appeal to newer investors and help all of their clients get the most out of their trades.
CedarFX's customer support offers a number of tools to quickly connect with a representative. Get in touch with the team at CedarFX:
By phone. To schedule a phone call with CedarFX's team, fill out a contact request form on their website. A CedarFX representative will give you a phone call during your specified hours of availability.
Though live chat. Customer support is also available 24 hours a day and 7 days a week through live chat. To access live chat features, open CedarFX's homepage and click on the orange chat window in the bottom right hand corner of your screen. Enter your name and email tol be connected with a representative.
By email. You can also contact CedarFX's customer service team by completing a contact request form. CedarFX's team will respond to you by email as quickly as possible.
CedarFX offers investors an all-inclusive trading platform. You can access the following assets through CedarFX:
Stocks. CedarFX offers access to 64 major stocks. Some examples of stocks available to trade through CedarFX include AT&T (NYSE: T) and Exxon Mobil Corporation (NYSE: XOM).
Major forex pairs. CedarFX users can trade 7 major forex pairs.
Forex crosses. Trade 21 forex cross pairs (for example, the EURCAD pair) through CedarFX.
Forex exotics. You can also trade 27 exotic forex pairs as well.
Digital assets. CedarFX also offers access to the cryptocurrency market with 35 cryptocurrency pairs. Supported cryptocurrencies range from major projects like Bitcoin to smaller offerings like the Santiment Network Token.
Indexes. CedarFX offers trading access to 11 indexes.
Futures. CedarFX currently offers a single class of futures trading in the USD.
Metals. CedarFX currently supports 4 metal pairs.
Commodities. You can currently trade 3 commodity pairs through CedarFX's platform.
CedarFX is the world's 1st forex broker to take a hands-on role in offsetting its carbon footprint. Giving back to the environment is easy when you choose an EcoAccount. You'll have access to a wide range of affordable securities to match your diverse range of investment interests. In the future, we'd love to see CedarFX introduce more educational tools and features for its new users, but it's a solid choice to both invest and contribute to a more sustainable future.
User Reviews
Tell Us Your Experience With "CedarFX"
Used for a year, not really had any issues and the support team was helpful when I had questions. Fast withdrawals and plenty of crypto pairs to trade.
Tell Us Your Experience With "CedarFX"
Solid all rounder with good spreads despite low or no commission accounts. Plenty of assets to trade and generous leverage options. Crucially withdrawals are very prompt and consistently so. Live chat are very helpful too.
Tell Us Your Experience With "CedarFX"
Fast withdrawals and a wide range of markets to trade. ranging from Forex, Crypto and Stocks. Withdrawals are also very fast.
Get a Forex Pro on Your Side
FOREX.com, registered with the Commodity Futures Trading Commission (CFTC), lets you trade a wide range of forex markets plus spot metals with low pricing and fast, quality execution on every trade.
You can also tap into:
EUR/USD as low as 0.2 with fixed $5 commissions per 100,000
Powerful, purpose-built currency trading platforms
Monthly cash rebates of up to $9 per million dollars traded with FOREX.com's Active Trader Program
Learn more about FOREX.com's low pricing and how you can get started trading with FOREX.com.