Want to save money on your car insurance? Find and compare free custom quotes here.
The city of Houston ranks as the 4th largest city in population in the United States. With the average insurance rate per vehicle at $2,230 and most households having about 2 cars, finding the right insurance provider at the right rate is a must. We've narrowed down the providers that can help you get cheap car insurance in Houston.
Houston, Texas Car Insurance: Overview
Average number of vehicles per household: 1.59
Minimum state insurance requirements:

$30,000 (per person) Bodily Injury Liability (BIL)
$60,000 (per accident) Bodily Injury Liability (BIL)
$25,000 Property Damage Liability (PDL).

Average rate for those with a clean driving record: $2,230
Car Insurance Minimums Explained
In Texas (and Houston), the state-minimum liability car insurance has limits of 30/60/25. This means the bodily injury liability (BIL) amount is $30,000 per person. This is the amount your insurer will pay for expenses per person in the vehicle other than your own in an accident. The $60,000 per accident covers the total amount that is available to the passengers in the vehicle other than your own. The property damage liability (PDL) amount is $25,000 which covers any property damage that occurs in the event of an accident.
Licensed insurance providers will rarely sell you a policy that is at the state minimum unless you are insuring a vehicle you seldom drive. Most agencies recommend purchasing higher than the minimum if you are insuring your everyday vehicle. The reason for this is that you will be personally liable for any additional costs if an accident did occur. With medical expenses on the rise, your state minimums can get used really quickly if you are in a serious accident.
Tips for Driving in Houston
Texting and driving has been prohibited since September 2017. Should you get caught texting, sending or receiving electronic messages you may get a fine of $200-$500 if it is your first offense. With each city in Texas having varying ticket costs, it's best to put the phone down and if you need to use your phone, use it in hands-free mode.
Proof of insurance. If you are caught without insurance expect to pay some hefty fines for a few years. The officer has the right to impound your vehicle at the scene adding up additional costs as well as an annual licensing fee of $250 for 3 years after your ticket is issued.
Heavy rain is not uncommon in Houston. This means you might run into slow traffic as drivers slow down due to the lower visibility and longer braking distance on wet roads. Rain or shine, Highway 290 is usually clogged so your commute may take longer than expected.
Feeder roads. These one-way smaller roads that run parallel to the main roads; people tend to drive much slower on feeders, which feature U-turn lanes.
How Much Car Insurance Will Cost in Houston
As you may already know, you won't exactly how much you'll pay for car insurance until you get a quote. But, your make and model of your car, insurance credit history and driving record will make a pretty big impact. Here's the low down on how much your rates could shift based on your personal history.
Insurance Rates Per Vehicle
Every insurance agency has its own formula as to how much weight the type of vehicle you drive affects your rate. In general large SUVs, sports cars, foreign cars, and vehicles with many customizations will cost more to insure. This is because, in the case of an accident or theft, these types of vehicles are harder and more expensive to replace.
It no surprise that in a state where bigger is better the Ford F-150 and the Dodge Ram 1500 are the most popular motor vehicles in the Houston area. While you can still qualify for many discounts through your insurer, these large trucks are are the high-end when it comes to insurance premiums.
If you are looking to purchase or already own an electric car, Texas offers a $2,500 discount on electric vehicles sold within the state. Some insurance companies might offer a discount to insure electric cars.
Insurance Rates by Insurance Credit Score
Texas is one of 47 states where insurance providers are allowed to use your insurance credit score to adjust your rate. Those with bad credit history might have to pay twice as much as those with excellent credit.
Beyond the at-a-glance score, the insurance agency might look at the number and type of credit accounts, as well as the length of credit history. It appears that people who have a lot of payment delinquencies are more likely to file insurance claims, and therefore they can expect to pay more for auto insurance.
However, this doesn't mean that those with bad credit shouldn't get a quote for car insurance. Check out the cheapest offers broken down by credit scores in the table below.
Car Insurance for Drivers with a Clean Record
Defensive driving is a set of skills that allow people to drive safer. It might help you avoid collisions and other dangers on the road. After taking a defensive driving class, you'll be more vigilant about traffic regulations and signs. As a result, you'll minimize the chances of getting a ticket.
Aside from the money you save on fines, having a good driving record saves annual insurance costs. You'll likely be offered a substantial discount over those with significant blemishes in the records.
Of course, there are other criteria that insurance companies use to gauge safe driving habits. Some insurance companies offer apps and in-car devices that record your driving habits for a few months. This data is sent to your insurer and may qualify for a discount. The most common areas they look at are speed, the time of day when you are driving and braking.
The following table lists the most affordable auto insurance rates for those with a clean driving record. For Texas, the state minimum covers liability only.
| Insurance Agency | State Minimum Insurance | Standard Coverage | Full Coverage |
| --- | --- | --- | --- |
| State Farm | $1,945 | $2,199 | $2,407 |
| Allstate | $1,660 | $1,967 | $2,200 |
| Progressive | $1,785 | $2,004 | $2,186 |
| GEICO | $1,921 | $2,460 | $2,600 |
| Texas Farm Bureau | $1,827 | $2,131 | $2,399 |
Car Insurance Rates with Driving Infractions
Having a clean driving record means more than not picking up any driving infractions. Your record also has to be free of at-fault accidents. On the other hand, moving and non-moving violations are the lowest classes of driving infractions that should have minimal impact on your insurance rates.
For many insurance companies, having DUI on your record is the most serious. Even a single DUI can affect insurance rates for a minimum of 2 years in Texas. Some agencies may even drop your coverage after a DUI and you will have to apply for an SR-22 or high-risk auto insurance.
| Insurance Agency | At-Fault Accident | Speed Violation | DUI |
| --- | --- | --- | --- |
| State Farm | $2,935 | $2,561 | $3,462 |
| Progressive | $3,258 | $2,581 | $3,753 |
| Nationwide | $3,352 | $3,789 | $4,977 |
| Allstate | $6,562 | $4,271 | $6,838 |
| USAA | $2,737 | $2,133 | $3,224 |
The Best Insurance Providers in Houston, TX
To find the best insurance provider in Houston, you may want to look beyond the price. The company's reputation and service quality need to be accounted for as well.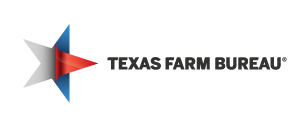 Pros
Highly rated claims process
Stellar customer service
Affordable
1. Best Overall: Texas Farm Bureau
If you are looking for great service and competitive pricing Texas Farm Bureau is the Insurance agency for you.
Texas Farm Bureau is only available in Texas but the membership comes with some pretty unique discounts on items like entertainment, vacations, as well as vehicle and equipment purchases.
While keeping insurance premiums relatively low, Texas Farm Bureau is rated by J.D Power as having the best customer service and pricing in the state.
Texas Farm Bureau also takes the top spots in our picks for the best car insurance companies in Dallas, San Antonio and Fort Worth.
Pros
Extensive agent network
Easy sign-up process
Many customer service options
Cons
Drivewise and Milewise aren't available in all states
2. Cheapest Car Insurance in Houston: Allstate
Allstate offers incredibly low rates and is forgiving to its customers even if they have an accident. By using their Drivewise app and driving safely you can save up to 15% off your premium. The Drivewise app monitors your speed, braking, miles driven, and the time of day you are driving.
Another great discount offered by Allstate for long-term customers is vanishing deductible. For every year you don't file a claim you'll receive $100 off your deductible up to $500.
Allstate also ranks highly in our picks for the best landlord insurance, the best flood insurance and the best renters insurance companies.
3. Best for Ridesharing: State Farm
Given the variety of insurance options and perks, State Farm is the best car insurance provider for ridesharing in Houston. In addition to liability coverage, the company offers collision, comprehensive, emergency road services, and more.
State Farm's rideshare driver coverage might interest those who driver for Uber and Lyft. It extends the basic car insurance policy to include car rental reimbursement, medical, and emergency roadside service.
With State Farm, you might be eligible for different discounts. They include discounts for safe driving, multiple household vehicles, and active military service members.
State Farm also ranks highly in our choices for the best jewelry insurance, the best boat insurance and the best gap insurance.
State Farm is a great option for insuring your new or higher value vehicle. Offering just about every coverage you would need, you'll know your vehicle will be covered in case of an accident.
With additional coverages like collision, comprehensive, uninsured and underinsured motorists, medical, and more.
Through the mobile app and 24/7 claims support State Farm has you and your vehicle always covered.
Pros
Many coverage types available
Comprehensive mobile app
Free roadside assistance included with every policy
User-based insurance model means safe and infrequent drivers save more.
Cons
Opaque customer service hours
No clearly defined discounts
Must complete a "test drive," which lasts up to a month before you get a quote
No policies available for "high-risk" drivers
Not available in all states
4. Best for Safe Drivers: Root
Root is a unique new car insurance provider that offers policies based on your driving habits. You'll install an app on your phone that monitors your speed, how often you make sudden turns and stops and mileage.
Then, the app creates a custom quote for you based on how well you drive.
Root doesn't offer policies to everyone — the company avoids reckless drivers and those who have a long history of driving infractions so the company can keep premiums low. You may be able to save more when you switch to Root.
Driving Safe in Houston
Getting car insurance in Houston doesn't have to be expensive even if you have a knack for sports cars or SUVs. The final decision boils down to your personal preference and insurance needs. The only way to estimate your insurance costs is to get a few quotes then compare them.
Want to learn more about insurance in your area? Check out our article on the best home insurance in Texas, how to find cheap car insurance and best affordable health insurance.
*Quotes were obtained using the following profile: base 2015 Toyota Camry, male, 40-years-old. Policies reflect state minimum coverage options. We make every effort to provide the most accurate quotes based on the profile above. Due to the many combined variables involved in insurance quotes, the only way to get an accurate quote is to enter your own information through our partners' secure websites.
Related content: Best Car Insurance in Utah