With the world becoming more globalized every day, people implement money transactions for various reasons:
To pay for goods and services

To get paid on a regular basis

To deposit money or investment purposes

To send money to friends and family
Banks, financial institutions, and online money services like PayPal exist to provide services for these transactions. But which is the best solution? Specifically, which money transfer app will do the job fast, safe, and with minimal fees?
Today Benzinga will look at one of the best money transfer apps available on the market, TransferWise.
What is TransferWise
TransferWise is an innovative application to send funds internationally. It isolates the bank fees and gives you one of the lowest costs on the market. Their motto is "Bye-bye, bank fees!"
Best for
International money transfers
Pros
Cons
Not available in every country

Limited for big transfers
Who Is TransferWise Best For?
TransferWise is suitable if you want to send or receive money internationally. It's also a good way to pay for goods and services, providing a solution for users that seek fast implementation, low fees, and great customer support. It is best for small and medium-sized transactions.
| | | | |
| --- | --- | --- | --- |
| Countries that support TransferWise |   |   |   |
| Australia | Bangladesh | Brasil | Bulgaria |
| Canada | Chile | China | Colombia |
| Croatia | Czech Republic | Denmark | Europe |
| Georgia | Hong Kong | Hungry | India |
| Indonesia | Japan | Israel | Kenya |
| Malaysia | Mexico | Morocco | Nepal |
| New Zealand | Nigeria | Norway | Pakistan |
| Peru | Philippines | Poland | Romania |
| Russia | Singapore | South Africa | South Korea |
| Sri Lanka | Sweden | Switzerland and Liechtenstein | Thailand |
| Turkey | Ukraine | United Arab Emirates | United Kingdom |
| United States of America | Vietnam | Egypt | Ghana |
The sender and the recipient will need to be from these countries to conduct a successful TransferWise transaction.
How Does TransferWise Work?
TransferWise is a peer-to-peer application which doesn't put another person on the other end to complete the operation. TransferWise has bank accounts all over the world and takes the place of the second peer in the transaction.
When somebody sends money, he/she goes to TransferWise. Then TransferWise funds the recipient from a bank account that the company holds in the recipient's country.
Although the transfer is "international," there are no international transactions. Instead, TransferWise performs two domestic transactions. You order an international money transfer, but the fee is on a domestic level.
TransferWise Platform
TransferWise has a very simple and user-friendly platform. Its purpose is to keep the whole service online without many interventions from the company's side.
Receiving Money
If you are receiving a payment from someone using the app, you just simply provide your bank details, name, address, and the other relevant data to the person sending you the money.
According to the TransferWise policy, your money will arrive in two business days. However, in most cases, you will get the money the same day.
Sending Money
Sending money via TransferWise is a seamless process that requires only a few steps.
Step 1: Create An Account
You'll need to create an account at TransferWise if you want to send money. This happens pretty easy through the website of the company.
You simply complete your registration manually, via Google Plus or Facebook. You connect your card or bank account with a few clicks. Then, you will need to verify your account and to upload an ID picture for security reasons. After you complete these steps you will be ready to do your first money transfer with TransferWise.
Step 2: Using the TransferWise Widget
TransferWise has a very convenient widget that converts currency and calculates fees.
To operate it, you:
Choose the currency you hold.

Type in the amount.

Choose the receiving currency.

See the exact amount for the receiver.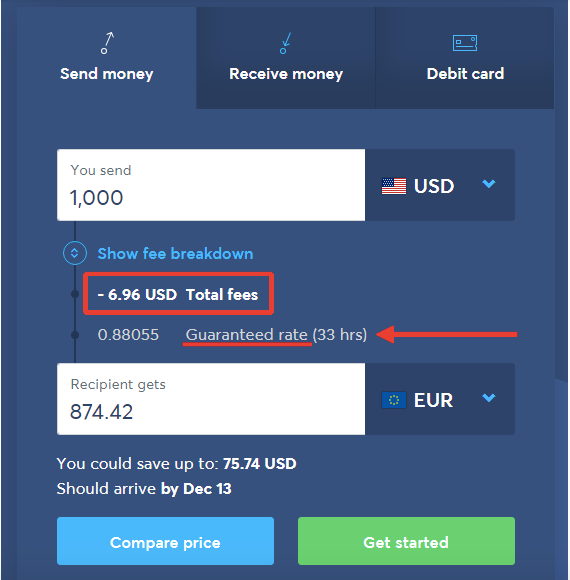 Above is a common transaction example of sending $1,000 to a euro account. Let's break down exactly what we're looking at:
See the exact EUR amount the recipient will get.

See the exchange rate which will take place: 0.88055 USD for 1 EUR.

Current exchange rate by Google: 0.88 USD for 1 EUR.

The exchange rate is guaranteed for 33 hours.

See the exact fees you will be charged and how much you save compared to other relevant services.

See the date your funds will arrive.
The transparency at TransferWise is obvious. The company tells you everything you need to know to proceed with your money transfer.
Step 3: Finalize the order
Proceed with filling in the receiver's bank information and you finalize the process. The receiver should get the money maximum after two business days, and the waiting time is usually shorter.
Mobile App
TransferWise supports a convenient mobile application for Android and iOS. The application gives the full functionality of the website and lets you do your transfers on the go.
Costs and Fees
Costs are dynamic, but usually below 1%. Transfers from a card are a bit more costly than transfers from a bank account, but card transfers with TransferWise are extremely fast. TransferWise's fee procedures are very transparent. There are no markups added compared to some banks.
TransferWise guarantees you the spot exchange rate for the next 24 or 48 hours, depending on currencies. This is enough time to conduct a successful TransferWise transaction if the banks involved operate the right way.
Security
Although TransferWise has only been around for seven years, it is highly regulated in different countries:
The United States

: Registered within the Financial Crimes Enforcement Network (FinCEN), a licensed money transmitter

The United Kingdom

: An authorized Electronic Money Institution (EMI) by the U.K. Financial Conduct Authority

Australia

: Regulated by the Australian Securities and Investments Commission (ASIC) and registered with (AUSTRAC)

New Zealand

: Does business as a foreign body, supervised by the Department of Internal Affairs (DIA)

Singapore

: Regulated by The Monetary Authority of Singapore (MAS)

Hong Kong

: Regulated by the Customs and Excise Department (CCE), a licensed money service operator (MSO)

Canada

: Regulated by the Authorité des Marchés Financiers (AMF), a licensed money service business (MSB), registered with FINTRAC

Japan

: Regulated by the Kanto Local Financial Bureau, a licensed Funds Transfer Provider
These are the world's biggest regulatory bodies. Since TransferWise operates under the respective supervision in each country, we can conclude that it is a reliable and secure company.
Customer Service
TransferWise has world-class customer support. You can reach it easy via different contact channels:
Its FAQ section is so comprehensive that you might not need to contact the support at all. However, the FAQ section is not translated in all languages. Google Translate comes in handy here.
Ease of Use
Ease of use is a main characteristic. This service can harder be simpler than the way it exists at TransferWise. The front end is user-friendly and suitable for people with all types of computer knowledge.
If you're a sender, you only fill the needed information. The exact cost of the service appears in front of you, and then you proceed and that's it. The mobile application makes the service accessible on-the-go. If you are on the receiving end you are not supposed to do anything. You don't even have to open an account with TransferWise. You simply wait for your email message that the sender has sent the money.
Extra Features
Borderless account
This feature lets you receive money from over 30 countries around the world. TransferWise gives you bank details for more than 40 currencies. This way you receive money without paying any fees.
TransferWise debit MasterCard
This is a special physical card that lets you spend the funds from your borderless account. It automatically converts the amounts in the respective currency and takes the real exchange rate.
This service costs between 0.35% and 2% conversion fee in case currency conversion is necessary. It has no fees if you spend up to $200 per 30 days. You can use the card anywhere in the world where MasterCard is accepted.
B2B Solution
TransferWise has a business to business solution to handle your business expenses. You can pay business invoices, receive and send money with no fees, and set automatic payments for your subscription services. The open API code lets you connect TransferWise with external tools for operations automation.
Final Thoughts
TransferWise is a smart way to get around standard bank charges. The company is very transparent in terms how it handles your money. It's no surprise that it has so many clients all over the world.
Benzinga has dubbed it the best money transfer app available at the market since it outreaches other solutions like PayPal. It does exactly what it needs to do: fast money transfers at a low cost. However, if you need to conduct big financial transfers, you might need to find an alternative app.
Get a Forex Pro on Your Side
FOREX.com, registered with the Commodity Futures Trading Commission (CFTC), lets you trade a wide range of forex markets plus spot metals with low pricing and fast, quality execution on every trade.
You can also tap into:
EUR/USD as low as 0.2 with fixed $5 commissions per 100,000
Powerful, purpose-built currency trading platforms
Monthly cash rebates of up to $9 per million dollars traded with FOREX.com's Active Trader Program
Learn more about FOREX.com's low pricing and how you can get started trading with FOREX.com.