1 Minute Review
Leave Your Own 1 Minute Review!
TradingView is a powerful stock screener, charting platform and research powerhouse providing a massive range of tools investors can use to learn more about the markets. Some of TradingView's most impressive features include its fully operational mobile app, wide range of screening criteria, custom script incorporation and much more.
In addition to charting and research tools, TradingView also offers a wide range of educational tools. View news feeds associated with each asset, read articles, view real-time market data and even watch livestreams with professional traders to improve your skills. Paper trading accounts are also available to help you master TradingView's wide selection of tools.
Although TradingView's content can be overwhelming for newer traders and investors, the platform remains among the most impressive research hubs on the internet.
Best For
Professional investors
Investors with programming experience
Traders who need minute-by-minute updates
Pros
Impressive selection of research tools
Comprehensive stock screening
Free accounts available
Wide selection of engaging educational resources
Cons
Customer service choices not all-inclusive
Higher-tier plans out of some investors' budgets
Certain areas of the website poorly organized
Why TradingView Over Others?
If you've looked for stock charts online, you've likely see a TradingView chart. With quality TradingView plans, free services and real time data, you can make wise investments that will both increase your net worth and help you build wealth.
TradingView offers a number of unique features that make it an ideal choice for investors and traders of all skill levels. Some of our favorite reasons to use TradingView include:
Impressive research and education tools: From a comprehensive stock screener to cryptocurrency news feeds, TradingView has something for everyone.
Free accounts: Looking to get started improving your trading on a budget? TradingView's free accounts allow you to access a limited version of its paid account.
Simple mobile charting: TradingView's mobile platform is also impressive and well-designed, mimicking full functionality of the desktop platform. With live TradingView charts, it's easy to track trends, review stock history and/or swing trade.
Analytics: Analytical tools help you learn how to do technical analysis and make better decisions.
Is TradingView Safe?
TradingView serves more than 10 million traders and investors. Its stellar social networking features mean you have the opportunity to connect and learn with users from around the world. It also means you should use the same caution and judgment you do with any other online social platform. Remember, however, that this is one of those stock charting websites you can use to read charts and move on without registering.
You can't avail yourself of the best stock charts in the industry if you allow your information to be compromised. The best thing you can do is only use known wifi networks, ensure the address bar has the https prefix and never share your personal information with anyone else.
Take measures to protect your personal and financial information as you see fit. Like any site, it is possible scammers are present and may seek you out. Be aware, and be smart in your communication.
Platform Quick Summary
| | |
| --- | --- |
| Price | Free to $59.95 per month depending on plan choice and desired features |
| Charting options | 50+ smart charting tools available on all accounts |
| Research offerings | Extensive and available for all supported assets |
| Education tools | Live streams, trade articles, ideas and much more |
| Mobile app | Free for all platforms; mimics functionality of online platform |
If you're the type of investor who can't get enough data, TradingView is your dream come true. With a massive range of indicators, tools, trading insights and much more, TradingView can teach even the most experienced investor something new.
TradingView stands out because it offers the best charting software, featuring:
Comprehensive screening tools. Finding your next investment opportunity is simple when you use TradingView's comprehensive stock screeners. Sort stocks using a range of filters including market capitalization, price, exchange, volume, sector and even expert rating. Dozens of additional screening criteria are available, and TradingView offers individual screeners for both the forex and cryptocurrency markets.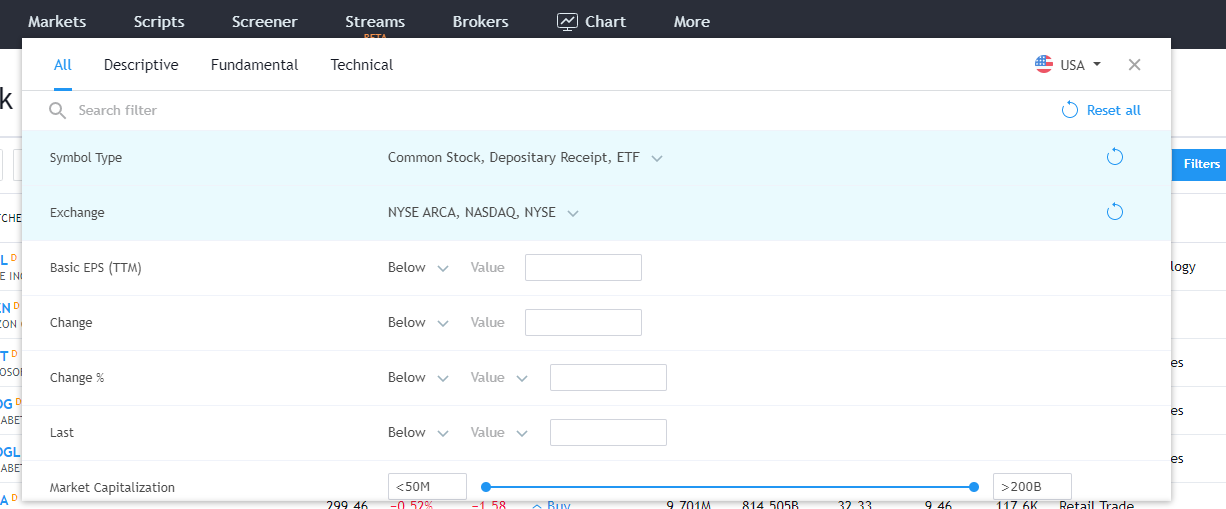 With a massive range of screening criteria and filters, exploring the stock, forex and cryptocurrency markets is easier than ever when you use TradingView.
Customized analysis. If you're a more advanced trader and you have a bit of programming experience, you can use TradingView's scripts feature to further customize your platform, further enhancing your charting and technical analysis.
TradingView offers its proprietary programming language called the "pine script" that you can use to create your own indicators and alert systems. You can also browse through TradingView's comprehensive scripts library, where you can view and download scripts that other users have created. The majority of available scripts are completely open-source, allowing you to use them freely and tweak programming as needed. There are over 100,000 custom scripts in the TradingView script library, which you can sort using categories like volume indicators, moving averages, oscillators and more.
A generous selection of drawing tools. No matter which TradingView plan you have, you'll be able to chart with more than 50 smart drawing tools. From writing text notes to yourself directly on your chart of choice to geometric shapes and automated pattern charting, TradingView's stock charting tools allow you to draw in an impressive range of screening criteria.
TradingView is a comprehensive research platform, offering a very wide selection of information sources, insights and features that traders and investors can use to explore markets. Though new investors may find TradingView's massive number of tools to be overwhelming, more experienced investors who can effectively use these tools are unlikely to run into a situation where TradingView doesn't have a function they need.
TradingView has put just as much care and effort into its educational tools and resources as it has to create a wide range of functional features. Some of our favorite educational resources offered by TradingView include:
Paper trading. Interested in practicing your trading strategy but aren't sure how to get started? Consider beginning with a TradingView paper trading account. Paper trading accounts provide you with fake trading accounts prefunded with $100,000. You can then practice executing trades and buying and selling securities in an almost identical manner to genuine trading. This allows you to test TradingView's tools and hone your analysis skills without putting your own money at risk. You're free to reset your paper trading account at any time if you need to start over.
Live streams. Prefer to learn by watching the professionals? One of TradingView's newest features is its livestream functionality, which allows you to watch and learn alongside investing streamers. Can't watch a livestream as it's happening? Streamers have the option to archive footage, allowing you to view videos on your time.  You can learn both about TradingView ideas and tips for the day.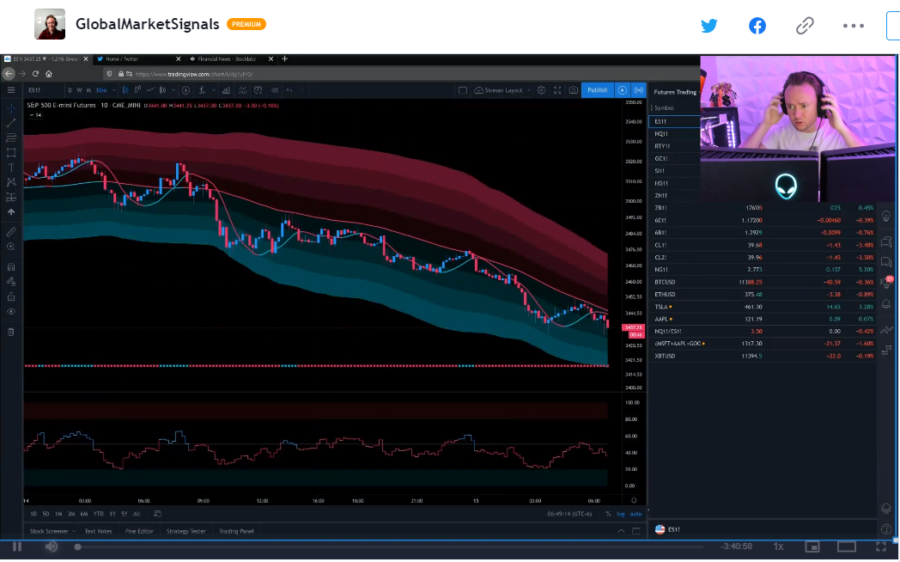 Watch free live streams from professional investors and chat in real-time with fellow users with TradingView's new streaming feature.
Quick technical analyses. Need to learn more about a stock, currency, crypto or other asset but don't have the time to do your own charting and analysis? Enter TradingView's quick analysis tool that's available on most stocks, cryptocurrencies and other supported assets.
TradingView's technical analysis tool uses some of the most commonly studied technical indicators (like moving averages, oscillators and pivots) to automatically predict how the asset will change in price over time. If indicators show that the asset is likely to increase in price, you'll see a "buy" or "strong buy" on the scale. If the indicators show that the asset is more likely to decrease in price, you'll see a "sell" or "strong sell" signal.
Switch between time frames as short as 1 minute and as long as 1 month to personalize the technical analysis tool. This can be an ideal partner for scalpers and short-term day traders who execute a large number of trades throughout the day and who need up-to-the-minute information.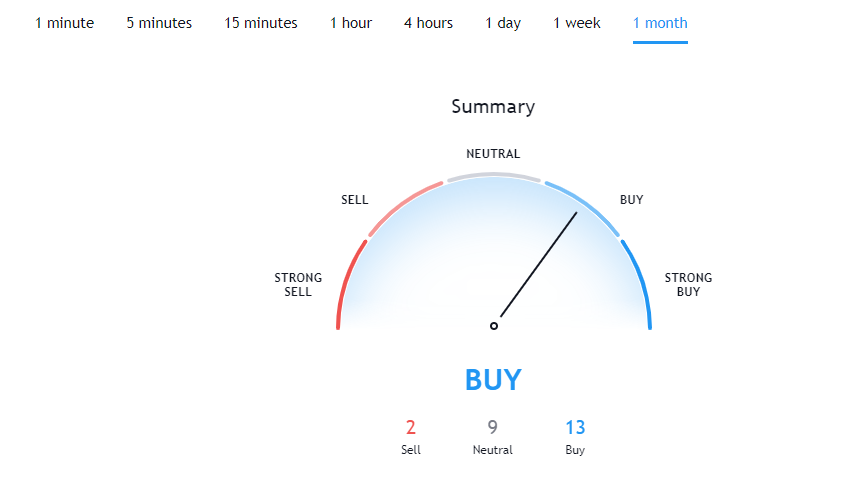 Learn more about an asset and how it may move in price with a single click using TradingView's automatic technical analysis tool.
This is just a small sample of some of our favorite education and research offerings TradingView currently supports. With a wide selection of additional tools ranging from user-created trading idea articles to an engaged and responsive community, you're likely to find a resource that fits your unique learning style and preferences.
Educational resources are available on all TradingView plans, and you don't need to be logged into your account to access most resources. This system makes it exceptionally easy for new traders and investors to get started learning more about investing strategies before they commit to opening a TradingView account.
TradingView's customer support leaves a bit to be desired. Currently, the only method you can use to get in touch with TradingView's help team is its platform messaging system. To access chat assistance, click on the "Support" icon on the left side of your home page. Chat support is available around the clock to help you tackle any issues you run into. The platform also hosts a comprehensive FAQ section that can help you find answers to some of the most commonly asked questions.
In the future, we'd love to see TradingView incorporate a phone help number, especially for paid users who are uncomfortable sharing account details over a text-based medium. However, the platform offers free trading charts that may not require assistance in many cases.
TradingView currently offers a free plan and 3 paid plan tiers. Here's what you can expect from each plan option:
Basic. TradingView's free Basic plan allows you to access most of TradingView's tools with limited functionality. For example, you can only view 1 chart at a time and you can only set 1 alert. Starting with a free account can give you a better understanding of TradingView's tools and if they're the right fit for you.
Pro. Pro accounts offer an increased range of tools, the ability to set up to 10 server-side alerts and an ad-free desktop experience. Pro accounts currently cost $14.95 per month.
Pro+. Pro+ accounts include all of the features you'll find on a Pro account plus additional features, like the ability to set indicators and access chart data export functionality. Pro+ accounts are priced at $29.95 per month.
Premium. Premium plans allow you to access all of TradingView's functions and tools. Premium plans include all tools found on the Pro+ account package plus the ability to set up to 400 alerts, second-based intervals, alerts that don't expire and more. Premium plans are currently priced at $59.95 per month.
You can view a more complete comparison chart on TradingView's website here.
TradingView offers a comprehensive mobile app that mirrors desktop functionality. A few of our favorite mobile features include:
Push alerts. Using TradingView's mobile app, you can set alerts that notify you when an asset meets a certain predefined criterion or moves outside of a preset range. You can receive alerts through a push notification or desktop alert.
Real-time market quotes. If you're a frequent trader, you understand just how important it is that you have up-to-the-minute information. TradingView's real-time market data allows you to manage your investments without being tied to your desktop.
Customized scanners. You can build a TradingView scanner that matches your needs, allows you to monitor trends and ensures that you get the best results.
Account syncs. Effortlessly switch from your mobile device to your desktop platform without losing your progress thanks to TradingView's automatic syncing between accounts.
The TradingView mobile app is available as a free download for both Android and iOS devices. A web app is also available for Windows users.
Comprehensive, packed with unique tools and brimming with information, TradingView is an investor's best friend. For many, it's the best stock chart website out there. Although TradingView can be a bit overwhelming for newer traders and those who are intimidated by its sheer range of tools, superior educational resources and paper trading accounts can help you begin with just a little practice.
TradingView isn't a perfect asset comparison and research tool. Certain sections of the web platform are confusing or poorly organized. For example, its Ideas section is overflowing with information, which can make it tough to locate exactly what you're looking for.
We'd also like to see TradingView introduce phone support for all levels of users. However, these mild criticisms don't take away from the fact that TradingView is one of the most comprehensive research providers we've seen, allowing you to complete practical technical analysis and easily glean stock information as needed.
We recommend beginning with a TradingView Basic account, which allows you to test out its tools for free. If you like what you experience, you can upgrade your account at any time.
Frequently Asked Questions
User Reviews
Tell Us Your Experience With "Tradingview"
They spoil all the settings and demand for money. Dont ever trust tradingview. It is biggest scam and fraud
Tell Us Your Experience With "Tradingview"
Tell Us Your Experience With "Tradingview"
It is one fraud and scam system