Shiba Inu — or what was once dubbed by many the DogeCoin Killer — has seen a wild ride over the past year. Shiba was once promoted throughout social media because of the very few retail investors that were lucky enough to have turned their small investments into millions.
Since its inception, the token has exploded, garnering attention from speculators looking to make a quick return. During the final large push for Bitcoin back in October 2021, Shiba Inu rose by 173% in only one week.
Investors piled into Shiba during the bull run hoping to realize the large returns others were making on social media. What many novice investors did not realize at the time of Shiba's peak is that they functioned as the earlier investor's exit liquidity.
Meme coins like Shiba (SHIB) depend on hype and social media attention for the price to appreciate because the token itself has little utility and few use cases.
SHIB token was created by the pseudonymous entity Ryoshi in August 2020. The coin was inspired by the famous Japanese dog breed and the white paper was anointed as the woof paper. Similar to DogeCoin, Shiba was created out of entertainment and fun and is not considered to be a good investment by many.
Is Now a Good Time to Buy Shiba Inu?
Summer 2022 SHIB rose to $0.000011 from the $0.0000074 level held the previous week. Shiba has fallen 10% in the last 24 hours according to data from CoinMarketCap.com and could continue to the downside as traders take profits off the table.
SHIB is down 89% from its all-time high, which was reached in October 2021. At the time, the popular meme coin had a total market capitalization of over $41 billion.
Although June 21, 2022, Shiba Inu saw a great push to the upside of 48%, meme coins can fall back to earth just as quickly as they went to the moon. Shiba's recent rally has been touted as irrational by many and has confused many market participants as to why this pump took place.
How Long Will the Crypto Bear Market Last?
Record high inflation and interest rate hikes not seen in decades have caused investors to derisk out of risky assets like crypto for safer alternatives like cash and Treasury bonds.
The poor performance of the economy on a global stage looks to be the catalyst for the bear market investors have been weathering for the past six months.
Bear markets are hard to navigate, and its even tougher to predict their life span. Crypto has experienced downsides week after week.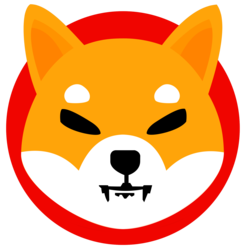 Shiba Inu
JOIN THE MOON OR BUST EMAIL LIST
Our team is diligently working to keep up with trends in the crypto markets. Keep up to date on the latest news and up-and-coming coins.
Will SHIB Ever Reach All-Time Highs?
According to CoinMarketCap.com, on June 22, 2022, SHIB is worth $0.00000987. That represents an 87.66% decrease from its high of $0.00008 on Oct. 28, 2021. Shiba Inu has a market cap of nearly $5.5 billion and is ranked in 15th place according to data derived from CoinMarketCap.
Several things need to happen for Shiba Inu to return to its all-time high price of $0.00008.
The market needs to show some relief in equities, which historically translates well into crypto.
Shiba needs to obtain a new wave of hype from meme coin enthusiasts.
Inflation needs to be curbed along with a decrease in interest rates.
Although Shiba did see a few signs of relief, to reclaim its all-time high of $0.00008, SHIB would need to see volumes upwards of $40 billion and the price would have to explode by 710%.
Is Shiba Inu (SHIB) a Good Long-Term Investment?
In terms of determining if a cryptocurrency is a good long-term investment, utility is one of the key characteristics many long-term investors look for.
If a cryptocurrency project is claimed to have utility, that means it has a demand for the token beyond simple retail hype. Utility is coveted by many projects, but it is often tough to provide.
Shiba Inu is trying to take hold as a project with utility, but only time will tell if it will provide a true intrinsic value for the future of the Shiba Inu meme coin ecosystem.
A group of core developers representing the Shiba community has been working to create utility through creating the decentralized exchange ShibaSwap, minting BONE governance tokens and working on a metaverse.
All these upcoming features seem like a step forward for the Shiba community, but if you take a look under the hood, then you will realize these actions are not much different from other ecosystems.
What makes Shiba's Layer 2 better than other Layer 2 protocols on the market? Why would a project want to build on Shibarium (the name of Shiba's Layer 2)? The Shiba Inu community must provide something unique for their token to thrive.
Ripple founder Brad Garlinghouse gave a good perspective on the meme coin market and its need for an underlying use case. "I have publicly said I think the vast majority of tokens will go away over a period of time because I can't figure out the utility," Garlinghouse said. "There's some that were created a little bit as a circus rhetorical sarcastic. Dogecoin is a clear example of it was never designed with utility. The founders have left the project. It moves based on the tweets of Elon Musk."
"This is purely speculative. I don't think that's healthy for the crypto market," Garlinghouse added.
If Shiba Inu wants to remain competitive for the long haul, then it needs to find its secret sauce to establish a good foothold in the already extremely competitive crypto space.
How to Buy Shiba Inu (SHIB)
You can buy Shiba Inu on ShibaSwap, the project's native exchange, and on Gemini, Huobi and Coinbase Global Inc. (NASDAQ: COIN), which are good centralized exchanges.
If you are a U.S. resident, some exchanges might be unavailable in your area.
In the United States, users are required to undergo Know Your Customer procedures for anti-money laundering purposes. This process can be done by snapping a picture of your driver's license, uploading info and inputting your Social Security number.

1 Minute Review
Gemini is a cryptocurrency exchange and custodian that offers investors access to over 100 coins and tokens. Founded in the US, Gemini is expanding globally, in particular into Europe and Asia. Offerings include both major cryptocurrency projects like Bitcoin and Ethereum, and smaller altcoins like Orchid and 0x.
Gemini is 1 of the only brokers with multiple platform options based on skill level. New investors will love the streamlined interface of Gemini's mobile and web apps, while advanced investors might appreciate all the tools that come with ActiveTrader. 
In addition to a host of platform choices, Gemini users also have access to insured hot wallets to store tokens without worrying about digital asset theft. Learn more about what Gemini can do for you in our review.
Best For
New investors looking for a simple mobile and web app
Day traders looking to use technical analysis tools
Users looking for a 1-stop-shop to buy, sell and store all of their cryptos
Pros
Easy and quick signups — can get started in as little as a 5 minutes
Multitude of platforms to accommodate traders of all skill levels
Hot wallets include insurance to protect your from theft and hacking attempts
Cons
Charges both a commission and a convenience fee for users buying and selling through the desktop or mobile app
1 Minute Review
Coinbase is one of the Internet's largest cryptocurrency trading platforms. From Bitcoin to Litecoin or Basic Attention Token to Chainlink, Coinbase makes it exceptionally simple to buy and sell major cryptocurrency pairs. 
You can even earn cryptocurrency rewards through Coinbase's unique Coinbase Earn feature. More advanced traders will love the Coinbase Pro platform, which offers more order types and enhanced functionality.
Though Coinbase doesn't offer the most affordable pricing or the lowest fees, its simple platform is easy enough for complete beginners to master in as little as a single trade.
Best For
New cryptocurrency traders
Cryptocurrency traders interested in major pairs
Cryptocurrency traders interested in a simple platform
Pros
Simple platform is easy to operate
Comprehensive mobile app mirrors desktop functionality
Coinbase Earn feature rewards you with crypto for learning about available coins
Cons
Higher fees than competitors
So, is Now a Good Time to Buy Shiba Inu (SHIB)?
Shiba Inu is a notoriously risky asset because of its high volatility and few use cases. Timing the bottom of bear markets is nearly impossible, so it might be smart to wait for a reverse in the Federal Reserve's policies before buying.